Where are people getting their news?
The job of public relations professionals is to gain positive media coverage, but how do you determine where to aim your media outreach efforts?
With the proliferation of media types, it's almost impossible to keep up with all of the media outlets, let alone who their audiences are. Knowing exactly what a media outlet is and where the public receives news is crucial in learning how to write a pitch that works.
What is a media outlet?
Media outlets produce content that informs the public of news and/or information across a variety of channels and in different forms.
I analyzed data and trends acquired by Pew Research Center, to help you craft a stronger PR strategy with the top performing media outlets.
Understanding media outlets
Knowing where to put your news is half the battle to effectively communicating with your audiences. If you are where your audiences are, then your PR value will increase significantly.
You can start by tracking any mentions of your clients by media outlets including social media, blogs, and news organizations with media monitoring software. That way you know where you client is being mentioned, so you can focus your attention elsewhere.
Let's dive into the research behind four media outlets: digital news, television, audio news, and newspapers.
Digital news
In the United States alone, about 93% of adults get part of their news online. That statistic alone should tell you where you need to be pitching your content.
But as a smart and savvy public relations professional, you already know that digital news is the place to be. Digital news, however, is a very broad type of media outlet.
There are many tools to reach online audiences such as newsletters, apps, and social media platforms. In fact, nearly all major news outlets have official pages or accounts.
Moral of the story is that you need to pitch and engage your target audience through online media. In order to do so, build social media platforms for your client so that they can get their news heard and shared.
Television
Getting your story covered on the television news used to be the best way to tell your clients' story. And while TV coverage is still relevant, there are some facts you need to know before pitching your stories to TV stations.
There are three divisions of television news: local, cable, and network news. Americans are relying less on television, with only 50% of adults getting news from television in 2017.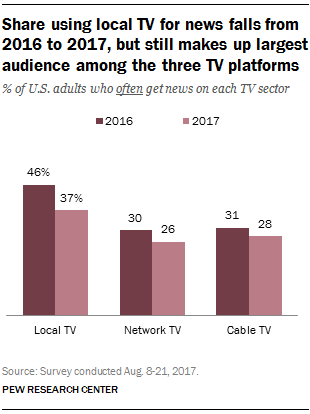 Television news consumption varies most by age, with only 8% of those ages 18 to 29 getting news from network TV. So if you're targeting that age group, it may not be a good idea to pitch your story to television news broadcasters.
If these trends continue in the same direction, it will become far less important to get your stories on the TV news, yet easier to do so. So evaluate your media spend and target market to make the smartest PR decisions.
Audio news
The two modes of delivery for audio news are split between traditional (AM/FM) radio and online radio/podcasts.
Audiences for traditional radio have remained almost the same throughout the past 10 years. Meanwhile, listeners of online radio/podcasts are steadily increasing. Podcasts listenership has the most growth over the past 12 years.
Podcasters have more freedom than a traditional radio host because the podcast can be made for a niche audience, making podcasts great mediums to talk directly to your target market and increase your PR value.
Newspapers
As digital news traffic increases, newspaper readership decreases. Declines are most seen in the print circulation of newspapers, but newspapers that have online publications take less of a hit because they are still getting views.
On average, however, people only spend 2.5 minutes on a newspaper website, which is far less time than a physical newspaper.
When PR professionals were pitching news stories to print newspapers at the peak of their readership, it was almost guaranteed the reader would see their article. Now, with the ability to control the news you see on a website, there is little to no guarantee your story will be seen.
Hot off the press
Within all the options of media outlets, here's my main takeaway— be online. Invest your time and efforts pitching stories to journalists and reporters who have a strong online presence. Better yet, have your marketing department invest in market research so you can narrow down the digital media outlet for which you're pitching.
Again, shout out to Pew Research Center for compiling facts and trends on media outlets.
Struggling to get your press release covered? Learn
how to make journalists want to cover your press release
so you can get the good news out about your client.