Some people are of the opinion that mass email marketing is dead. Well, the thing about opinions is that you're allowed to have them even if they're wrong.
What is mass email marketing?
Mass email marketing is a marketing strategy where a single message is crafted for a large target audience such as sales leads or a subscriber base. It is one of the main functions of marketing automation software that allows messages to be sent at a massive scale.
While email marketing can take many shapes and forms, one of the things that lends it such pervasive staying power is its ability to deliver a message across generational, cultural, and class barriers. In today's diverse marketplace, that makes it very much alive and kicking.
Mass email strategies
Email marketing has been a core strategy for marketing campaigns for decades and has assumed many forms over its impressive tenure in the brand-building arsenal. For a while, mass email marketing reigned as the gold-standard for engaging with large numbers of readers.
However, the ever-evolving digital landscape has caused many of the tried and true formulas of the past few decades to lose relevance in the face of new, agile strategies.
But first, let's review the strategy of the past:
Bulk email blasts
Bulk email blasts have become relatively infamous amongst email marketers and salespeople over the past few years for their low RIO. Unfortunately, they still serve as the archetypal mass email strategy in the minds of many when there are several other ways to capitalize on the sheer scale and reach of bulk email.
The 'don'ts' of mass email marketing
Sending a single, bulk email to hundreds or thousands of people with whom you have a tenuous connection was a common email marketing practice for many years. Unfortunately, the development of the internet has rendered this tactic as akin to using a ton of dynamite to smash a single ceramic vase; it gets the job done, but you could have just used a rock and you end up looking sort of silly.
This is one of the most basic email marketing campaign tips we could give you: emails with little consideration for their nuances of their audience tend to fall on deaf ears in an increasingly diverse marketplace. Add to that the steadily increasing amount of emails people receive every day, and you need to make sure you're doing something to stand out if you want to have the faintest hope of keeping your target audience's attention.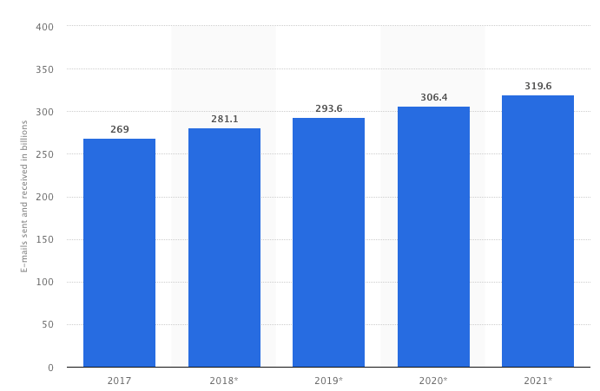 Business Emails sent per day, courtesy of campaignmonitor.com
TIP: Looking to start a little smaller? Check out some of the best free email accounts that you can use to get started.
The power of personalization
The key tactic for snagging and keeping the attention of your reader base comes through providing content that is personalized to their needs and interests.
There are several strategies you can employ in order to seize your reader's attention, some as simple as having the recipient's name in the copy or subject line. Here are two of the most effective strategies you can use to elevate your email marketing game:
User-generated content
User-generated content (UGC) has taken email marketing by storm.
TIP: User-generated content is defined as any form of content created by the product's end user. An example would be people taking pictures for Coca-Cola's famous "Share a Coke" campaign.

This particular email marketing strategy drives real-time engagement with your dedicated advocates and prospective customers while adding a flair of authenticity that many brands are sorely lacking. Further, this strategy is incredibly easy to implement with all the wonderful tools for garnering feedback at the disposal of the savvy marketing professional, be it through social media, A/B testing, or dedicated review sites like G2.
Dynamic content and segmentation
Dynamic content is another email marketing strategy that lets you target specific customer profiles with your messaging, drastically increasing the chances someone will find it interesting and relevant.
Thanks to increasingly sophisticated marketing automation software, dynamic content allows you to change specific parts of your messages so that your messages are tailor-made to appeal to specific groups based on anything from gender, age, or location.
Segmentation is an extension of this practice. It is where you collect data on your target audience and develop different profiles that you then distribute your dynamic content to. An example of this would be having one message that appeals to an older demographic and something different for a younger audience.
Of course, the ability to scale these tactics has only been made possible by the leaps and bounds taken by marketing automation software over the past few years. If you're looking for the best software for your needs, G2 has thousands of verified, real user reviews to help direct you to the best product for your next campaign.
Newsletters and community building
One of the great things about the combination of personalization and wide reach that marketing automation software enables for email marketing is that it allows you to send timely, relevant newsletters to your audience. Through that, you can build a diverse community of contributors, brand evangelists, and thought leaders that have the potential to turbo-charge your marketing efforts.
But don't just take my word for it! One of G2's fantastic Content Marketing Managers (and general Email guru) John Lang wrote a deliciously in-depth post about the strategies and successes of our own blog's content community. See his contribution to our "Road to 1 Million" series for actionable insights into building a community from the ground up. If you want to take a broader look at marketing campaigns in general, check out what our CMO Ryan Bonnici had to say about B2B marketing and applying it to your own business.
Blast from the past
Now you know you can create large-scale email marketing campaigns without sacrificing the finesse of personalized emails that actually have the potential to achieve the ROI and conversions you need. Knowing the trends of the day and keeping up with the email marketing industry is an important way to develop your marketing strategy no matter the format in which you work.
Interested in more email marketing goodness? Check out our guide on Email Marketing Fundamentals.