Whether you're for it or against it, it's evident that cannabis legalization has taken hold in the political landscape.
Laws around its recreational and medical use has spread like wildfire throughout the United States, joining countries around the world in the debate. Naturally, business is booming in the industry as investors and entrepreneurs are taking full advantage of supportive legislation. Plus, the growing adaptation and demand for cannabis-derived pharmaceutical products shows promise of noticeable boost in demand worldwide.
If you're reading this, you may be considering starting your own cannabis business, so we're here to help you stay informed about the statistics to foresee or lessen possible roadblocks.
Although it can be easy to hypothetically throw cannabis, marijuana, and hemp in the same glass bowl, there are differences when it comes to the varied usage in terminology and purposes. People may confuse the terms cannabis, marijuana, hemp, CBD, and THC, even though there is distinction between them. Let's dive into these terms so we know the differences before moving forward.
Note: This might be information that you are already familiar with, but it doesn't hurt to go back to the basics. Or feel free to skip ahead with the links below.
What's the difference between cannabis, marijuana, hemp, CBD, and THC?
Cannabis is the technical terminology and umbrella term for the plant belonging to the family Cannabaceae, and is usually interchangeable with the word 'marijuana'.
Marijuana is the common term that originated from the Mexican Spanish spelling, 'marihuana' or 'mariguana' and was popularized during the 1930s anti-drug propaganda.
Hemp is the term used for a cannabis plant that is specifically grown for its industrial use (textiles, fibers, food, etc..) and is "non-intoxicating" due to its low psychoactive compound structure.
CBD is short for 'cannabidiol' and is one of the hundreds of active compounds in the cannabis plant. CBD is the essential ingredient people look for in medicinal products and does not have the psychoactive effect that THC does, although the two compounds may work better together.
THC stands for 'tetrahydrocannabinol' and is another of the hundreds of compounds in the cannabis plant. Its the chemical responsible for the psychoactive experience of a head high that marijuana's recreational usage is known for.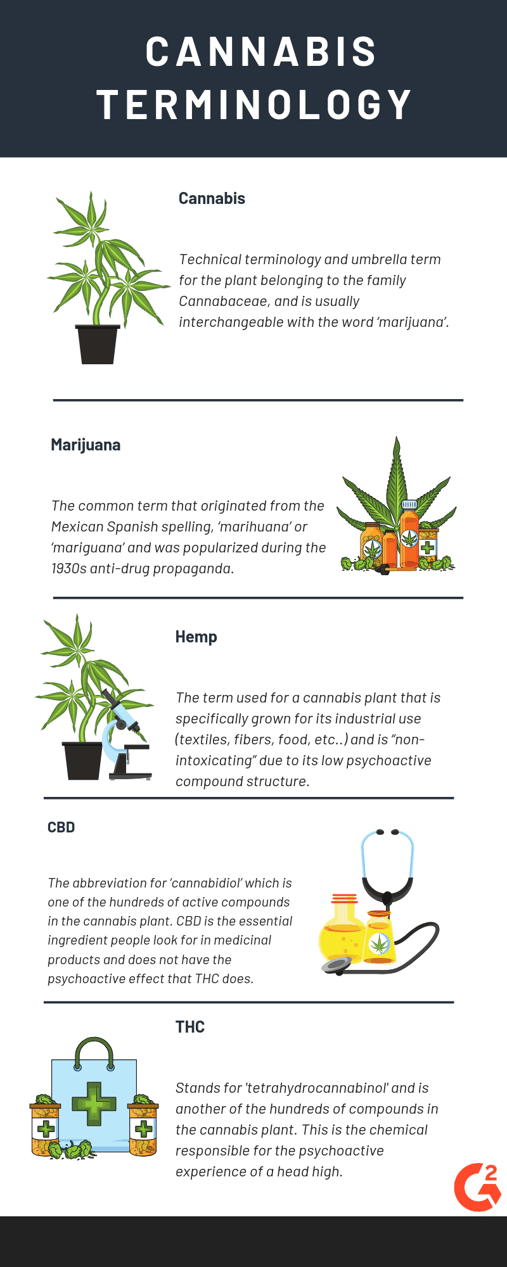 Being one of the most versatile plants on Earth, cannabis has three common uses: medicinal, recreational, and industrial. A canna-businesses or investment typically falls into one of these categories.
Cannabis vs. marijuana - what's the difference?
The following definitions cover the commonly-confused, closely-related terminology.
Medicinal cannabis is widely expanding in pharmaceutical demand, for both people and their pets. The effects of CBD are currently used to treat or relieve a long list of ailments including epileptic seizures, back pain, inflammation, and so much more. It's also increasing in popularity among clinical studies to treat mental illness and addictions.
Recreational marijuana is used to purposely change the user's state of consciousness and is one of the more common, yet notorious, uses that people associate with the cannabis plant. It can either be smoked or made into a concentrate, which involves refining the plant into a more potent product. Edibles and the surplus of cannabis-infused products are the fastest-growing sector in the cannabis market.

Industrial hemp is one of the oldest cultivated crops that exists. Its has been used for centuries of our history around the globe for a variety of reasons. Hemp can be utilized to produce paper, clothing, textiles, insulation, food, biodegradable plastics, biofuel, and an abundance of other products
With the endless potential that cannabis carries, having an idea of the current statistics and trends can be help you saddle up for a successful venture. Take a look at what the latest marijuana statistics have to say about its future.
Note: The following statistics are categorized by the terms cannabis, marijuana, hemp, and CBD to keep them organized should you need to find specific facts for one.
Cannabis statistics
Marijuana statistics
Hemp statistics
CBD statistics
CBD and pets
Final thoughts
The current marijuana statistics and trends not only demonstrate cannabis as one of the most versatile plants on Earth, but its enormous economic influence. Yet, each branch of the cannabis industry carries nuances that affect users, investors, cultivators, and business owners alike.
With increasing popularity in societal and political acceptance, infinite opportunities present themselves to those interested in going green. At this time, a cannabis market venture might be lucrative for anyone interested in heightening their business senses.
*Note: these sources were taken from the Prevention Special Report CBD 101 issue.
Do you have experience using cannabis retail POS software?