There's a certain childlike wonder in seeing your ideas come to life on a t-shirt.
There are numerous benefits to creating merchandise for your content creating endeavor. Whether you're launching a YouTube channel or angling for a podcast sponsorship, creating customized merchandise can be an excellent way to engage with your audience and can be a huge financial support for the full-time creative. Letting your audience outwardly represent your creations with a shirt, hat, or mug easily turns the average consumer into a brand evangelist who can do promotional work for you.
So buckle up, cowboy. We're about to take a saunter down the long, dusty, purple trail off into the southern smokes of establishing a physical presence for the digital brand of your content.
Feel free to jump ahead to any particular area you might need help with:
How to make your own merch in 5 steps
While you could just slap your logo on a cheap t-shirt and call it a day, there are great rewards awaiting the enterprising content creator knowledgeable enough to put the required work into their merch.
Merchandise for your creative endeavor isn't just something you do for a quick buck, even if it's main purpose is financial. This is a living, breathing extension of your creation. Treat it with the same care you would your most cherished YouTube video or podcast episode. Fans will be able to tell if you're phoning it in and exploiting their goodwill.
1. Identify your audience
Making sure you're producing merchandise that will actually speak to something your audience cares about is key for ensuring the success of your venture.
Developing a persona for your perspective audience or consumer base is an excellent strategy when it comes to creating something people will care about. Of course, if you're at the point where you're rolling out merch for your content, you probably already know your audience fairly well, but there are still a few things you should ask yourself before you launch into a design that you'll fall in love with: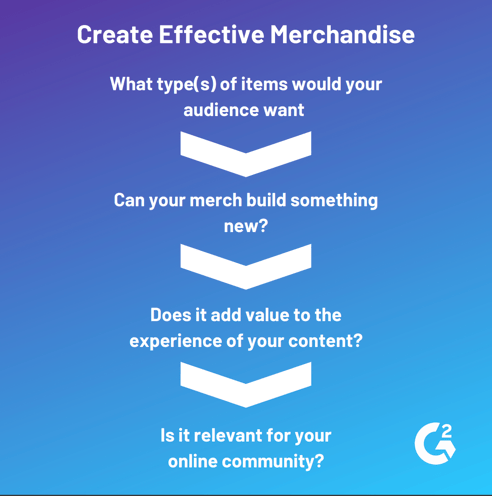 2. Execute the design
You know what you want your merch to invoke: the feeling, moment, or idea that you believe to be important to your audience. The question now is what will it actually end up looking like.
This is the part where a lot of content creators get hung up on- making the most breathtaking art to represent their work. While that impulse is certainly a good one, you don't need to produce a work of fine art in order to produce an icon that will bond the community surrounding your content creation.
Looking for a crash course in the basics of graphic design? Check out G2's resources on color theory, cover art, and so much more!
When it comes to mocking up your design, think about what elements most encapsulate the mood or idea you're trying to invoke. Your logo is a good place to start. Branded materials like this are a good starting point, but it might also be a good idea to consider current merchandise trends as a place for inspiration.
Some great custom merch from content creators
What better way to kickstart your creative pistons then with examples that got it right? Check them out below:
PleasantKenobi — '!punt' T-Shirt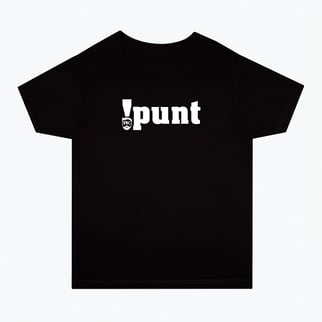 Simple. Bespoke. Incredibly niche.
Not only does this shirt perfectly encapsulate a long-running inside joke of the creator's online community and broader subculture, but it features an elegant design that has a clever incorporation of the YouTuber's logo within the exclamation point.
PleasantKenobi makes YouTube videos on the competitive card game Magic: The Gathering. You can find his channel here.
Critical Role — 'I would like to rage' tankard wrap
This particular bit of merch showcases the liberties you can take with the form of your merch- you're not limited to pins and t-shirts! Not only does this incorporate the design elements mentioned above, but it takes an evocative form that is directly relevant to the source content (in this case, sword and sorcery RPGs). While the copy on this tankard wrap could also fit on something like a sweatband, it would change the entire tone of the product. Don't forget to consider your audience!
Critical Role is a gaming podcast that follows the misadventures of a party of professional voice actors as they navigate various Dungeons and Dragons campaigns. Find a link to their podcast here.
3. Find the right online platform
Now that you've identified the form you want your merch to take and how it should look, it's time to actually get it made and sold!
There are a few websites that can cover pretty much any basic bit of clothing or apparel you want to use for a merchandising campaign. Spreadshirt and Bonfire are good places to start if this is the route you want to take.
Alternatively, if you're looking for something more specialized like the tankard wrap example I gave in the previous section, you could try commissioning custom items on a platform such as Etsy, though this might have a higher price-tag associated with it.
4. Promote your merch
Now that your merch has finally entered the world, it's time to start raising awareness of it! Make sure you follow these core steps to have a successful launch:
Schedule posts with the best social media management software
Create engaging visuals
Incorporate the merch into your normal content
Build suspense about your merch in your normal content
There are countless ways you can go about promoting your merchandise, and your imagination is the only thing that's really holding you back. You might find that you'll have the greatest success with a promotion effort that is uniquely linked to your content, so don't be afraid to experiment and take a few risks!
5. Build engagement around your merch
It doesn't stop with the promotion of your product, however. The beauty of social media is that you can (and should) continue the moment of your merch campaign in real time by soliciting feedback in the form of shares, pics, or posts about the product- make use of free user-generated content that your audience is giving you! Having your followers spread the word about your merch — particularly if it is linked to a new initiative on your end — is an excellent way to build your brand.
The final piece of this puzzle is to turn this promotion and engagement of your merchandise into something beyond simply financing the status-quo of your content. Once your campaign is off the ground, think about how you can use the new follower evangelism, brand awareness, and money to catalyze your content into a new space. This could be as simple as developing a new series or type of show to pitch for new sponsors or even partnering with a social advocacy group.
Mercantile mastery
There you have it! Follow the five simple steps above to achieve honor and glory in the arena of content creation; woe betides any who would stand in the way of you and your now exquisitely decked-out disciples.
Looking for more ideas on how to promote your content? Check out our guide on creative marketing ideas for more!