While everyone is moving their businesses online, Lululemon Athletica Inc. is busy opening their largest store to date.
And when I say large, I mean 20,000 square feet large. This state-of-the-art experiential store located in Chicago has two levels that house a restaurant called Fuel, two fitness studios, a meditation room, as well as their merchandise.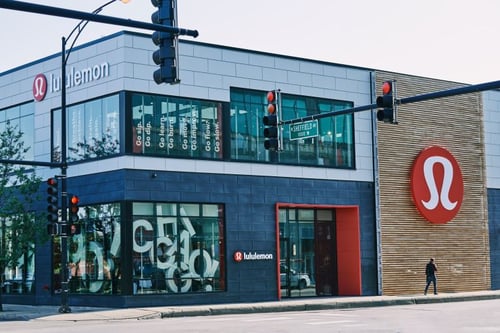 Source: Lululemon Athletica Inc.
Their merchandise selection is vaster than their other retail stores, with the widest selection of men's apparel compared to any of Lululemon's brick-and-mortar stores. Not only that, but they have products that are exclusive to their Chicago location.
Lululemon's new store concept may be a result of their 45% increase in e-commerce sales in 2018, generating 26% of total sales through the web. It's no surprise that the athletic apparel retailer shifted focus to their physical stores. With the majority of Lululemon's customer-base valuing health and wellness, there's no better way to get people in the store than by giving shoppers that premium experience.
Here are five things that e-commerce pros can learn from Lululemon's experiential Chicago store.
5 lessons from the new Lululemon Chicago
It's important to keep up-to-date in the retail world and learn from others' success. Shoppers have ever-evolving needs that retailers need to meet. In order to keep up, you have to take note of the trailblazers in the industry.
Lululemon brought their ethos to life and people are loving it. Explore these five lessons from this unique shopping experience.
Experiences are everything
Immersive retail is the next big thing. People crave experiences. Why? Because most Americans are behind screens day in and day out.
Well-rounded experiences surprise and delight shoppers, making their shopping journey a sensory experience. Lululemon stayed true to what they do by showcasing the familiar—yoga pants and sports bras, while also having spaces to explore beyond the expected.
Take the meditation studio for example. How awesome it is to be able to grab a new pair of leggings and then zen out for a few minutes, further connecting the mind and body. Lululemon truly considered what their shoppers value. With every aspect of the store, it's clear that the shopper's experience was kept top of mind.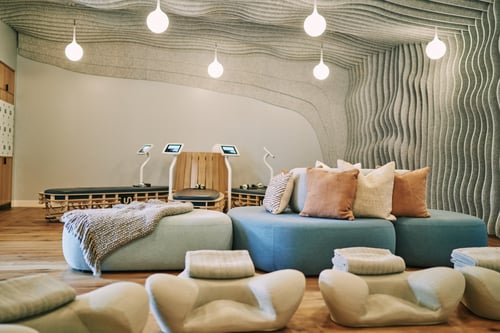 Source: Lululemon Athletica Inc.
All retail professionals need to be reminded that buyers come first and Lululemon lead by example in doing just that.
Retail concepts need to be tested
What I think is the smartest decision by Lululemon is that this is the only store right now that is experiential. When doing something out-of-the-ordinary it's crucial to test it. Sure, they tested the markets before and know that it's likely it'll be a success, but there are processes that should be worked through.
Testing any concept you have on a smaller scale is important. If you don't have the budget to make a permanent brick-and-mortar store, consider opening a pop-up shop. Always push the envelope in retail, you never know how successful you can be until you try.
TIP: One of the most helpful ways to improve the shopping experience is through analyzing day-to-day retail operations and finding ways to improve overall store function. Check out the best retail operations software to help you do just that.
Brick-and-mortar lives on
You hear about the retail apocalypse and think, why is Lululemon opening a brick-and-mortar store?
It's because people are still going to physical stores. In fact, in 2018 only 14.3% of total sales were represented by e-commerce. Meaning that more than three-fourths of all retail sales are in brick-and-mortar stores.
Building an e-commerce website is still important as the industry continues to grow, but there's value in the physical stores which is something to think about when looking to get into new markets and drive sales.
One-stop-shops = convenience
Wellness meets convenience in this experiential store. Lululemon shoppers are athletic individuals who highly value health and wellness.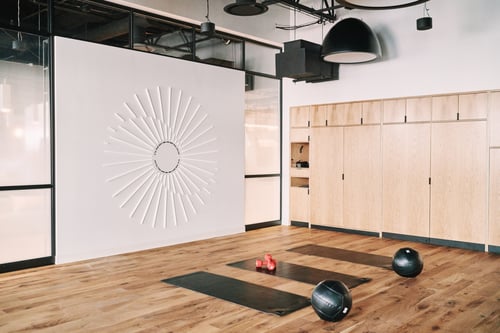 Source: Lululemon Athletica Inc.
Let's take a look at a possible day of a woman in the Lululemon target market. She wakes up and has a to-do list the length of a CVS receipt. She makes her green juice, gets the kids' lunches ready and whisks them off to school just in time to make it to her 9 am work meeting. She gets off of work at 2 pm and has a couple of hours before her kids will be home. What does she do? Grab food? Meditate? Squeeze in a workout class? Go shopping? Usually, she'd only be able to choose one thing to do for herself in the day.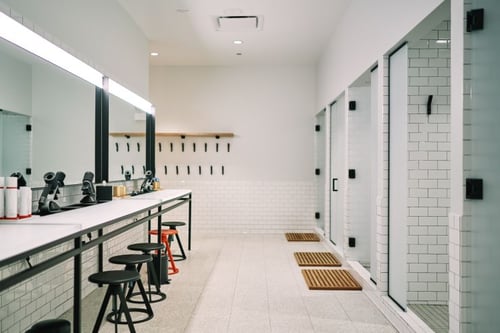 Source: Lululemon Athletica Inc.
This one-stop-shop for wellness is exactly what Lululemon shoppers need. Now she can do it all in one space with food, smoothies, fitness classes, locker rooms, and clothes all available at the tips of her fingers.
Design matters
There's nothing better than an aesthetically pleasing space. The Lululemon store has a minimalist design with clean earth tones throughout the space. Walking in, a feeling of calm washes over you. This same feeling can be achieved with a user-friendly, beautifully designed website as well.
Design is really important to such spaces. One reason being, it keeps shoppers coming back for more. The second reason is for social.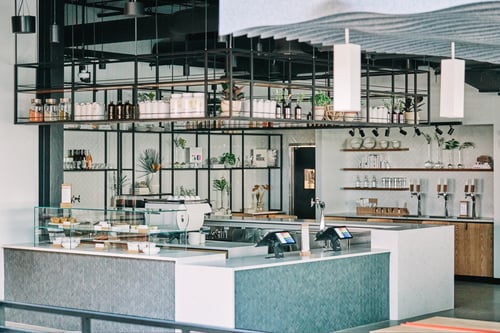 Source: Lululemon Athletica Inc.
The power of sharing is remarkable and when you design a space that's photogenic, people will be snapping pictures and sharing their experience. Word-of-mouth is one of the most powerful forms of marketing and if you can get your shoppers to do this naturally, then you're in a good spot for future success.
Nice flex
Lululemon is flexing their thought-leader muscles with this brand new experiential space. Other e-commerce professionals can learn a lot from this launch and can improve their own strategies by focusing on experience, trial, convenience, and design.
Is your business too small to launch a 20,000 square feet store as Lululemon did? Think about starting small by learning how to sell on Amazon.