So, you've decided to implement a new LMS.
That's great. You've done your research, after all. You know the data is on your side, and that LMS implementation is important. So important, in fact, that 94% of employees would stay in a company longer if their employer invested in their career.
And you know that keeping your employees happy and the turnover low is a win-win. After all, companies who are able to keep employees emotionally invested, have better chances of achieving growth. But you also know that a successful LMS implementation is not going to be a walk in the park.
How to achieve a spot-on LMS implementation
You need careful planning, a well-thought-out road map, and the right people on your implementation team to get the ball rolling. You need to be realistic about your time frame, meticulous during the data migration process and, of course, diligent when it comes to testing. In short, you need an LMS implementation project plan that cuts no corners...and maybe a headache pill or two.
This whole process will take some real, concerted effort, but it will become much more doable after reading this article. Consider the following seven tips your new foolproof checklist to help you feel confident about your company's LMS implementation strategy, before you can say "acetaminophen".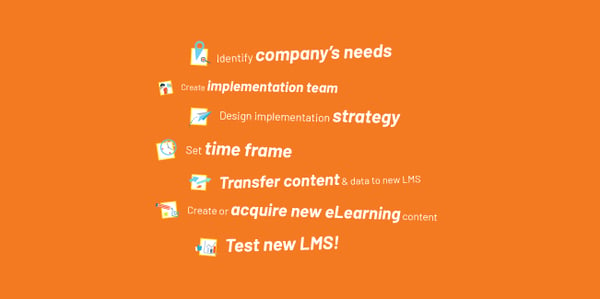 1. Identify your company's needs
It's not a "one size fits all" thing. Different companies have different LMS needs. So what are yours exactly? The first order of business in your implementation strategy is to ask as many questions as possible, to identify your company's unique needs.
A thorough Q&A at this point will help you with that. You can create a checklist with questions like:
How many people will be using your LMS?
How many different courses do you think you'll need?
What integrations with other systems should your LMS have?
What should be the balance between eLearning and ILT learning?
What about a gamification aspect?
Do you need to be able to sell your courses?
What are your reporting and survey needs?
What are your security requirements?
There are no bad questions at this stage. Only when you have everything written down should you go through your list and start sorting them out. During the sorting process, you realize what your priorities are when it comes to features and capabilities. Some LMS functions will be must-haves for your company, while others could be a good-but-not-necessary addition.
One thing to consider is if ever you need to change your company's training processes, skill sets, and other software needs. With this in mind, being able to adapt your LMS implementation strategy and keep your staff engaged no matter what changes your business experiences will ensure their continued success.
2. Create your LMS implementation team
Now that you know the what, it's time to focus on the who. Namely, who should be the people to lead and oversee your LMS implementation; to make sure that the process will be smooth. Don't worry: you won't have to outsource expensive experts for this.
Think of it like any other special project your company has undertaken. Your implementation team can be a small group of people you already employ, plus some people with whom you frequently collaborate (like consultants or advisors). The size of this group largely depends on the size of your company and the complexity of your LMS deployment. But in most cases, around five people will be enough.
Each team member will own a different sector of your LMS implementation from technical support and administration to content management and training. Of course, these team members will need to collaborate internally and externally, especially later when the LMS will be up and running and the rest of your employees will need to be familiarized with its different aspects. Having this team in place, means that your company can continue its daily operations unencumbered while the LMS implementation is underway.
So, what key roles should your implementation team include? This depends on whether you'll be using agile methodology for this project or not. If you do, then a PM/owner and a scrum master should be part of your team. But in any case, you need someone who has experience with eLearning (could be a specialist or a content creator), to handle the content/courses sector.
Then, you'll need a training admin. That's the person who will interact with the LMS users, walk them through the process and be responsible for reporting and surveys. And finally, you need a team leader to oversee the whole LMS implementation project plan and monitor team progress. This person can report directly to you. With your implementation team in place, now it's time to talk strategy.
3. Design your implementation strategy
The first thing you need to do is be specific about your goals. What's the most important thing you wish to achieve with this LMS implementation? Which areas of your business require the most attention training-wise? Which employee skills would you like to strengthen? Is your main concern onboarding? Company culture? Remote working? Leadership training? Promoting soft skills?
It's quite possible that more than one of these areas will be of interest to you. But thinking about your big-picture goal will help you prioritize the parts of your LMS plan that you need to focus on right now. Once you know where you want to go, you can draft a plan on how to best get there.
This is the part where you should open up the process a bit. Your implementation team should sit down with key players from every department and get their feedback and insights. An LMS implementation is something that touches every aspect of your company in some way or another, from HR to IT to customer service.
Of course you don't want to burden every department with extra work – that's why you have your implementation team anyway. But it's crucial to get everyone's input, to understand their pain points and needs. This will inform the type of eLearning content you will later need to create or acquire.
With the feedback round completed, it's time for the implementation team to digest the findings and craft a plan forward. First, create a checklist for your eLearning content, combining what you just learned with your original Q&A session. Then, decide on a place where you will be collecting all pertinent information like configuration protocols, procedures and security settings: a knowledge hub for your LMS implementation. Finally, you will need to create and assign tasks, taking into account the project's time frame.
4. Set your time frame
Every project needs a set time frame. Otherwise, it's just a lovely idea. Your LMS implementation project is no exception. But because it's a project with many moving pieces, it's important to be both realistic and flexible when it comes to setting up your time frame.
Here are some things you should consider baking into the schedule:
The feedback round from other departments before you begin
Trying out different features of the LMS to see what you'll need to customize
Back and forth with your LMS vendor, in case you require some features that are not part of your original plan
The LMS implementation and data migration itself (obviously)
A "cushion" of time, in case something unexpected happens during data migration
Adequate testing time before it goes live
Be aware going in: this is a project that could take a few months from start to finish. An LMS implementation is a big investment in your company's future – let alone a substantial financial investment. Its usage will evolve with your and your company's needs over time. As such, it would be better for everyone involved to approach it as a marathon and not as a race.
5. Transfer your content and data to your new LMS
If you already use an LMS, you will need to transfer all data to your new one. If this is your first rodeo, you should transfer any relevant data from other sources (like your HR department) into your new system.
The data migration process can be lengthy and tricky, but it really depends on how meticulous your data housekeeping has been to this point. For example, is your data standardized? Are there any duplications that could cause unnecessary havoc in your system? These are definitely a few things to consider when making sure you're ready data-wise. Once you're confident that all your data is in order, you should move forward with the migration.
Your LMS implementation team should work hand-in-hand with both your IT department and your LMS vendor for this one. Each LMS system is different, so it's important to make sure nothing falls between the cracks: user profiles, course transcripts and evaluation data, existing qualifications and user surveys. You definitely don't want to make your employees feel like all the training they've been doing with your previous LMS was for nothing.
Finally, you need to consider your content. Will you be reusing some of your existing material? If so, content migration is the next step. This part of the process should be overviewed by the designated eLearning content specialist of your LMS implementation team.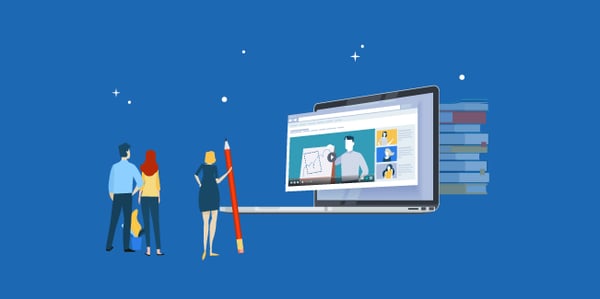 6. Create or acquire new eLearning content
While keeping some of your old content is wise, new content is always useful. It is a big possibility that your LMS goals are somewhat different now. Your content should reflect that. Plus, if you haven't used an LMS before, you'll be starting at ground zero anyway.
So where do you get your content? You have two choices: you can create it from scratch, or acquire it from vendors. Creating eLearning content from scratch will be more time consuming and labor intensive, but it has the benefit of being tailor made for your needs. However, if your LMS needs are straightforward, buying ready-made content could save your team valuable time and free up resources.
In any case, it is important to have your LMS populated with enough content before you get started. You need to be able to go through a course cycle as realistically as possible, during the testing and troubleshooting period of your LMS implementation.
Something many companies don't realize at first, is that your content needs don't go away once your LMS is live. A steady flow of content is crucial. You'll want your courses to be up to date with the latest technology developments. You'll also want your content to reflect your company's latest data and goals as these change over time. So, if you don't have a content creation team in place that could take on this task, you'll need to outsource.
One last thing you need to think about is that your content needs to work for your users in the long run. Every quarter or so, you should be doing a qualitative check. Are you seeing enough information retention? Or are your employees struggling to complete the courses and drop off? It's not just your company's goals that will inform your long-term content strategy. User feedback and reporting will go a long way toward that.
7. Test your new LMS before it goes live
Every PM worth their salt will tell you that testing is half the battle. And they'll be right. Before launching your new LMS, it is vital that you make sure it works properly. But what does that mean, exactly?
As mentioned above, you need to be able to go through the user environment and the course cycle as realistically as possible. A variety of tasks, from user registration and profile customization to going through the eLearning process, needs to be carried out.
It's going to be substantial work. It is a good idea to assign this work to a testing team that ideally consists of some members of your implementation team but also some outside parties. Create documentation with the expected behavior you should see for each function/process and hand that documentation to the testing team. Ask them to record their experience: what's going according to plan? What doesn't? What can you improve before your new LMS goes live? Then, your implementation team should review these findings and decide if your LMS is ready to go live or not.
Conclusion
Having a thorough LMS implementation project plan in place will save you a lot of headache. And sure, unexpected hiccups may always appear along the way. But as long as you're flexible, diligent and keep a good communication line with your team, a successful LMS implementation is a given.
Find the right LMS software solution for your company's unique needs – only on G2.