LinkedIn has proven to be the most powerful social media for business people and salespeople in particular.
Four out of five people on LinkedIn "drive business decisions," which makes it perfect for acquiring customers. B2B sales are made easy on LinkedIn, especially if you know the right place to look and have the right strategy to pursue.
However, you can't tell if you're doing something right until you know what the wrong looks like.
This is where analytics pull through. In order to lay out a successful sales strategy, you need to have a solid idea of what you want to sell and who's willing to purchase it from you. Luckily, LinkedIn provides you with just that.
What is LinkedIn analytics?
LinkedIn analytics is a powerful tool that allows you to track and assess the performance of your page on LinkedIn. You can use it for both your personal and business page, depending on the level of details you expect to see (business page analytics tend to be more in-depth). While used across departments, it brings the most benefits to the sales and marketing teams as it provides them with actionable insights.
There are plenty of different metrics accessible to business owners as a part of their LinkedIn Analytics dashboard. Broadly, all of them can be divided into three categories, as noted by Hootsuite:
Visitors: data on people who visit your page
Updates: engagement metrics for content posted on LinkedIn
Followers: numerical and demographic information about people who subscribe to your page
Depending on the end goal of your analysis, you can focus on tracking one or several metrics, compare and contrast them or export them into dedicated software for further manipulations.
LinkedIn's value as part of the sales process
LinkedIn is traditionally considered to be the most effective social media platform for professionals. It allows you to get better acquainted with the industry you operate in, expand your network and stay up-to-date with the latest trends.
In essence, LinkedIn is a glorified version of Facebook – only professional. Its users share opinions, comment on each other's posts and react to life updates with likes, reactions and thumbs up. However, there's a crucial difference between the two. While Facebook users are simply trying to let the world know what they're up to, LinkedIn users are all united by the same endeavor: to prompt their career's rapid growth.
This is exactly what makes LinkedIn so useful for businesses as well as individuals. Stimulated by the desire to advance their career, LinkedIn users fill out the platform forms religiously, swiftly updating their skills and reflecting on their professional life changes. It's their top priority to make their profile as relevant to their current situation as possible. Therefore, LinkedIn users rarely stall when it comes to providing their network with fresh updates.
Getting access to the most up-to-date and relevant information about the industry's key players, potential customers and the rest of the target audience, all neatly organised in the form of a well-structured LinkedIn profile is something every salesperson can get behind. Indeed, LinkedIn provides enough functionality to extract plenty of data for sales, the question is how this functionality can be used in the process of sales effectively.
The three most valuable activities LinkedIn can help you out with immensely are research and lead pre-qualification, industry monitoring, and prospecting.
Linkedin for research and lead pre-qualification
One of the most crucial parts of the sales process is to qualify the lead. It's important for you to be able to determine whether a prospect fits your ideal buyer persona, how likely they are to become a customer, and most importantly whether they're going to retain for a long time and how high are the chances of customer churn. All of these are essential for estimating how much effort would be reasonable to put into nurturing them.
Too often, the leads you obtain from your website are not specific enough. Even if you encourage people to provide as much information upon registration as possible, there's only so much you can ask them about themselves without being creepy.
LinkedIn is a great socially acceptable stalking tool. All the information you need for your improv research is your lead's first and last name or the name of their company. From there, it's all already done for you.
LinkedIn gives you access to a great deal of valuable information about your potential customers. Just one quick LinkedIn search will help you give answers to the following lead qualification questions:
Do they have a need for your product?
Do they have the ability to pay for your product?
Do they have the authority to purchase your product?
However, you don't have to stop there. The platform has a lot to offer. For example, you can find out the size of the company interested in your products as well as the sizes of the teams that can potentially benefit from using them. Based on this data, you can easily estimate the price of the future deal.
On top of that, even a surface-level LinkedIn digging can provide you with all the necessary information about the existing roles within your lead's company. This data will give you an understanding of which processes are established in the organisation. In turn, you will be able to craft a personalized offer with the most suitable features to match your leads' needs perfectly.
Accurately pre-qualifying your leads through LinkedIn gives you a chance to conduct better targeted demo calls and showcase the product functionality most suitable for your leads' workflows. All that combined implies a higher chance of closing the deal quicker!
LinkedIn for industry monitoring
The end goal of virtually any for-profit business is to make money and a lot of it. There are different approaches to achieving this goal, but essentially they all boil down to winning the largest market share. One of the most effective ways of staying at the top of your market and maintaining your competitive advantage is to match and subsequently outdo your competitors.
Ever since Clive Humby coined the idea that 'data is the new oil' a decade ago, businesses have been focusing harder on protecting their valuable information. However, this clashes with the further popularization of the internet, which essentially grants free access to data to all. You just need to know where to look for it.
Merely giving your top competitors a Google search can be rather disappointing. You won't find any sensitive information as both corporate social media pages and the website of businesses are heavily curated and audited. Even if you manage to get your hands on something juicy, so will everybody else. On the other hand, if you turn to LinkedIn for industry monitoring, you'll get an invaluable insight into the industry's actual state of affairs.
One of the best things about LinkedIn is the variety of options it has to offer when it comes to gathering current information about the industry. There are several ways in which you can stay informed of all the things your industry is up to at the moment:
Follow the profiles of the businesses your market comprises. Given the fact that LinkedIn is majorly a business platform, almost every enterprise has a corporate profile available to the general public. Don't neglect an opportunity to subscribe to their latest updates to always be aware of what your competitors are up to.
Connect with your competitors. While following business pages has proven to be a great source of information, there's no data more valuable than that you can get from particular individuals. Once you've found the business profile of the company you're interested in, have a look at the decision-makers of the company. Then, request to connect with them on LinkedIn. LinkedIn connections are a powerful feature that allows you to see your network's updates, get alerts about any changes in their status and many other valuable insights.
Customize your news feed to be of greater relevance to your industry chatter. LinkedIn can help you stay up-to-date with its internal news feed, LinkedIn Today. It's a customizable feed that displays the most read and shared articles about topics in your industry. You can mix and match the industries you're interested in and choose different combinations to appear in your daily/weekly digests.
Join LinkedIn Groups. LinkedIn's original intention was to create a community for professionals to interact with each other. LinkedIn Groups is the perfect space for industry-related discussions. Not only can you monitor all the general trends but also practice social listening and tap into the right conversations within your industry.
Some industries are more well-represented than others. The most popular industries among LinkedIn users are:
Information technology and services
Hospital and healthcare
Construction
Education management
Retail
Financial services
Accounting
Computer software
Automotive
Higher education
If your business operates in one of these, it's almost guaranteed that LinkedIn will be extremely helpful in allowing you to monitor your industry. However, even if not, there are currently 148 different industries listed on LinkedIn, so you can definitely find the right crowd to join and observe.
Linkedin for prospecting
Another sales process LinkedIn is great for is prospecting. Since the platform is aimed at connecting business-oriented people with each other, there's the right functionality for that. You don't have to aimlessly click around to find prospects. Instead, you have a set of highly-effective tools and algorithms to help you get more prospects.
The greatest advantage of exploiting the graces of LinkedIn for prospecting is that you aren't just cold prospecting. LinkedIn helps to create a sense of familiarity and, therefore, warm your prospects up to you a notch. The platform is perfect for networking and social selling, especially if you know the special tricks.
The best ways to use LinkedIn for prospecting include the following:
Take advantage of the alumni search
This is the best strategy for those salespeople who attended large universities with lots of alumni. The idea behind this method is to connect with people that you don't know but have something in common with. In the perfect scenario, the two of you should share more interests than just going to the same university, but even that alone is a good starting point.
Having common ground with someone instantly warms them up to you and makes them more inclined to listen to what you have to say. It's a great bonding point that can help you kickstart a conversation and move into the actual selling process seamlessly.
Leverage the 'Who Viewed Your Profile' feature
This is one of the most effective LinkedIn features for prospecting. If somebody checks out your profile, it automatically implies they're interested in what you got to offer. While people in this section might not be the people you thought of targeting, they still can be a close match. It never hurts to give it a shot. If they operate in the same or adjacent industry, there's a high chance of them being willing to learn more about your business and what you're offering.
Check the 'People Also Viewed' section
Whenever you find a prospect, there's a chance the next one is just around the corner. You're not the only one making use of LinkedIn, and it's likely your competitors are looking for prospects, too. Give them a big thanks because LinkedIn garners that information and suggests related profiles that fit the search sequence.
Join LinkedIn Groups
LinkedIn is famous for its users' activity - they share ideas, publish posts, repost things they find interesting and engage in numerous discussions. The best space for industry-specific talk is special groups.
There are two options when it comes to LinkedIn groups: join an existing one or to create one yourself. While the latter sounds like it could give you a lot of selling power, it's actually too laborious. Growing a group and prompting people to join can distract you from actual prospecting. On the other hand, if you simply join someone else's community that's already full of active members, you can start selling socially.
Types of sales data to take from LinkedIn
LinkedIn Analytics can sometimes be overwhelming due to the range of the data this tool provides. To get the most out of it, you need to know exactly what sales data you need to take into consideration and how it can help you boost your sales.
Profile analytics to enhance personal branding
Your brand is your face in the world of business. Therefore, you need to work hard on ensuring that your face is fresh and clean, and preferably well-groomed. You don't want any random incoherences to scare off your prospects and prevent you from making more sales.
Therefore, you need to work on keeping your personal branding in order. Luckily, LinkedIn offers its users a profile analytics tool for that. It allows you to measure your profile performance, keep track of what's hot and what's not, and learn more about the crowd you attract.
While the free analytics provided by LinkedIn to individual members are far from being detailed and in-depth, especially compared to advertising and business accounts, you can still gather plenty of valuable data. It would help you adjust your own promotion, as a sales expert.
See who viewed your profile for further engagement
You don't have to reach out immediately but it's always wise to keep track of who might be interested in hearing more about your business and your offers. The people who viewed your profile are the perfect targets for your next prospecting spree!
Post analytics for business insights
You can see which people engage the most with the content you share on your LinkedIn page. Both companies, titles, and geographical locations of the users interacting with your posts can be of great use when determining your audience. Perhaps, there's a spike of interest in your business in a region you haven't viewed as a target region before? Or, maybe, you're underperforming in the area you're mostly focused on. There's a reason for both these situations, and LinkedIn helps you to spot a pattern as early as possible to determine the reasons for it.
Post analytics for better offers
Track top-performing posts to identify the most relevant topics and pain points resonating with your target audience. This allows better personalisation of your offer as well as gives you additional ideas to implement into your content plan. Simply cover the topics that have the largest engagement and create a positive feedback loop.
Linkedin Insights for tracking website visitors
Most companies know Linkedin Insights as a tool to run and analyse the performance of ad campaigns. However, it goes beyond and provides insights that can be effectively used in a sales strategy.
Linkedin Insights allows you to get professional demographic data about website visitors and which content they engage with the most. You add the LinkedIn Insights pixel into the code of your website and it collects valuable data about your visitors: specific companies that visit your website, the industry that company operates in, company size, job titles, location, and more.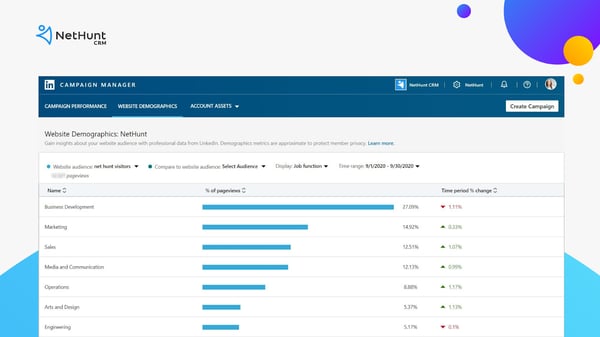 All of this information compiled can give you a better understanding of how to conduct adjacent business processes more efficiently such as:
Run a cold outreach campaign for individuals that visit your company website.
Employ a social selling strategy, reaching out to decision-makers of companies who visited your website.
Launch remarketing campaign on Linkedin.
Create new content pieces based on the audience's job titles or industries. If you unearth a sector of visitors from the real estate industry, you could tailor specific landing pages and blog posts to demonstrate how your product applies to them.
Linkedin Sales Navigator data
LinkedIn Sales Navigator is one of the most useful integrations for LinkedIn. It's aimed at expanding the circle of features accessible to users and giving them access to even more detailed statistics.
There are several key features that make LinkedIn Sales Navigator a great investment, including access to more profile data, better prospecting and lead generation opportunities, and more. Of course, it improves the quality of LinkedIn analytics, too. The two most powerful features of LinkedIn Sales Navigator are News and insights and LinkedIn Sales Navigator alerts.
News and insights
Based on sales preferences, salespeople can check on the latest industry news and potential leads. This helps them to:
Estimate potential deal size and forecast account growth
Prepare for an initial call with a prospect, arming them with the latest company info
Send personalized outreach emails to develop trust
On top of that, LinkedIn Sales Navigator is irreplaceable if you're trying to target a specific company and score a deal with them. It provides insights in specific categories: employee count, lead shares, account shares, and lead news. With this knowledge, you always know who to reach out to, how to personalise the offer to fit their needs and how to actualise your product to secure a customer.
Linkedin Sales Navigator alerts
With LinkedIn Sales Navigator alerts users receive real-time updates on accounts or prospects. This helps them apply a reactive approach to re-engage prospects or take the conversation to the next level.
LinkedIn Sales Navigator lets its users customise the alerts they receive in accordance with their needs.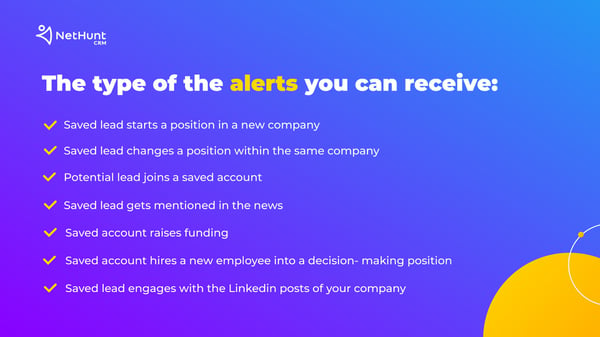 Conclusion
The way you use LinkedIn Analytics can either make or break your business. At the end of the day, the volume and quality of the sales you make, especially if you're a B2B company, depends on how well you can assess your performance to spot pitfalls and opportunities.
Thanks to the wide functionality of LinkedIn Analytics, you get a chance to track plenty of metrics such as visitors, updates, and followers. A balanced combination of three can give you an invaluable insight into the market and provide you with an opportunity to boost your sales immensely.