Have you seen those videos of Black Friday shopping (an event in the United States in which stores significantly reduce all prices the day after Thanksgiving) where people stand at a store's front doors in herds, aggressively waiting to snag some of the year's best deals?
Imagine how much easier it would be to do your Black Friday shopping if you had a secret back-door entrance. If you were able to take a different route and get to the technology without waiting with the herd.
While I don't know of a secret passageway in regards to holiday shopping, I think I can provide you some lesser-known help in terms of finding and applying for jobs: writing a letter of intent.
A letter of intent is just one of the many types of business letters you might have to write over the course of your career.
Letter of intent definition
A letter of intent, also known interchangeably as a letter of interest, is something you send to an employer or manager in consideration for a job that is not posted. In other words, this type of letter communicates your desire and intention to become a part of this organization.
How to write a letter of intent
A letter of intent, also known interchangeably as a letter of interest, is something you send to an employer or manager in consideration for a job that is not posted. In other words, this type of letter communicates your desire and intention to become a part of this organization.
Say, for example, you find a company you really want to work for. You look up their currently available jobs and come to find none match your experience or education. Being a person of ambition, you don't want to give up on this esteemed organization.
Tip: Before you write your letter of intent, ensure you have downloaded a trusty document creation tool.
In this situation, you have the option of writing a letter of intent which outlines your desire to work for that organization. Letters of intent are not the same as cover letters, which accompany your resume and formal job application. Letters of intent, on the other hand, can be sent at any time.
You do not have to be applying for the job when you send out a letter of intent. Rather, you're making an introduction.
In this letter, you set out to form a connection with the company and inform the hiring manager of your intentions to join their team.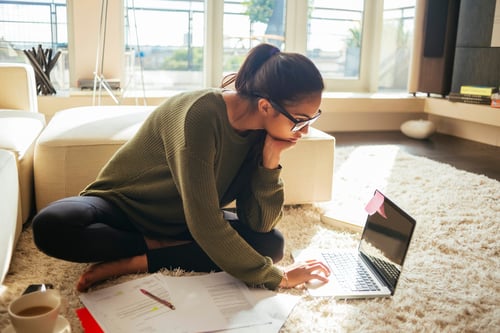 Aspects of a letter of intent
A letter of intent, or a letter of interest, is a hiring manager's first impression of who you are and what you can do. It's important to remain cordial and professional throughout the letter as well as any following correspondence.
If you want your letter of intent to inspire a hiring manager to get back to you, you should abide by these guidelines.
Tailor the letter to your desired company
Your letter, even if you send it as an email, should be addressed to a specific person. You have already gone so far as to seek out an organization. You should take one step further by addressing it to a member of human resources, or by addressing the manager of the team you'd like to work for.
Lucky for you, companies these days like to show off their teams. You should easily be able to track down names just by going to a company's team page. If this doesn't work, try going to a company's LinkedIn and perusing their employee list.
Research the role
Letters of intent are tricky because there's no job description laid before you. However, you should still write this letter with a full and clear understanding of the role you'd like to have.
One easy way to accomplish this is to look up descriptions for this role at other companies. Use the personality characteristics and job requirements listed on those descriptions to inform what you discuss in your letter of intent.
(Visit our Learn hub to read generic job descriptions such as administrative assistant, recruiter, office manager, product marketing manager, and many more.)
Introduce yourself
At the beginning of a letter of intent, it's important you introduce yourself and clarify the type of role you're interested in. Additionally, outline why this particular company is of interest. Did you see them in the news? Did a member of their executive team visit your college campus?
Providing such reasons will personalize your letter and help you be remembered.
Detail your experience
Next, you'll want to detail your relevant work experience. What milestones have you contributed to at past companies throughout your career? Why should the manager or member of human resources be interested in you? This is the paragraph where that research gets to shine.
Include a call-to-action
While it may seem uncomfortable to order another professional around, you may never hear back from a hiring manager if you don't mention next steps in your letter of intent.
At the end of your letter, it is appropriate to tell the recipient you'd like to schedule a phone call or ask for an informational email. You want to strike a balance that will solicit a response without coming off as either pushy or needy.
Closeout
A closing paragraph is a place to quickly thank the recipient for their time. You could also include the CTA in the closing paragraph if you don't want it to be a standalone ask.
Sign-off
Be sure you sign off of the letter in a standard format, using "sincerely," "best," or "regards," before your name. Do not use anything too familiar such as "love," or "warmly," as they are not widely considered professional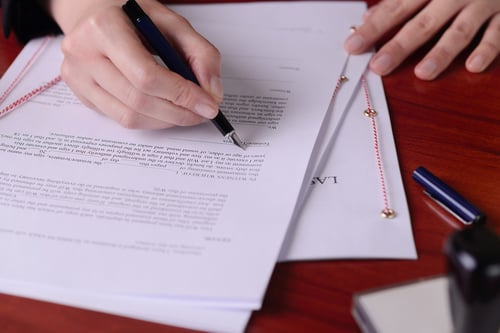 Letter of intent example
Here are some structural tips and standards that will help you write a rockin' letter of intent.
Format heading properly
As with most letters, you'll want to be sure you've properly formatted the heading and introduction. Be sure to include both your information and theirs. Your information will look as follows: Your Name
Your Address
Your Email Address
Your Phone Number
Date
Next, address the reader. Their information should be written as follows: Their Name (if known)
Company Name
Company Address
Introductory paragraph
Here is a generic example of an acceptable introductory paragraph in a letter of intent:
I met your CMO Jim McGuire this past summer at my university's speaker series, wherein he said successful people are not only brave but also ambitious. My ambition has led me to inquire about the possibility of working in your organization's event marketing department. My experience at Rosehill Farms accustomed me to hosting weddings and events of up to 300 attendees, performing every responsibility save walking down the aisle myself. I view your team as creative and detail-oriented, two characteristics I've nurtured over a lifetime.
Body paragraph(s)
Here is a generic example of a body paragraph (or two) that could follow the previous introductory paragraph:
My parents say I was born with a plan, always questioning and organizing and coordinating everything from the colors at my 6th grade sleepover, to the seating chart at holiday meals. I would offer this team intense attention to detail as well as a passion for the event, regardless of genre. I pride myself a critical thinker and have been known to come through for brides and birthdays alike as I sew hems and locate backup cakes. Were I to be added to your team, I'd only serve to strengthen and support the exceptional customer care this company already provides.
Closing paragraph
Here is a generic example of a closing paragraph that could be submitted with the letter previously mentioned:
I would love to answer any additional questions you may have or further discuss the prospect of my employment. If you are available, I can be reached for an informational interview via my cell number 444-444-4444 or email julie.butler@gmail.com.
Sign-off
Here is a generic example of an appropriate sign-off to end a letter of intent:
Sincerely,
Julie Butler
---------------
If you're looking for additional resources to help you in the professional sphere, consider learning more with G2 Crowd. We have articles outlining: