College isn't for everyone.
While society (or your parents) may tell you that you have to attend a 4-year institution to be successful, that couldn't be further from the truth.
There are a number of great jobs and career paths out there for those who have decided that college isn't the right path for them. Seeking out one of the jobs on this list could save you tens of thousands of dollars in tuition, lodging, books, and educational fees.
TIP: If you are seeking a job that requires a degree, many employers now offer student loan repayment as part of a benefits package.
Jobs that don't require a degree
As the cost of a college education continues to skyrocket, finding a job that doesn't require a bachelor's degree becomes more and more lucrative. These jobs, sometimes referred to as "new collar jobs" and can require certain hard skills received through specific training or vocational training, rather than a college education.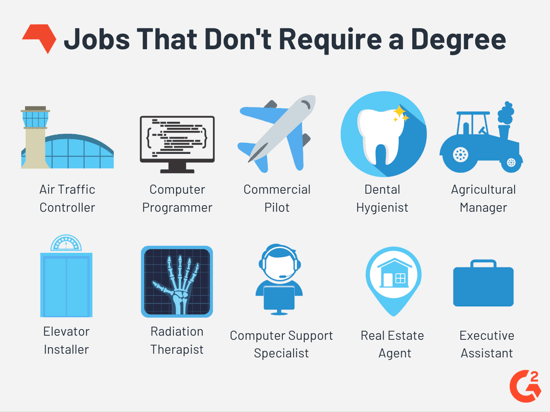 These jobs can be most commonly found in healthcare, information technology (IT), and manufacturing. Many of the jobs on this list have an average salary of about $70,000, putting them well above the national average of $33,000. These jobs are in high demand around the country, so keep reading to find out if one is right for you.
Salary data was collected by the U.S. Bureau of Labor Statistics at the Department of Labor.
1. Air traffic controller
Median annual salary (2017): $124,540
Education required: associate's degree
Air traffic controllers are responsible for directing the flow of takeoffs and landings at an airport. Although this job can be high-stress at times, air traffic controllers take pride in knowing that they are helping meet the logistical needs of an increasingly connected world.
2. Computer programmer
Median annual salary (2017): $82,240
Education required: certificate or associate's degree
A computer programmer, or full stack developer, uses computer languages to write code for programs or apps. Many of these programming skills can be learned on one's own time or through attending boot camps hosted by programmers who want to share their knowledge.
3. Commercial pilot
Median annual salary (2017): $78,740
Education required: associate's degree and commercial pilot's license
Not to be confused with airline pilots who transport people through the sky, commercial pilots navigate planes or helicopters to transport cargo on carrier routes. The process of obtaining a commercial pilot's license can take some time and an investment, but this can be an exciting and lucrative career regardless.
4.Dental hygienist
Median annual wage (2018): $74,820
Education required: Associate degree
A dental hygienist assists the dentist in the oral care of patients by performing cleanings and examinations, providing preventative care, and aiding in certain procedures. This is a great job for people who want to work in healthcare to some capacity.
5. Farmer, rancher, or agricultural manager
Median annual salary (2017): $69,620
Education required: high school diploma or the equivalent / GED
Everyone needs food, clothes, and shelter - all things provided by agriculturalists. Managing a crop farm, ranch, nursery, or greenhouse is a great job for anyone who enjoys the hands-on science and hard work. People in this job enjoy being connected to the natural world and providing for the community around you.
6. Elevator installer and repairer
Median annual salary (2018): $79,780
Education required: high-school diploma or the equivalent / GED
For those who are mechanically minded, a job in installing, fixing, and maintaining elevators, moving walkways, and other lifts can be a great opportunity. This job is expected to grow by 10% over the next 10 years and candidates can be hired after completing an apprenticeship.
7. Radiation therapist
Median annual salary (2018): $82,330
Education required: associate's degree
Working under physicians, radiation therapists work full-time in hospitals, physician offices and outpatient centers treating patients for cancer and other diseases. They also may perform X-rays or other diagnostic imaging for patients.
8. Computer support specialist
Median annual salary (2018): $53,470
Education required: high-school diploma or the equivalent / GED
For those who enjoy the satisfaction of problem solving, a job as a computer support specialist may be the right job. A support specialist provides help for people and companies with their computer equipment and/or software. Communication and people skills will help greatly in this position.
9. Real estate agent/broker
Median annual salary (2019): $78,940
Education required: high-school diploma or the equivalent / GED
Matching people with their dream home is one of the many joys of being a real estate agent. Whether you're flipping houses, managing listings, or building and maintaining client listings, going into real estate can take you far in life.
Want to learn more? Check out these comprehensive real estate resources.
10. Executive assistant
Median annual salary (2017): $57,410
Education required: high-school diploma or the equivalent / GED
An executive assistant is the unsung hero of the business world. Keeping an executive's work life in order is no easy task, but there is plenty of joy in playing a supporting role to the high-level employees of a company and making sure that everything functions smoothly.
Freelance work
A term you may be familiar with is the "gig economy." Millions of people are finding their own employment opportunities where they are able to make their own rules surrounding their work. If you have the skills and the drive to market them, freelancing could be for you.
What are you waiting for?
If any of these options seemed like it could be your calling, don't wait! College is not the necessity it's made out to be in this day and age. The right job could be just a step away – with no degree necessary.