Everyone knows what Instagram is. Come on, it's 2019.
It's no secret that Instagram has become one of the most popular social media platforms in the world. The site boasts over 1 billion total users with more than 700 million active monthly users. With such a large pool of potential customers, brands flocked to the platform. Now, more than 25 million accounts on Instagram are business accounts, advertising to a sizable audience that they couldn't have dreamed of a mere ten years ago.
Ten years ago may seem like a long time, but in the grand scheme of things, it's not. Instagram marketing (as well as most social media marketing) is still a very new form of advertising, one brands have capitalized on to reach a broader but more targeted audience.
This is where an Instagram marketing strategy comes in handy.
Think of your Instagram marketing strategy as the helium inside your brand's balloon. You use your strategy to build out your team or brand, identify the goals you want to hit, and use the proper tools to continually grow your brand's market presence and online reputation.
Like the analogy?
As more and more brands have joined the platform, it's made the landscape of Instagram marketing a pretty crowded one. In this article, we'll discuss how you can develop an Instagram marketing strategy that will help you stand out and achieve the engagement you're after.
How to create an Instagram marketing strategy
An Instagram marketing strategy is a plan of action or a specific list of goals that are set in place to promote, advertise, and sell a product or service on Instagram. This strategy can include determining objectives for your team, developing your brand's personality, or planning out your content ahead of time.
A lot of different factors go into what makes a successful marketing strategy, and every brand's strategy will be different. We'll start at the beginning, but feel free to skip ahead if you want to learn more:
Identify your audience
The first thing you need to think about when creating your Instagram marketing strategy is your audience. Who are you trying to reach when you use Instagram? How old are they? What hobbies do they have? Do they fall into a specific demographic, like race, gender, or sexual orientation?
This information is crucial to the development of any marketing strategy. Maybe you're a restaurant that sells authentic lobster rolls. You can already assume that the majority of New England will be a great audience to start targeting.
This is great, but there are only so many things you can assume about your audience and the success of a great marketing strategy doesn't rely on guesswork. Analytics tools are built into almost every social media platform. When referencing your analytics, think about what data is important to your brand. This data is there for you to explore and to hopefully get to know who your audience is, where they live, and what kinds of products they buy.
We'll dive deeper into Instagram Analytics later on, but keep in mind, the more you get to know your audience, the more success you'll find.
Determine brand goals and objectives
What do you want to achieve on Instagram?
When developing an Instagram marketing strategy, you should always have a clear set of goals you want to achieve. Ask yourself why your brand exists? What do you offer and why should people care about you?
To start brainstorming your brand goals and objectives, you can ask yourself these questions: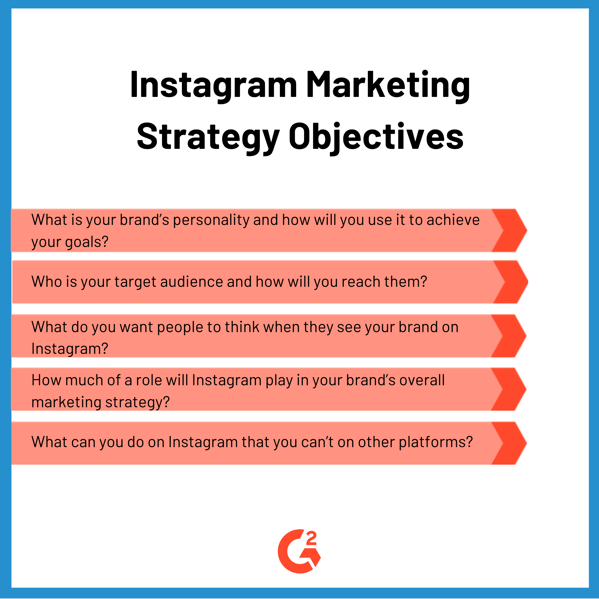 Keep in mind that Instagram is a visual platform and allows you to share photos and videos that showcase your brand's look, feel, and presence. People can get to know your brand on a more personal level when they follow you on Instagram. Think about how you can connect with them and use this intimacy to help you strategize your brand's next move.
You may be on Instagram to expand your audience or increase sales. Depending on a number of factors, (industry, reputation, presence, etc.) you should aim to achieve one or more of these objectives: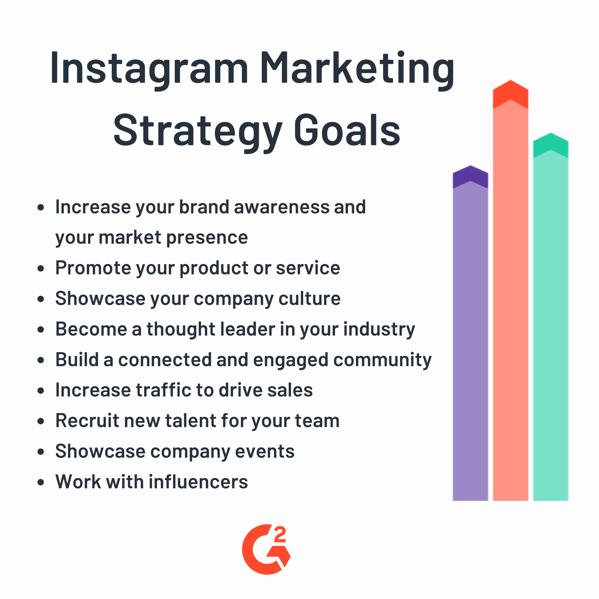 As your marketing strategy evolves, you may change the goals you set for it. It's good to come together as a team and talk about how you're progressing. Communication is important. Discuss your objectives with your team often so that you're sure everyone is on the same page and working towards the same goal.
Build your team and assign specific roles
Your team is your backbone (and the people who get the work done). Assigning someone to manage your brand's Instagram account can help you avoid any clashing of ideas. Once that person is designated, other team members will have a singular person to go to when they want to suggest a social idea. This eliminates confusion and will help to keep the brand's content consistent.
Establish your brand personality
At the end of the day, people are scrolling through their Instagram feed for entertainment. A brand's personality is crucial when trying to build your following and get people to hit that follow button.
If your brand presents itself in a proper manner, you may not be able to create a brand personality that can utilize memes or jokes. But if your brand is more laidback, it's a great idea to stay up to date with current events and throw in a little humor when you can.
Take KFC for example.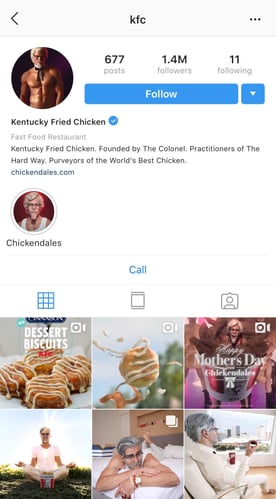 KFC has built its brand around Colonel Sanders. Over the years, they have used Instagram influencer marketing by having different celebrities portray the Colonel, painting themselves as a funny, humorous brand to the public. Pairing with celebrities or influencers is one of the most effective ways to get your content seen by a larger audience.
But back to the Colonel. Recently, KFC introduced their new virtual spokesperson.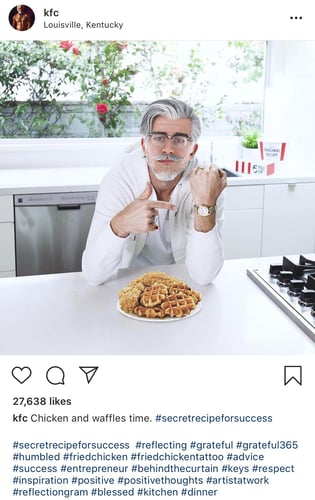 Even though he may not really exist, their Instagram account saw an increase in engagement with photos of this Colonel. Additionally, they weren't afraid to have fun and pull off some outlandish ideas that got viewers laughing.
Video courtesy of KFC

Whether your brand allows you to play into topical memes, or your team has decided to stick to a more professional demeanor, the personality you have on social media can make the difference between people simply knowing your brand and people actively talking about your brand. People are more inclined to bring up a ridiculous marketing stunt a brand posted on Instagram or Twitter while talking with friends than a boring promotional post they've seen a million times.
If you can find ways to make your brand stick out from the rest, you've already won half the battle.
Create your Instagram theme
Let's talk aesthetic.
I'm sorry, I can't stand that word but it's relevant when thinking about how you want your brand to look on Instagram.
Like we talked about before, your brand's personality is important, but maybe even more important is your brand's look. Humans are visual creatures and we like to look at pretty things. The more you can pinpoint your branding, (colors, font, subject matter, etc.) the more people will be able to recognize any content you share to social media.
Here are some great Instagram brand aesthetic examples that really capture each brand's personality:
Denny's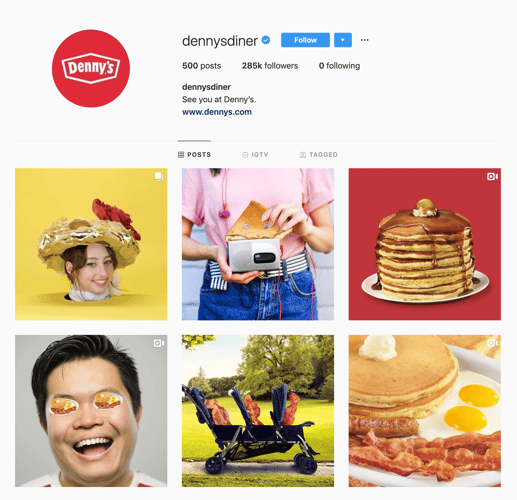 Denny's knows their brand's aesthetic and personality. Because Denny's is a restaurant chain, they use food to play into a funny, bright, bold, and artistic aesthetic. Their content usually has one subject in it and focuses on how their food can be used in a quirky way. Just look at that crepe hat.
UNIF
UNIF sells bright, retro clothing. If you scroll through their Instagram account, you'll see bright colors, lots of accessories, and styles from the past that have been adapted and reintroduced to younger generations.
UNIF is targeting teens and young adults and usually portrays them in their clothing. There's a sort of rebel vibe that goes along with UNIF's brand, and they play it up with lots of interesting accessories, combat boots, and colorful hair and makeup. They know their brand personality, aesthetic, and purpose to a T, and continue to grow in popularity online.
Airbnb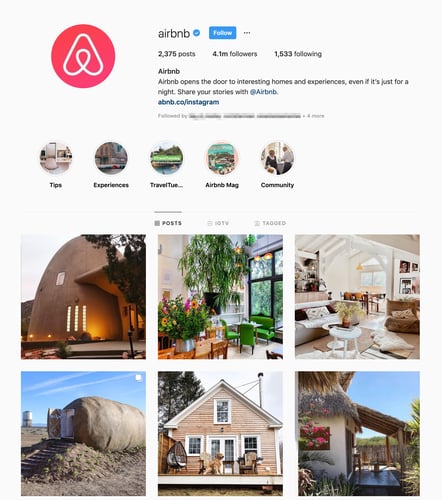 When someone says "Airbnb", what instantly comes to mind? Homes, hotels, apartments, places to stay. Right? It's a no-brainer that they would take advantage of some of the most beautiful places available to book on the website.
The Airbnb feed is full of stunning and interesting homes. This is important because that's the entire point of their business. Showcasing unique places to stay. It also helps that their content looks professional, rather than a photo someone snapped on their phone. The clean and sleek look works for them and helps them to entice their audience to book their next trip with Airbnb.
Ulta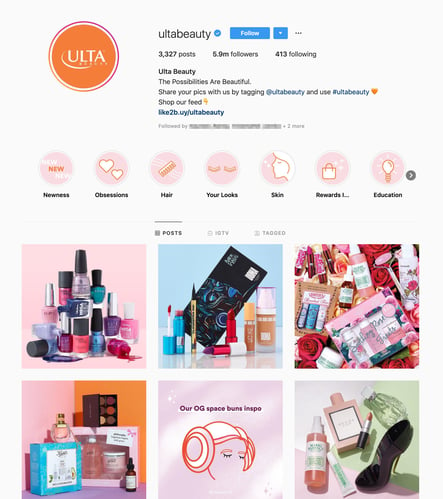 Ulta uses their Instagram in a playful way. The makeup retailer does not shy away from color! Using color can be a great way to catch a potential follower's eye and lead them to your profile. Throughout Ulta's feed, you'll see makeup products galore. By showcasing their products like this, they come off as an approachable and down-to-earth brand that likes to have fun when interacting with their audience. Their aesthetic matches everything their brand stands for: color and creativity.
Every visual decision is important
There are other things that go into your Instagram theme. Captions, brand colors, and Story Highlights (we'll get into that in a moment). Every aspect of posting to Instagram plays a role in your marketing strategy and how well you can engage your audience. Maintaining your Instagram theme will help people become familiar with your brand, and ultimately, that's the goal.
Utilize Instagram Stories
Ever since it was introduced to the platform, Instagram Stories has become one of the best (and most used) aspects of the app.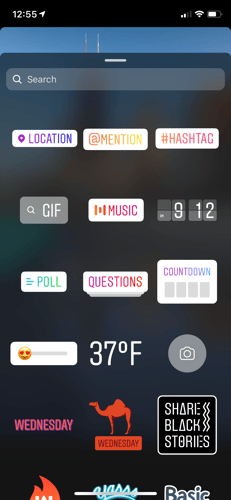 With dozens of fun features to take advantage of, Stories is a great way to connect with your Instagram audience outside of traditional grid posts. Using Polls, Questions, or Countdowns can help you to engage your audience and get them excited about products you have coming out or events you're putting on in the near future.
There are a plethora of tools you can use within Stories to connect with your audience on a more personal level. Take a look at our comprehensive guide to Instagram Stories and discover all the ways you can implement it into your marketing strategy.
Implement a social media calendar
If you haven't thought about using a social media calendar when planning out your content, there's no time like the present! Now that you have a better idea of the kind of content you'll be posting, the next logical step is to decide your posting frequency.
Instagram is always evolving, and so is your audience. Figuring out the best time to post can be confusing, but remember, there's no universal best time to post on Instagram. To really gauge when you should be posting, you'll want to check out your analytics (but we'll talk about that in just a second).
Back to the social media calendar. Because marketing can get hectic, you don't want to always be thinking about when you need to post to Instagram. And if you miss the perfect time, it'll throw everything out of wack and you'll be cursing yourself under your breath.
Having a social media calendar will help you to organize your content and plan its posting around important dates or events. Even better, there are a bunch of scheduling tools available for you to use! As a matter of fact, Kicksta compiled the top-three Instagram automation tools based on scheduling and time-saving features.
Social media management software will also help take AWAY the anxiety of remembering to post on time, because guess what? They do it for you.
Utilizing a social media calendar is helpful when you want to see the dates where your brand could benefit from a post or two. In general, you want to make sure you're posting good content consistently. Instagram's algorithm will favor accounts that post twice a day over accounts that post eight times in one day and then again … two weeks later. The better you can plan your content, the better you'll fare on Instagram.
Check in on your Instagram Analytics
Analytics are important. That's pretty obvious. When you want to know who is viewing your posts, when they're on Instagram, the content they're interested in, and how you can get them to interact with your account more, you'll want to check out your Instagram Analytics.
Maybe you want to find out how many people are clicking on your profile, or clicking through to your website, or even where your audience lives. Instagram Analytics has all of that information for you.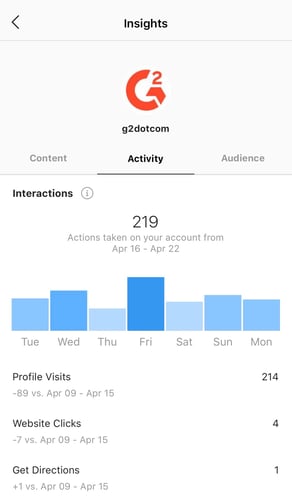 When you visit your Analytics, you'll be able to determine the best time for you to post on Instagram and even the best times during each day.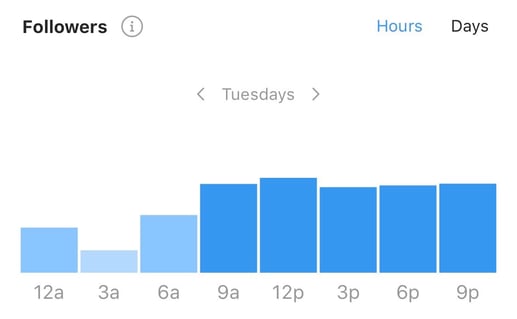 If you frequently check your analytics, you can keep track of the content that is performing well and the content that isn't. If you notice that posting Stories about your company culture brings in great engagement, you'll know that you should continue to post that content and find a way to tie it closer to your brand's image.
Getting to know your audience takes time, so keep track of your Instagram Analytics. It's some of the most valuable data available to you (because it's unique to your brand).
Check out our social media marketing hub for additional resources that'll help you become a social media pro.
Over to you
As you organize your Instagram marketing strategy and learn how to use it effectively, you'll find what content works best for you. You'll discover how to best engage your audience, the best way to cultivate your aesthetic, and how your team can work together to make it all happen.
Building your brand and growing your following is no easy feat. Use these Instagram marketing strategy tips to keep you on track and on the path to expanding your reach.
Click through to learn everything you need to know about social media marketing.