If you're in marketing, there's no doubt you've heard the buzz around Instagram marketing over recent years.
With marketers and consumers alike flocking to the photo-sharing platform, it begs the question, how could you not?
Social media marketing has entirely changed the way businesses have to approach their marketing strategies. In just years, it's shifted from a complementary aspect of a larger marketing strategy to a critical feature.
Instagram business account
Whether you're looking for step-by-step instructions on building an Instagram profile or simply seeing how much work it would be (hint: it's not much!), this guide is for you. We'll cover Instagram business profiles, the benefits that come with creating one, and the eight simple steps of building your Instagram business page.
What is an Instagram business profile?
An Instagram business profile is a free feature that Instagram offers to brands that want their accounts to be recognized as businesses. These business profiles offer additional features compared to a personal profile, such as Instagram analytics, ad targeting, a contact button, and more. More than 15 million businesses are leveraging Instagram business profiles to reach their audiences in a unique way that is all about the visuals.
Marketers know that great visuals are the backbone to any successful content or social media marketing strategy.
Benefits of an Instagram business account
Since its inception in 2010, tens of thousands of marketers have created Instagram business profiles in hopes of reaching new audiences through unique visuals and in-depth analytics.
Some marketers, however, are still hesitant.
Whether it's a reluctance to make the switch from a personal to a business profile or the mindset that your audience just isn't there, marketing teams all over the world are refraining from hopping on the Instagram train.
Does this sound familiar?
If this is your team, we feel we'd be doing you a disservice if we didn't highlight the various benefits of an Instagram business profile. While the success of your Instagram profile ultimately depends on your audience, your offering, and, of course, your strategy, these Instagram features will push you along the road to success.
Instagram is focused on visuals
As I'm sure you know, Instagram is all about the visuals. For marketers, this is a goldmine. Compelling photos, graphics, and videos are essential to any content or social media marketing strategy. There's no wonder consumers and marketers have flocked to the platform! Visuals enable you to show off your brand in a way that a typical Facebook status update or tweet simply can't. While there are a few other social networking platforms that have a primary focus in visuals, Instagram boasts one thing they don't: a massive user base.
Access to Instagram Insights
If you take the plunge and select an Instagram business profile over a personal profile, you have access to Instagram Insights, the platform's built-in analytics tool. This tool provides valuable insights, like who your followers are, when they're online, and more. Additionally, you'll receive access to performance metrics on specific posts and stories, plus insights into how your audience is engaging with those posts.
Instagram Ads for businesses
If you're already executing a Facebook marketing or strategies for other social media sites, you're well aware of the powerful targeted ads you can run. If that sounds like you, then I have great news! Because Instagram is a Facebook-owned company, it uses the same powerful advertising tools. With Instagram ads, you can set up, run, and track ad campaigns. If you're already on Facebook, the minimal learning curve is just an added bonus.
Contact button
Whether you're a restaurant, online shop, or software company, it's essential that your existing and potential customers know exactly how to reach you. An Instagram business profile makes it easy with a contact button that sits at the top of your profile. With the button, you have the option to include an address, phone number, or email address, depending on how your customers can best reach you. This will make it easy for followers who are asking questions or seeking support. You can also communicate with followers via Instagram DM.
Links on Instagram Stories
Before you get too excited, let me preface this by saying this feature is only available to business profiles with more than 10,000 followers. Those accounts are able to feature clickable links on their Instagram stories – a rare Instagram feature with a massive opportunity. Just another reason to grow your Instagram following, am I right?
If you are a business Instagram account with 10,000+ followers, you can add links to your Instagram stories. (Note: Before, this feature was only available to verified Instagram accounts.)
Quick tip: Don't take our word for it! Read what real users have to say about their Instagram business profile and its impact on their business.
How to create an Instagram business profile
Creating an Instagram business profile is simple! By following these easy steps, you'll be well on your way to adding a new tool in your social media marketing toolbox.
1. Download the Instagram app
While Instagram is accessible through the computer, you'll need to download the app on your mobile device to create an account to gain full access to all of the brand's features. If you have a designated smartphone for your social media marketing efforts, use that! If not, consider using the personal phone of your social media marketing professional or whoever will be spearheading your Instagram strategy.
Simply grab your smartphone, search for Instagram in the app store, and download! The visual below will give you a good idea of what to expect. As a heads up, we'll be using iPhone screenshots throughout this post. However, the Instagram app is also available on Android.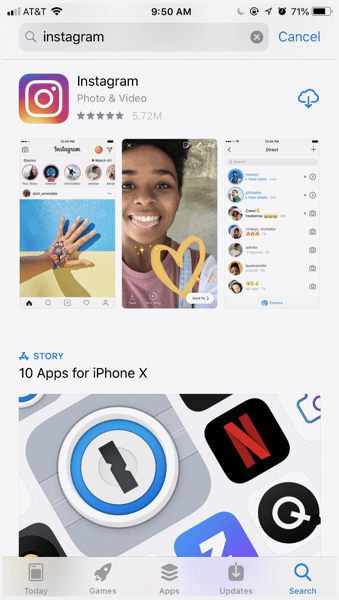 2. Create a non-business Instagram account
The next step is to create your Instagram account. If you've created a personal Instagram account in the past, this should be a familiar process! You don't switch your account to a business profile until after it's almost entirely complete.
Instagram will prompt you to sign in with your Facebook account. While this may seem like a shortcut, we do not recommend linking your profiles. If you do, Instagram will create your account based on information from your personal Facebook.
Instead, create an Instagram account using the business email of whoever will be running the Instagram profile. You may also consider creating a dummy email for all of your social media profiles, like socialmedia@companyname.com.
3. Selecting your username and password
Once you create your Instagram account, you'll get to start making the profile your own. Based on the name you signed up with, Instagram will suggest a username for your account. If you entered your company's name initially, you may choose to keep the suggested Instagram handle. If you entered your name initially, or the name of the person who will be running the Instagram account, you'll want to change the username to your company name.
This step is easy. Simply press the "change username" button. In almost all situations in social media marketing, your social media username should be the name of your company and consistent across all platforms. This will make it easy for your customers to find you and increase brand affinity when you start posting pictures and videos.
You'll also select a password at this stage. Don't forget that multiple marketers on your team may need to access the Instagram account, so avoid making your password the name of that goldfish you had when you were nine.
Instead, select a password that is secure and business related – not one that you'd be embarrassed to share with your chief marketing officer if they ever asked.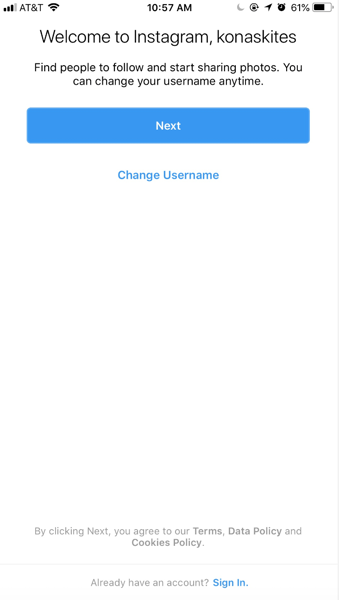 4. Find accounts to follow (or skip this step)
The next screen you see will prompt you to find people to follow through Facebook and within your contacts. While you can complete this step if you'd like, we recommend waiting until your profile is more complete before you begin following other brands or individuals.
There's a chance that those you follow will follow you back, so consider holding off until you've posted some content and built out your profile more. You'll always be able to go back and find contacts through Facebook, so hit "skip" (at the very bottom of the screen) for now and know you can take advantage of this feature at a later date.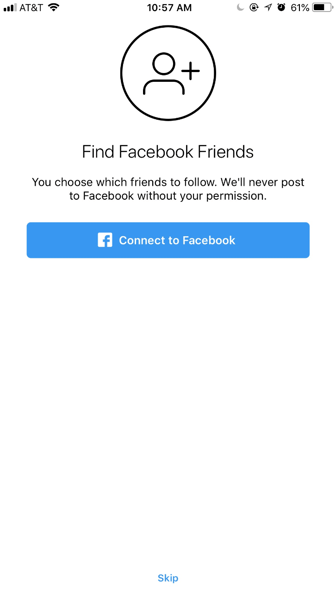 5. Uploading a profile picture for your account
Now it's time to upload a profile picture! When it comes to social media marketing, a primary goal is to increase brand affinity. Users should visit your profile and immediately know just what company they're looking at. An easy way to ensure this happens is by using your logo as your profile picture.
While social media's casual nature may make it appealing to use a group picture or something a bit more "out-of-the-box," remember that this is a business account and not your personal page. That doesn't mean you can't use the pictures eventually! Just save those fun shots for your actual posts. Using your logo as your profile picture will help your followers relate the stellar content you post back to your brand.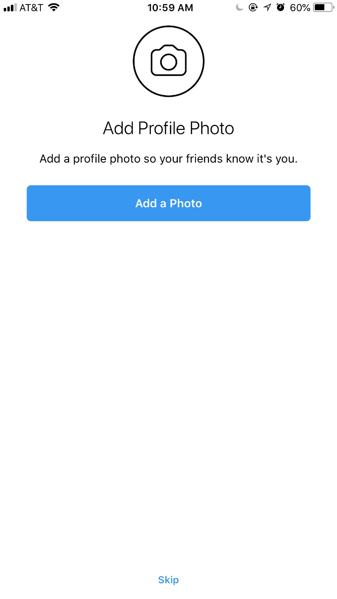 6. Switch to an Instagram business account profile
At this point, you'll switch your Instagram profile to a business profile! As a disclaimer, this requires you to have a Facebook business page.
If you do have a Facebook business page, then this process is even easier. At the top right corner of the page open the settings menu. This button is a gear in iOS or an ellipsis on Android phones.
From there, you'll scroll down until you see the option to "Try Instagram Business Tools." Select this, then click through the slideshow until you're prompted to connect your Instagram to your Facebook business page.
At this point, Instagram will ask for permission to manage your Facebook page. Select "yes" – this enables Instagram to link to your Facebook business page. Once you complete this step, you're all set! Your Instagram profile is now a business profile, and you have access to the valuable insights the app offers.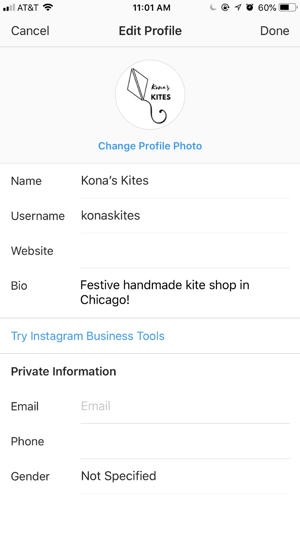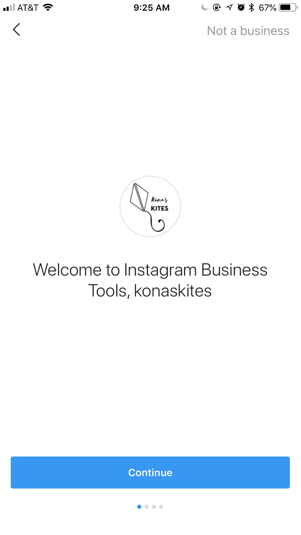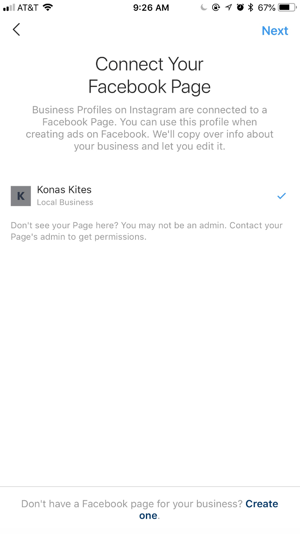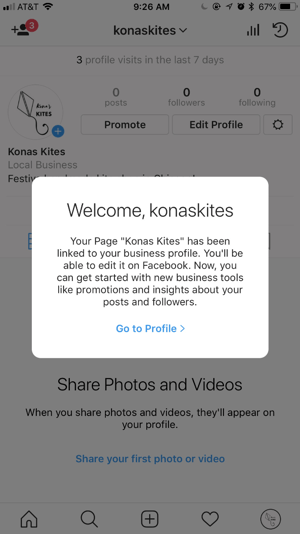 7. Complete your Instagram business profile
Now that you've successfully turned your Instagram profile into a business profile, you can start building it out with some information about your organization and brand.
Before you start posting pictures and videos, you'll want to fill out your Instagram bio and contact information fields. This will ensure that anybody visiting your profile has an idea of what you do, where you're located, and how they can contact your team.
To do this, tap on the profile button on the bottom right to see your personal account. This button is a picture of your profile picture, so it'll be easy to find! Click the "edit profile" button that sits at the top of your page.
This is where you can update your page bio and contact information fields. Keep in mind that your Instagram bio is limited to 150 characters. Briefly summarizing what you do should be more than enough information! Don't worry if you're not feeling inspired just yet – you can come back and edit this section whenever you'd like.
You'll also add your contact information and website. This is the only place on Instagram that you can put a clickable URL (unless you're a business account with more than 10,000 followers), so take advantage of the opportunity and link to your primary website. And, don't forget to set up your Instagram Nametag and display it in your business. This makes it easy for customers to find your new business account on Instagram.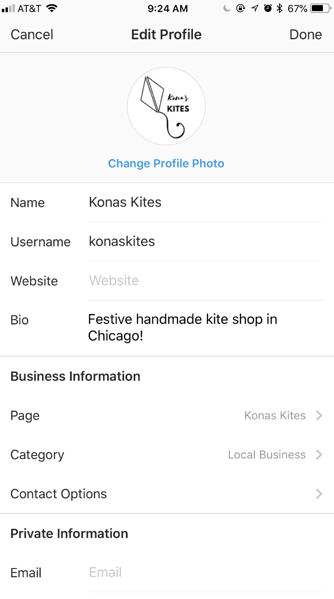 8. Start filling your business account with valuable content
Congratulations! Your Instagram business profile is complete. It's time to start filling your page with the exciting content your audience seeks. To upload a photo or video, press the plus sign button that sits at the bottom of the page. From there, you'll be able to select the photo you want from the phone's gallery.
Once you're well-versed in taking, editing, and posting Instagram pictures, you can start exploring Instagram stories and the various other opportunities the app offers!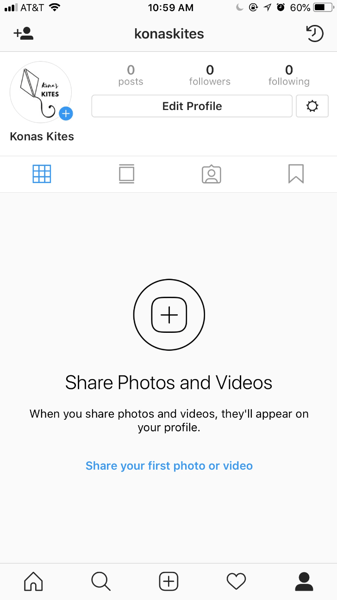 Utilizing your new Instagram business account
Now that you have all the tools you need to build your Instagram business profile, it's time to explore the opportunities that come along with it!
Building your Instagram business page is simple. The challenging, but exciting, part is getting to fill your Instagram profile with images, videos, and more! For more information on Instagram marketing best practices and posts that perform well, be sure to check out our ultimate guide.
Learn How to Repost a Video on Instagram to further advance your business account.