We've officially made it to December, and you know what that means.
Our Instagram feeds are filled with couples holding hands while ice skating, office holiday parties, and braggy beach pictures from the friends lucky enough to escape the Chicago winter.
Soon enough, though, those pictures will make way for the post we see – and anxiously await – every year: The 2018 Instagram Best Nine.
How to find your 2018 Instagram Best Nine
Download the Top Nine app or visit https://TopNine.com
Enter your Instagram username and press Continue
Enter your email address and press Find My Top Nine
Download your Instagram Top Nine when you receive the email!
Instagram Best Nine 2018
Your Instagram Best Nine, or Top Nine, is a compilation of your nine most-liked Instagram posts from the past year. This isn't a feature offered by Instagram, but is something you should be aware of to help make the best Instagram marketing campaign possible. Users who want to find their top nine posts have to use third-party apps or websites like topnine.co
As years come to an end, social media users start to get nostalgic, turning to things like Spotify Wrapped and Youtube Rewind to reflect on the past 365 days. The Instagram Best Nine allows users to look back on some of their favorite memories (or at least, some of their most-liked memories) and wrap them all together into a perfect, made-for-Instagram picture.
Every year, I look forward to seeing my Instagram Best Nine. Here's how you can see yours too.
How to Find Your 2018 Instagram Best Nine
Since the Instagram Best Nine is not a feature offered by Instagram, you'll need to find a third-party app or website to compile your most-liked posts. For the most user-friendly experience and a quick turnaround time, I recommend downloading the Top Nine app or visiting https://topnine.co. Take note that if you have a private Instagram account, you'll need to use the app.
On both the desktop and mobile version, you'll immediately be prompted to enter your Instagram username. Do that, and press continue.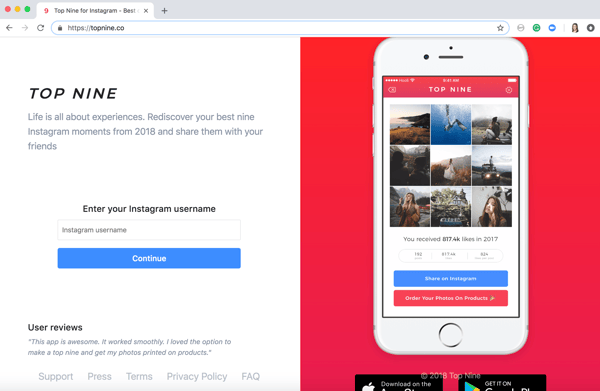 Once you do that, it'll request your email. We've heard this is because they saw so much demand for the Instagram Best Nine in recent years that the loading time was slow. This way, they can simply email you your 2018 Instagram Best Nine when it's all ready.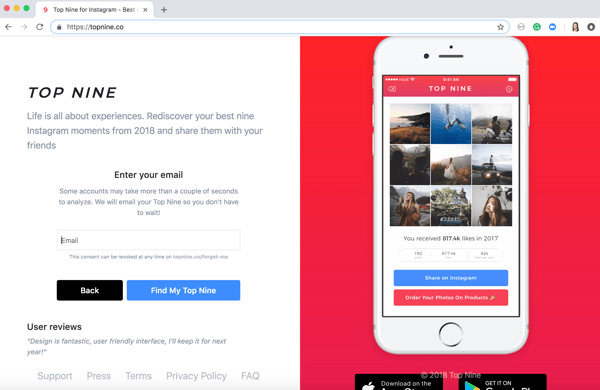 Once you enter your email address, click "Find My Top Nine". Mine was sent to my email within seconds but look out – it landed in my Promotions inbox instead of my Primary inbox.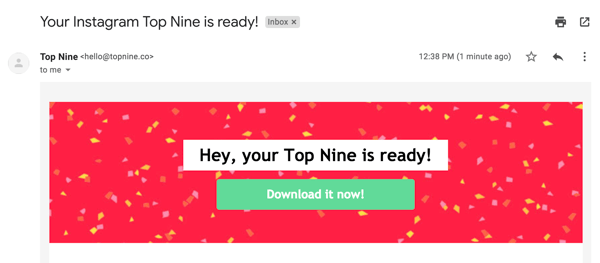 In the email, they'll have a button you can click to download your 2018 Instagram Best Nine. From there, you can download your top nine, save it to your own device, and upload it to Instagram whenever you please!
If you're using the app, you'll see a button that allows you to immediately share on Instagram. If you're using the website on desktop, you'll download the image itself – already sized to fit the perfect Instagram story dimensions.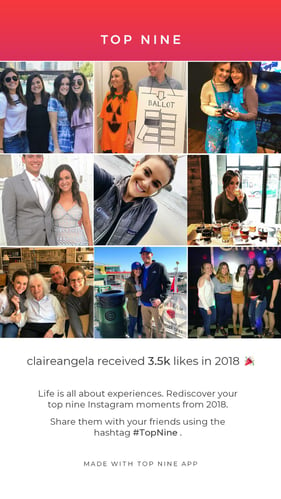 Time to check out your 2018 Instagram Best Nine!
If the holiday season has you feeling nostalgic, there's no better time to check out your 2018 Instagram Best Nine.
Have you found your 2018 Instagram Best Nine yet?