Growing up, anything my siblings said or did was the golden standard.
My two older sisters were and are twins, and only had a mere 18 months head start on life than me. I saw them walking and quickly decided I was interested. I heard them talking and figured I'd better get going on learning words.
My parents even got lucky with potty training. By observing my older sisters master the porcelain throne, I quickly figured out its intricacies as well.
In recent years, the marketing stratosphere has caught on to this "older sibling" effect and begun using influencer marketing as a method of influencing consumer decisions. Influencer marketing uses many of the strategies my older sisters used on me: using people I trust to make things look cool and, in turn, persuade me to learn more about those same things.
What is influencer marketing?
Influencer marketing is a relatively recent strategy aimed at forming bonds between brands and individuals for mutually beneficial purposes. This method refers to the process of a company forming relationships with respected bloggers or other content curators over time in order to potentially evolve those relationships into paid or unpaid partnerships.
Influencer marketing has a plethora of positive effects. It is a proven method that will increase engagement on your social media marketing posts, grow your following on various platforms, and even improve your overall bottom line.
If you're interested in influencer marketing, there's a lot to consider before the campaign can truly get up and running. But before we get too ahead of ourselves, let's talk more about what this strategy and industry, as a whole, really are.
What is Influencer Marketing?
An influencer is an individual or group of people with a loyal following whose opinions or approval have the authority to influence their followers' purchase decisions. Influencers don't necessarily have to have millions of followers. Rather, they have a fanbase that considers their opinions and expertise credible.
Tip: Check out the best influencer marketing software to find something that works for your business.

Influencer marketing is a relatively recent strategy aimed at forming bonds between brands and individuals for mutually beneficial purposes. This method refers to the process of a company forming relationships with respected bloggers or other content curators over time in order to potentially evolve those relationships into partnerships.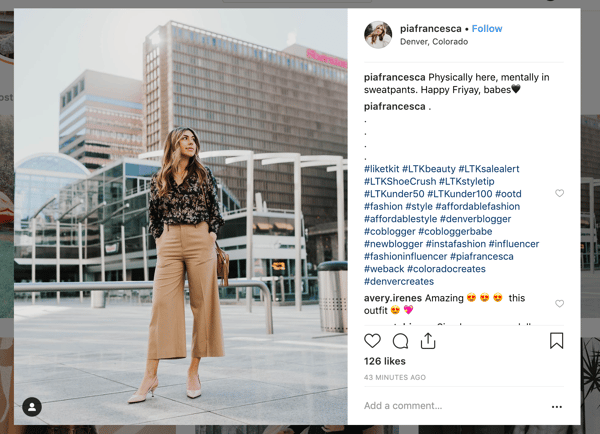 Influencer marketing does not mean using celebrities to endorse products. That strategy exists outside of the one we are presently discussing. Rather, it refers to the mutual agreement to use someone's personal brand to strengthen trust for your professional brand.
Say a dermatologist has created a successful YouTube video blog (commonly referred to as a "vlog," for those unaware) where she frequently shares her opinions of various regimens, as well as debunks myths about skincare. If you've been trying to sell a new facial sunscreen that offers UV protection without clogging pores, you may continuously reach out to this dermatologist, slowly increasing her awareness of your brand and improving the chances for a partnership.
The dermatologist could help market your material in a number of ways. If your facial sunscreen company has a blog or other content marketing collateral, the dermatologist could link to those posts within her own content. She could also try the product and give her honest review or do a giveaway to her followers.
True influencer marketing campaigns are more than quick cash grabs or sponsored advertising. They're an understanding that both parties have something to gain by working together. In the previous, hypothetical example, the sunscreen company is in need of a consumer base in the skincare industry, while the dermatologist is looking to increase her authority in the skincare space. By choosing to work together, the two parties are able to boost the other's authority and business.
"The best influencer marketing does not involve financial compensation. Instead, it requires understanding that influencers want to be recognized, have access to information and be the first to know of any news in their space -- they need this to strengthen their influence.
Good influencer marketing is centered on building sincere personal relationships with influencers and sharing useful, unique, exclusive, or early information. The good news is that influencers are curious. A marketer with an interesting, useful product should have no problem finding information and knowledge of value to influencers," said Gerardo A. Dada in an article for Forbes.
The Rising Popularity of Influencer Marketing
The history of influencer marketing is not nearly as deep as that of print or radio advertising. Billboards, TV commercials, and even magazine ads all go back further than this largely social-driven platform.
Influencer marketing is largely executed through social media profiles, personal blogs, video streaming sites, or personal websites. That being said, it was impossible to be a true influencer before these channels were made largely available to the public. At the outset, websites and other digital profiles were limited to individuals who knew how to develop code.
Influencers have cropped up in recent years as a strong online presence has become a more credible trait. In 2016, influencer Lilly Singh was the highest-earning person on YouTube with 11.9 million followers. What does she do? Creates and posts her own comedic videos, which eventually landed her a contract with Coca-Cola.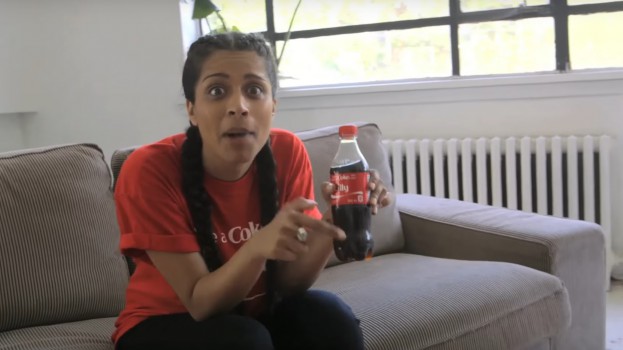 As influencer marketing has gained popularity, the Federal Trade Commission (FTC) has made their best effort to keep up. They've passed rules on this type of marketing strategy that require influencers to inform viewers, readers, or scrollers when a post is a sponsored advertisement.
Monetary compensation obviously has an effect on the influencer's motive for posting about or endorsing a product or company, and the FTC wanted people to be aware of this.
As with most technological advancements, the law has not completely kept up. The aforementioned rule has only been enforced on four occasions, according to Social Media Explorer. The norms are evolving quickly as the influencer landscape continues to flush out and become a more developed environment.
Reasons to Trust Influencer Marketing
We live in a generation of skeptics. With new makeup, software, fad diets, and fitness routines emerging daily, people are learning to ask questions. Where does this come from? How was this made? What's the science behind how this works?
It makes sense to hear about this new trend of influencer marketing and wonder what it can actually do for your business. Can a 25-year-old blogger clad in millennial pink really put your dog shampoo on the radar of her 300,000 Instagram followers? Perhaps you're like me staring at the menu at a boutique cocktail bar, asking "what do any of these words even mean? Egg yolk, in a beverage?"
Luckily, influencer marketing is not without proof of its efficacy. According to AdWeek, marketers received $6.85 in earned media value for every $1 spent on influencer marketing. Statistically, user-generated content is 50 percent more trusted by internet users than traditional media, and consumers are 71 percent more likely to make a purchase based on social media referrals. (Statistics per Influencer Marketing Hub)
According to Social Media Explorer, 84 percent of millennials don't trust traditional advertising and prefer more authentic endorsements, like that of a trusted blogger or fashion designer. Celebrity endorsements often don't perform as well as those by influencers. According to a survey done by Collective Bias, a mere 3 percent of customers are influenced by celebrity endorsements when choosing which products to purchase.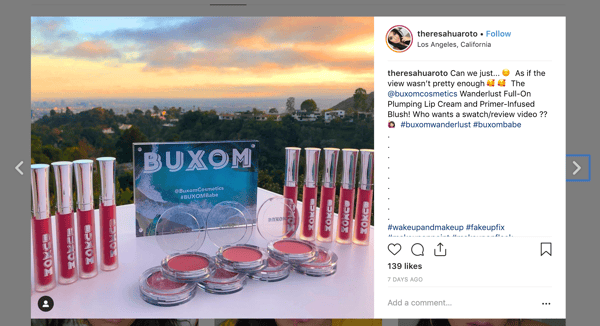 Image courtesy of @TheresaHuaroto who shared this photo of her Buxom makeup products
When you think about it, we have little reason to trust a celebrity's take on things like products, diets, etc. Their lives are so curated that it's difficult to know if their opinions are legitimate or if they're speaking in response to money from a brand name. Wouldn't you be tempted to say nice things about a makeup pallette you were sent for free?
It's a little easier to trust celebrities who work closely with their product on a daily basis, such as athletes who wear Nike or Adidas apparel. Singer/songwriters offering their opinions on shampoo lacks that close correlation and is an example of a brand using status over authority. For 37% of consumers, authenticity is the most important thing about a sponsored post. (99Firms, 2019)
With influencer marketing, readers or viewers already have a trusting relationship with the source of authority. While that source may not necessarily be an expert, they've laid a lot of the groundwork necessary to obtain loyal listeners.
Another reason to trust influencer marketing is because of its ability to create long-term engagement and results.
Influencers are like freelancers, but instead of selling their writing or photography they're trying to profit off of their entire brand. According to Social Media Explorer, we can expect influencers to be more loyal to a brand that offers them long-term contracts and steady paychecks over brands that are looking for a quick partnership.
Remember when Verizon's "Can you hear me now" actor took us all by surprise when he began appearing in Sprint commercials years after the original Verizon campaign? You can bet Sprint made him an offer he couldn't refuse, and his brand switch did not go unnoticed. You could say this marketing campaign was the one heard 'round the world, and we could all "hear him now."
Sprint simply reached out to actor Paul Marcarelli, had him sample its upgraded product, and asked him to join its new campaign. Money is ideally not the main driver of influencer marketing campaigns — a dermatologist should never feel pressured to recommend faulty skincare products simply because the brand pays well, but we can tell from this example that it is certainly a strongly considered factor.
A study by Google determined that celebrities often don't have as big of an effect or reach as influencers, especially with younger audiences. Teenagers today have been online for most, if not all, of their lives and value YouTubers and other influencers for their interaction with audiences. According to that study:
Four in 10 millennial subscribers say their favorite creator understands them better than their friends
70 percent of teenage YouTube subscribers say they relate to YouTube creators more than traditional celebrities
Six in 10 YouTube subscribers would follow advice on what to buy from their favorite YouTube creator over their favorite TV or movie personality
This data shows that viewers or subscribers don't always see their favorite influencer as a far-off, unrelatable character. Instead, they are viewed in much the same light as a role model, older sibling, or friend. In this way, viewers are much more likely to take their advice or recommendation to heart.
Being an Influencer is a full-time job, and professionals are looking for brands they can stick with over time. This is a good thing for marketers, as it develops a lasting relationship between your brand, influencer, and their entire audience. As their audience grows, so does your potential for an increase in consumership.
Influencer marketing also provides your organization the opportunity to advertise in ways that appeal to your target market's passions. Consider this statistic from a survey by Mars PetCare: 30 percent of people who own pets engage with celebrity animals on social media.
Did you know animals could be celebrities? The animals themselves sure don't. Except for maybe the original Air Bud, whose notoriety could not escape him.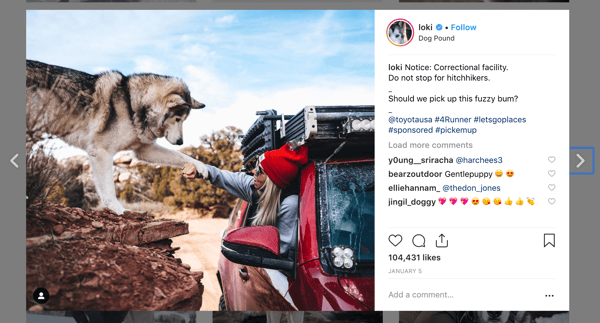 According to the same survey, 60 percent of pet-owners post about their animals on social profiles an average of twice per week."One in six say they've created a social media profile specifically for their pet - and half of those pet owners say their pets get more social attention than they do! One-third said they post about their pets as much (and as often) as they do about their human family, and 13 percent admitted to posting about their pets even more than they do their human family," the survey said.
My point is this: your target audience is telling you what they like either through their social profiles or consumption of various blogs and newsletters. Influencers, such as the aforementioned celebrity pet profiles, simply help you engage with your audience on their turf.
The list of reasons to consider influencer marketing is seemingly never-ending. In a stunning piece of content, digital marketing consultant Shane Barker has compiled a list of 75 Influencer Marketing Statistics that Will Surprise you in 2018. I'll let you reflect on the thoughts already provided, but check out what he has to say should you desire any further proof of this strategy's power.
Finding Influencers
Okay, have I hooked you on the idea that influencer marketing is a vital aspect of any consumer-centric strategy? I'd assume so, or else you wouldn't still be here.
We'll dive into the nitty-gritty of how to execute an influencer marketing campaign in a bit, but first I want to discuss the strategy behind finding influencers. I know there are a lot of questions, and it can be tricky to decide where to begin. Where do I look? How do I reach out? How do I determine if a certain influencer will have the desired effect within my particular audience?
Let's take it one step at a time.
First, we'll talk where.
In the recent guerrilla marketing guide, we discussed the importance of knowing your audience. Hold on to this idea like your life depends on it, because your business's life actually does. To determine where to look for influencers, ask yourself where your audience is looking for influencers.
If you have a young audience who has grown up with a childhood enveloped in digital media, you may want to consider YouTube. We already discussed a few YouTube statistics, such as how teenagers are more likely to trust a YouTube influencer than they are a celebrity.
If you're pandering to millennials, social media is the name of the game. In 2015, a Harvard survey reported that 82 percent of 25-to-29-year-olds were on Facebook, 34 percent were on Instagram, and 43 percent were on Twitter.
Age is just one consideration to take into account. Sex or gender identity may also affect where you choose to look for influencers. The same Harvard survey reported that more females than males are on every single social media site listed, with the biggest statistical difference between the two being on Pinterest.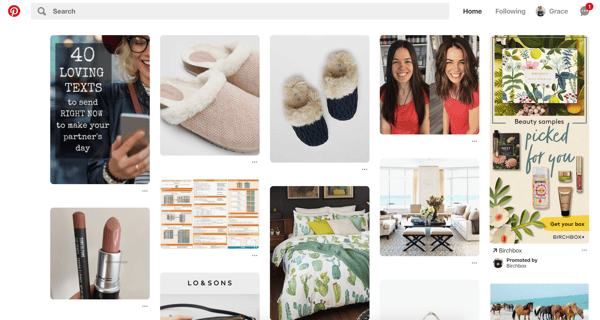 Image is of my personal Pinterest homepage
While 56 percent of females claimed to have a Pinterest account, only 12 percent of males claimed the same. We can infer that marketers seeking a male-dominated audience would be hard-pressed to grow their readership through influencers who publish content via Pinterest.
Older audiences are a completely different ball game. While influencer marketing is still a worthwhile endeavor to attract older generations, it's a little trickier. Those who are middle-aged and older have essentially established the brands they trust and the products they use. Convincing someone in their 60s or 70s to switch toothpaste or change laundry detergent will not be accomplished through a YouTube video.
Baby boomers are far more likely to pay attention to content on Facebook than they are other social media platforms, being that their demographic has not completely migrated to any other platform yet. According to Media Post, women in the baby boomer age range migrate more frequently to content that makes them laugh, while older women want more honest discussions or narratives on life, and are more likely to follow bloggers who do so.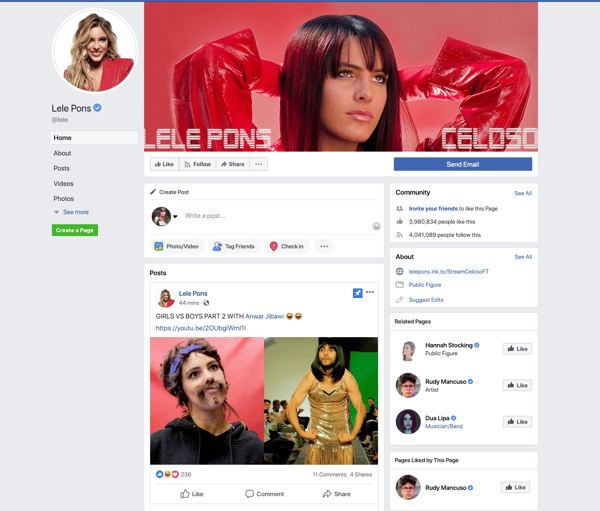 Lele Pons is a comedic influencer known for her humorous sketch videos and a large Facebook following.
"Another place you can't ignore? Their inbox. Email is still the best way to reach many Boomers, and over 50 percent of women told us they follow bloggers by subscribing to their newsletters."
Who Should They Be?
Character is an insanely important aspect of influencer marketing. When a celebrity or influencer associated with your brand makes poor decisions, your brand is often expected to act on or respond to that behavior.
Take, for example, Aflac firing Gilbert Gottfried in 2011. Gottfried had been the spokesperson for the insurance company for some time when he tweeted some insensitive comments regarding a recent tsunami in Japan. Aflac ended up letting Gottfried go and making a statement on his behavior.
"Gilbert's recent comments about the crisis in Japan were lacking in humor and certainly do not represent the thoughts and feelings of anyone at Aflac," the company released in a statement. "There is no place for anything but compassion and concern during these difficult times."
Another example is Logan Paul, a disgraced YouTube vlogger who was removed from the video sharing site's preferred program after posting a tasteless video from inside Japan's Aokigahara forest, notoriously known as 'suicide forest.' Paul posted footage of he and his friends coming upon the body of a person who had died from suicide.This callous treatment of mental illnesses sparked outrage across the world.
Paul was pulled from the Google Preferred channel and lost his feature in a series called "Foursome," in which he had previously played a part. Although Paul posted an "apology," many are still left with a sour taste in their mouths regarding his immature and reckless action.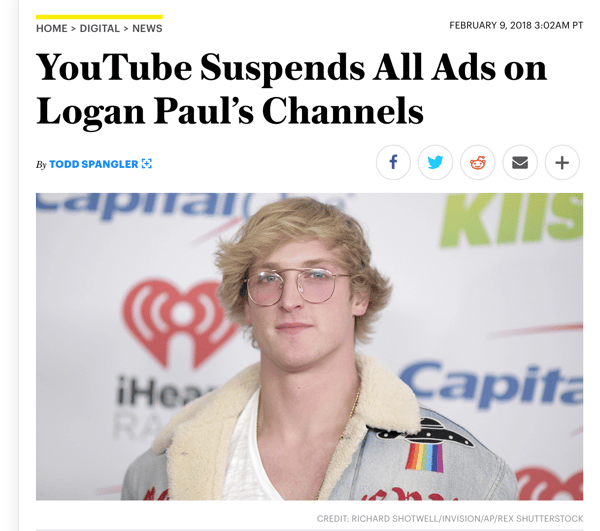 Needless to say, the process of choosing an influencer should not be taken lightly. It is much better to be proactive in the beginning than it is to be reactive after someone related to your brand messes up big-time.
In order to proactively choose an influencer to partner with, take stock of their previously uploaded content and note the topics they cover. If an influencer posts overwhelmingly political tweets, perhaps they're not someone you want sharing your content, as politics are often a dividing line between consumers.
Along with taking their content into consideration, look at their comments and how they interact with users. Particularly, look at how they interact with users who are criticizing them. Anyone can be gracious to a kind and supportive audience,but when faced with dissent or backlash? That's when an influencer's true character comes to light.
Additionally, consider the type of personality you'd like for them to have. "Outgoing" is a character trait for many influencers, so that's not really what we mean here. I'm talking about their voice. Do they write with humor? Respect for their topic? Are they an in-depth researcher who you can trust to deliver accurate statements?
Tone and voice of an influencer will help you find someone who fits your brand. If you're a doctor trying to raise awareness for a vitamin that can reduce people's chances of contracting the common cold, consider an influencer who encounters illness a lot, such as a daycare teacher or mother of three.
Just like any time you're considering someone for a job, you'll want to take a look at their skills and experience. What traits can they uniquely offer your organization that makes them a good fit for your brand and working style?
One surprising quality an influencer requires is decent sales skills. Carrying this title requires one to be influential, does it not? They should have a keen ability to not only narrate their perspective, but also to win others to it.
Lastly, consider who they're talking to. This goes hand-in-hand with the where to find influencers section, but you'll find that much of this process is connected. Consider the type of audience a certain influencer is generating and whether that audience seems likely to become your consumer base. If an influencer appeals mainly to teens, you will have a hard time selling them your new line of wrinkle cream.
How to reach out to influencers
Having gone through a challenging journalism program, getting in touch with people always makes me nervous. What if they're not interested in what I have to say? What if they shut me down rudely? What if, worst of all, they flat-out ignore my pleas?
We've previously discussed how influencer marketing is mutually beneficial for both the blogger, vlogger, or professional Instagram star and the brand. So don't feel nervous to reach out to people, as you're essentially doing each other a favor.
How you contact influencers will depend largely on how available they've made their contact information. Ideally, someone who makes a living out of their internet content would include their email or a contact form. Facebook profiles include an option to message people directly. If you can't find their email, a direct message on platforms such as Twitter or Instagram are the best ways to get in touch.
Although it may seem like a good idea at the time, pitching a partnership through a comment just isn't a powerful route to forming professional connections. Business conversations should be had in private, not be publicly observed by other followers and onlookers.
According to the 2017 Study of Influencer and Content Marketing done by Izea, influencers are becoming increasingly picky about which pitches they accept and deny. With that in mind, it's important that you not only ask through the right messaging system, but also with the right message.
Image courtesy of Crazy Egg
Think of a time someone asked you for a favor. Consider how they asked you. Did it influence your desire to help them out, either positively or negatively? For example, as a truck-owner, I have a lot of people ask me for help moving apartments or moving a large item. While I'm usually happy to assist, the way I'm asked does affect my attitude toward the favor. I prefer when people are polite and appreciative, as the favor requires the use of my gas and, even worse, sends me looking for another parallel parking spot at the end of the day.
Emails or messages to influencers should be similarly considerate. Even looking into your pitch means taking time out of their day, so write it as efficiently as possible. First and foremost, make the pitch concise.
You should be able to quickly communicate exactly what you're trying to do with this partnership. Influencers are busy people, and it's possible you're not the first business that has tried to partner with them that day. Be considerate of their time by making your pitch brief.
Secondly, try not to mince words. If you plan to pay, say that. If you're hoping to compensate in other ways (free products or service), communicate that. Make sure conditions are clear so the influencer can evaluate with all of the details in mind.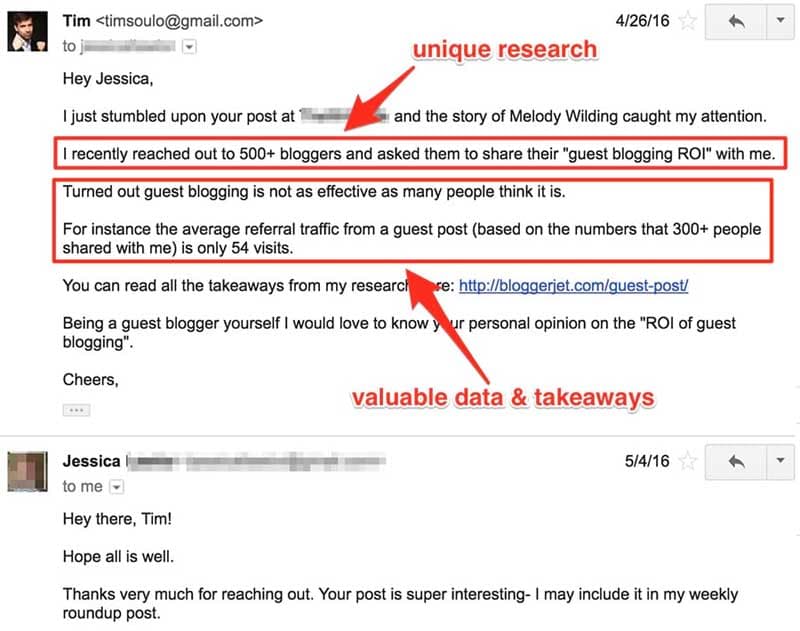 Image courtesy of NinjaOutreach
While being clear, the message is still a pitch. It doesn't have to have everything laid out (i.e. timeline or rate of pay), but it should contain enough information to help the influencer determine their own level of intrigue.
Include a clear call-to-action, or reason for this influencer to respond. Sample sentences could include:
Please respond within the week if you're interested in learning about next steps for this campaign.
We'd love to get an informational call on the calendar in order to further outline the benefits of this partnership, as well as gauge your interest.
If you're interested in our offer, we'd like to set up a conversation to see some metrics on past campaigns and the ways this partnership could benefit both of us.
Lastly, show some personality while maintaining professionalism. Influencers are not only deciding if they wish to work with your brand, but also if they wish to work with you. Being friendly and personable will make a more positive impression than being stiff and robotic. Consider saying why you reached out to this particular influencer out of a sea of thousands or include a parallel between their brand and yours.
The following is a sample of what you could send an influencer:
"Hi [NAME],
I work with Bark Breath, a new company trying to sell owners toothpaste for their furry friends. We can't stop smiling at the pictures on your puppy profile and would love to have a conversation about how we can partner with you to promote our product and your content. While we are currently unable to provide monetary compensation, we are interested in a product giveaway that would include a tube for you and your pets.
If you're interested in this partnership, as well as opportunities to work together in the future, please respond with your phone number and a few times you'd be available to talk in the coming weeks.
Best,
Todd from Bark Breath"
Tools to help you with influencer marketing
The Temptations have a song called "Ain't No Mountain High Enough," which tells the story of a man who will stop at nothing to get to his beloved. As time goes on, we've learned that software companies will truly stop at nothing to get to their consumers. Included in that is the advent of influencer marketing software.
Per the complete definition of influencer marketing software on the G2 Crowd category page:
"Influencer marketing software helps organizations identify, recruit, and communicate with social influencers. Influencer marketing systems are used to locate and manage new and existing brand advocates within a unified platform. These products allow organizations to recruit new influencers with built-in searchable marketplaces. Organizations can filter through influencers by establishing detailed search criteria.
Influencer marketing products also provide features for curating influencer-generated content, creating branded marketing material, and analyzing the performance of social influencer campaigns. Organizations use influencer marketing software to create and manage marketing campaigns that depend on the use of social influencers as representatives of a brand or product. Some influencer marketing products can further facilitate and manage athlete and celebrity sponsorships.
Influencer marketing software is commonly implemented in marketing departments with mature social media marketing strategies. Influencer marketing software streamlines the process of maintaining an active community of brand advocates across social networks and turn those into social influencers. Influencer marketing software is often implemented to complement and support other social media marketing products. It can be paired with brand advocacy products to convert advocates into social influencers."
Some influencer marketing features include influencer recruitment and analytics, reporting and dashboards, audience analysis, and influencer collaboration, scoring, and segmentation.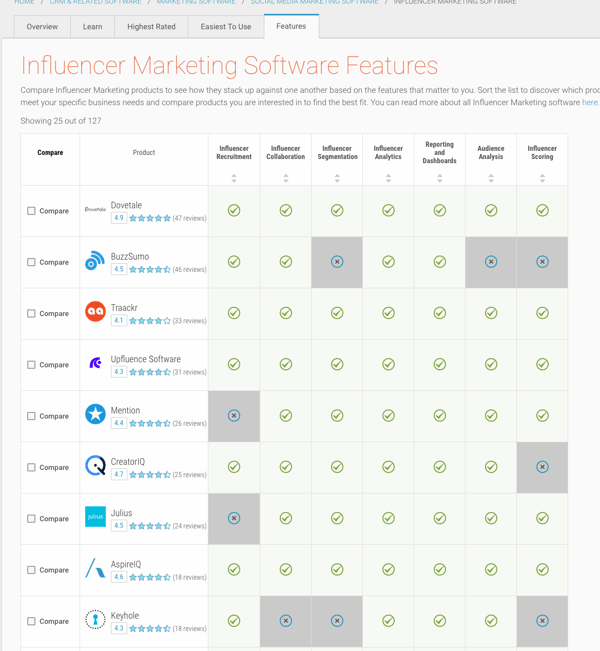 Influencer marketing solutions really show you the full picture. In a BuzzSumo review, a highly ranked IM tool, a user remarked, "BuzzSumo is amazing. I love the 'influencer' feature that allows me to find leading voices on any topic. I love the ability to see and download everything that has been shared on my (or any) site in the last year.
This helps clients understand how their content marketing programs are or are not working. I also love the site comparison feature, showing you what types and lengths of content on sites get shared the most."
Another highest-ranking IM tool is Dovetale, which has also changed the game for some professionals by providing insightful analytics.
One Dovetale review reads, "Dovetale provides all of the necessary insights from all our social media campaigns, just by clicking a few buttons. You can either add your Influencers or Creators prior to your campaign, or copy and paste their posts into the fields and have it generate a beautiful report for you. An easy-to-use service providing all of the metrics that our clients like to see in a comprehensive, interactive, and efficient way. Generating reports is easy, and I'd like to admit almost even fun. The support team is super solid. Every time we have a question, they answer within minutes."
(G2 Crowd does not endorse any products listed in our content. Rather, we strive to use our real-time data to bring you transparent insights. The aforementioned products have been highly ranked by real users.)
Another tool to help you locate influencers who would be appropriate ambassadors for your brand is an influencer marketing agency. These agencies focus their marketing efforts toward specific channels, such as Instagram and YouTube.
"Influencer marketing can be highly lucrative for Instagram influencers. According to the agency, Socialyte, top influencers with a following of 50 million plus can command $100,000 for a single post. Even a middle-tier Instagram-influencer with 400,000-to-1.5 million followers can charge $5,000 per post. Research carried out by Later using lower-tier influencers suggests that influencers with 100,000 followers could expect to receive $1,000 per Instagram post.
Is it any surprise that agencies have sprung up focusing on social media influencer marketing - including Instagram of course - as well as quite a few conventional agencies adding influencer marketing to their offerings? They have learned how keen Instagram's 800 million users are to try out products Instagram influencers recommend and promote." —Influencer Marketing Hub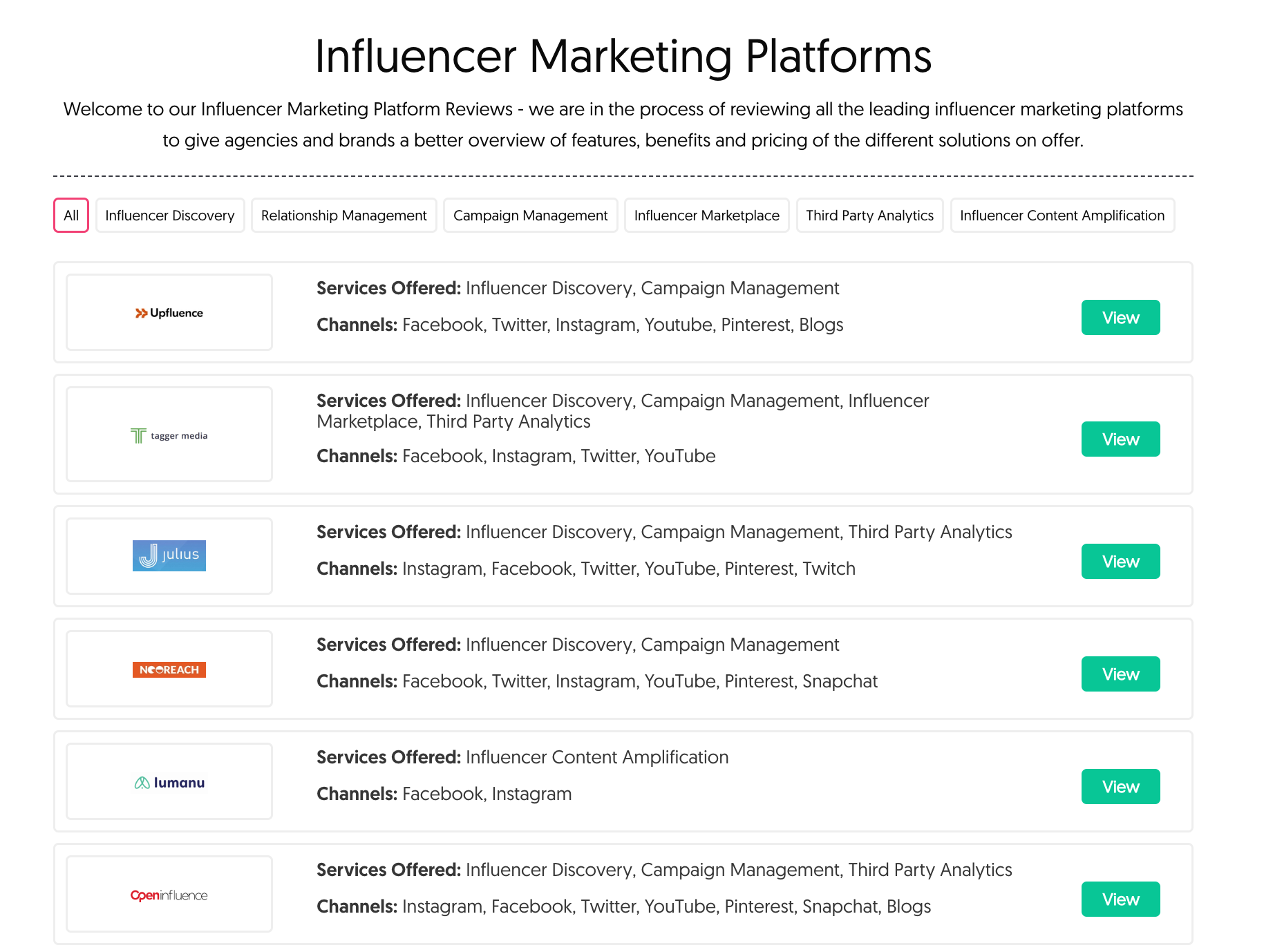 Check out reviews of various IM platforms by Influencer Marketing Hub
Agencies can serve both sides of the influencer marketing spectrum, representing both the influencers and companies looking to hire influencers. Agencies often have a network of talent ready to be hired, simplifying a company's tenuous search processes.
Agencies can also help with your strategy, such as figuring out which channel is best for you. With these professionals employed at the helm of your campaign, metrics such as engagements and reach never go undocumented. They can help you manage your relationship with influencers, as well as assist or entirely run campaign measurement and reporting.
While agencies are certainly going to cost more than it would cost to find and hire an influencer yourself,they are more likely to do the work correctly the first time. If you're okay with a little trial and error, leave the agency out of it and make things happen for yourself. But if you'd rather a smooth campaign and a more certain return on investment (ROI), an agency may be for you.
Executing and Measuring an Influencer Marketing Strategy
If you've decided to continue with the campaign on your own and not hire an agency as we briefly discussed, then you're going to need a plan. Executing an influencer marketing campaign is like executing any other type of campaign in that it needs direction and measurable results.
Following is a step-by-step guide on how to execute an effective influencer marketing campaign. By the end of this section, you should feel like a campaign such as this is completely within your reach.
Goals
The first step in an influencer marketing campaign is developing and communicating your goals.
What exactly are you trying to do with this idea? Do you want to see thousands of engagements, build followers on your own profile, see a measurable increase in consumership, or something else?
It's important to understand that influencer marketing is not always used as a method of increasing sales. A lot of times, organizations use it to increase awareness or create attention around their business, product, or service. Setting goals beforehand will not only allow you to begin the campaign with a clear mind, but also help you confidently decide if an influencer marketing campaign is for you.
Some examples of goals in campaigns past are as follows:
More followers on social media: If an influencer references your brand on their 100,000+ follower profile, it's possible some of their followers will convert into your followers. (See: How to Get More Followers on Instagram)
Raise awareness of brand: When people see a respected authority in their community advertising a certain brand or product, they will be more likely to have interest in learning more about that brand or product. If a traveling influencer who I follow promotes a carry-on, chances are high that I'd want to navigate to that luggage line's profile or website and do some of my own digging.
More sales: As mentioned earlier, increased sales aren't always the main priority of an influencer marketing campaign. However, if this is a goal for your organization, campaigns can be arranged in such a way as to promote purchases and buying decisions.
Increase customer loyalty: You don't just want a few fast-grabs at your consumers' attention. Rather, you want loyal customers who stick around over time. By utilizing a name and face an audience already trusts, chances are higher that you'll build out an audience that sticks around.
New demographics and target markets: It's possible you're advertising to one group of people, but want to break out into a younger crowd, or crowds all over the world. Influencer marketing campaigns can help with this, as many influencers have followers of varying demographics.
Identify Influencers
With any marketing campaign, it's important you have an understanding of who your audience is. Not just how old they are or where they are from, but you should know the nitty-gritty. What did they grow up watching and listening to? What are their likes and dislikes? What are some common facts about their generation? How do they relate to others?
Understanding your demographic or target market will help you identify influencers that are fit to host your influencer marketing campaign. You wouldn't hire Dr. Phil to try and reach out to the preteen demographic; they would be overwhelmingly disinterested in life and/or relationship advice from a man of his age and background.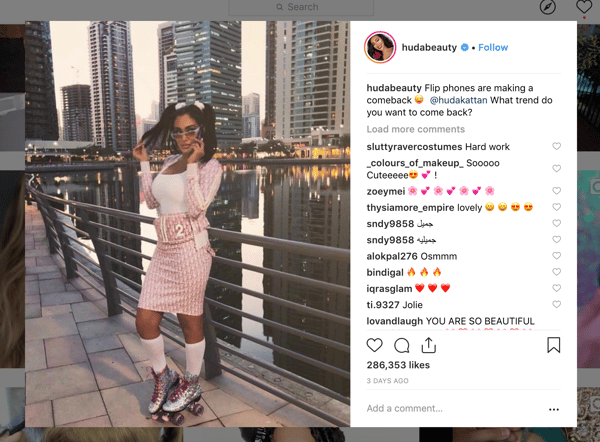 Market research firms can help you get down to this nitty-gritty, like identifying new opportunities for outreach and establishing trends in the marketplace.
"Market research helps you minimize risks. Through market research, you may find all the information you need to decide whether to take action on a particular subject. For example, you may find that the particular location where you wanted to open a shop already has a saturated market in your line of business, which should make you refrain from making that decision and look for a more appropriate spot." —Happy Creative's 10 Benefits of Market Research
Just like agencies take all of the guesswork out of influencer marketing, market research firms can take away any uncertainty you may have regarding who you're truly marketing to.
Side-by-Side Comparison
Once you have an influencer in mind, see how they measure up in relation to what you're trying to accomplish. Do they have any metrics available that explain how they've been able to help organizations in the past? Do they have enough followers to really help you increase brand awareness?
It's difficult to answer these questions entirely without reaching out, but it's important to do as much research as you can before contacting an influencer.This information will help you make the smartest choice for your company.
Once you've reached out to an influencer, you should be mostly certain you want to hire them, especially if they're more established in their industry. They're not pitching to you.You're pitching to them, and it's a bad look to reach out and then back off of the initial offer.
Things do happen, and it's understandable that partnerships can occasionally fall through the cracks. But you don't want to build a reputation among the influencer community as a company that always offers and never follows through.
Reach Out
Once you're certain you have who you want, send them a direct message. As stated earlier, commenting on posts or other content is considered a tacky strategy among many influencers. A direct message shows that you're seriously interested in this relationship and you respect them enough to make contact directly to their inbox.
Reaching out should feel natural, like the start of a friendship or a long-lasting professional relationship. If you've done your research on who they are and who follows them, you should have a good idea of their voice and perspective. Tailor this communication to sound like a message they would want to receive.
Make this messaging feel organic. If communication feels stiff or cold, you're decreasing the chances of gaining their interest. While this is for a professional purpose, bloggers, vloggers, and influencers are often quite personable and have a big personality of their own. Use this message as a chance to show you understand their style and respect their content.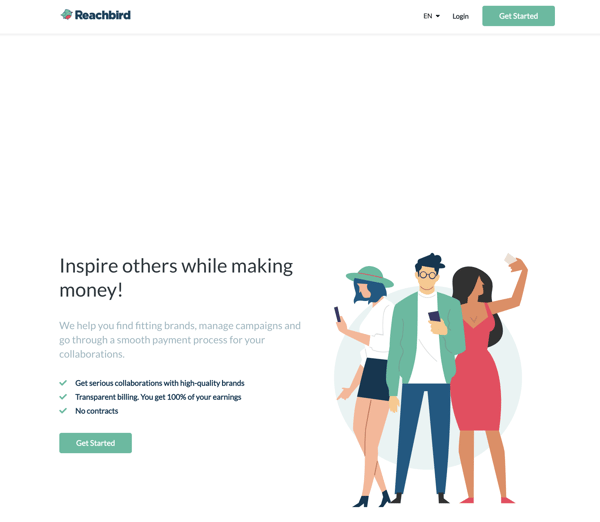 Track and Analyze — Perhaps the most important aspect of an influencer marketing campaign is making sure it worked and/or is working. If you haven't hired an agency to run the campaign, you'll have to strategize how you're going to keep track of metrics.
First, you'll want to understand the reach of the campaign. How many people are potentially seeing this content on the influencer's page? This is much easier to do with platforms such as YouTube, which provide metrics on video views, thumbs up, and thumbs down.
Instagram provides likes and video views, but it's harder to capture how many impressions a photo made. In order to get more in-depth analytics, you may want to invest in a tool that reads social media metrics, such as social media analytics software.
Calculate your reach by considering how many followers the particular influencer has, the number of impressions they've delivered to your brand, and any measurable traffic driven to your site through their posts or pushes.
Next, measure the campaign's engagement. This can be done by taking stock of any shares, likes (or other reactions for profiles that offer more than a like), or clicks. Comments or brand mentions also boost the popularity of your content, meaning more people are able to see it.
Image courtesy of WordStream
This information helps determine your cost per engagement (CPE), or the amount of money you're spending on engagements. This is calculated by dividing the amount spent on ads by the number of engagements. Cost per engagement calculation can also be made easier by social media analytics software.These tools offer the full picture, as opposed to just showing what everyone else can see.
Keep track of audience growth and leads through analytics solutions. Analytics solutions can keep you updated on what demographics the influencer marketing content is attracting, which helps you understand if the strategy has had the desired effect.
Lastly, have a strategy in effect to see if the influencer marketing campaign itself has generated any successful sales income. This can be done with UTM codes, which inform you of where customers found the link to enter your site. This, in turn, will tell you directly if clicks are coming in from your influencer marketing campaign.
The way you report on and display this information is up to your team and will depend heavily on the software solutions you already have in place. One thing is clear: Tracking an influencer marketing campaign should be a top priority for your organization, as it helps clarify whether the strategy has been a worthwhile investment that should be repeated.
Examples of Successful Influencer Marketing Campaigns
I've talked you through the strategy of this type of outreach, but what does a successful influencer marketing campaign actually look like? Lucky for you, plenty of brands and influencers have gone through the trial and error so you can learn from their efforts and focus most heavily on results. The following campaigns should give you a more concrete idea of what this relationship looks like, as well as get you ready to ideate and execute your own version of this strategy.
Sperry
If you're unfamiliar, Sperry is a brand that sells boat shoes to a mostly preppy clientele. Instead of doing the usual advertisements, it enlisted what it referred to as "micro-influencers." The campaign actually began with a Sperry consumer, Slava Daniliuk, who took it upon himself to post pictures wearing the brand's shoes in interesting locations. Sperry asked Daniliuk if it could share his content and enlisted him to continually post on the brand's social channels and website. Daniliuk produced Sperry's most engaged with Instagram photo of 2017, which features him atop a skyscraper looking down. Although Sperry does not offer its micro-influencers monetary compensation, the brand is sure to share their handles with its 277,000 followers.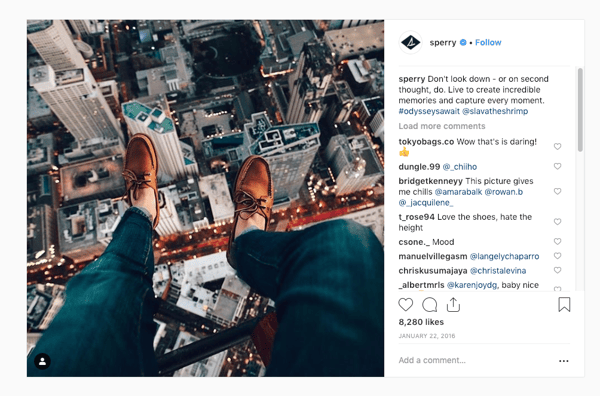 Choice Hotels
When it comes to hotels, real-user insight is invaluable. Travelers are constantly placing their trust in the hands of sites such as Yelp and TripAdvisor to help determine what lodging is worth their money. Choice Hotels (owner of Cambria and Comfort Inn) wanted to leverage the perspective of popular blogger, Chelsea Foy.
Image courtesy of LovelyIndeed
She created a detailed blog post outlining her experience at a Comfort Inn and included a $500 giveaway in the post. The blog post received 59 comments, the YouTube video she created regarding the stay received 200 views, and the Instagram portion associated with this campaign gathered over 7,000 engagements.
WeWoreWhat/Fiji Water
Danielle Bernstein is a popular influencer who partnered with Fiji water last year to encourage viewers to use Fiji water after workouts.
"The blogger who brought you Second Skin Overalls and Archive Shoes is now focusing on your summer body. WeWoreWhat's Danielle Bernstein has joined forces with Fiji Water and trainer Eric Johnson of Sons of Strength to launch a fitness program dubbed BodyWoreWhat, where users can receive access to eight 8-minute videos and a comprehensive meal plan (including do's and dont's) with a one time fee of $35 designed for those working out at home or traveling. The project marks Bernstein's continued evolution of creating a lifestyle brand. Video topics housed on the site include…Warm Up, Cardio, Crop Top Abs, Runway Legs, Tight Ass, I'm Bringing Sexy Back, BFF Workout, and Puppy Pulse. Where does FIJI come in? To keep you hydrated, the water company is offering 25 percent off your first shipment of home delivery." –Sydney Sadick for Fashion Week Daily
Glossier
Glossier is one of many beauty brands trying to advocate for the beauty and confidence of "regular women."
"Friend to Bloglovin, Tamira Jarrel, a beauty and lifestyle blogger, is one such influencer who promotes the brand. She got her start with Glossier organically, trying out some of its products as a busy mother of two who is constantly on the go managing her family, her widely successful blog, and her demanding job in the medical field. She embodies exactly the type of woman that Glossier aims to please. Glossier has since brought Tamira and other women like her onboard to spread the company and its products from the grassroots up." — Samone Wheeler for BlogLovin
Pala Casino Resort and Spa
Pala Casino Resort and Spa participated in an influencer marketing case study with Hollywood Branded. The resort was looking to attract a younger clientele and thought using influencers would help.
From the Hollywood Branded webpage: "Hollywood Branded helped Pala Casino Resort and Spa facilitate an on-site influencer event. [They] worked directly with Pala Casino's marketing team to put together an event that provided enough structure to make sure each component of the casino was properly covered, all while keeping it free flowing enough so that attendees were able to enjoy the casino on their own time without feeling too constrained by the event. Together, Hollywood Branded and Pala Casino Resort and Spa put together a great three-part event that included food and drinks, slot games and nightlife entertainment.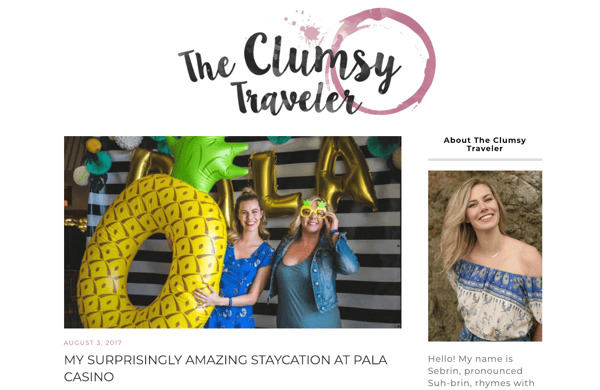 Image courtesy of The Clumsy Traveler
With a goal of having 20 influencers in attendance, Hollywood Branded sourced over 200 influencers who satisfied Pala Casino Resort and Spa's age, geographical, and content-quality specifications, and invited them to Pala Casino's property for the all expenses paid overnight getaway. Hollywood Branded served as the liaison for all communication between Pala Casino Resort and Spa and the influencers; All contracts, questions, and other miscellaneous organizational tasks were handled by Hollywood Branded."
According to its reporting, Pala Casino Resort and Spa used 21 influencers to secure over 87 pieces of content coverage. The campaign resulted in 50,000 engagements and 1,000 new likes on Facebook.
Consider the following examples from Marketing-Schools.org:
"Redwood Creek Wine
The winemaker created a social platform called Blaze the Trail that helped to position the brand as one committed to sustainability and natural living. The platform features in-depth information about wine making and included Q&A sessions with wine makers. By providing a wealth of information about the wine in the context of the brand's desired image, Redwood Creek was able to control the message that influential wine drinkers would spread.
La Cense Beef
In order to educate consumers about the benefits of grass fed beef, the meat producer set up a website with information about the movement and sustainable agriculture in general. They also reached out to foodie bloggers who have sway amongst gourmet meat buyers. By making it easy for bloggers to research and write about the benefits of La Cense Beef, it were able to spread the message about its brand.
Barilla Pasta
The company sent out 'Test Kitchen' packages that contained pastas, sauces, and any other Barilla products recipients would need to host a dinner party. Those same recipients then cooked the food, served it to their friends, and uploaded real photos of the gathering to a website. This was a way to organically spread the word about Barilla pasta. The photos that were submitted were used to create authentic looking advertising that featured real Barilla customers.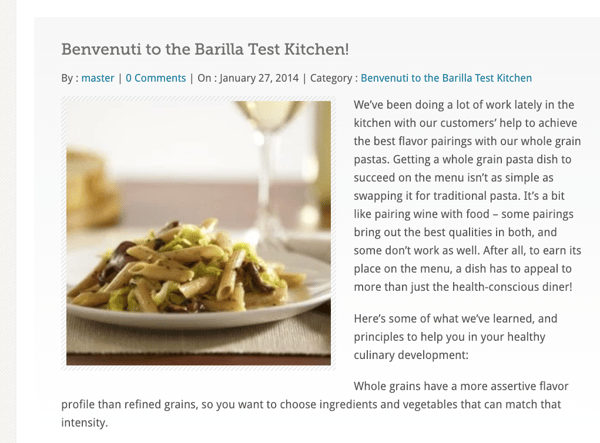 General Motors
The car maker set up an exclusive website thats access was limited to 'GM Insiders.' These were customers who had a deep knowledge, history, and affinity for GM's many iconic brands. The website featured exclusive news, offers, and sneak peeks. By catering to this passionate segment of its customer base, GM was able to encourage them to talk up its cars to friends and family."
Popular Influencers
The answer for the most popular influencer will, expectedly, vary depending on your industry and audience. For example, the most popular influencer among preteens will differ from who millennial moms are interested in following.
That being said, there are various individuals who stand out across industry and age lines. The following influencers are making an impact not only in their individual sector, but across the influencer marketing genre as a whole.
Pewdiepie – Pewdiepie is a YouTube sensation with more than 63 million subscribers.
Image courtesy of TimeMagazine
Let's take a look at this description of Pewdiepie from Mediakix:
"Felix Kjellberg, better known as PewDiePie, is a Swedish social media influencer. With a subscriber base of 60 million, he is the most followed YouTuber of all time. He also entertains enormous audiences on Instagram, Facebook, and Twitter, reaching a total of nearly 100 million followers across the four platforms. Though he's been criticized on multiple occasions for creating inappropriate and insensitive content, the social media superstar maintains extreme popularity online and allegedly earns around $12 million each year. He has also leveraged his online fame to launch a limited edition apparel line."
Liza Koshy — Liza Koshy is another YouTube star who has used her comedic prowess and character skills to gain more than 15 million subscribers. She also has recurring roles on TV shows, such as Hulu's "Freakish."
Image courtesy of Makers
Jenna Marbles — Jenna Marbles is another YouTube star and influencer who boasts more than 18 million subscribers. Hers is the second most popular YouTube channel operated by a woman. Marbles has been releasing viral videos since as early as 2010. Her real last name is Mourey, but she uses Marbles as a pseudonym inspired by her dog, Mr. Marbles.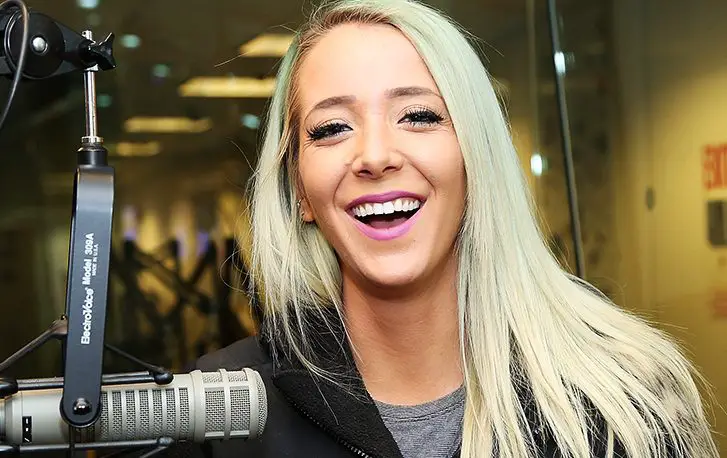 Image courtesy of StudyBreaks Magazine
Mourey has used her influence in a number of ways. She has appeared in television shows and movies, such as "Ridiculousness," and "Smosh: The Movie." As a dog-lover, Mourey also has released a line of dog toys modeled after her real pets.
Huda Kattan - Huda Kattan is a makeup artist with a popular YouTube channel that has more than two million subscribers. Her channel is called Huda Beauty. It features instructional videos of her contouring, removing blackheads, plumping her lips with makeup, and more. She also created a line of makeup around her brand, titled Huda Beauty. Kattan has a large Instagram following and even has earned herself a reality show on the Facebook Watch platform.
Image courtesy of Vogue Arabia
Kattan's Instagram features women with a variety of features applying makeup, doing their hair, getting their eyebrows threaded, and more. It appears her platform exists not only to showcase her own skills and abilities, but also to show how others have used her influence and products to create their own looks. I honestly learned a lot just by spending even a few minutes on her profiles. Did you know some women use Henna to create temporary freckles on their face?
Andrew Bachelor/King Bach — Andrew Bachelor, whose pseudonym, or stage name, is King Bach, is another online actor and comedian. He has a YouTube channel wherein he and friends create parodies of popular films, original video sketches, and daily vlogs.
Image courtesy of Variety
He has nearly two million subscribers and is in a feature film, "Where's the Money." He also has an apparel line, TOY, which stands for Thinking of Youth. King Bach was popular on Vine before the platform folded, forcing him and a plethora of other content creators and influencers to get creative and change platforms.
Elon Musk — Let's switch gears from the YouTube/comedic performer crowd and talk a little about some of the influencers in the tech industry. Elon Musk is, at this point, a household name. He founded the company that eventually turned into Paypal, then founded SpaceX, and followed up by founding Tesla Motors.
Image courtesy of Recode
Musk is considered an entrepreneur and an influencer in the world of technology and innovation. He has 22 million followers on Twitter and is consistently looked to for his opinions on technology. He has many aspirations for the construction of high-speed trains and hyperloops that would help reduce the amount of time people spend in traffic or commuting.
Kara Swisher — Kara Swisher co-founded Recode, which is a technology news website that reports mainly on the goings-on in Silicon Valley. Recode has since been acquired by Vox Media. Swisher is a technology business journalist who has written for The Wall Street Journal, among other publications.
Image courtesy of @karaswisher Twitter
If her other accolades were not enough to convince you, Swisher's Twitter profile helps establish her influencer status, displaying 1.22 million followers. She speaks on panels and podcasts, using her influence and experience to discuss the future of journalism and technology.
Guy Kawasaki — From his own website, "Guy Kawasaki is the chief evangelist of Canva, an online graphic design tool. He is a brand ambassador for Mercedes-Benz and an executive fellow of the Haas School of Business (UC Berkeley). He was the chief evangelist of Apple and a trustee of the Wikimedia Foundation.
Image courtesy of Kawasaki's LinkedIn
He is also the author of "The Art of the Start 2.0," "The Art of Social Media," "Enchantment," and nine other books. Kawasaki has a B.A. from Stanford University and an MBA from UCLA, as well as an honorary doctorate from Babson College."
Kawasaki is a trusted author and speaker. He worked for Apple in the 1980s, long before the brand became a household name. To further understand his trajectory, read the full biography included on his website's about page.
Alexa Chung — Alexa Chung is considered one of the world's most influential fashion influencers. Chung has worked in the fashion industry for nearly a decade, and decided to create her own brand in 2016. She describes her vision as follows: to create clothes that people want to wear.
Chung has 1.57 million Twitter followers and three million Instagram followers. Her clothes are sold worldwide and are inspired by her British roots combined with Parisian and New York influences. Chung's products are certainly an investment, as most dresses come in somewhere at $300 to $500 per product. Even most sale prices remain in the triple digits.
Image courtesy of TopShop
Chung has modeled, hosted TV shows, blogged, is a contributing editor to British Vogue, and is now in charge of her own brand. She has been called a fashion and style guru by British Vogue, and has even had a book published.
Jenn Im — Jenn Im is another well-known and respected influencer in the fashion industry. She began a YouTube channel entitled Clothes Encounters in 2010, which grew as her fanbase did. Im also released a brand of clothing called Eggie, which she says reflects her own personal wardrobe and is, "designed for today's customer who loves to reinvent their look and doesn't want to be labeled or boxed into one style."
Image courtesy of Giant Robot Media
Per the Eggie website: "The Eggie brand is an extension of Jenn Im, who has amassed a social footprint with millions of followers since she founded YouTube channel Clothes Encounters in 2010. Im's fans fell in love with her easy charm and visual aesthetics. Im's clothing line comes after a series of collaborations with fashion, beauty, and lifestyle brands, including Calvin Klein, ColourPop Cosmetics, Simple Skincare, Smashbox, Levi's, Macy's, and Clinique. Eggie has been a lifelong dream of hers."
Im still maintains her YouTube channel and publishes videos such as an Everyday Drugstore Makeup Tutorial, Outfits of the Week, and May Favorites 2018.
There are so many more influencers of note, certainly too many to include them all in this one post. If you're interested in learning about more influencers, here are a couple of resources to get you going:
Jobs Created Through Influencer Marketing
Accompanying the rise of influencer marketing is the rise of jobs created to support this new marketing genre. It's possible some of these jobs are so new, you've not yet heard of them. The following job descriptions show the kind of roles needed to keep up with an active influencer marketing strategy.
Social Media Marketing Manager
Social media marketing managers, obviously, manage the social media profiles of organizations or individuals. Even successful influencers may decide to hire someone to assist in the logistics of posting times and optimization.
Here is a sample job description from Kruse Control:
"The social media manager will administer the company's social media marketing and advertising. Administration includes, but is not limited to:
Deliberate planning and goal setting
Development of brand awareness and online reputation
Content management
SEO (search engine optimization) and generation of inbound traffic
Cultivation of leads and sales
The social media manager is a highly motivated, creative individual with experience and a passion for connecting with current and future customers. That passion comes through as he or she engages with customers on a daily basis with the ultimate goal of turning fans into customers.
Community leadership and participation (both online and offline) are integral to a social media manager's success. An essential component is communicating the company's brand in a positive, authentic way that will attract today's modern, hyper-connected buyers."
Brand Managers
The job description of a brand manager is described by FreshGigs as:
"Brand managers are tasked with the success of brands or products. They overall plan, develop and direct marketing efforts to increase the value and performance of a specific brand, service, or product. A brand manager must focus on developing a brand's profit and loss performance, image, and positioning compared to competitors.Most employers require brand managers to have a degree in business, marketing, or a related degree.
They must have a good understanding of their audiences and customers, and have strong creative, analytical, and organizational skills. A brand manager must also have a good handle on consumer and market insights, including the ability to analyze market data and sometimes conduct consumer research. The position requires close collaboration with marketing, advertising, and media departments."
Interactive Designers
Sample job description provided by Toptal:
"As [an] internal Interaction Designer (IxD), you will be filling the role of a behavioral scientist in a design environment. Your primary mission will be to understand [the brand's] business needs and product requirements, and transform that understanding into user-focused and intuitive products, interfaces, and platforms for mobile and web.
Because you will be working closely with [the brand's] product managers, marketers, designers, strategists, analysts, and other key stakeholders, you must be a team player. Your tasks will include the creation of experience maps, user scenarios, mockups, and flows. Other tasks will include:
Validating ideas and designs using split A/B tests and product performance.
Collaborating and communicating professionally with clients and internal teams.
Designing user-experiences from low-fidelity sketches to hi-fidelity pixel perfect mockups.
Measuring recently released product features to establish benchmarks and to identify potential areas of improvement.
Staying abreast of UX trends and looking for creative ideas and inspiration in parallel analogous worlds.
Developing interactive reporting dashboards and different types of visualizations.
Creating rapid prototypes to validate design concepts with stakeholders and customers.
Highly detailed communication of design principles and direction, as well as design specifications to engineers"
Wrapping Things Up
Marketing is ever-changing as we continue to evolve the ways in which we communicate and connect. It's a reflection of the times, and today's consumers want to build trust and relationships with brands before spending money on their products or services.
Influencer marketing is the strategy that bridges that gap. It gets a brand's name in front of consumers in a forum they already trust and admire.
If you're looking for something different to brighten or liven up a stagnant marketing strategy, influencers could be the next step for you. They're creative, profitable, and help build lasting relationships with consumers who otherwise may not have given you a second look. While nothing can replace the timeless influence of an older sibling, influencer marketing may just be the next best thing.
Read about other marketing strategies: