Black Friday and Cyber Monday sales are the last chance in the fiscal year to generate big-time revenue for your business.
Many e-commerce businesses, from giants like Amazon and Walmart to small startup shops, make a good chunk of their profits during Black Friday and Cyber Monday (also known as BFCM) sales. For example, Amazon sold more than 180 million products during 2018's Black Friday sales—the most it has ever sold during a BFCM event.
If you are an e-commerce business owner and want to generate Amazon-sized sales during BFCM 2019, this guide is for you.
How to increase your Black Friday sales
Preparation is the first step in generating revenue during your BFCM sale. The sooner you can start, the better. Consider how much time you will need to plan your marketing strategy, product inventory, sale discounts, and promotion material (content, banners, videos, etc.) to be ready for the sale.
Ensure that your customer support and dispatch teams are equipped to handle a large volume of orders in a short time. Will you run out of inventory in the sale? Do you have a game plan for that scenario? Ask yourself if you and your employees are equipped to handle the rush of business, then plan accordingly using these tips.
1. Run hourly sales
Hourly Sales have enormous potential to boost your BFCM sales. If you're offering a 50%-off sale on Black Friday, consider increasing your discount to 55% for an hour. You can do several such flash sales over the course of your BFCM sale. Use countdown timers and popups to make website visitors aware of your limited-time deals. You can share the extra-savings opportunity with your existing customers and followers as well through email and social media marketing.
Use various discount coupon codes for each sale to increase engagement and help you track the performance of your hourly sales.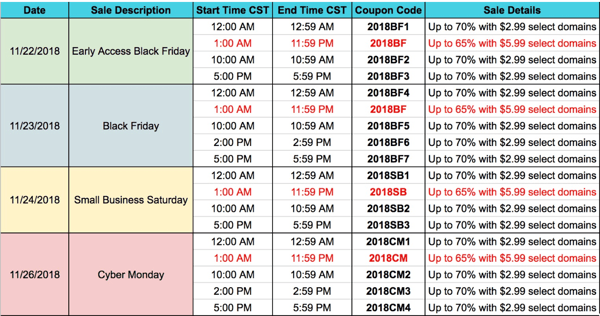 Hostgator's plan, shown above, could and generate massive sales and revenue during BFCM.
2. Provide gift guides
People buy holiday gifts during BFCM. They often search Google to find the perfect items for friends, relatives, and others. You can create gift guides to show them which products you recommend for the different people in their lives.
Gift guide ideas:
Top 5 Black Friday Laptop Deals 2019
Best Gifts for Bookworms
25 Gifts for Your Younger Brother
Best Gifts for Kids Who Love Science
15 Romantic Gifts for Your Significant Other
Win Over Wine Lovers With These Curated Gifts
In the guide, mention your products and outline details and discounts. Let them know why your product is the one they want to buy. You can also reach out to other sites to get your products mentioned in their gift guides.
3. Give customers free stuff
People love free stuff, and you can use giveaways and free services as an incentive for your customers during your BFCM sale. Consider offering gift cards, products, or shipping to your customers free of charge.
If you don't offer good discounts or free incentives, it could affect your overall sales. If you can't offer free products, services, or gift cards, at least try interest-free financing on your products. If you can't offer anything for free, your customers will go to your competitors who do.
TIP: Need a new e-commerce platform to carry you through the holiday sales season? Browse user-reviewed options and find the best software for you.
4. Start early, end late
This is a simple yet effective strategy to boost your BFCM sales. People wait for BFCM sales to buy their favorite products. So if you start your sale early, you can attract customers first—before they make purchases elsewhere.
Closing your sale later allows latecomers to take advantage of your deals as well. Many companies start their BFCM promotions on Thanksgiving Day and end them the Monday after.
5. Use the right marketing channels
Marketing channels play an important role in BFCM sale promotion. The right channels can boost your sales and revenue, but the wrong channels can waste your money and efforts.
Choose your marketing channels carefully; not all platforms are the same. Each one has a different audience, so choose platforms according to your business's targeted customer base. Can't decide which ones to use? Here are some of the most common marketing channels your business should consider.
Facebook
Facebook is one of the best marketing platforms on which to attract future customers. It has more than two billion active users worldwide—meaning it has enormous potential for marketing your business. You can use Facebook to retarget your existing customers as well as find new customers for your business through stories, groups, messenger, marketplace, and ads.
To get the best Facebook marketing results, start building a community around your business. As you increase your follower base, make sure to engage with them.
Facebook ads can increase your reach and sales during BFCM sales, but you'll need extra time and resources to use them. Make sure to create banners, promotional videos, and other content ahead of time, as Facebook takes longer to review ads during BFCM sale season.
Instagram
Instagram is another fantastic channel to acquire new customers for your business. Instagram's organic reach can help you boost your BFCM sales if you use it properly. The media, hashtags, and CTAs you choose can help you engage more audiences. Take advantage of Instagram stories, IGTV, and ads to increase your reach.
SEO
SEO can help you get new customers through organic searches without any extra cost. People use specific search terms related to BFCM sales, so optimize your content to match.
Here are some examples of search terms:
Walmart Black Friday
Nike Shoes Black Friday Sale 2019
iPhone 11 Cyber Monday Deals
LED TV Black Friday Deals
If you already have a blog for your store, interlink your Black Friday content to your existing posts, especially ones that get a lot of traffic. SEO takes time to get results so create your BFCM content early on so it can rank on the top of Google's SERPs before the day of the sale.
Email marketing
Email marketing is the best channel to retarget your existing customers with. Offer your subscribers discounts and promotions to get maximum results with email marketing. You'll need a tool to help you do this, and email marketing software is a good place to start.
There are many other marketing channels that you should explore according to your business niche. Try Snapchat if you have a fashion or health-related business, or LinkedIn if your product is work-related.
6. Offer referral discounts
Referral programs are an effective strategy for promoting your Black Friday sale. Offer your customers a discount if they refer your products to someone else. For example, you can provide a $50-off deal if a customer recommends your products to their friends, family, or coworkers.
You can use this strategy in your regular business, but it is extra useful during BFCM. It will help you grow your customer base with minimal cost and effort—the customers will do the promotion for you.
7. Ensure your store is ready
Your e-commerce landing pages must be both desktop and mobile-friendly, and your technical and tracking systems also should be ready for the BFCM rush.
Run tests to ensure your site is able to handle a spike in traffic during the sale time and can load quickly so all potential customers can access it. If you don't think your website can handle it, consider new e-commerce software.
Deals, deals, deals!
People are highly motivated to make purchases on Black Friday and Cyber Monday, but you need to implement a sales plan to see results.
Follow all the tips mentioned above, and don't forget to track your sales, revenue, and costs during the sale. This will help you learn from your mistakes. You'll want to improve and change your marketing plans and budget for next year's BFCM.
If creating your own BFCM sale seems overwhelming, you can always hire an expert consultant or company that can help you.
Want to ensure your business is saving money with the holiday season coming up fast? Check out G2 Track, a tool to help you manage and reduce software spend!