Marketers are big-time slang users.
If you're a marketer (or work closely with a marketing team), chances are you've heard the terms "inbound marketing" and "outbound marketing". Maybe these slang words don't mean much to you, but in the ever-evolving world of marketing and advertising, they're more than just another term coined by marketing professionals.
Before we dive into the intricacies of inbound and outbound marketing, why they're important, and how they're used in social media marketing campaigns, let's talk about the difference between them (in simple terms).
Inbound vs outbound marketing
Inbound marketing is a marketing methodology that was created to attract potential customers rather than using traditional advertising and marketing techniques to generate leads. Inbound marketing utilizes various forms of targeted marketing such as content, SEO, social media, blogs, etc. to increase brand awareness and establish a business within the market.
Outbound marketing is what you may think of as traditional marketing. Think of commercials, radio spots, billboards, newspaper ads, etc. Since marketing's inception, outbound marketing has been the standard. It targets anyone and everyone, no matter if they're interested or not.
In this article, we'll dive into the importance and benefits of each type of marketing, that way, you'll leave with a clearer idea of the differences between them. Let's get started.
Click on any of the following sections to learn further:
Inbound marketing: a closer look
Why it's working
Outbound marketing: a closer look
Why it's on the decline
Inbound vs outbound marketing (the main difference)
In today's social media age, so much content is being created and shared with the world in the hopes of expanding businesses. Because so much is being produced so quickly, it can be difficult for marketers to know how to best advertise their business in a helpful and effective way.
In the past, companies have used outbound marketing to promote their product or service to the masses, but with the rise of the internet and social media, inbound marketing has proven itself to be an equally effective method (if not the more effective of the two, but we'll talk about that later).
Let's break it down and run through some core differences between inbound and outbound marketing.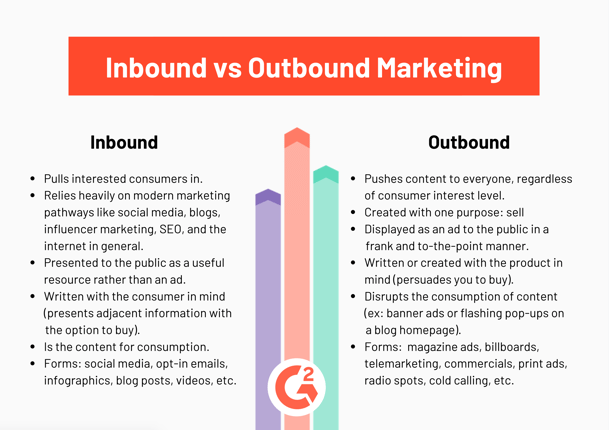 To put it simply inbound marketing uses a pull strategy while outbound marketing uses a push strategy.
When companies implement inbound marketing, they're creating content that's valuable and useful to their consumers to attract them organically. It's all about attracting consumers who are interested in your content and therefore, more willing to purchase what you're selling. When companies implement outbound marketing, they're promoting their product or service to absolutely everyone, no matter their interest level.
Let's look deeper.
Inbound marketing: a closer look
The term "inbound marketing" was coined by HubSpot back in 2006. They define the term as "a method of attracting, engaging, and delighting people to grow a business that provides value and builds trust." The inbound marketing methodology is comprised of three stages: attract, engage, and delight. Think of inbound marketing as capturing potential leads by providing high-quality content that is easily accessible, digestible, and found.
Inbound focuses on pulling consumers in with adjacent and helpful content instead of pushing content out in the hopes that it'll capture leads by means of mass marketing. By pulling consumers in, inbound marketing helps you to attract your best and most willing-to-buy prospects. These people are looking for advice, guidance, and answers, and you give it to them.
Why it's working
The main reason inbound marketing is working right now is because it relies on modern communication methods like social media, the internet, and the increase in mobile phone ownership. Cultivating a company blog can be especially beneficial to your overall marketing efforts.
According to HubSpot, 82% of marketers who blog daily acquired a customer directly from their blog and 79% of companies that have a blog report a positive ROI for inbound marketing.
Additionally, inbound marketing is typically less expensive than traditional (outbound) marketing.Think about it, the closer you can target your audience, say with Facebook Audience Insights, Instagram Analytics, or Twitter Analytics, the better you can manage where your budget is being spent. You won't need to spend money on targeting Denver when the majority of your audience lives in San Francisco. The power of analytics pairs perfectly with inbound marketing.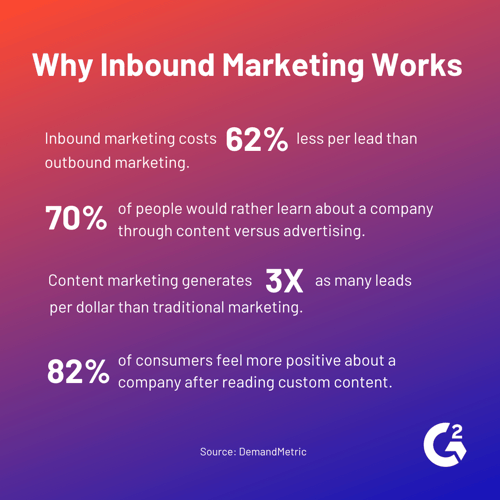 It also can't be forgotten that inbound marketing is a great way to sell something without actually pitching anything. When someone searches for something on Google, they may read an article to find an answer and click a link that directs them further down the sales funnel. Inbound marketing is the king of nudging consumers toward a purchase without having to carry out a hard sell at all.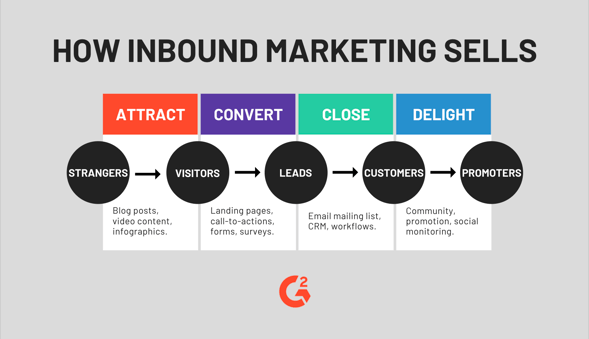 CRM software assists businesses in tracking and managing sales interactions in one place. Implementing this into your business model can help monitor your success overtime. Read G2's unbiased user reviews on CRM software to help you find the best option for you.
Outbound marketing: a closer look
Outbound marketing uses the strategy of pushing content out to the masses by means of mass media exposure and high-level promotion. This type of marketing is meant to disrupt daily life and is displayed anywhere and everywhere (whether the audience is interested or not) to capture potential leads.
Why it's on the decline
The main reason outbound marketing is going out of fashion is because of how vague and untargeted it is. The information presented to the audience may not be relevant to them at all. Because of this, outbound marketing campaigns are capturing fewer and fewer leads.
That's not just an assumption either. There's evidence to back this claim up. According to HubSpot: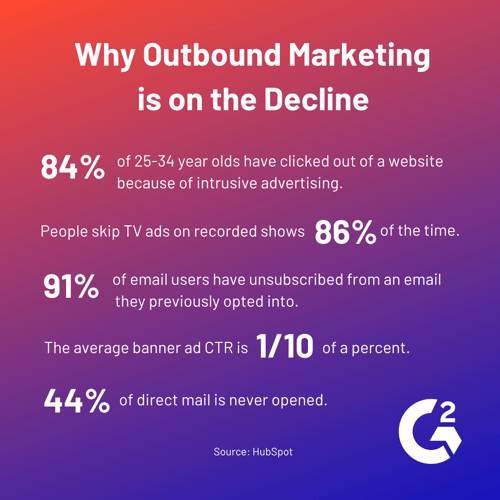 Outbound marketing has seen a drastic decline in popularity among marketers in the last 10 years. With the invention of the ad blocker, ad CTRs have only trended downward. Just look at this eyeball heat map that proves how irrelevant online ads can be.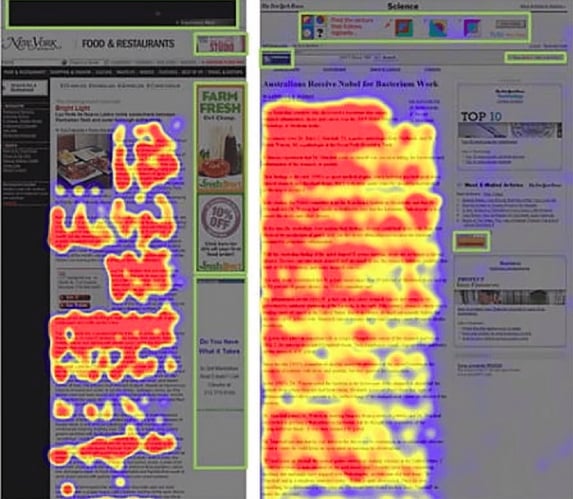 It's up to you...
… to decide which marketing method you'll implement within your campaigns. Remember that the best marketing strategy is the one that works best for your business. Continue to test, track, and analyze your data and revisit your strategies often. Your audience will inevitably change, so staying on top of their interests and needs is crucial.
Mix inbound and outbound marketing together, try new methods, and keep up with the ever-changing landscape of technology. But in the end, just remember that the best strategy is to look at your own data. Do what works for you.
Interested in learning more? Click through to read about content marketing or direct marketing or check out our social media marketing hub for a plethora of additional resources.