Curating a marketing strategy isn't an easy feat, but it's certainly not impossible.
Perfecting your marketing strategy is important (if not crucial) to finding success online and connecting with your audience in a meaningful way. The steps that go into brainstorming, producing, publishing, and maintaining your brand's strategy are the backbone of a good marketing campaign.
So how exactly can you be sure your inbound marketing strategy is up to par? Before we dive into the tactics you can use to strengthen your strategy, we first need to define what an inbound marketing strategy is and outline why it is important.
What is an inbound marketing strategy?
Your inbound marketing strategy is the curation and management of the content you create, own, and share with your audience. This strategy is how you get consumers interested and the methods you use to keep them coming back to eventually convert them into a customer.
A branch of inbound marketing is content marketing, but it's important we distinguish their differences. Inbound marketing refers to how you retain your visitors and turn them into a loyal customer while content marketing is a subsection within inbound marketing that zeros in on specific types of content and the way you distribute it.
In this article, we'll talk about how and why inbound marketing works as well as a plethora of techniques you can implement that will help to strengthen your inbound marketing strategy going forward.
Feel free to jump ahead and read about any of the following strategy tactics:
Identify your audience
Analyze your analytics
Create a target persona
Choose a content format
Consider guest posting
Think about SEO
Inbound marketing strategy: explained
Back in the early days of marketing and advertising, it was commonplace to utilize outbound marketing (a subsection of mass marketing) to target your audience. Said "targeting" wasn't really happening though, it was more like publishing content for everyone, no matter if they were interested in a product or not.
Today, that form of marketing is on the decline. Now that we have the world in our pockets, consumers are doing their research before they make a purchase. The market is big and continues to expand, so the desire to make sure you're buying the right product is more prevalent than ever.
How inbound marketing works
In today's age of social media, it makes sense that inbound marketing is resonating with consumers more than outbound marketing. Instead of brands pushing vague content out to the masses, inbound marketing leans on the production of targeted content that entices consumers to come to them.
The intricacies of inbound marketing are what makes the technique work. First, the content that is created (blog posts, video content, infographics, etc.) attracts strangers to become visitors. These visitors find themselves on your landing pages or may click on a call-to-action.
From here, they enter the funnel and become leads, possibly signing up for your mailing list and opting into the opportunity to receive more content from you. Here is where they become customers, trust your brand, and begin to promote it on their own. The stranger becomes the brand evangelist because of inbound marketing.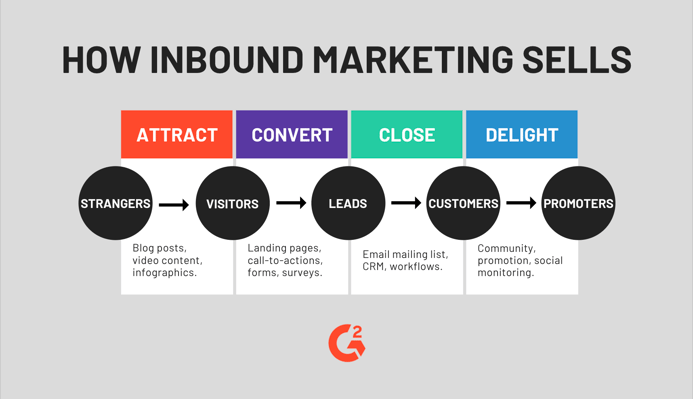 This format has worked for companies all over the world and is constantly being used by some of the most successful brands in the world. Let's dive deeper and talk about some tactics you can implement to reinforce your inbound marketing strategy.
Identify your audience
To narrow down your audience, you'll need to check in with your followers on social. The people who already follow you are the people you want to target when producing content. Inbound marketing is about creating useful content for the consumers that are searching for an answer. Their answer is your content (and in the end, your product).
Analyze your analytics
Developing a strong marketing strategy starts with knowing who you're marketing to in the first place. Review your Facebook Analytics, Instagram Analytics, Twitter Analytics, and hey, maybe even your YouTube Analytics if your brand focuses heavily on video content.
Accessing this data (which is completely unique to your brand) can help you discover your audience's interests, their social media habits, and which content formats will be best utilized to reach them. Take Twitter for example. Just by looking at your analytics, you can see what your audience is interested in and use that information to help you better target and connect with them.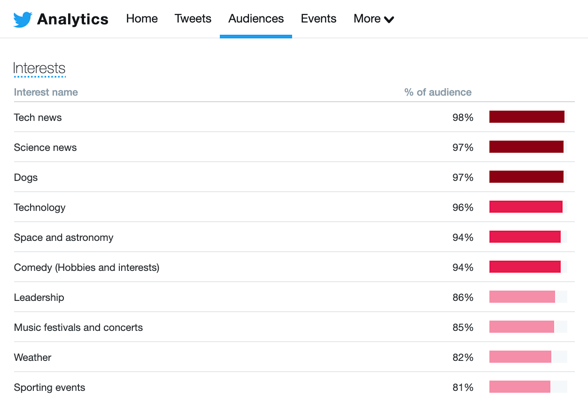 Create a target persona
A great way to understand your audience and make sure you're constantly thinking about their interests is to create target personas.
Once you study your analytics and come to a consensus of who your typical customer is, you can start to build your brand's target persona.
Note: You can develop slightly different personas for each of your social media accounts, but always make sure to keep a strong and recognizable brand presence across all platforms. Brand consistency is key to marketing. If a customer knows your brand on Instagram and notices a discrepancy between your personality on Instagram and Twitter, it can cause mistrust and hurt your marketing efforts in the long run.
The purpose of creating a persona is to have a jumping-off point when brainstorming new marketing campaigns. While creating blog posts, editing your video series, or outlining a new email newsletter, you can consult these "customers" to make sure your marketing efforts are aligned with your audience's wants and needs.
Don't forget to continually tweak these personas as your audience changes over the years. Keeping them up to date will help you to stay on track.
Choose a content format
It's time to consult your brand's mission statement. What is the purpose of your brand? What do you bring to the table and why should people care about it? Knowing your purpose is instrumental when developing a marketing strategy.
So you know why your brand exists and why people should care. You've also gotten to know your audience and have a good read on who they are and what they want. The time has come to choose a content format.
This format needs to make sense when keeping the two above points in mind. Let's say you're a graphic design studio that wants to create in-depth tutorials for your customers. Video content probably comes to mind when you're brainstorming which format to utilize. Making sure the way you produce your content makes sense to both your brand's mission and your audience's consumption habits is important.
There are a variety of content formats you can create.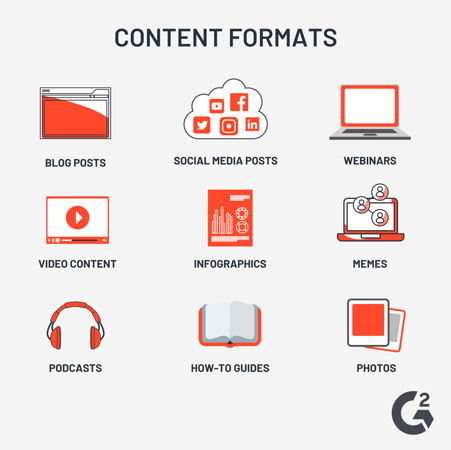 From infographics to podcasts to webinars, the choices you have when creating content are vast. If you own audiovisual equipment company, producing your own podcast could be a great way to pique your customers' interest. Producing the podcast offers them free entertainment. You could even throw in a few quick ad reads for your products. Doing this is a less invasive way to market to them and builds a sense of trust between you and your customer.
Utilize a social media calendar
Once you have a solid idea of what you'll be producing, try using a social media calendar to help you organize your content. Planning a posting schedule ahead of time can save you the stress of when you ultimately forget to post that thing.
Just help yourself now and click through to download our free social media calendar. Plan now, relax later.
Consider guest posting
A nuanced technique that has begun to really gain traction among marketers is the art of guest posting. If your company runs a blog, taking advantage of the connections you already have within your network can help you to produce more content for your audience, for just a couple backlinks.
Let's elaborate. By offering the option for fellow writers to guest post on your blog, you are simultaneously providing your audience with additional content while fostering relationships with industry thought leaders. More content means the potential for more people to find it and a foot in the door to establish yourself as an authority on a subject.
Don't forget that you can also guest post on another blog. When you share your insights on another site, you can link back to your content and get people to come over to your blog. The guest post world is all about helping your fellow content marketers out. It's no wonder that
Share your knowledge with the world. G2 is looking for guest writers to contribute to our Learning Hub. Apply today and reach over 1.5 million monthly readers.
Think about SEO
SEO has been apart of content marketing for a while now and should be one of the first techniques you pay attention to when optimizing your site. Good SEO practices are sometimes confusing to understand and usually take a while to nail, but the more you try your hand, the better you'll be able to optimize.
For example, SEO can help you drive a significant amount of traffic to your site as well as help you capture potential customers. Learning how SEO impacts traffic, leads, and conversions is a great place to start as a beginner. Keyword stuffing can also impact the SEO on your site negatively.
The more you mass add keywords to any article or piece of content, the more likely Google will pick up on it and disregard your site as credible. Using the appropriate keyword with supporting keywords can make the difference between ranking on the first page as opposed to ranking on the 67th.
Alright guys, bring it in……bound
Now that we've covered some of the main techniques to strengthen your inbound marketing strategy, you can test, track, and execute them. Get to know your audience, create a target persona, decide which content format (or formats) you'll use, and see what works for you. After all, your own unique data is the best indicator of how you should approach your strategy.
Want to learn even more? Take a look at some of the most innovative inbound marketing examples or learn something completely new and read up on how to perfect your content marketing strategy.
Stay ahead of your competition with daily marketing insights from G2.
Don't worry, we will only send you the good stuff.