So you've been in the marketing game for a while and revamping your strategy is second nature.
Working in the marketing space, you've tweaked your strategies and campaigns countless times over the years. You've launched new projects, put new social media practices into place, and even become an expert when it comes to tracking your social media metrics. You definitely know the difference between inbound vs outbound marketing, and maybe some key inbound marketing tips, but… you're finding yourself hitting a creative block. You need to implement a marketing tactic completely different than what the ones you've used in the past.
The beauty of inbound marketing is that it works. It's been proven to capture more leads, get more attention, and be a more productive use of a marketing team's time. There are a plethora of inbound marketing examples, all with different purposes and results.
Inbound marketing examples:
Company blog
Infographic
Webinar
Ebook
Whitepaper
Podcast
Video series
SEO (search engine optimization)
Social media
Email newsletter
In this article, we'll touch on a few types of inbound marketing and some examples that have some serious momentum behind them.
Click on an example to read about a specific inbound tactic further:
Company blogs
Infographics
Video series
Email newsletters
Examples of inbound marketing
Before fully diving into our list of inbound marketing examples, let's go over some of the basics.
Inbound marketing is a marketing methodology that was created to attract potential customers rather than using traditional advertising and marketing techniques to generate leads. Inbound marketing utilizes various forms of target marketing such as content, SEO, social media, blogs, to increase brand awareness and establish a business within the market.
Tip: Marketers using HubSpot (the founder of inbound marketing) are syncing their account with G2 to attract, convert, and retain customers throughout the inbound marketing process.
Think of inbound marketing as the most modern form of marketing. Blogs, social media, graphics and video content are useful information that is provided without trying to sell you anything in the traditional "in your face" way.
It's what people are resonating with and clicking on, rather than what they see on their commute home from work (billboards, an advertisement in a magazine, banner ads at the top of a topical article). In short, people seek out inbound marketing (informational articles or useful video content) while they're subjected to outbound marketing (ads or direct mail).
Company blogs
A company blog is one of the most obvious examples of inbound marketing. Many companies create content that is adjacent to the company's mission or purpose. Blog articles are a great example of content marketing and are created with the user's wants and needs in mind. They are written to aid the user in learning something new or informing them about a topic.
For example, G2 is a B2B software and services review platform with hundreds of thousands of validated user reviews to help businesses make more informed buying decisions. Our company blog, known as the Learning Hub, writes content revolving around marketing, sales, tech, AI, design, and research. G2 writes these articles to educate potential customers on one of these categories. Additionally, if they're looking to purchase software, the goal is to help them to make the right choice for their company or business. Repurposing customer reviews by adding them into blogs is a great way to build trust and move people from the top of funnel towards the end.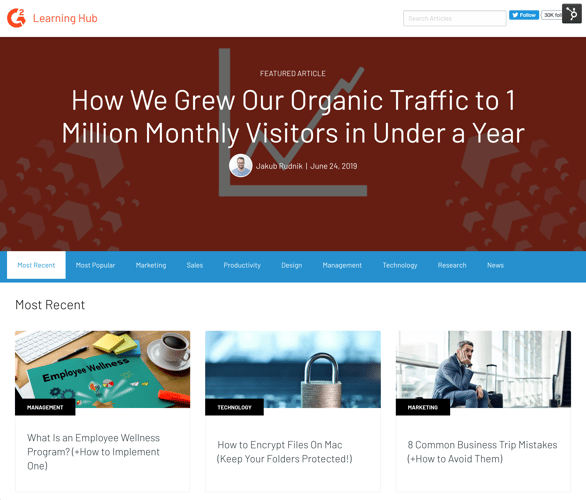 The best thing about writing articles is that it's incredibly effective, no matter the industry you are in. Let's say you own a camping and sporting goods store. You could write a blog post about the new line of hiking boots you're launching, but you could also write a blog post about how to stay safe on the trails and protect yourself from bears. Although you're not directly promoting your products, you're giving your customer useful information that a vast majority of them need.
You may not outright plug your hiking boots, bear bells, or bear spray, but you can suggest the customer purchases them to keep themselves safe. You're both providing them with hiking safety tips and selling your product. This is why content marketing (specifically in a blog post format) is so effective. Your customer is much more likely to trust and favor you if you show them that you care about them, not just their money.
The best content marketing focuses on bringing value to the customer. Take a look at some of the best content marketing examples you can use in your own marketing strategy.
Infographics
Although we just talked about how great written blog posts are, people like to consume all different types of content across the internet. Another great example of inbound marketing is a highly creative infographic.
A creative infographic design can really enhance your article and help the reader to understand the topic on a deeper level. Take our article that explains what a sales cadence is. The author, Izabelle, worked with a design house to create an infographic that would better explain the key elements of a sales cadence.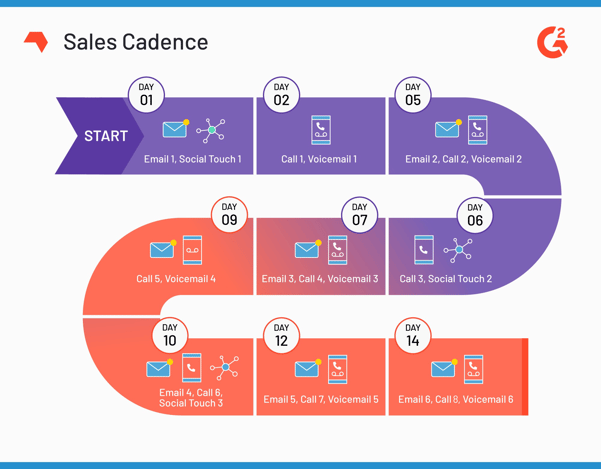 Even if the consumer doesn't read the entire article, they get an insightful snapshot of the different elements of a sales cadence (and maybe even understand it quicker than if they had read the full post). Infographics work as an extension of the article and help to reinforce the main point.
Plus, if your article starts ranking on Google, your infographic is more likely to be found by people searching for "sales cadence". The more informational and easy-to-read your infographic is, the better chance it has being used as a resource by someone else.
Video series
It's no secret that video content is hot right now (and only getting more popular). If you gave me the option to either read a 3000-word article or watch a ten-minute video on a topic I'm completely unfamiliar with (say it's about economics), I would probably choose the video content.
Video is effective, it's engaging, and it's highly valuable. You see it everywhere you go, whether it's on Facebook, Instagram, LinkedIn, or Twitter. People love to watch other people explain things and this is precisely why developing a video series is a great example of inbound marketing.
Moz created a video series called "Whiteboard Friday" that gave viewers tips and tricks about marketing, advertising, keyword mapping, SEO, and much more.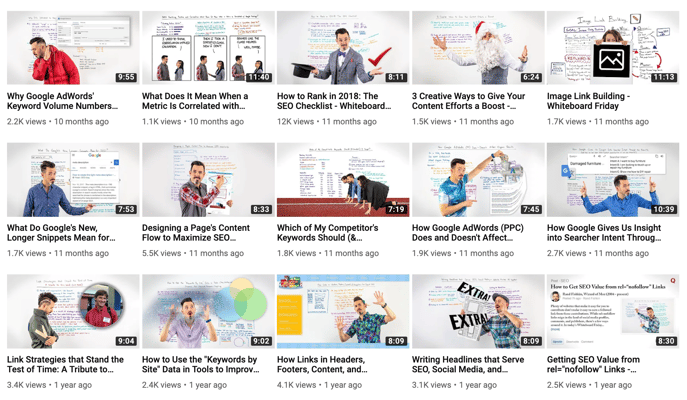 By producing this content, Moz gave its consumers incredible value and tons of free information! Additionally, video content is a great way to repurpose blog posts, infographics, etc. into a fun and more detailed format. The key to video content is brevity. People may not have the time to read a detailed article or attend your conference, but they probably do have a couple of minutes to digest the main points from a two-minute synopsis.
(A longer video may be necessary if you are explaining a dense topic or diving into many different facets of one topic.)
Stay ahead of your competition with daily marketing insights from G2.
Don't worry, we will only send you the good stuff.
Email newsletters
Email newsletters have a high potential for generating the growth of your customer base and in turn, your revenue. Deploying a company email newsletter updates your community on the content you're creating, the products you're launching, and general company news. Fostering a tight-knit community of customers can help them to feel closer to your brand and will keep them coming back to your site.
Take G2's Learning Hub newsletter for example. Our newsletter sends out a batch of new articles to the users who signed up for our email list. These users may be marketers, business owners, or tech professionals who want to keep up to date on the latest marketing, management, and tech news. When they sign up for our newsletter, they're served relevant articles they can trust to help them make better software buying decisions.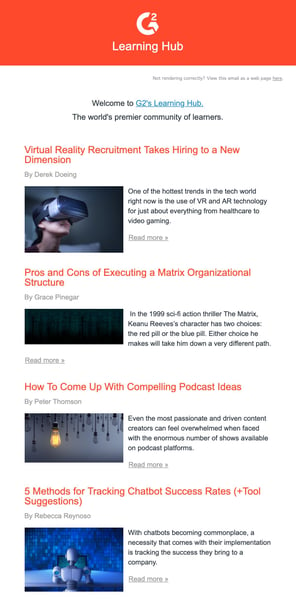 When you develop a newsletter, make sure to send your customers relevant and useful information. No one wants a bunch of spammy emails in their inbox telling them to buy X product. The reason why email marketing works is that it doesn't try to outright sell you anything. The option is there, but so is the content.
Write for the user, bring value, get creative
When you're implementing any inbound marketing tactic into your marketing strategy, always make sure you're keeping your customer in mind. Bring them value first and sell second. If you can create a connection between the brand and the buyer, you'll be regarded as a credible source and great business. Try any of these inbound marketing techniques and find out for yourself.
Want more information? Click through to learn all about direct marketing or brush up on your email marketing and discover the wonders of email automation.