Your skills are what set you apart from the pack – do you have what it takes?
Whether you're looking to start a new job or maybe just get better at the job you have, you'll need the right skills. The exciting (and sometimes terrifying) thing about navigating your human resources career path is that there are so many career options. Human resources is a unique field in that there are dozens of career ladders you can climb. Cultivating the right skills can help you get one step closer to your dream job.
What human resources skills do you need for a career in HR?
Because there are so many different human resources career paths, it can be hard to know which skills to target for career success. The good news is there are certain transferable skills that will suit you no matter where your career takes you. Human resources skills can be divided into two categories: hard skills and soft skills.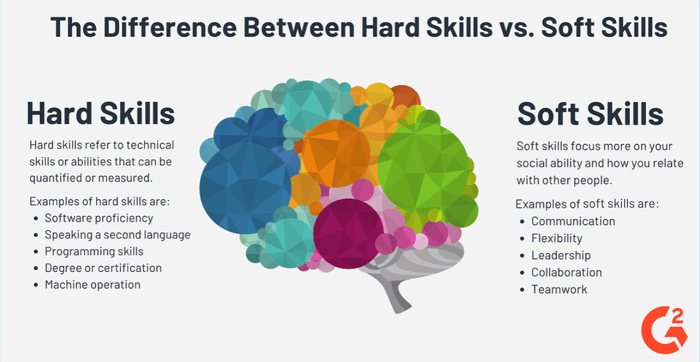 A successful HR professional will have a healthy mix of both hard and soft skills. Focusing too closely on one over the other could hinder you in your career. The best HR professionals have the technical know-how to do the job, while also having the people skills to work well with others.
What hard skills do HR professionals need?
When it comes to human resources skills, having a variety of hard skills will help you differentiate yourself from others. The changing nature of work and the human resources field are putting hard skills in higher demand than ever before. These four hard skills are perfect for anyone looking to set themselves apart from the masses.
1. Business management skills
One of the key hard skills any HR professional needs to be successful is business management. Business management refers to the administrative tasks required to keep a business running. Business management is the process of organizing a business's resources and workforce to align with company goals.
As an HR professional, you'll likely work more on the side of employees than daily business operations. Business management skills will benefit you even if the company you're applying to has a business administration team.
How to highlight these skills on your resume
Highlight the experience you have working with different HR software systems and what tasks you completed in your day-to-day work. If you have a degree or have completed coursework related to business management, be sure to mention those as well.
2. Finance skills
When people think of human resources skills, finance isn't one that usually comes to mind. But financial skills are vital for anyone who is looking to explore a career in payroll and benefits administration. Any HR professional who performs work related to annual budgets, benefits, or payroll will need working financial knowledge to succeed.
How to highlight these skills on your resume
Discuss the role you played in creating annual budgets in your current position. Bring along examples of your spreadsheets or mention what financial software you've used in the past. If you have a degree in finance or a background working in a finance position, mention those in your interview.
3. Legal knowledge
As employment law continues to change at both the state and local level, it's important to stay current with how the law is changing. Companies are looking for candidates with legal skills and experience to help them stay compliant with state and federal laws. Legal knowledge is vital for anyone looking to get an HR role working in compliance or legal.
Steven Azizi, a Senior Partner at Miracle Mile Law Group, speaks about the importance of legal knowledge for future graduates looking for a career in human resources:
"HR professionals should be familiarized with employment laws within the state in order to be able to limit the company's liability in the event of a lawsuit. This can be accomplished, for example, by reading your state's "Labor Law Digest."
How to highlight these skills on your resume
First and foremost, outline any relevant degrees or certifications you have. If you've previously worked in a role that required legal knowledge, you should highlight that on your resume as well. Don't forget to mention any professional designations or organizations you belong to.
4. Technological competency
There are very few jobs these days that don't require some degree of tech savviness. The key thing about human resources is how many different software programs HR professionals have at their disposal. The Core HR Software categories page on G2's website boasts more than 400 different software options with more being added every day. Experience using these types of software will help give you an edge over the competition.
John Munn, Managing Director at Global Digital Week, speaks about the importance of technological competency for future graduates looking for a career in human resources:
"The world of HR is moving extremely fast with new technological innovations entering the industry daily. It is difficult to keep on top of all the new developments, as well as separate the genuinely useful tools from the time-vacuums. A high level of curiosity will keep you abreast of the latest developments as well as make sure you ask the right questions to the right people - both critical to stay ahead of the competition."
How to highlight these skills on your resume
A high-level, bulleted list of the different HR software applications you've used in previous jobs should do the trick here.Does the job posting mention what types of HR software you'll use for that specific job? If so, highlight the ones you've used at the very top of your skills list. You don't need too much detail, just a brief mention of what each program does. Most companies will be familiar with the most popular HR software programs.
What soft skills do HR professionals need?
As a general rule, most human resources skills fall into the category of soft skills due to how much of the job deals with person-to-person interaction. These skills are in high-demand because every HR professional needs them regardless of their role.
1. Communication skills
The most important soft skill for any human resources professional is communication. The term communication skills is an umbrella term that covers dozens of different types of communication. Everything from verbal communication, written communication, active listening, and employee communication fall under this category. Understanding what communication is and how to become a strong communicator will take you far in your HR career.
Sara Morgan, CEO of BuzzARooney LLC, speaks about the importance of communication skills for future graduates looking for a career in human resources:
"In HR, we will communicate with people at all levels, both inside and outside the organization. We have to be able to communicate in a way that is relatable and clear regardless of the person's level or status. That's why strong written and verbal communication skills are vital to your success."
How to highlight these skills on your resume
Don't just say that you're a great communicator: be specific about the types of communication you excel in! Are you a great career coach? Do you specialize in negotiations? Do you have exceptional written communication skills? Focus on the three top communication skills you have on your resume and explain your expertise
2. Decision making
As you get further into your career path, there will be more emphasis on the management part of human resources management. Leaders are expected to make tough decisions at every turn and it's no different for those who work in HR. Being able to decide which candidate to hire, how to handle an internal conflict, or even how to communicate tough news all circle back to strong decision making skills.
Max Wegman, HR Manager at Sellics, says the most important tool for HR professionals is strong decision making skills:
"Focusing on decision-making skills can be a huge benefit to those who are interested in or studying HR. Human resources is a field with a huge focus on soft skills and the ability to make tough decisions will take you far."
How to highlight these skills on your resume
When highlighting your career experience, talk about a time you had to make a tough decision at work. Show how you were a leader and decision maker in your previous positions and be ready to discuss it during an interview.
3. Employee Relations
Aside from effective communication skills, employee relations skills should be at the top of your list. Employee relations refers to the efforts your company takes to build, strengthen, and maintain the relationships between employees and their employer.
So much of human resources management deals with employee relations and workforce management. Conflict management, developing workplace culture, and cross-departmental collaboration all fit under the employee relations umbrella.
How to highlight these skills on your resume
Showcase your experience dealing with a difficult time when your employee skills came in handy. Did you help navigate employee communication during a merger? Have you ever had to fire someone? Have you managed a conflict between a manager and an employee? Showing the times you handled a high-pressure situation using employee relations is likely to impress any interviewer.
4. Organization skills
Organizational skills go hand-in-hand with more technical business management skills. Anyone looking to be successful in HR should have meticulous organization skills. This includes things outside of paperwork and record tracking. Project management, training and development, and even strategic planning skills fall under organization skills.
Chris Chancey, Founder of Amplio Recruiting, speaks about the importance of organization skills in your HR career:
"HR professionals are tasked with much of a company's 'paperwork' making it important for one to have strong organizational and multitasking skills. From employee files to handbooks, payroll to performance reviews, training and development to recruitment, a lot is at stake within the HR role. Those candidates who stand out are those who show that they are detail-oriented and highly organized."
How to highlight these skills on your resume
It can be hard to quantify organization skills without an employer seeing you in action. That's why it's important to talk about the method you use to stay organized, as well as what software you use to keep things in order. Mention any project management software or time-sheet tracking software you use in your day-to-day.
5. Innovation
The final human resources skill you should focus on is innovation. This is the hardest one to cultivate because it requires working in an environment that allows you to innovate. Don't worry if you don't have experience working for a company that encourages innovation. Think about your personal life and the ways you've innovated in your daily life or hobbies. Showing a recruiter how your brain works and innovates off the job is just as valuable.
Chane Steiner, CEO of Crediful, knows firsthand just how important innovation can be when it comes to working in human resources:
"Our entire workforce is 100% remote, which presents a lot of unique challenges. The ability to innovate when it comes to communication, training and development, and more are so important for our company's success. Working in human resources will present you with situations you might not expect to deal with. That's why being able to think on the fly and innovate is so important."
How to highlight these skills on your resume
As we mentioned before, talking about experiences where you innovated something to provide a better solution is key. Did you suggest a new training program that increased employee engagement? Or maybe you devised a better system for tracking vacation time? Talk about those successes and wins under the career experience section of your resume.
Do you have great advice like the experts featured in this article? Join the G2 Contributor Network today and share your knowledge with more than 1.5 million monthly visitors.
Honing your skills is just one piece of the puzzle
These are just a few of the things employers look for when hiring for HR positions. Your experience and interview skills will also play a key role in your career success. You don't need all the skills listed above to have a successful HR career, but focusing on improving your skills can get you closer to the job of your dreams.
Looking for more career advice? Don't worry, we've done the hard work for you.