In today's world, buyers are more empowered than ever before.
The majority of B2B buyers have done research on your solution, read your content, and sought out customer reviews before they submit a lead form and decide to speak to a sales rep. Across companies and industries, the way that purchasing decisions are being made is changing. Simply put, to ignore this reality is to fall behind.
It's no surprise that this was a recurring theme throughout multiple speaker sessions at G2's first-ever Reach conference. Speakers Joe Fuca, CEO of Reputation.com, and Mark Roberge, Managing Director at Stage 2 Capital and the former CRO of HubSpot, discussed the impact of changing buyer behavior on sales processes.
In this article, we'll recap the 5 major ways you can use customer feedback to close more deals according to Fuca and Roberge.
4 ways to use customer feedback as a sales tool
You don't have to be CEO of a company or a venture capitalist to recognize that things are changing in the world of B2B. According to DemandGen Report's annual B2B Buyers Survey, 61% of the buyers surveyed said they're relying even more on peer recommendations and review sites during the decision-making process.
So, we know that buyer expectations are evolving - but what exactly does this mean for sales teams?
At Reach, Fuca and Roberge shared their advice for how sales reps can switch up their traditional strategies to appeal to the modern B2B buyer. Let's hear what they had to say.
Practice social listening
As CEO of Reputation.com, Joe Fuca is no stranger to the importance of social listening. And although the Reputation.com platform primarily serves B2C consumers, Fuca has 30 years of experience working in the B2B SaaS space and sees lots of similar behaviors between the two.
"Consumer behavior has evolved - their trust is waning. Brands no longer have control over consumer sentiment and it can change at any moment," says Fuca.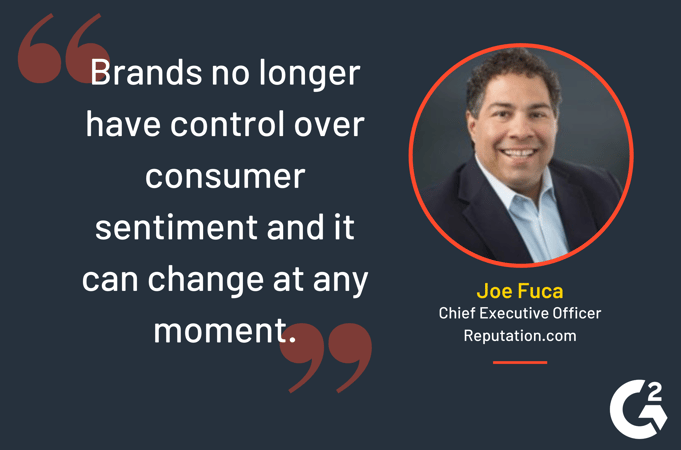 The way to get around this? Practice social listening and don't shy away from the negative comments. Use social media as a tool to understand how your customers feel about your product, your on-boarding process, or the overall buying experience.
From a sales standpoint, this type of unfiltered insight is invaluable. Through social listening, you gain a glimpse into your current and prospective customers' pain points. Salespeople spend a lot of time trying to figure out what their prospects are thinking when the answers could very well be right in front of them.
Use data to tell a story
Data is powerful - but what good does it do if you can't extract meaning from it? Modern prospecting is using data to tailor messages to potential buyers, but many sales teams still miss the mark.
"Look at LinkedIn data. Do your sales reps know the difference between targeting a prospect that just joined a new company versus a prospect that's been at the same company for five years? There are opportunities for personalization in those small details," says Roberge.
Many sales leaders preach the importance of personalization but most reps know how hard that is to achieve at scale when you have hundreds of accounts to go after. One way to get better at this is by using third party data you already have available to work smarter, not harder.
Establish social proof
Earlier we talked about the power of online reviews and peer recommendations in the B2B buying process - this is a form of social proof. According to Fuca, "70% of social conversations are happening in the wild on media channels that you don't own."
The reality is that your customers are talking about your brand online whether you like it or not. A positive customer review is a powerful piece of content that helps establish credibility. It could be the difference between closing or losing a deal with a buyer that is on the fence about your product.
Build your sales process around the buyer
"Traditional sales doesn't work for today's buyer," says Roberge.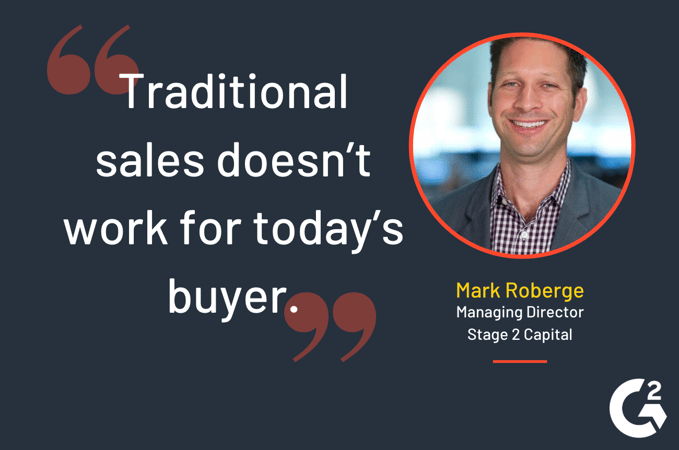 It's not about you. No, really. It's not about you, your company, or your product. It's about your current and prospective customers and what they want. Your product and sales process should be built around their needs and concerns, not the other way around.
Out with the old
..and in with a new, modern sales process. It's easy to get stuck in a traditional sales pattern because "we've always done it this way." But it should become increasingly clear that failure to adapt to changing buyer behavior could be detrimental to your sales process. The reality is that your buyers are evolving and the way you sell to them should, too.
Did you miss Joe Fuca and Mark Roberge's sales sessions at Reach? Luckily, there's always next year. Sign up now to receive early-bird updates and exclusive offers for Reach 2020.