Advancing your career is an endless process.
For human resources professionals there are a plethora of opportunities and specializations you can take on throughout your career. If you consider yourself more of an HR generalist, the role of an HR manager may be the right choice for you.
What is an HR manager?
An HR manager is a generalized role within a human resources team that oversees HR functions such as recruitment, training, and benefits. HR managers may lead a team of specialists or conduct specialized duties themselves depending on the size of the company and the scope of the role.
Read on for more information about exactly what an HR manager does, or jump ahead to find out how you can become one.
What does an HR manager do?
An HR manager is responsible for overseeing human resources department processes and managing employee functions. HR Managers need to be proficient in recruitment and hiring, training and development, compensation and benefits, employee relations, and consulting with leadership on the needs of employees.
The day-to-day role of an HR manager can vary greatly between organizations because the title of manager is one that is quite vague when it comes down to it. No two days are quite the same in the position.
Having a specialization can help you become an HR manager, but in order to be truly effective in the role, you need to have knowledge of as many human resource functions as possible – and the ability to lead a team.
TIP: If you're considering a role as an HR manager, you should know how much you should expect to make. Check out the State of HR Manager Salary Ranges in 2019 to know exactly what to ask for at the negotiating table.
How to become an HR manager
There are a few ways you can set yourself up for success to become an HR manager at your desired company.
Certification
Earning an HR certification such as APHR (Associate Professional in Human Resources™) or SHRM-SCP (SHRM Senior Certified Professional®) will put you a step ahead of other candidates who are only coming to the table with a bachelor's degree. It's important to note that most of these certifications do require experience in the field and a paid exam to complete.
Documentation
Creating application materials that make you stand out is essential to getting the job. You'll want to craft a specific HR manager resume and cover letter that shows you have the experience and qualifications to earn your spot.
Preparation
After you win the employer over with your application materials, you'll want to brush up on these HR manager interview questions that could pop up. Many interviewers want you to answer authentically without scripting your responses too much. This allows you freedom in the moment to give thoughtful and honest answers.
HR career path
HR manager is just one stop on your human resources career path. Successfully becoming an HR manager means you're already well on your way to the top.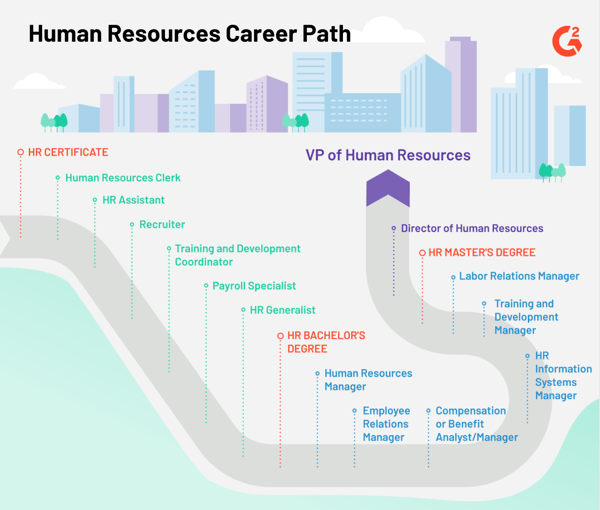 The greatest resource of all
People are an essential component of any business, and it takes the right kind of person to manage people as a resource. HR managers are a vital role within a company.
If you're interested in a career as an HR manager, you should familiarize yourself with the HR management suites that you're likely to use in the position.