There are few professional experiences more nerve-racking than sending an email to a colleague or client you are unfamiliar with.
How to write a professional email
Develop an eye-catching subject line, greeting, and opening sentence
Pay close attention to tone, spelling, punctuation, and grammar
Keep length short and concise, and provide key takeaways and next steps for your recipient
Summarize your main points in your conclusion and provide contact information in your signature
Whether you're a student, professional, or job seeker, this step-by-step guide will help calm your nerves by making sure that you maximize the potential of your professional persona. Writing a professional email well can ensure you get exactly what you want out of each message that you send. We'll go over how to start an email, how to sound professional in the body of the email, how to get your message across, and how to end an email.
How to write a professional email
The steps below take you through writing an effective professional email that will land you a response. Whether you're preparing to do cold email outreach or looking to seal the deal on a huge sale, this guide will show you how to write the perfect professional email.
How to start a professional email
A formal, clear, and grammatically sound start to your email is essential to establishing credibility and earning your recipient's trust. These three components at the start of your email need to both grab your recipient's attention and also help them identify the email's primary focus.
Subject Line
An effective email starts with earning a click from your recipient in their inbox to open the message, and having one of the best email subject lines helps win this competition for an inbox click. An email with no subject has no ability to draw attention in the inbox of your recipient, and can run the risk of seeming like spam. Thus, the subject line provides the opportunity to grab your recipient's attention and introduce the message you are sending.
Your subject line should concisely communicate the essential keywords of your email. In this effort to be as concise as possible, it should not include unnecessary words and phrases that will already be included in the email. Instead of "hello George, here are my three proposals for next quarter's project," aim for something more along the lines of "Three Project Proposals."
Your recipient should be able to recognize the general content of your email upon seeing the subject line, so it is important to help your recipient be able to sort out what the contents of the email will be before they click into the message and read it. With a good subject line that catches your recipient's attention and is related to the intended takeaway from your message, you are on your way to writing an effective email.
Greeting
The email greeting is a daunting aspect of writing professionally, especially to someone you may not know well. What does your recipient prefer to be called? Will they be offended if they are addressed by their first name? Do they have a title like "doctor" or "professor?" Is "hey" too relaxed? "Dear" overly formal?
Safe and versatile choices for most professional emails are greetings such as "hi," "greetings," or "good morning/afternoon/evening" depending on time of day you are sending the email. This greeting can followed by the recipient's first name or last name. Using only the first name is typically a safe bet, however last names could work for situations when you are emailing someone you feel just a bit too informal greeting with a "hi." When possible, try to learn the name of the recipient of your email in order to start off with a personal touch and show that you took the time to research the recipient's name when that is not initially clear.
Note: Oftentimes, email senders will automatically refer to a woman as Mrs. followed by her last name. If you are corresponding with someone you know is a woman, the safest practice is to refer to your recipient as Ms. followed by her last name.
The opening sentence
The opening sentence of your email could be one of two options. First, and often, it is a short and inoffensive pleasantry to offer a light transition from your greeting into the business about which you are writing. If you'd prefer to cut right to the substance of the email, a short introduction of the email's topic that expounds upon the subject line is a perfect way to set up what you'll be discussing in the email itself.
If you do choose the route of the short pleasantry, it is important to keep this to one sentence and concise. Do not waste your recipient's time by elaborating on a topic irrelevant to the main subject of the email.
How to sound professional in your email
Once you've opened your email, it is imperative that the email sounds polished and professional to gain the respect of your recipient. Focus on a formal and direct tone, as well as perfect spelling, grammar, and punctuation, to sound professional.
Tone
The tone of your writing in a professional email should be more formal than casual. However, it should not come at a cost of being unclear or using unnecessary vocabulary. Keep your sentences concise and avoid filler words. By making the email as efficient to read as possible, you won't risk that your recipient feels like their time is being wasted.
If your recipient is a colleague, client, or someone you need to have a professional relationship with, it is important to gain their trust via substance and information, not over-creative or didactic phrasings. Think about what the recipient is expecting to get out of an email from you, and craft your tone and voice around their expectations. A surprisingly out-of-character tone for the sake of impressing a client or colleague is meaningless unless the information in your email is easy to comprehend.
Spelling, grammar, and punctuation
The most imperative aspects of the email are to have perfect are spelling, grammar, and punctuation. Before sending, make sure your email is error-free and communicates the message you want to be delivered as clearly as possible.
Using a grammar and spelling extension or other AI writing assistant software will also ensure that your email appears professional and is mistake-free. In order to be taken seriously and seen as a true professional, you must establish your professional ethos with perfect spelling, punctuation, and grammar.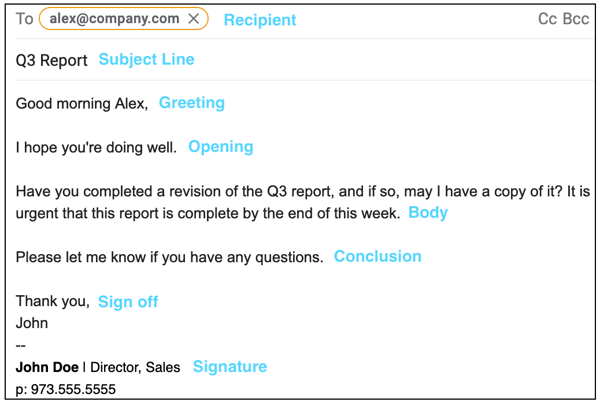 How to get your message across effectively
Communication of your email's main focus should be clear, concise, and as easy for your recipient to understand as possible.
Length
A professional email should follow the "one thing rule," meaning that it should only cover one specific item, task, or request. This rule lends itself to a short email that is easy for your recipient to receive and process. An overly lengthy email can dilute the key messages you want to get across, especially in situations such as a follow-up email. In the interest of your reader's time and attention, be wary of your email being longer than it needs to be to effectively communicate your message.
When you are reading over your email before sending, see if you can eliminate unnecessary words or irrelevant sentences. Use short paragraphs and line breaks to separate ideas, and always keep the recipient in mind when thinking of how your email can be concise while fully communicating the intended message.
Clarity
In a letter to a fan, C.S. Lewis penned, "always try to use the language so as to make quite clear what you mean and make sure your sentence couldn't mean anything else." In no medium is this tip more applicable than a professional email. In a high-leverage situation like a request of a colleague or a client, you want to make sure that workflow is both efficient and accurate to what is needed from both parties.
A professional email is a setting in which there can be no risk of misunderstanding regarding a particular message or request. Using the clearest language possible is essential in sending a professional email. Don't assume that the recipient knows exactly what you are talking about unless you are 100% sure, and always take the time to read over the email to make sure that there could be no potential areas of miscommunication upon your recipient reading the message.
Takeaways for your recipient
When your professional email includes a request or ask, it is important to not only ask for what you want to get out of the request, but also describe and lead the recipient through the steps that they need to accomplish in order to get exactly to where you are leading them to. Always include at least a sentence on what the key takeaways or next steps should be before concluding your email.
How to end and sign off your email
Concluding and signing off your email should not only summarize the content of your message, but also provide a clear and easy way for your recipient to be in contact with you.
Conclusion
Be sure to link the conclusion directly to the content of your message. You should be leaving the recipient with a clear notion of what you have communicated to them and what you are looking for from them moving forward. You should also thank them for their time.
Sign off
The sign off for your email is not only your last chance to display a professional tone and manner, but it should also provide the mediums through which your recipient can reach you. Be sure to include an email signature in which you provide your name, contact information, and even links to accounts such as LinkedIn or Twitter to help boost your accountability and the likelihood you will receive a response.
Lastly, you should make sure that both your title and your company name are displayed clearly in your signature. For a sign off, feel free to add a "sincerely" or "thank you" followed by your full name to end the email in a professional manner.