I didn't learn about cover letters until college.
It wasn't until I graduated, jobless and floundering, that I heard tell of the many forms of business letters. They seemed ambiguous, like there was no way to write a cover letter that was 100 percent perfect.
If I'm too personal, am I being unprofessional?
If I'm not personal enough, am I coming off as stiff, boring, or rude? Consider the screenshot below which was featured in Business Insider's article calling out 12 of the worst cover letters they've received.
If I take a risk, will it be rewarded, or will I be the next "What Not to do" post on LinkedIn?
For example, an article by Inc. Magazine cites an instance where an applicant sent in a picture of themselves and a tiger in lieu of a cover letter. We can infer they did not get an interview.
It was, and still is, difficult for me to determine exactly how to strike a balance in my cover letter. Even various sources contradicted each other, leaving me unsure of who to trust.
It's possible you're in the same predicament: trying to make an impression without soiling your chances at a dream job. In this article, you'll learn everything you need to know about how to write an effective cover letter that still reads as human.
The professional world is full of intricacies and unwritten rules you couldn't know intuitively. It takes either experience or research to help understand what people are really looking for in this personable introduction.
Luckily, I have both. I've been on the other side of the interview table, and I've scoured resources to provide you the most cohesive documentation regarding what a cover letter is, and how you can nail it.
How to write a cover letter
To understand how to write a cover letter, it's best to first understand why you are writing one.
When you apply for a job, there are a couple of different steps.
The application: a digital or physical form created by the company. It includes everything from experience, to references, to your educational information.
Resume submission: Resumes outline your experience and education as well as help hiring managers to understand that little bit more about you, including special skills or certificates.
And lastly, many companies will either ask for the submission of a cover letter. Cover letters are your opportunity to personally introduce yourself to hiring managers prior to consideration for an interview.
Cover letters are your chance to say things that aren't relevant for a resume or job application. They are also your opportunity to expand on the things you only touch on in your application or resume.
A cover letter allows you to paint a picture of yourself as a deserving candidate.
Think of it as your chance to advocate for yourself. The things you say in a cover letter could be the reason a hiring manager decides to pull your application and call you in for an interview.

What if a cover letter is optional?
If a job submission gives you the chance to upload a cover letter, do it. Today's job market is increasingly competitive and putting that extra effort into your application pays off in the end.
Not all jobs will make the cover letter mandatory, as it's not equally important in all industries. But taking that extra step and working hard on something that's optional will go a long way in showing managers the kind of individual you are.
Writing a cover letter
Now that you understand why cover letters are important, it's time to get into the nitty-gritty of how to write one.
Firstly, it should be noted that you never send the same cover letter twice. For each job to which you apply, you should be crafting a unique and company-specific cover letter. This means doing things like addressing companies by name and mentioning the job in your introduction.
I know, it sounds time-consuming. That's because it is.
But many jobs won't give you so much as a second glance if you don't perform this step. So instead of spending three months on the job market because you refuse to write a cover letter, spend one month carefully crafting pristine applications that will get you noticed more quickly.
Parts of a cover letter
It's important to note that cover letters do not have as strict of a formula as resumes, thank-you letters, or letters of resignation. Rather, cover letters can be summed up by a few simple parts.
Formatted header and a meaningful introduction
Paragraphs detailing specific, unique experience and skills as well as their alignment with the open position
Succinct conclusion that leaves the reader with clear next steps
Let's break this down into more detail.
Cover letter format
As stated above, an applicant is allowed to play it fairly fast and loose when it comes to cover letters. The parts are as I described above, but the words should be your own.
Allow me to further outline what the three parts of a cover letter parts should look like.
1. Formatted header and a meaningful introduction
You should format the header of a cover letter just as you'd format a formal letter. Consider using a professional header.
At the top of the letter, include your name and contact information. You can choose which contact information to include, but your phone number and email address are standard practice.
Tip: Remember to include a professional email address, not the funny one you made in high school. If you're currently employed, refrain from using a work email as a form of contact for this application.
You could also choose to include your physical address in the header image, should you feel it provides you an advantage over other candidates.
Tip: Say you're applying for a job where you currently reside. Including your address in the header tells hiring managers that you don't need to relocate, meaning you'd able to begin quickly. It also says they wouldn't have to cover any relocation fees.
If you're applying to a job in another state, it may not be wise to include your physical address on your cover letter. Hiring managers are hesitant to get their hopes up for candidates who might bail.
Additionally, be sure to include the date you're writing this letter so it doesn't get lost in an unmarked pile.
You have the option of including the following in your header:
Your job title
URLs to your personal or professional portfolio or website
Links to professional social media accounts (Encouraged if the job is related to social media)
Next, you'll want to address the company or person to whom you are writing. Underneath the date, address the letter to either the organization or the hiring manager. If you know the hiring manager's title, include that in this address.
If the hiring manager's name and title aren't immediately clear, do some research. Go to the company's LinkedIn profile to see who your manager might be. Look at the company's teams page to see if they have a directory of staff.
I guarantee it will make a difference for someone to see you've addressed them by name.
However, if you can't find their name after all of your searching, the company name will do.
Underneath the company or individual's name, include the company's physical address.
After the address, repeat the name of the individual you're addressing, preceded by "dear," or "greetings."
Following these header pieces, you will begin your introductory or first paragraph.
Begin making an impression this early in the letter. The point here is to state your interest and grab hold of their attention.
Be sure to begin by restating the position for which you are applying. Next, briefly outline or describe an experience or achievement that makes you uniquely qualified for the open position.
This paragraph should be no more than a few sentences.
Tip: Learn about functional resumes and how they differ from traditional resume types.
2. Paragraph(s) detailing specific, unique experience and skills as well as their alignment with the open position
In the second and potentially third paragraph, you'll go into more detail regarding why you are a good fit for the role. Remember that hiring managers are reading potentially hundreds of these letters. "I studied this subject in school" or "I have done this job for years" is not going to leave a lasting impression.
Instead, express your interest in the role in a new and compelling way. Perhaps include a sentence showing you understand the the type of candidate they're looking for.
Explain your experience in a way that renders you uniquely qualified. Have you solved any problems that might also arise in this position? Have you met goals that would align with your goals in this position?
Give specific examples, and include proof if you can. If you're a salesperson, include your quarterly earnings. If you're a writer, list some publications that have published you.
One easy way to do this is to look at the specific requirements or responsibilities of the role. They are so clearly laid out for you in the job description, and you'd be a fool not to utilize them!
If the description says they need someone to completely revamp their website, include how you redesigned your last company's entire digital presence and increased overall site traffic by 37 percent.
Hiring managers want to feel as though you're excited for this role in particular, not just the shot at a change of pace or a higher paying salary. For this reason, you may consider including a paragraph displaying your research on the company and the reasons you believe this organization, in particular, is the right place for you.
This type of paragraph shows the time you've spent to make your cover letter specific to the job at hand. This type of personability will have a positive effect on those reviewing your letter as they will feel like you're specifically here for the job.
One simple formula for the second paragraph is to take a bit of knowledge you have about the company, state it, and explain why it is interesting or compelling to you. Are they growing at a rapid rate? Take the opportunity to state your passion for scaling organizations and the culture changes that accompany growth.
3. Succinct conclusion that leaves the reader with clear next steps
After the third paragraph, it's about time to wrap up the cover letter. You don't want to take too much time from the people with hiring powers. It's better they feel you've respected their time with a cover letter of a reasonable length as opposed to rambling on.
For those reading these letters quickly (ie hiring managers for an internship opportunity), these short paragraphs will make your letter easier to read.
You'll want to close out your cover letter with a short conclusion paragraph. Many recommend your conclusion to have a call to action, such as meeting up for a discussion or getting their thoughts on the future of the industry. When the hiring manager is done reading your letter, what do you want their next action to be?
Many take this opportunity to reiterate how interested they are in the role. Don't do that. The hiring manager understands your interest, as well as the interest of 50 other applicants.
They're not just looking for someone who wants the role, but also for someone who can perform it well. Instead of ending the letter by begging, end it by reiterating your knowledge and making another lasting impression. See our example for a great way to come off knowledgeable versus needy.
It's possible they'll act on it, it's possible you'll never hear from them. Either way, you're opening up the dialogue and expressing your interest. What more can you do?
After this, you'll need to more formally sign out of the letter with a sincerely, best, or kind regards before your name. Although your name is at the beginning of the letter, it's best you include it at the end as well.
For one, it's a formal letter, and this is the way all formal letters end.
For two, the philosophy is much the same as with political candidates. The more you're able to get your name in front of the people with voting power, the better. In this case, hiring managers are your voters.
If possible, end it with a handwritten signature, or at least a digital copy of your handwritten signature.
Cover letter mistakes
The professional world has so many unwritten rules and barriers to entry that it's easy to make a mistake in front of hiring managers without ever knowing you did anything wrong.
In journalism school, I once emailed a source, only to have them email my editor and the rest of the newspaper department outlining how unprofessional it was to ask questions over email. You can bet I learned to never do that again.
But you can also learn things without embarrassment, which is what I'm hoping to do for you now. Here are a few of the most common cover letter mistakes for you to review and avoid as you go after your dream job.
Making the letter too lengthy — Remember that you're trying to make a good impression with this letter. Respect the hiring manager's time by cutting out paragraphs and words that don't serve a purpose.

When we're nervous, we can sometimes be too wordy or do too much. Avoid this habit in a cover letter.
Using the wrong name or no name at all — Addressing a person or company by the wrong name is unacceptable in a cover letter. In fact, it's a surefire way to have your letter thrown away without further attention.

The least you can do is double check that you've addressed the letter correctly. Additionally, it doesn't take much effort to research and figure out who is the hiring manager for this role.

Take the extra ten minutes and address the letter with a specific name. This personalizes the experience and makes a stronger impression.

If you're having trouble finding the name of a hiring manager and you've done all the research you can, feel free to write "Dear COMPANY NAME," or "Dear TEAM NAME at COMPANY NAME." This shows you've personalized it to the extent in which you are able.
Phoning it in — Hiring managers and recruiters can tell when someone isn't trying. Even if you've written 30 cover letters in the past week, you still only have one chance to make an impression on each company.

Be sure to put forth the same amount of effort for every letter. If it helps, take a break between letters and do something to refresh your brain. You want to use your cover letter to make the best first impression possible.
Making it about you — Successful companies are built around teams and collaborators. If you're using the words "I" or "me" too much in your cover letter, you risk coming off as someone who is seeking to serve their own interests.

Instead, try and change the wording to focus more on the way you can have an impact at the company. The cover letter is partially about your achievements, but mostly it's about what you can do for this company.
Repeating your resume — This one's tricky. There's only so much you can say about your experience, education, etc. Especially if you're fresh out of school, it can feel like you're running out of things to say quickly.

Even so, be careful not to write a cover letter that simply repeats your resume or job application. A cover letter is an opportunity to self-advocate in a unique way. Try and use this space to outline experiences you've not yet been able to discuss.
Don't be too personal — Ideally, the people you're applying to work with are compassionate and caring individuals who empathize with others. But it's inappropriate to bring up your recent struggles or how you hated your last job in a cover letter.

For one, it's unprofessional. And for two, you'll look like someone who dwells on their issues as opposed to someone who is fully invested in the job at hand.

When hiring, managers are asking themselves, "Will I enjoy working with this person?" You want to give them every reason to answer with a resounding yes.
Coming off as needy — While your intention is to land the job, it's important to remember that hiring managers don't owe you anything.
Using cliche statements — Hiring managers read a lot of the same sentiments over and over. The least you can do is try and think of unique ways to discuss your skills and experience.

Remember, when it comes to getting a job, you want to put your best foot forward.
Cover letter tips
I've talked about the proper format of a cover letter, common mistakes, and provided visuals. Now let's take a moment to throw out some valuable tips that could make or break your chances of grabbing the gig.
Clean up your social media profiles: I learned in middle school that anything you post on the internet is "forever." This may be true, but we can still do our best to clean up profiles before hiring managers see our immature high school tweets. One way to do this is by making your profiles private.

If you've included a link to a social media profile on your cover letter, however, you'll want to be sure hiring managers can view what you've posted. In this case, you'll just have to ensure content is appropriate. If this means going back to 2011 and deleting old posts, that's what it means.
Brainstorm your accomplishments: If you're getting stuck with a bout of writer's block, put the computer away for a minute and pull out a pad and paper. Do a brain dump of all the things you've accomplished at your various roles.

When you're in the midst of writing, it can be difficult to sift through our pasts and determine the most effective examples. But when you put your brain in a creative mode where you're thinking through your job experience with no pressure, you can easily come up with a list of relevant examples.
Don't be afraid to share with friends: As a writer, something that helps me ensure I've written an assignment or letter well is asking friends to read it for me. Their minds haven't been running through these words for hours on end, meaning they're fresh and can provide unbiased feedback.

It may feel awkward to share with friends, but you're eventually going to send this letter to professionals. It's much easier to hear back from a friendly face before you send your letter in to the big dogs!
Cover letter rules to live by
Never send the same letter twice
Always address the letter to a specific person, or the company/team
Triple check for spelling errors, especially with individual and company names
Make it job- and company-specific
Include your contact information
Only link to social media profiles if they have appropriate content
Don't over-share
Cover letter examples and templates
In the image below, I've written a mock cover letter that I might use were I to apply for my current position. I've used a purple arrow to label the different areas mentioned above. It is my hope that the clear labels help you remember all that is pertinent to include in a cover letter.
(The document itself is courtesy of Microsoft Word's "Creative Cover Letter" template and is not my personal design.)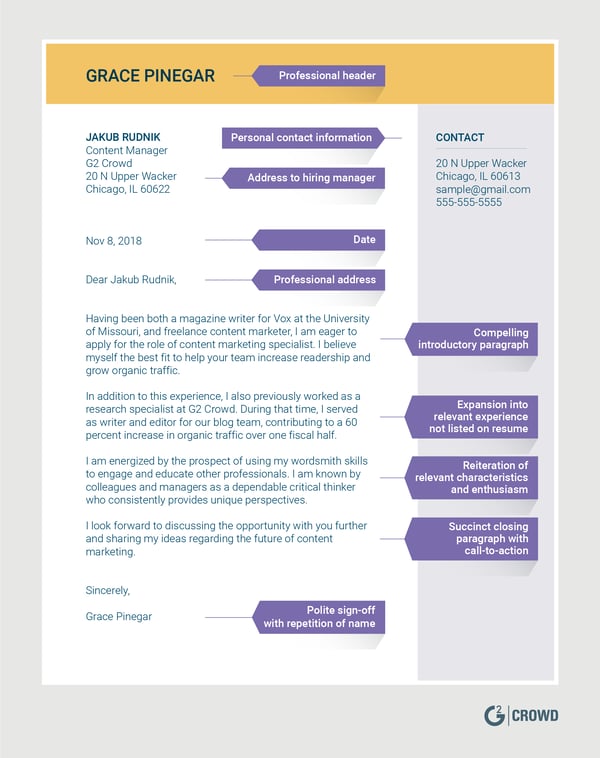 Cover letter samples
If you're looking for more extensive cover letters and visuals, here's a list of resources I think could send you in the right direction:
What we've covered on cover letters
By now, you should feel comfortable writing a cover letter and going for the job of your dreams. Or if it's just the job that could one day get you to the job of your dreams, that's cool, too.
If you're on the job market, you could likely use more advice and content geared toward job-seeking professionals. Keep up with our Learning Hub for relevant articles such as how to write a thank you letter after an interview.
I'd also recommend how to write a resignation letter, or two-weeks notice letter, as you'll be looking to end your current tenure.