The past few years in cybersecurity history have been defined by more frequent and more costly data breaches.
According to an analysis by Online Trust Alliance (OTA), 93 percent of these data breaches could have been avoided through fundamental data security efforts.
While not all of these efforts are exactly budget-friendly, the use of a virtual private network – also know as a VPN – has emerged as a quick and inexpensive option for remaining anonymous on the web.
How to use a VPN
A VPN encrypts both incoming and outgoing transfers of data on the web, masking the identity of the end-user. This helps both business and personal users secure their data from hackers, government surveillance agencies, and other parties with interests in personal data.
But there's more than just finding, installing, and running a VPN connection. Like any software or tool, there are ways to maximize a VPNs effectiveness.
To get the most out of your VPN, we asked five tech experts for their pro tips and other insight using a VPN. Here's what they had to say:
1. Use a VPN kill switch
Brandon Ackroyd – Head of Customer Insight and Cybersecurity at TigerMobiles.
Brandon touches on the importance of finding a VPN service with kill switch capabilities.
"VPNs can and do drop their connection. When this happens, it means your identity is suddenly no longer hidden. A kill switch is a feature that drops your internet connection as soon as the VPN loses connection, meaning you'll stay private until you can reconnect to the VPN again."
Any tool that relies on an internet connection to provide a service has the potential to temporarily fail. Since the whole purpose of using a VPN is to mask your identity, having a kill switch feature to notify you of connection failures is vitally important.
2. Consider strong VPN encryption
Amit Bareket – CEO of network-as-a-service provider Perimeter 81 and renowned cybersecurity expert
Amit explains why strong encryption is crucial for a VPN service; especially in areas with unsecured networks.
"Find a VPN that offers strong levels of encryption and instant Wi-Fi security for holistic data protection.

Today's modern and distributed workforce is becoming increasingly remote. Many businesses hire freelancers who require remote access to the network or employ workers who travel and use public, unsecured Wi-Fi in places such as airports and cafes.

We all know that public Wi-Fi hotspots are easy targets for hackers, which is why it's important to find a VPN solution that offers strong encryption and even an automatic Wi-Fi security that activates as soon as a user's device connects to an untrusted network."
3. Compare VPN protocols
Brandon Ackroyd supported Amit's statement with a few tips on both VPN protocols and encryption standards.
"The protocol that a VPN uses to encrypt your data is very important and some are better than others. You don't need to worry about the differences between protocols but you do need to know are which are good and which aren't. In general, any site that says they use OpenVPN is very secure. SSTP and IKEv2 are also acceptable.

Avoid VPNs that say they use PPTP (which is no longer considered secure), or L2TP/IPsec (not suitable for mobile users)."
4. Understand encryption standards
"The encryption standard is the kind of algorithm that a VPN uses to encrypt data, and again the details aren't important here. Just know that sites advertising AES are super strong, those offering Blowfish are fine for regular users, and those offering Camellia are the best ones out there."
For a simple breakdown of the many VPN protocols, their encryption strength, speed, reliability, and more, here's an easy-to-read cheat sheet: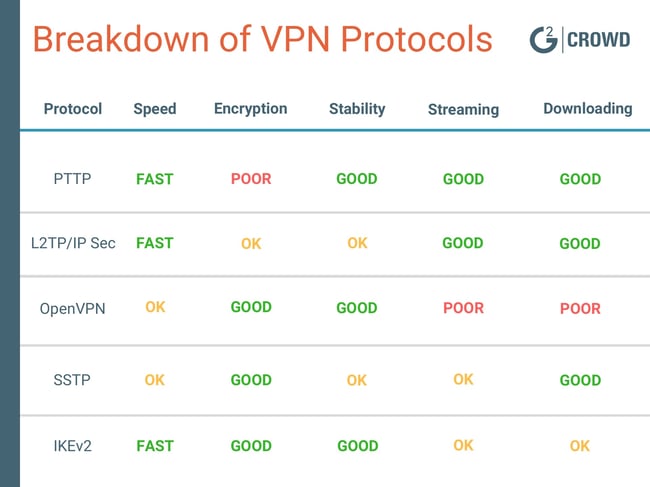 5. Look for no log policies
Keri Lindenmuth – Marketing Manager at KDG Technologies, a business process firm with an award-winning IT department.
Keri recommends being on the lookout for VPNs with no log policies.
"Sometimes a VPN may seem safe and secure, but in the small print, you learn that the company behind the tool is keeping track of your data. This makes you prone to having your data sold to third parties or even stolen."
There have been issues in the past with some VPN services – typically free ones – going against their data logging policies. This is problematic. Regardless if a user's identity is masked, a VPN service that stores or sells user data goes against the entire purpose of utilizing a VPN.
While there has been a push for more transparency of how companies store (or don't store) their users' data, it's still worth seeing if a VPN incorporates a no logging policy. This policy is typically located on a VPN's website.
6. Find reliable VPN servers
Joe Robinson – SEO Marketer at Sabai Technology, a company producing custom firmware for routers with a focus on VPN services.
Joe mentions how the number of VPN servers can have an effect on the user experience.
"Go with a VPN provider that has a lot of servers, especially if you're trying to access Netflix or other geo-restricted content. Usually, if one server for a country is blocked, there will be others that aren't."
More servers typically equal more access to blocked content, but it can also help VPN users save money when shopping online.
Sean McGrath – Editor of VPN comparison website BestVPN.com, briefly explains how.
"VPNs have been known to help people save dollars on flights and holiday deals. By changing your location and purchasing the tickets in a different region, you may find better pricing options – but it will require some research."
For example, airline companies may gauge their ticket prices based on your browsing history, IP address, mobile tracking data, Wi-Fi location, and more.
When shopping online through a VPN, you not only mask this information, but you're able to test other VPN servers to compare ticket prices.
---
Considering a VPN, but not quite ready to pay for one? Not a problem. Check out our complete breakdown of the 9 best free VPNs available today.