Ok so last night when you and your bestie got in a fight at the bar, you did something bad.
You blocked her on Instagram.
How to unblock someone on Instagram
On your Instagram profile, tap the menu button in the top-right corner (three lines)
Go to 'Settings'
Under 'Privacy and Security,' select 'Blocked Accounts'
Click on the account you wish to unblock and select 'Unblock'
It's easy to block someone on Instagram and relatively drama-free — your bestie won't get a notification from Instagram that you rage-blocked her. She probably has no idea it happened.
You two make-up over mimosas and avocado toast the next day, and you're thinking no big deal, you can just go into Instagram, unblock her and post that cute picture of you two as if nothing ever happened.
Well. Here's the thing…
When you block someone, Instagram automatically removes you two from following each other. Your friend is no longer one of your followers, and she no longer follows you. So after you unblock her, you'll have to follow her again. And that will send a notification. Which sort of reveals that you blocked her.
Never fear though — if you two could move past the fight, most likely you two can laugh off this Instagram block, too.
TIP: Make sure your instagram looks as good as possible for the inevitable make up by perfecting your instagram grid!
How to unblock someone on Instagram
I'll go over step-by-step how to unblock someone on Instagram with pictures that make it easy to follow along. I'll also go over how to unblock someone on a desktop, just in case your phone is out of commission.
Bonus tip: If you're worried about someone from your office seeing those stories that may be less-than-appropriate, instead of blocking them, create an Instagram close friends list.
How to unblock someone on Instagram app
This is probably the most common way to unblock someone. Luckily, it's hassle free! Let's dive in.
1. Go to your Instagram profile
When you open the Instagram app, click on the humanoid icon in the bottom right of your screen. This will bring you to your profile.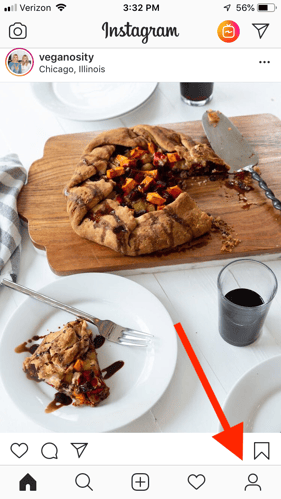 2. Tap the menu button
Once on your profile, select the button in the upper-right corner that looks like three horizontal lines (and may or may not have a notification that you've been ignoring for a while).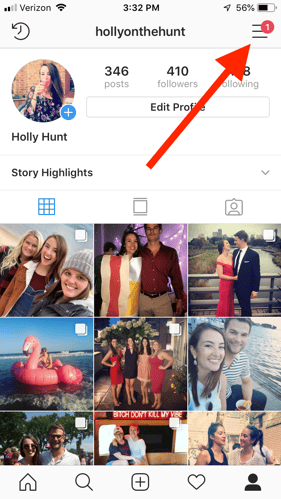 3. Select 'Settings' from the menu sidebar
From the sidebar that appears on the right, select 'Settings.' It can be easy to miss on the bottom of the sidebar.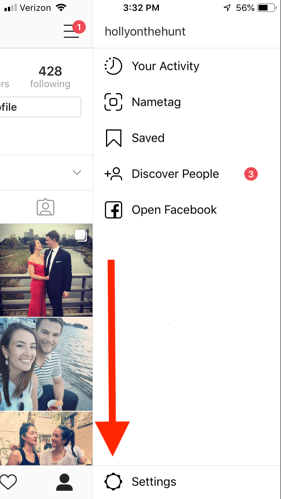 4. Select 'Blocked Accounts'
Scroll down to the 'Security and Privacy' section in your Settings. You'll see 'Blocked Accounts' as the second option. Tap on it.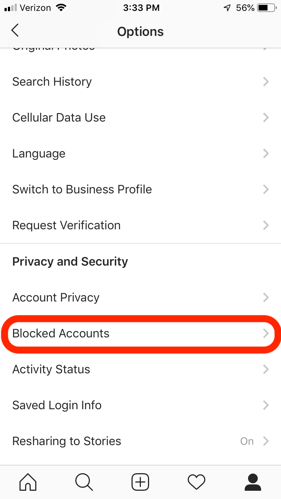 5. Choose the account you wish to unblock
For this example, I blocked my good friend Blake Lively (sigh, I wish). So I will select her profile now.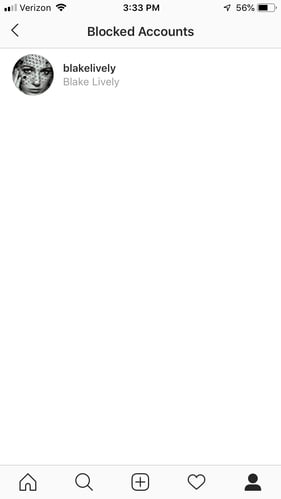 6. Tap 'Unblock'
Clicking on her name will take you to her profile page. You'll notice the large blue button that says 'Unblock.' Give that a click!
7. Click 'Dismiss'
A pop-up window will appear letting you know that you can block your friend again any time you want. Go ahead and click 'Dismiss' to get out of that window.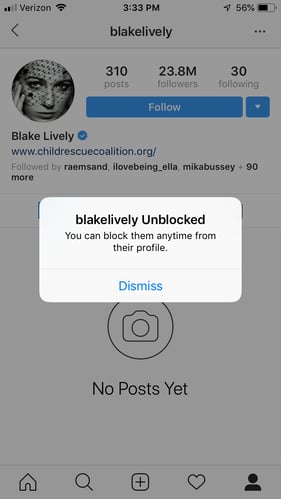 Now you're back on your friends Instagram profile. You'll notice that the blue button now says 'Follow' and, if your friend has a private Instagram account, you cannot see any of her photos.
This is when you need to suck it up and hit 'Follow' to once again become connected with your friend.
How to unblock someone on Instagram on a desktop
If you cannot access Instagram on your phone, don't worry, it can be done through Instagram's website on a desktop. However, it is quite a bit different from the mobile process.
PS. If you prefer using your PC over your phone, here's How to Post on Instagram from PC.
1. Go to the blocked user's profile
The desktop version does not have the same menu button available on your profile. You have to search for the user's profile name in the search bar in order to get to their profile page.
Note: In some cases, Instagram won't let you find the profile you blocked. This happened when I tried to find Blake Lively's account after blocking her. It was not appearing in any of my searches.
If this happens to you, give in to your inner sleuth and find a picture or comment the person you blocked would be mentioned in. In this case, I went to a Blake Lively fan account and found a picture that the account tagged @blakelively in. When I clicked on the tag, I was brought to her profile.
2. Click 'Unblock'
Once you've unearthed the profile, you will see the blue 'Unblock' button. Click on that.
3. Click 'Dismiss'
In the pop-out window that let's you know you can block again at any time you wish, click 'Dismiss.' You are now back on the user's profile, and you can choose to follow them again if you want!
You've successfully unblocked someone on Instagram!
Remember, unblocking someone will not send them a notification that you've unblocked them. However, following them again when they may have thought you already were a follower might be a give-away. But it's worth the awkwardness if you're ready to let them back into your life again!
For more Instagram content, check out everything you need to know about Instagram privacy, how to change your Instagram password, and the best Instagram hashtag strategy tips.
Have another question about using Instagram?
You're in luck! Share your question with the G2 Community and get a personalized answer from an Instagram expert user.