What does Pinterest mean to you?
For me, it's the best source of inspiration for minimalistic nail design ideas, interiors, and the biggest recipe book. Other users are looking for art supplies, gifts, drinks, clothing, accessories, and more, which makes Pinterest a great marketplace.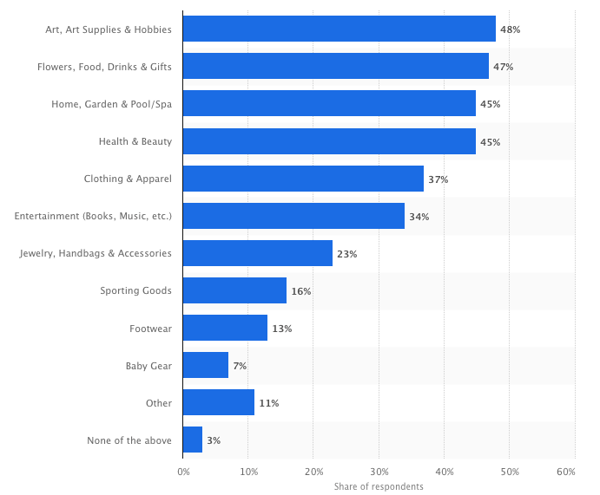 Pinterest shopping statistics, via Statista.
But don't take my word. Let's look at some statistics:
How to sell on Pinterest
So, the question is: What should merchants do to sell on Pinterest successfully? Here are some Pinterest marketing strategies for making the most of your Pinterest store.
Find your audience
If you don't know your audience, you'll barely sell anything. So, first, define your target market. Then find out if they are actually using Pinterest.
You've most likely heard that Pinterest is mainly for women. Well, not anymore. Currently, 60 percent of Pinterest users are females and 40 percent are males.
Below are some Pinterest demographics that you'll probably want to know before you actually start social selling on Pinterest.
Now that you know these facts, you can sell all over the world with a knowledge on how to price and market for your target audience.
Set up a business account on Pinterest
If you've been using Pinterest for your personal needs, you don't have to create a new Pinterest for business account; you can convert your current account into a business one. It's easy, with the click of a button you can fill in your company's information and set up a business account in no time. That's what I did!
The process requires little time and no special skills. All your boards and pins will be saved in your business account, and it's absolutely free.
A business account gives extra Pinterest marketing features in comparison with a personal account. Here is a list of things you will discover once setting up your business account:
Ads. Is your initial idea of using Pinterest to drive traffic to your store or blog? Then Pinterest ads are exactly what you need. Traffic, promoted app pins, and video awareness campaigns are available. Below is an example of how it looks. Notice how everything is nice and clear.


Analytics.

It's free, and it gives you an idea of what is going on with your content, what boards and pins are your best sellers, and which of them need some more attention.

Keywords.

Pinterest works as a search engine. Add keywords to your profile description and, of course, content to drive more traffic to your account.

Hashtags. From my own experience, hashtags work on Pinterest, as well as on Twitter, Facebook, and Instagram. So, don't miss this chance and add them to your descriptions. This way, users are more likely to find your products.
If you use these features wisely, your sales will skyrocket.
Use buyable pins
Because you have an e-commerce store powered by a platform, like X-Cart, you can use buyable pins. Buyable pins let Pinterest users buy products without leaving Pinterest. Yeah, it's that easy.
Once you set up your account, a, "Buy it," or, "Add to bag," button will appear above or below items from your online store, which will also include prices.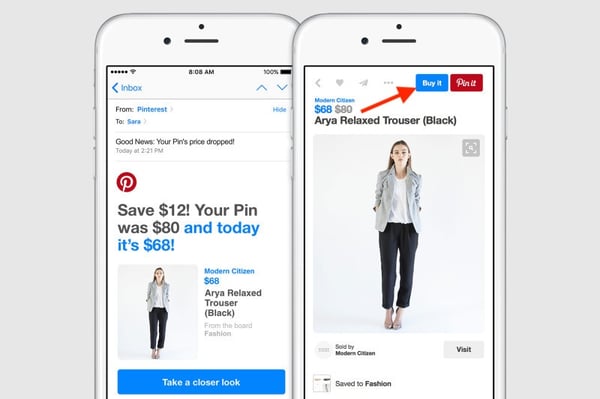 The good news is that 72 percent of users say Pinterest inspires them to shop when they aren't actually looking for anything. Knowing this, including the call-to-action (CTA) button to your items can only help drive sales.
You can also download a browser button for Pinterest. It will let you save your best sellers to your Pinterest boards and add descriptions without visiting the site.
Use rich pins
A rich pin is a type of organic pin format that provides more context about an idea by showing extra information directly on the pin.
Rich pins add extra details to pins and update important information from the websites they're taken from. If something changes on the original website, the rich pin is updated to reflect that change. This is a handy tool for busy business owners and their staff.
There are four types of rich pins:
Product pins.

Product pins make shopping easier. They include real-time pricing, availability, and information on where to buy products. This kind of pin can save time, as you don't have to answer every question yourself.



Recipe pins. Recipe pins get cooks excited with ingredients, cooking time, and serving sizes. Plus, you can see the results of cooking following the exact recipe.


Article pins. Article pins help Pinterest users save stories that matter to them. Each article pin shows the headline, author, and story description. So, share your stories, they may raise your sales.


App pins. These pins show an install button, allowing users to download your app without leaving Pinterest. Currently, app pins are only compatible with iOS software.


Use promoted pins
Promoted pins are pins that you pay to promote. This way, more people can see them and buy from you.
You can set your budget to anything for your campaign, as there is no minimum cost for promoted pins.
Invest your money in the bestsellers first. And, yes, you can monitor and optimize your campaign if you are not satisfied with the results you are getting.
Time to pin!
I hope this post is a source of inspiration for you. Now that you know how Pinterest works, don't waste any time. Research and start a Pinterest business account to sell your products. You have all the knowledge you need.
Already an expert on everything Pinterest? Share your insights for other marketers and write a review today.
Ready to take your social selling to the next level? Learn how to sell on Instagram to help your business sell more in 2019.