It's 2018, and you'll be hard-pressed to find somebody who doesn't have an Instagram account.
Everybody, and I mean everybody (hi mom!), seems to have signed up at one point or another.
Instagram sees more than 1 billion users every single month. Whether it's an Instagram business profile or a private Instagram account they're logging on to, one thing is for sure: these people are posting on Instagram like crazy.
That said, there are still a lot of people who haven't joined Instagram yet. Or, maybe you signed up for an account, but have yet to post a photo to your profile.
I'm here to say: what are you waiting for?
If you're in social media marketing and looking to break into Instagram marketing, or simply looking to build your personal brand, Instagram can be an excellent marketing tool for you to leverage. What's even better is that posting on Instagram is simple.
Tip: Are you considering leveraging Instagram in your marketing efforts and wondering how you'd use it? Read how real businesses are using Instagram for marketing and what they think of the photo-sharing tool.
In this step-by-step guide, we'll give you the quick instructions on how to post on Instagram with corresponding screenshots. As a note, our screenshots were taken on an iPhone. But don't worry if you're an Android user! These instructions should still take you from start to finish.
We'll also provide some tips, tricks, and little-known best practices, so you'll learn not just how to post on Instagram, but how to post on Instagram (in a way that, you know, performs).
Ready to go? Let's get started!
How to post on Instagram
We'll start with the step-by-step instructions that will get you posting pictures and videos in no time!
Step 1. Grab your phone, open your Instagram app, and log in
This first step may seem like a no-brainer, but we did say we'd take you from start to finish, didn't we?
What really makes this step important is that it emphasizes the fact that yes, you do need to have an Instagram account to post on Instagram. If you don't have one, you'll need to create one – but that's a tutorial for a different time.
Opening up your Instagram app and logging in will bring you to your main feed.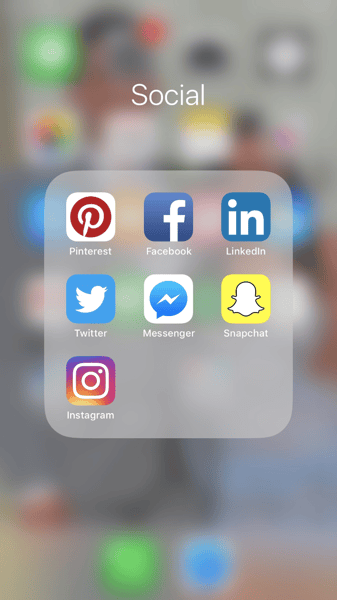 Step 2. Tap the Instagram plus sign at the bottom center of the screen and select your picture to post
When you tap the plus sign in the bottom center of the screen, it will pull up the Instagram camera interface. You'll also see the most recent photos from your camera roll. Along the bottom of the screen, there will be three tabs – "Library," "Camera," or "Video." If you want to post a picture that you already have on your phone (my recommendation), you'll select the Library tab.
From there, you can navigate to the picture you want to post. If you want to take a picture or video directly on the Instagram app, you'll navigate to the Camera or Video tabs, respectively. Once you select your photo or take your photo or video, you'll move on to the next step.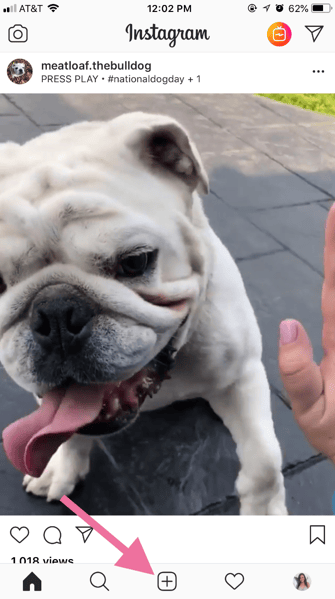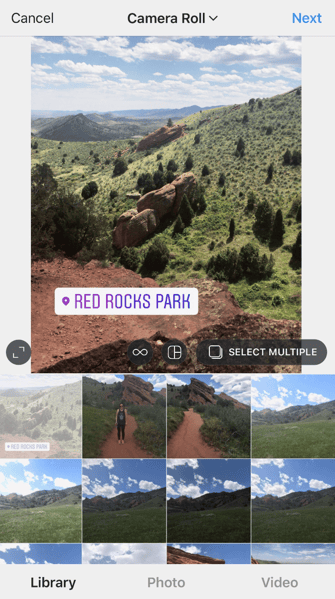 Step 3. Press "Next," select a filter and edit your Instagram post as needed
Once you select your picture, you'll tap the "Next" button in the top right corner and select one of the various Instagram filters or use their editing feature to adjust your picture's brightness, contrast, tone, and more.
Be careful not to choose an Instagram filter that overpowers your picture. That said, if there's a filter you like but think may be too overpowering, you can adjust the strength of the filter by double-clicking on the filter and using the bar to adjust it. The filter should complement it – not take away from the content. When you're finished, tap the "Next" button again.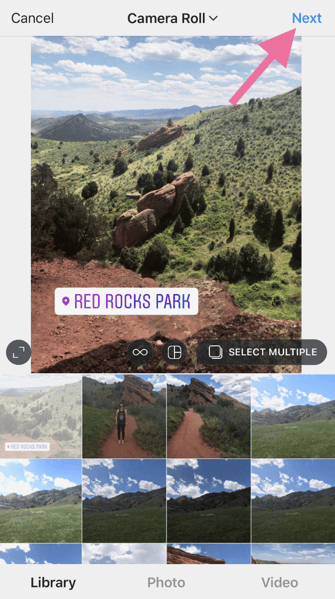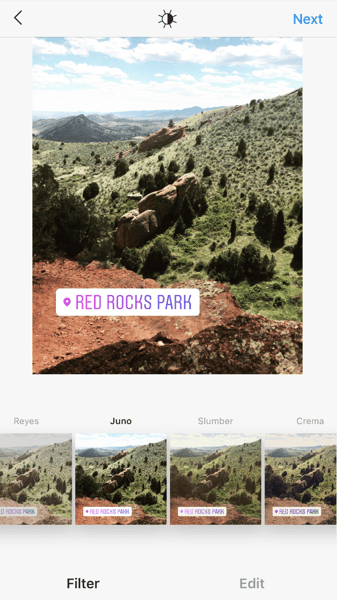 Step 4. Write a caption, tag people, and add a location to Instagram post
At this point, you'll write your Instagram caption (we feature some caption best practices later on), tag users that appear in the picture with you, and add your location. These are all optional steps, but will certainly help to increase your post's reach!
Now, we've gotten to the good part.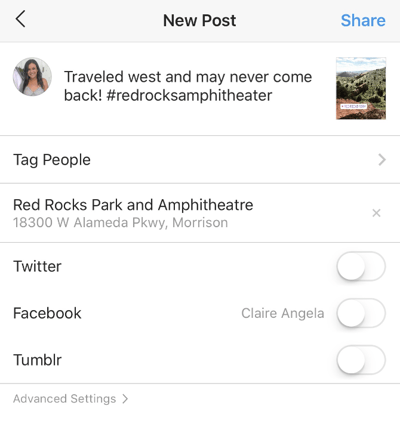 Step 5. Press "Share" and you're done!
Once your picture and caption are both exactly the way you want it, press "Share"! The post will now appear in the feed of your Instagram followers – and keep in mind if you have a public Instagram account, Instagram users who don't follow you will be able to see it too.
See? Wasn't that easy?
Now, we'll get to some of our favorite Instagram tips and best practices.
Instagram posting tips
Since Instagram itself is a very photo-forward platform, you'll want the content you put out there to be as visually pleasing as possible. But that's not all – when you pair a great photo or video with a top-notch caption, the opportunities (for likes) are endless!
We've compiled some Instagram best practices to help you get that perfect post every single time. I'll warn you though – take these with a grain of salt. If you're solely using Instagram to give your friends and family photo-updates of your life and think these tips are nonsense, then you do you! However, if you're looking to build an Instagram presence or leverage Instagram marketing, consider keeping these best practices in mind next time you post.
Don't do it live
Here at G2 Crowd, one of our mantras is "do it live!" However, when it comes to posting on Instagram, I'm going to say that's what not to do. Many social media platforms are intended for spontaneity (ahem, Snapchat). Instagram, however, is not.
Taking a picture through the Instagram camera and posting immediately is not going to result in a post that performs its best. Instead, focus on taking well-lit, well-posed pictures when you're making those precious memories you love to share. To take the photo, use your phone's camera, as the quality will be much better than Instagram's camera. Then – and this part is important – put your phone away. You'll cherish those memories much more when you spend them offline.
Once you've taken your pictures, wait until later when you have a bit of time. Then, you can edit your photo as needed, come up with a witty caption (it always takes a while to get it just right, doesn't it?), and utilize relevant hashtags.
Compose your Instagram post caption carefully
While Instagram is a photo-sharing platform, a well-thought-out caption can be just as critical to engagement as the photo itself. Your caption can be up to 2,200 characters and include up to 30 hashtags, which means you have plenty of space to express yourself!
Your Instagram caption should be well-written, compelling, and error-free – try and check those boxes before you resort to slapping up your favorite emoji and calling it a day. Similar to posting the picture itself, writing your caption shouldn't be a rushed process. As with any writing, you should write a draft and go back and edit a few times. There's nothing worse than posting an Instagram, then coming up with a much better caption after the fact! Taking the process slowly can help you avoid that.
If your goal is likes and comments (which it should be, as Instagram's new algorithm favors posts with more engagement), consider including a relevant call-to-action or question in your Instagram caption. For example, if you've posted a picture of yourself hiking while on vacation in Denver, you could ask your followers to comment with their favorite places to eat in the surrounding area. The more likes and comments your post receives, the higher up it will place in your followers' newsfeeds.
And while your Instagram caption can be up to 2,200 characters, keep in mind that Instagram will cut off what your viewers can see after a few lines (and require them to click "more" to read the rest). This isn't to say you should cut your captions short. Just make sure you put the most important stuff at the beginning and save details like mentions or hashtags for the end.
Post relevant content
Who doesn't love the holidays? The family time, the yummy treats, the days off work – what's not to love?
As a millennial, there's another thing I like about the holidays: they come with a multitude of opportunities to snap that perfect Instagram picture.
Before you roll your eyes at me, hear me out. Instagram is a photo-sharing platform. The changing colors of fall, your grandma's famous apple pie, or the ice skating rink in your hometown are all photo subjects that lead to aesthetically pleasing and relevant pictures.
The key word there is relevant. When you maintain focus on seasonal content, you know that the majority of your audience understands the situation, which can stir up emotions and feelings of nostalgia.
Luckily, these posts aren't limited to the months between October and February. There is a whole world of wacky holidays out there that could lead to some fun and whimsical Instagram content. Just think about the pictures you could post for Popcorn Day (January 19th) or Read a Book Day (September 6th) – the opportunities are endless!
This website has a comprehensive list of these different "holidays" and shares its corresponding hashtag! Needless to say, I'm all ready for International Sloth Day on October 20th.
Utilize Instagram hashtags
You may not realize it, but writing Instagram captions without hashtags is a total missed opportunity. Hashtags categorize your content, making it much easier to find and help it appeal to new audiences. Instagram users can also follow hashtags now.
This means that if you use a hashtag an Instagram user follows, your post may end up in their feed even if they don't follow you. Pair that with engaging content and you may just gain some new followers.
Still, some people think hashtags are overdone, or worse, nonsensical. So, if that all didn't convince you to start using hashtags, this might.
Did you know Instagram posts that utilize hashtags receive 12.6 percent more engagement than posts without?
Crazy, right?
When it comes to using hashtags, it's all about selecting the terms that are most relevant to your post and will best expand your reach. Let me emphasize again that the hashtags should be relevant to each individual post, not your overall personal or company brand. Copy and pasting the same list of hashtags into the comments section of every post will do you more harm than good. Trying to outsmart Instagram's algorithm isn't your best bet – let it work with you, not against you.
To find hashtags to use, check out similar Instagram posts and see what hashtags have been used successfully. You can also look at successful influencers (or competitors) in your industry and take a look at the hashtags they use. My number one piece of advice is to work smarter, not harder – so find what works and see how you can implement it into your own Instagram strategy.
TIP: B2B vs B2C Instagram strategies differ greatly. Learn from some of the best B2B Instagram post examples from 2019.
Final Thoughts
Posting on Instagram is a super simple process, but implementing these best practices will help you ensure the success and reach of your post.
But wait, there's more! Did you know you're able to post on Instagram from your computer? That's right. Check out the link to learn how to post on Instagram from PC.