Gifs are one of the newest trends to hit social media, and it is a craze I happen to adore.
If a picture says a 1,000 words, a gif says 10,000. Actually, according to Giphy CEO and co-founder Alex Chung, a gif is worth 60,000 words; the same as your average novel.
I don't know if a gif contains the same content as a novel, but they sure are effective.
Whichever social media platform you're using, you no doubt have seen plenty of gifs. This is without a doubt true when it comes to Facebook. On New Year's Day in 2017, there were more than 400 million gifs sent through the platform.
Ready to join the fun of Facebook gifs? Here are your quick and easy instructions on how to share a gif on Facebook.
How to post a gif on Facebook
Log into your Facebook page and create a new post
Select the "..." for more post options
Click the Facebook gif button
Search for a gif you like
Select the gif to use on your Facebook post
If desired, add text to your post
Click the "share" button
If you are unsure of any of those steps, keep reading!
In addition to looking at what a gif is, I'll walk you through step-by-step picture instructions on how to post a gif to Facebook.
In this article, you'll learn three ways to share gifs on Facebook. In total, we'll look at:
How to post a gif on Facebook
Why do I love gifs so much? They say what words can't. Whether you're overjoyed or crazy frustrated, it can be hard to succinctly share your feelings within the world of social media.
Whether you are using the platform for Facebook marketing or to connect with friends and family, gifs are great.
Before I get too far into the joy of gifs, let's back up for a moment and look at what a gif is.
If you know what a Facebook gif is, and you're ready for instructions to post them on your desktop, mobile, or Facebook Lite, jump ahead to the next section on how to share a gif on Facebook.
What is a gif on Facebook
Still wondering what a gif is, and what it means in terms of Facebook? Well, here's your answer:

That, my friend, is a gif.
Don't worry if you don't know how to pronounce it. Whether you pronounce it with a "j" or a "g," I won't judge you. (Some people even ask if GIF is pronounced "Yif." To this, I say no!)
Some write gif in lowercase, others type the word as loud and proud capital GIF; this is also up for debate. Despite these uncertainties, there is one thing you can be certain of: What a gif is.
A "GIF" is an acronym that stands for Graphics Interchange Format. Yes, that sounds technical.
Ignore those big fancy words and focus on this definition: A gif is a type of image file (like a .jpeg or .png). A gif can be a static image or animated, and that is what makes them so wonderful.
Who needs a still image when you can have an animated gif?

On Facebook, a gif is any one of those animated images (like the ones you've just seen) that are posted on the platform.
The use of gifs on Facebook has evolved over the years. These days, if you want to share a gif on Facebook, the fastest way to do so is with the Facebook gif button.
The Facebook gif button
To celebrate the 30th anniversary of the gif, Facebook launched the gif button in June 2017.

Before this date, if you wanted to share a gif on Facebook, you would have to find the url for your gif on another platform, then copy and paste it into Facebook.
The Facebook gif button significantly cuts down this process.
Now, you can use the gif button to search and share gifs from other sites, such as Giphy and Tenor, directly within comments and posts.
When using this button to search for gifs, some people refer to it as the Facebook gif bar. Here, I'll show you where to find and how to use that button to get your Facebook gif game going strong.
How to share a gif on Facebook: Step-by-step picture instructions
Understanding gifs is great, but it doesn't mean much if you don't know where to find that Facebook gif button and how to use the gif bar!
Here we'll look at the first way to post a gif: creating a post using the Facebook gif button.
1. Log on to Facebook and make a new post
Log on to Facebook. On your home screen, you'll see an option for you to "Make Post" at the top of your screen.
2. Click the three dots on your Facebook post
To share gifs on Facebook, you'll need to find the Facebook gif button. Click the three dots for more post options.

3. Click the Facebook gif button
After clicking those three dots, a menu will pop up with a variety of options for your Facebook post.
Click on the purple button that says "GIF."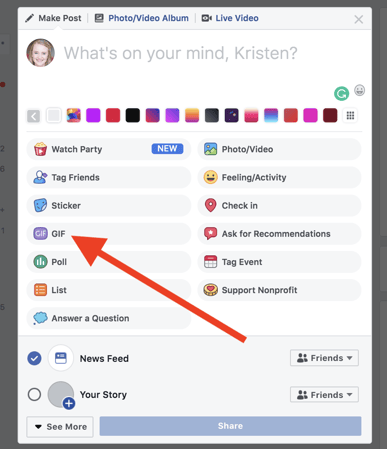 Note: The buttons shown above are not always displayed in this order. Sometimes my Facebook button will be at the top of the left column; other times I'll see it at the bottom of the right.
No matter the location, as long as it says "gif," you're good to go!
4. Use the Facebook gif bar to search for your gif
Enter your search term to find the gif that reflects your mood, status, or whatever you would like to share.
For example, say it's the last day in the office before a long weekend. In this case, you might want to enter the search word "hooray."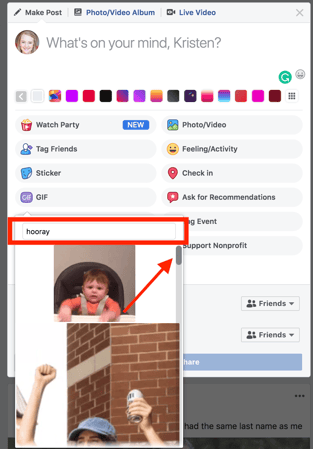 If you don't immediately see a gif you love, keep scrolling; there is no shortage of gifs to choose from!
Within the gif pop-up window, you'll see on a bar on the right you can use to scroll through the potential gifs.
Still don't see anything that resonates with your exact mood? Try entering another search term; the possibilities are endless!
5. Click on the gif you want to post
Once you find the gif that makes you go, "YES, that is exactly how I feel!," click on it. This will add it to your Facebook post.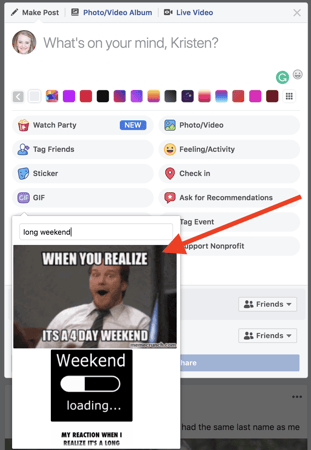 6. Add text to your Facebook post
After you have clicked on your chosen gif, a preview of the Facebook post will appear. Within this preview, you'll be able to check out your gif's animation.
Should you choose, you can add text to your gif Facebook post.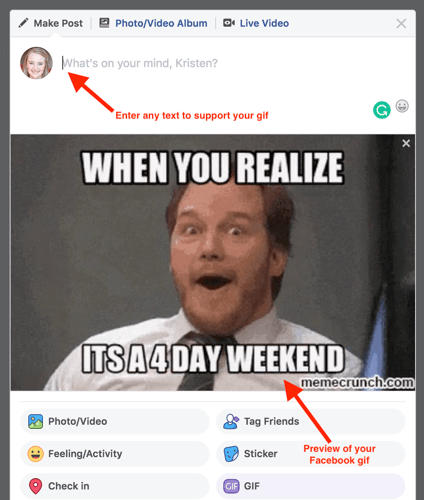 Don't feel like adding text? You don't have to!
When you're not feeling particularly clever, let gifs do the talking for you. This is especially effective in gifs such as this, which already have text.
Create a Facebook post that contains nothing more than your gif, or go ahead and add your commentary. The choice is yours!
7. Click the share button on Facebook
Once you've entered any desired text, go ahead and click that blue Facebook share button.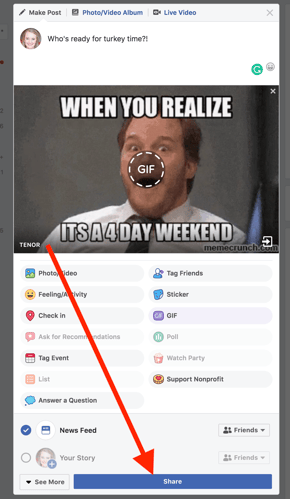 As soon as you click "Share," your Facebook post will be live. Congratulations, you did it! You've shared your first gif post with the world of Facebook.
Here's what your posted Facebook gif will look like: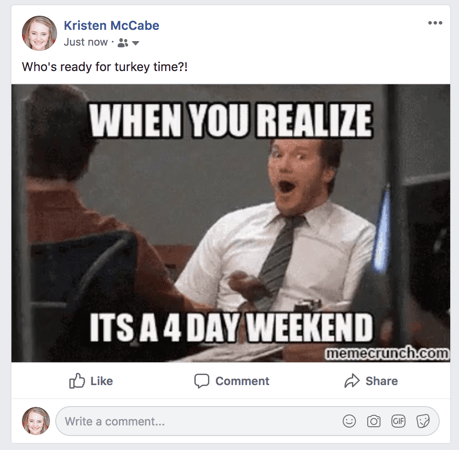 See, what did I tell you? Posting a gif on Facebook really is that easy.
How to post a gif on Facebook comments
Instead of sharing a gif on your Facebook post, you may want to use a gif to comment on a friend's post. This is the second way I'll show you how to post Facebook gifs.
To post a gif on a Facebook comment, you'll follow steps similar to the ones we've just looked at.
1. Go to the desired Facebook post
Find the post you would like to share a comment with a gif.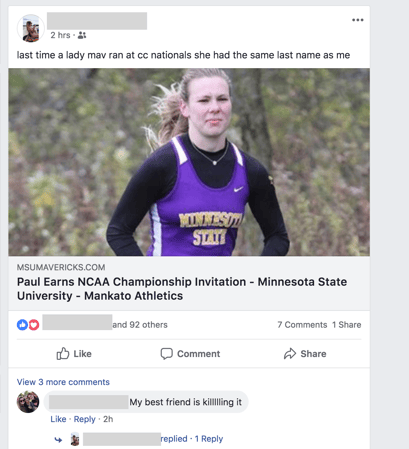 2. Go to the Facebook post's comment box
You'll notice a "comment" button immediately under the post. To type your comment, you'll need to keep scrolling.
Under all of the comments that have already been written, you'll see the box "Write a comment…" This is where you can share your thoughts and your gif.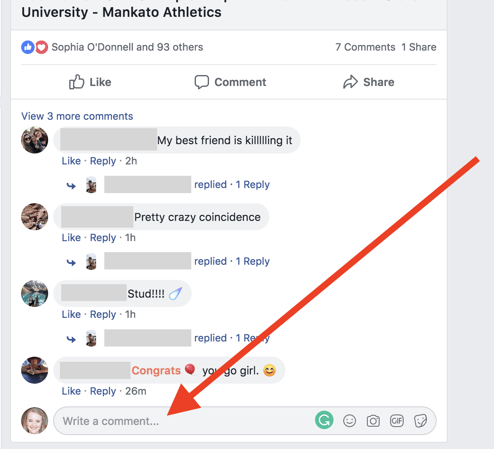 3. Type the text for your comment (if desired)
You can create a Facebook comment that is solely made up a gif; no text needed. If, however, you'd like to have text with your gif, begin by writing that copy.

4. Click the Facebook gif button
Within the comment box, you'll see the button that says "GIF." After you've written your text, click on this button.

5. Search for your gif using the Facebook gif bar
After you click the gif button, the Facebook gif search bar will appear.
Search for a term that relates to your comment or the emotion that comment makes you feel. For example, in this post, my cousin qualified for nationals in cross country, so I'm searching for a gif that correlates with "congratulations."
I could search for the word "congratulations," but I can also search similar words and phrases like "congrats," "well done," "happy dance," or "proud of you." Be creative with your gif searches!
Each keyword phrase you enter will bring up different results; if you want a gif that isn't overused, try entering search terms that are more unique.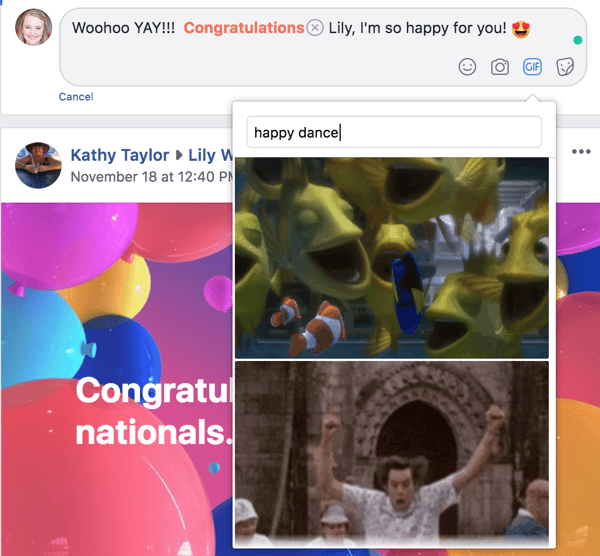 5. Select the gif to use on your Facebook comment
Once you've found the right one, click on the gif to add it to your Facebook comment.
A preview will appear. If you change your mind and don't like the gif you selected, click on the "x" in the corner of the gif.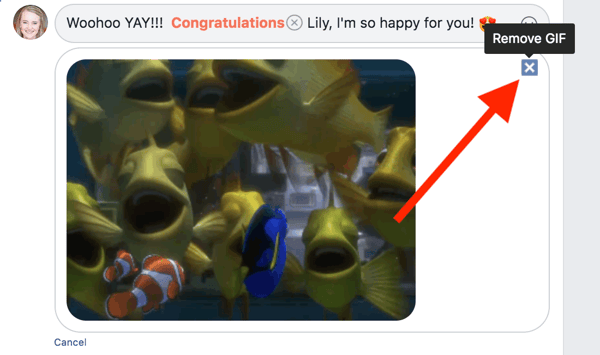 Doing this will delete your gif as well as the comment you had written; you'll have to start again with your text.
6. Click "Enter" to post your comment and gif on Facebook
Once you've clicked on your chosen gif, put your cursor in the comment box. Then, hit the enter (or "return") key on your keyboard.
After you hit enter, your gif and comment will be posted. You'll immediately see it at the bottom of all existing comments.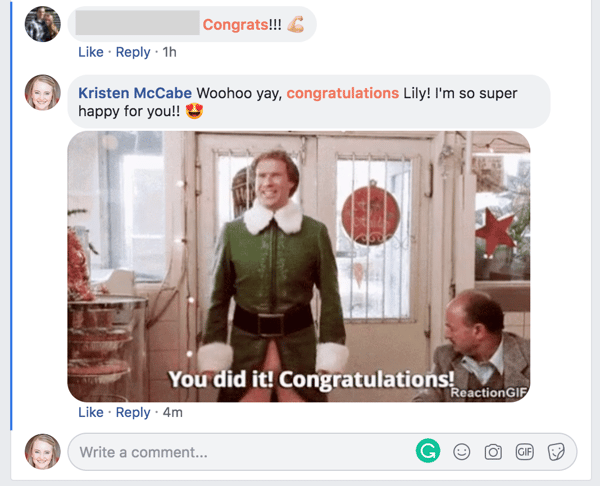 How to upload a gif to Facebook
Imagine that you already have a gif you love, and you want to post it on Facebook. Or, perhaps the Facebook gif button isn't bringing up the exact results you hoped for, and you'd like to scan through more options.
In either case, you can use the gif's URL to share it on Facebook. (A URL is the same as a website link.)
One of my all-time favorite gifs is this happy little piglet.
Go to a gif website of your choice; in this tutorial, I am using Giphy.
Enter your desired search term (I entered "twerking pig") and find the gif you would like to use on Facebook.
After you have found your desired gif, click on it.
On the next page that appears, copy the gif's URL. On this website, there is a designated "copy link" button to use.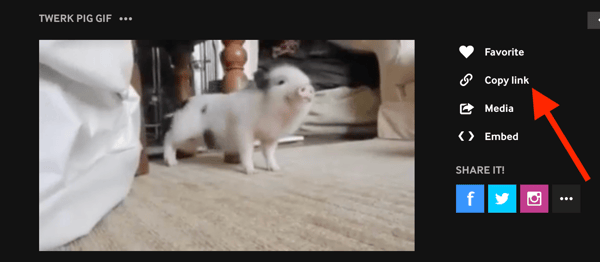 Once you have copied the URL, go back to your Facebook page.
Within the box to "Make Post," enter the link to the gif.


As soon as you do, the URL will disappear, and you'll see a little box displaying your gif within the post. Feel free to add any desired text, as I have done here: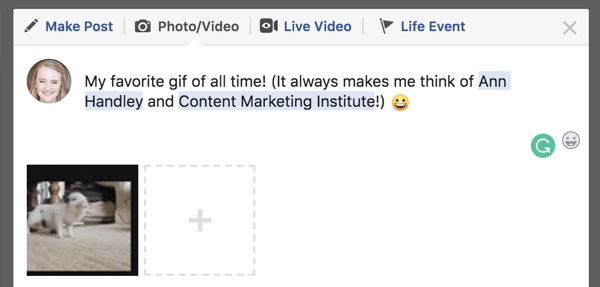 Once you've entered your text, click the Facebook "Share" button at the bottom of the comment box.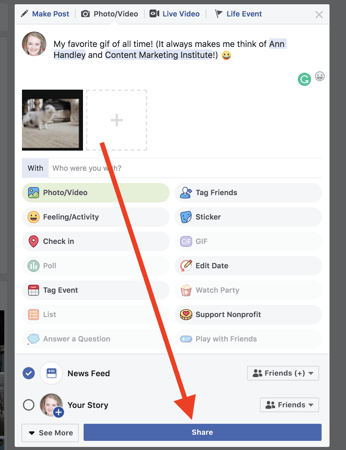 And, with those simple steps, you've successfully uploaded your gif to Facebook.
If you'd like to see the steps put together for any of the methods shown on how to post a gif on Facebook, this video will walk you through the process:
Facebook gif fun
Gifs are a fun way to share your emotions and more. Whatever you want to share on Facebook, gifs provide an animated way to do so. Plus, with the new Facebook Activity Log you can go back and see everything you've ever posted.
And, guess what? It's not just Facebook users who love gifs – celebrities also love them and want to be featured in them! In the words of Nico Santos, an actor whose most recognizable works include the sitcom "Superstore" and "Crazy Rich Asians," "You know you've made it when you're a GIF."
Once you've discovered the world of gifs, you won't want to create a Facebook post or comment without them! Ready to take things to the next step? Learn how to use Facebook's 3D photo option!
Want to learn more? Share your favorite memories and learn how to tag someone on Facebook or discover which social media platform professionals love best.