Trending content isn't difficult to come by these days – if you know where to look for it.
Social networks are obviously the first choice, as you can easily grasp what's trending simply by paying attention to your newsfeed. It goes without saying that, in order to curate content successfully, you need to follow relevant pages to keep updated at all times.
On top of simply curating content, keeping informed will also help you create your own content more successfully as you will have a fairly good idea about what your audience is interested in.
What your audience is looking for in this regard is easily deducible – look for trending content that corresponds to their previous likes. But this is merely a simplification.
The value of discovering trending content online
Much relies on discussions, such as is practiced by, say, Twitter, but even more importantly – you should give a serious consideration to trend analysis. Obviously, not all trending topics are fit for all audiences and not all industry-related trending topics are interesting to a target audience.
Simply put, it is not only sufficient to monitor what's trending; the important part is to determine the exact content that will have a significant impact on your marketing strategy. Insights are certainly helpful in this regard, but nothing beats proper planning.
It goes without saying that a brand, in order to be successful in the long run, needs to continually follow trending topics in the relevant industry. This strategy helps a brand with creating better content of its own, as well as with a plethora of other business aspects, such as staying informed about public perception and continually being in the know. In this way, your PR team will always have relevant replies handy when dealing with customers and journalists, helping your brand grow and remain reputable, relevant and trustworthy.
Further out, social media has been steadily gaining popularity in the last couple of years, making curating/creating trending content more important than ever. One of the main reasons for this sharp increase is the fact that people have started spending more time with their mobile devices than in front of their TVs.
As of May 2019, there are ca. 3.499 active social media users, with the average adult having 7.6 social media accounts. Finally, people spend 142 minutes per day on social media, on average.
Keeping all these stats in mind, it's not difficult to realize the importance of trending content. For a brand to remain reputable, relevant and reliable, it is absolutely crucial to keep abreast with industry developments.
However, simply sharing any industry-related trending content is not enough. Such strategies are not only shallow but also go on to show that there is no effort in your approach. Anyone can do basic research and come up with popular topics, but only the finest of businesses can turn them into state-of-the-art, conversion-generating leads.
To be able to continually deliver on your business promise and couple your strategy with the trending, relevant and timely content, you need to perform an in-depth trend analysis. This is, basically, an outlook rooted in the concept that past data is capable of helping a brand predict future trends.
Trending content fits into the story only naturally. Over time, your audience will come to expect only the finest from their trusted brand. Not only will you need to continually deliver on the promise, but you will also have to keep creating only the finest trending content. Forget about spinning — you'll need to put in an extra effort to provide data-backed content consistent with your business tone and in line with your long-term strategy.
Public relations, in particular, rely heavily on content and social media marketing, both of which are dependent on real-time monitoring of trending topics online. Put in that context, trending topics are merely the pieces of information people are actively discussing now.
Because of that, what might have been trending yesterday or even this morning might not be the hottest topic in real time. Some platforms, as you will see below, focus on real-time trending topics while others cater to longer periods of time (daily, weekly and so on).
Make no mistake about it: trending topics are a powerful insight that shows where people's interests lie, and to an extent, what their intentions are. They are invaluable in that they can point to upcoming trends, i.e., if a large number of people are suddenly searching for a single topic, it may point to an escalating issue or to an upcoming trend.
Consequently, if you sell products online, this particular insight will help you discover whether they are trending and if they are, you can use it to boost your sales. Simply put, real-time monitoring of trending topics will help your brand come up with the right ideas at the right time and jump in on the rising demand, boosting your ROI in the process.
In the same manner, it will help you come up with the right kind of content when needed. Whether it is a blog post or a video- or a promotional material, it is guaranteed to come exactly when in high demand.
That being said, be resourceful. Don't rely solely on internet platforms and popular websites. Expert PRs have made it their habit to follow the topics extensively covered by journalists (reliable ones and the same goes for the newspapers). There are ways and ways to always be one step ahead of the competition. E.g., don't only rely on RSS feeds and following target journalists and newspapers. Listen to the podcasts and use media intelligence tools to learn about their interests. Knowing them will allow you to create content they will be interested in and will give it wide media coverage.
If used to the best of its capacity, trending content will reach far wider audiences than just your followers and present customers. The greater the coverage, the more people will get to see it, which spells more traffic for your website and everything that follows from that (higher ranking, better online visibility, etc.).
Finally, there's the other side of the coin, which may be equally (if not even more) valuable in this regard. Namely, real-time monitoring of trending topics will leave you with all kinds of insights, one of which is topics worth of attention but with insufficient coverage. You may break the news yourself and thus boost your credibility and attract more followers and interested parties than by simply remaining relevant by covering what everyone else is already covering. This type of content is undoubtedly unique, but in order for it to be successful, it needs to resonate with your audience.
6 places to find the latest trending topics
Trending topics are really difficult to miss, especially if you've done your homework in following relevant sources. Every time there's "hot news," pretty much all of these will have their version published almost instantaneously.
In fact, the amount of spinned content is almost annoying, seeing as every brand is trying to score on sharing trending news. What will make your content stand out is its quality, your unique writing style and relevant links to back up the data. Mind the "relevant". Sharing dubious websites as your source will only serve to undermine your reputation. Let's take a look at some of the best sources.
Google Trends
Without any doubt, when it comes to anything online, all roads lead to Google. Google Trends are a great, if not the first usual place to begin your search. What's great about this tool is that it shows most popular searches in multiple categories. It also shows the popularity of a search term in Google, the most popular search engine by far. Finally, the tool provides related topics and queries, as well as demographics.
Google Trends are easy to use, to boot. Type the term you are looking for and adjust the search parameters from the four drop-down lists, as follows: location (worldwide or by countries), time-frame, category and web search (image/news/Google Shopping/YouTube).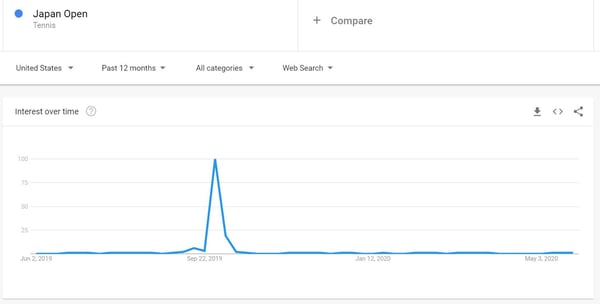 Below the basic results, Google Trends will also show sub-regional interest, trend popularity (rising/falling), related topics and queries as well as demographics. Overall, Google Trends are a great tool to help you find not only trending topics but also adequate niches, if you're just starting out.
Twitter
Twitter is the source many marketers turn to first, simply because the platform has the reputation of being the best and timely source of trending content and breaking news. Hashtags make it easy to keep track of related content and participate in real-time conversation about pretty much any event/topic. On top of that, it provides a great insight into people's discussions, which, in turn, helps curate/create better trending content.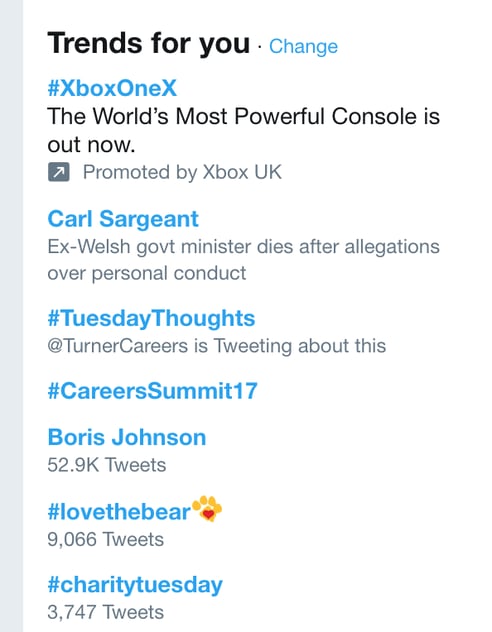 Trends are displayed in multiple locations, including the Home timeline, Notifications, search results and profile pages (desktop and laptop computers). On mobile apps, Twitter trends are listed under the trends section of the Explore tab.
Twitter trends are generated based on your location, who you follow and your interests. The platform's algorithm identifies topics that are popular at the moment you're performing the search, rather than topics that have been popular for a while. You can select a specific trends location when needed.
BuzzFeed
Compared to Google Trends that allow for fine-tuning and additional analytics and Twitter that shows topics trending momentarily, BuzzFeed doesn't discriminate. It is a large party where everyone is invited. Namely, BuzzFeed lists everything that's trending from politics to entertainment to hair growth elixirs. Because of this concept, BuzzFeed provides an invaluable insight into audiences' preferences and tastes and is great for curating content.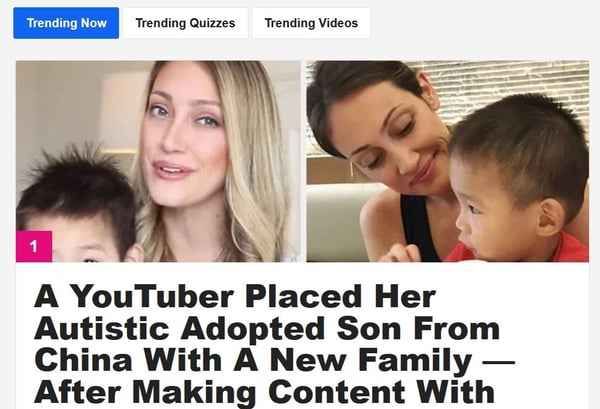 What sets this source apart is that it lists trending topics, quizzes and videos at-a-glance. It also features two badges: LOL and WIN, which list related trending content according to their popularity. Overall, BuzzFeed may not be one of the highly customizable tools, but it certainly provides instant gratification. It is best combined with other sources for optimum results.
Reddit
Reddit is another great source for trending content. The platform's recommendations are ranked by popularity, which is calculated by users' votes. In this way, Reddit displays upvoted content on the top while content with less votes is being regularly pushed lower on the list.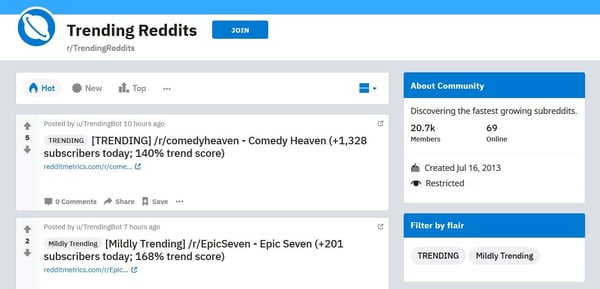 Recently, Reddit introduced a new feature: Trending Takeover. It gives advertisers additional access to Reddit users that are likely to be interested in their offer. Trending Takeover is active for 24 hours and is displayed alongside popular daily trends and conversations. These ads are easily recognizable by their "promoted" label. When a user clicks on the feature, they are redirected to a special landing page featuring paid content coupled with related subreddit discussions.
Reddit has been beta-testing the feature for a couple of months with multiple partners including Spotify and Adobe. Overall, Reddit is a both a great source of trending content and the place to place ads for better visibility and relevance.
Quora
Quora is an underused trending topic tool, sadly enough. The platform is actually quite unique, as it features answers to all kinds of queries provided by its users. Unlike other user-generated content, however, Quora answers are written by people versed in the topic.

Quora's Trending Topics are made of the topics that have more activity recently than they have had historically. The downside is there's no personalization. The platform may have been in the shadow of larger competitors, but its user database has tripled over the last year. Definitely worth a try when looking for trending topics, especially if BuzzFeed's GIFs and 9GAG-ish display become overbearing.
GrowthHackers
GrowthHackers is a website dedicated to "helping companies ignite sustainable growth using the cross-functional, value-based approach proven effective by today's fastest growing companies such as Facebook, Airbnb, Amazon and Netflix," according to their site. The site is devoted to discovering and applying sustainable growth practices and supports the GrowthHackers blog, Growth University and NorthStar, their growth hacking software.

On top of a number of solutions GrowthHackers offers, they also display trending topics. Similarly to Twitter, the site uses popular tags to help with browsing, and the interface is easily scrollable. Overall, GrowthHackers provides trending topics at-a-glance but is also customizable (i.e., with the help of popular tags mentioned above).
Conclusion
There are multiple sources and tools that can help you find trending topics, the most popular of which have been described above. The key is in liking and following relevant pages, and remaining vigilant over time, as this is the only way to remain relevant in the long run. Subscriptions and RSS feed can also help, to an extent.
It is crucial to create a strategy rather than to simply share and spin content, but any serious marketer doesn't need to be told that. The key to success lies in carefully curating and creating relevant, timely content and staying on top of competition over time. Remember, whatever is trending will be widely published by any would-be large brand. It's the quality of your content that matters and, ultimately, sets your brand apart from the competition, no matter how fierce.