Gone are the days when you can share just one picture in an Instagram post. Now, not only can you share video, with Instagram albums, you can share a full ten minutes of video in one Instagram post.
While scrolling through posts is great, sometimes you find one you want to download. You could discover a puppy video you love so much you need it saved for all eternity. Or, perhaps you have several posts you need to keep and reference as part of your Instagram marketing.
Either way, you never know when the post's creator may delete that video post, never to be found again.
Here's how to save Instagram videos and ensure you can access them at any time. (And, as a bonus, you won't need internet access to watch those videos either!
How to download Instagram videos
Go to the Instagram post you want to save
Click the three dots in the upper-right corner
Click copy link
Open a free tool to download Instagram videos
Paste the link
Download your video
Those steps can vary slightly between desktop and mobile devices. Let's walk through how you can download Instagram videos on each platform.
How to download Instagram videos
You never know when a downloaded Instagram video might come in handy. Say you are executing Instagram marketing as part of your social media marketing strategy. Creating a reference library of posts you wish to emulate can be helpful for both you and your team.
You can't download Instagram videos directly through the platform; there's no easy "click here to download" button.
As a result, unless you know a bit of source code, the easiest way to download Instagram videos is with a third party tool. Thankfully there are plenty of free programs out there designed just for this purpose.
When you're downloading Instagram videos, remember to respect privacy rules: Don't upload an Instagram video that isn't yours.
For one thing, it's just not ethical. In addition, you could also find yourself getting into legal hot water. It goes back to those plagiarism rules you learned way back when while writing your first report for school: Don't take credit for something that isn't yours!
In addition, be sure to check you aren't infringing any copyright of the video owner.
Ready to take your Instagram to the next level?
Download The Beginner's Guide to Instagram and get started ?
How to download Instagram videos on a PC or Mac
The internet is full of tools to help you save your favorite Instagram videos forever. All you'll need to do is copy and paste the link!
Here I'll show you how to do so using Downloader4Insta. If you're looking for other tools to use on your desktop, consider DownloadGram, GramBlast, or DreDown.
1. Open your Instagram account
Begin by going to Instagram on your computer, and logging in if necessary.
2. Go to the desired Instagram video
If you already have an Instagram video in mind you want to download, begin by searching for that person's account.

Once you are on the desired account, scroll down to the post with the video you want to download and click on that post.
Notice that Instagram posts with video have the video-camera icon in the top-right corner.

3. Copy the Instagram link
Once you click on the post, it will pop up in a new window. When it does so, you'll see a custom URL appear at the top of your screen.
Copy the Instagram video's URL.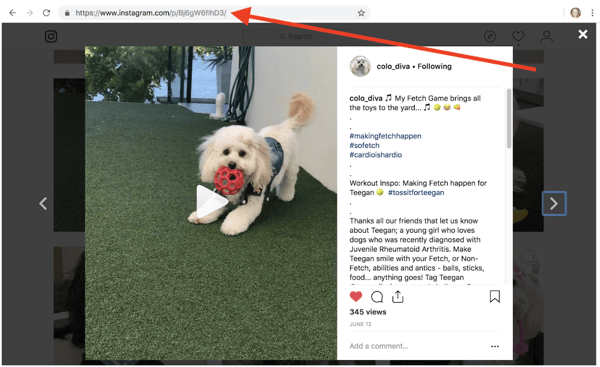 4. Open your Instagram download tool
In a new window, go to your free Instagram download tool of choice.
As a reminder, here I'm using Downloader4Insta.

5. Paste the Instagram video link
Paste the link you copied in step No.3. Then, click the search icon, or simply hit enter on your keyboard.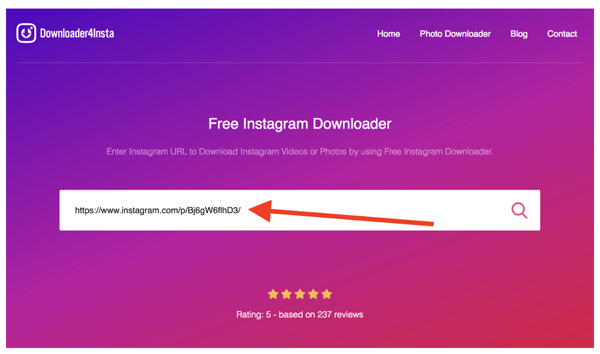 6. Click the "download" button
After clicking enter, the video you appear on your screen underneath the (now-empty) search bar. Click the pink "Download" button.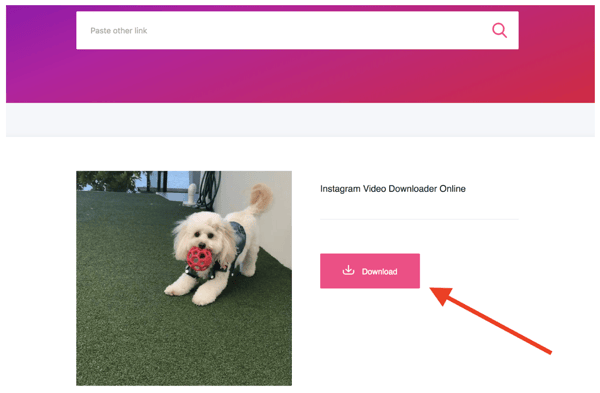 7. Download your Instagram video
A new screen will appear with the video playing. Hover over the video, and three dots will appear in the lower-right corner. Click on these dots.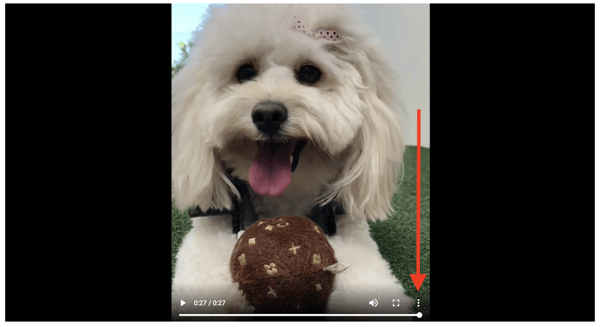 When you click those dots, a menu with two options will appear. Click on the word "Download."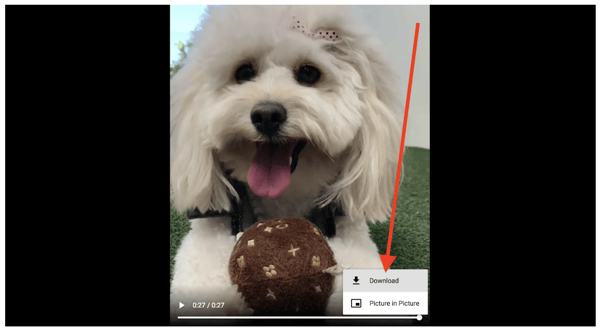 As soon as you do, the video will begin downloading.
Once it has finished downloading, you can find it in your computer's "Downloads" folder.
Tip: So many social media networks, so little time. Which platform is best for your marketing strategy? Use review insights to find the best social network for your brand.
How to download Instagram videos on Android
Just like your PC or Mac, you'll find an abundance of phone apps when you want to download Instagram videos on your Android phone.
Search the Google Play Store for "Instagram video download" and check the customer reviews on some of the top-rated apps. Or, feel free to use the app I'll show you right now.
1. Download app from the Google Play Store.
Go to the Google Play Store and download the Instagram video download app of your choice.
A simple play store search of "download Instagram videos" will give you plenty to choose from. Here, we're walking through the step-by-step process with the app Video Downloader for Instagram.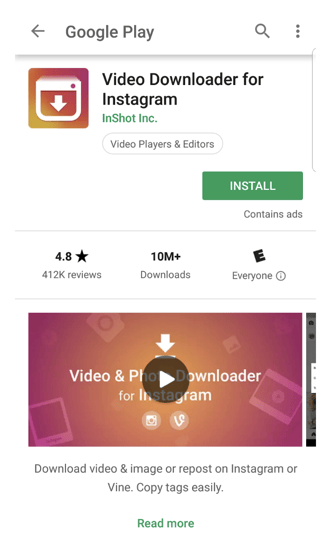 2. Go to your desired Instagram post
Open Instagram on your phone and navigate to the post you want to download. Just like on your desktop, video posts will have the video-camera icon in the top-right corner.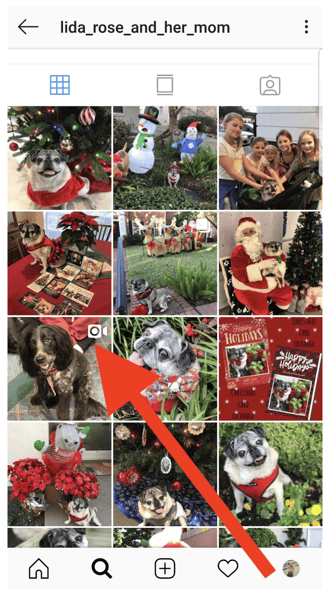 Tap on your chosen post and open it.
3. Tap the three dots
In the upper-right corner of the post, you'll see three vertical dots. Click on these three dots and a menu will appear.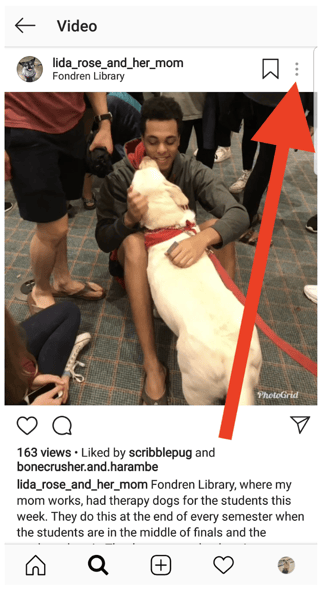 4. Copy the Instagram post link
On the menu options that appear, tap the option that says "Copy Link."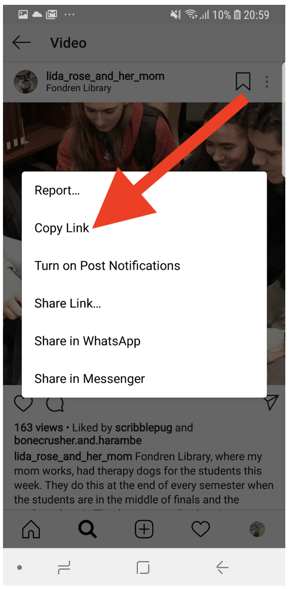 As soon as you do, Video Downloader for Instagram will automatically save the video to your phone's gallery.
Downloaded videos are in your phone's gallery in a new album which has automatically been created, called "InstaDownload."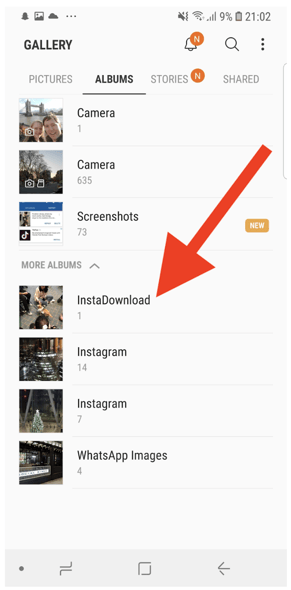 You can also find your downloaded Insta videos by going to opening the app itself.
When you tap on "History" you'll see all the videos you have saved using the app. To share any of these videos on your own account (with credit to the creator, of course!), tap the button that says "Repost."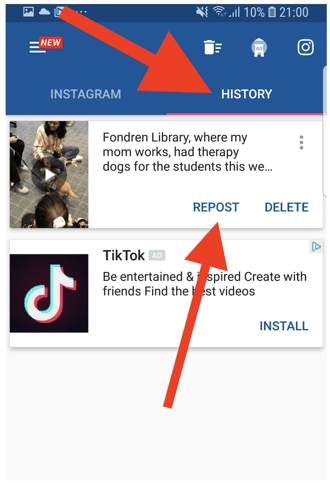 How to download Instagram videos on an iPhone
To download Instagram videos on your iPhone, you'll once again need an app. Here we'll walk through how to do so using IGSave. Other popular apps for your iPhone include Regrammer and InstaSave.
1. Download your Instagram saving app
Go to the app store and download the program of your choice. As mentioned, here I'll show you the step-by-step process for IGSave.
2. Log in to your Instagram account
Once you've downloaded and opened IGSave, it's time to enter your Instagram username and password.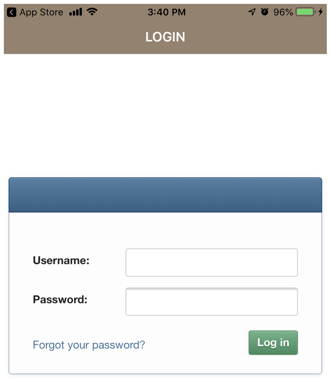 3. Find the Instagram video to download
After entering your Instagram login details, you can search Instagram from within the IG Save app. Do this to find the Instagram video you intend to save.
First, enter a keyword, such as cooking. Popular Instagram cooking accounts will then appear.

Select an account, then scroll through that creator's posts. Then, click on the video you want to download.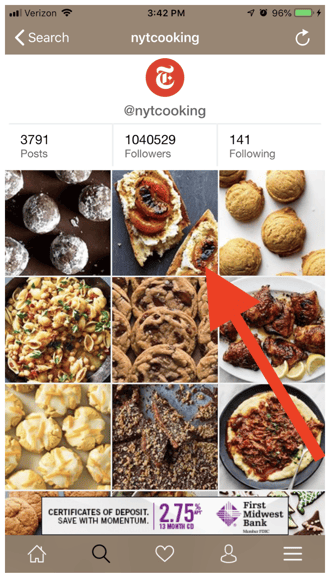 4. Save the video post to your gallery
Once you tap on the desired post, IGSave will bring up several options. To download the video, click "save to gallery."

After clicking this button, you'll find the video in your phone's camera roll.
Here is a video showing you how to download Instagram videos on your iPhone or Android using another app called Repost.
A disclaimer when using apps to download Instagram videos
Most apps give you the ability to download Instagram videos for free. However, "free" and "unlimited" mean two different things. Some apps will charge you a coin or credit for each video you download, and you only get so many credits before you have to pay.
Read the app information and customer reviews to see if you'll be limited on the number of videos you can download from Instagram.
In addition, look out for pop-up ads, such as this one from DreDown. Close these pop-ups before pasting your Instagram link. (It's best not to install anything on your computer unless you are positive it's safe!)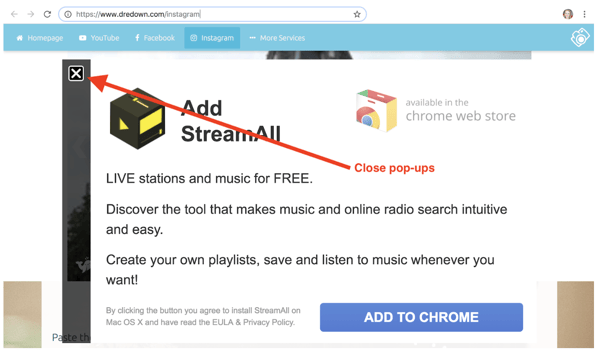 And, while we're talking disclaimers, a final reminder doesn't hurt: Make sure you aren't infringing on copyright laws and never post another person's content on your own. (That applies to all platforms: Don't download an Instagram video and post it on YouTube!)
Instagram for Business Insights: Both B2C and B2B companies are using Instagram in their marketing strategy. If you're building your brand with Instagram, help your peers and show off your expertise by writing a review.
Download Instagram videos and more
Now that you know how to download Instagram videos it's time to see what else you can do on the platform!