At its best, Reddit can be a valuable resource and an online community. At its worst, it's a haven for unsavory opinions.
Whether you've abandoned your Reddit profile years ago and want to finally do away with it, or the trolls have gotten out of control on your favorite subreddit and you've decided it's time to leave, follow this guide to deleting your Reddit account.
How to delete a Reddit account
Go to Reddit.com
Log in to your Reddit account
Go to "User Settings"
Click "Deactivate Account"
Enter your information and click "deactivate"
How to delete your Reddit account
Deleting your Reddit account is technically referred to as "deactivating" your account. This implies that you'd have the option to reactivate your account after deleting it, but that is not the case. Deactivating your Reddit account is a permanent decision—although you are welcome to make another account after you delete your old one, you will not be allowed to choose the same username.
It's also important to note that if you delete your account, your post history will remain. You will not be able to go back and delete your posts after deleting your account. Make sure to delete any posts you want to go away before deactivating, otherwise, they will remain on Reddit with the word "deleted" in place of your username...forever.
Once you've reckoned with your past posts and decided to abandon your current Reddit username, follow these five easy steps to delete your account.
Step 1: Go to Reddit.com
The first step in deleting your Reddit account is going to the website. Type Reddit.com into your address bar and press enter.
Tip: Reddit does not allow users to delete their accounts from the mobile app, but you can still use your phone to delete your account by following these steps in a mobile web browser.
Step 2: Log in to your Reddit account
You'll need to log in to your Reddit account with your username and password. Click "Log In" near the top right corner of your screen and enter your credentials. If you don't remember your password, you'll need to reset it. There is no way to delete your Reddit account if you cannot remember or reset your password.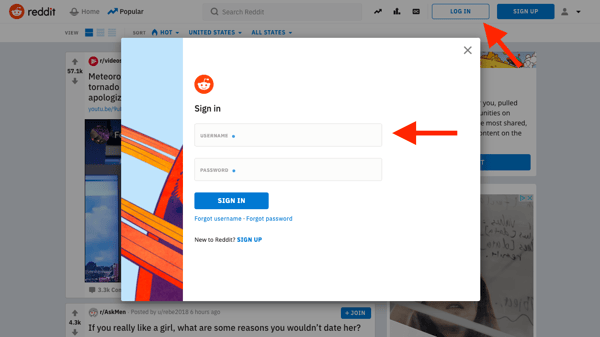 Step 3: Go to "User Settings"
Navigate to user settings by clicking on the dropdown menu with your username on it, then clicking on "User Settings."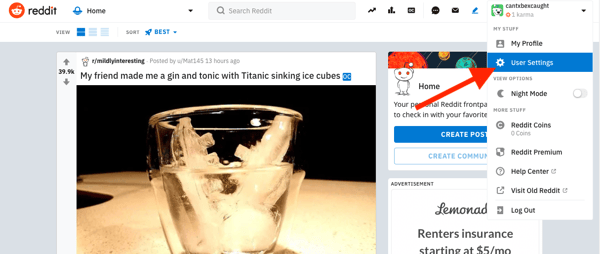 Step 4: Click "Deactivate Account"
Once you're on the user settings screen, click on "deactivate account" at the bottom of the page.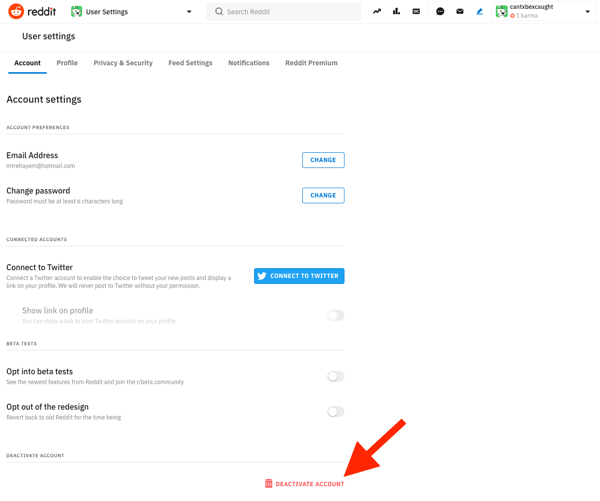 Step 5: Enter your information and click "Deactivate"
Clicking "deactivate account" will take you to a popup window that prompts you to fill in your username and password, and gives you the option to tell Reddit why you are deleting your account. You will also need to check the box acknowledging that you understand deactivating your account is an irreversible action.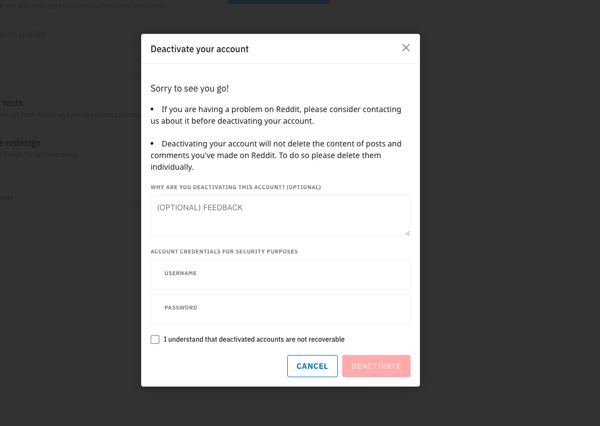 And that's all she upvoted
After following the steps above, you are free of your old Reddit account. You can now either make a brand new account or take your social media business elsewhere.
Starting from scratch? Check out our resource on how to post on Reddit.