Why does a referral program rock?
When your potential customers decide whether to purchase your products or services, they are turning to their friends, family, and peers. People trust friends' recommendations, or word-of-mouth marketing more than any other forms of advertising, as numerous studies have proven. So as a business owner, customer engagement specialist, or marketer, you want to ensure that your current customers are quick to recommend you.
If you're looking for a low-cost way to boost your customer acquisition, it pays to start a referral program, to motivate your existing customers to share your brand.
Creating a stellar referral program
Referral programs make it easy for your loyal existing customers to refer their friends to your business and usually reward them for doing so. But how can you create a stellar referral marketing program that convinces your customers to refer their friends?
How to create a referral program
Satisfy existing customers
Make it easy to refer
Create attention-grabbing CTAs
Choose the right incentives to offer
Craft a compelling referral message
Promote your program
Track its success
Read on for seven tips on how to set up an enticing, reliable referral program.
1. Satisfy your existing customers
Your existing customers are your best advocates, but they'll only refer their friends to you if they're satisfied with your products and your customer service. Even if you follow all of the other referral program best practices below, your efforts won't matter if your customers aren't satisfied.
Your most satisfied customers are most likely to refer regardless of the incentive you offer. So focus your energy on satisfying existing customers and creating products worth sharing to set your referral program up for success.
2. Make it easy for customers to refer
Referral programs encourage sharing by simplifying the referral process. If your referral program is too complicated to navigate, you'll miss out on valuable referrals. Make it as easy as possible for your existing customers to refer their friends.
Keep your program description concise and your referral page uncluttered. Your customers must quickly understand what you want them to do (refer others), what's in it for them (incentives), and the referral program's rules (including how rewards are earned).
Cut down on the steps needed to refer a friend as much as possible. Minimize the number of clicks or taps it takes to complete the referral process, from finding your referral page to sending the referral message.
Also, give multiple sharing options, such as email, social media, and copying/pasting a referral code or link. This increases the likelihood that your customers will share because they can pick the option that is most convenient for them.
Related: When you're reaching out to your customers via email, make sure you're doing it the right way with the easiest to use email marketing software available! Check out our list!
Make sure your referral program is easy-to-use on mobile devices. So many people use mobile devices for shopping, researching products, and communicating with friends, which means that mobile marketing experiences define how your customers interact with your brand. If your brand has an app, integrate your referral program into it.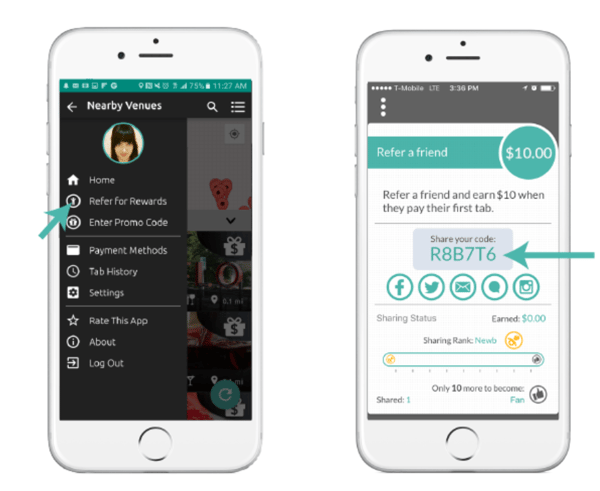 TabbedOut's mobile referral program is very easy to find on their app. It takes only two taps to get to the referral page (opening the menu and then tapping "Refer for Rewards").
Consider creating a FAQ page to let customers know what to expect from your referral program. This will allow you to explain your program in greater detail, including your program's terms and conditions, without cluttering your main referral page.
Plus, since it answers most of the common questions your customers will have, like what conditions must be met before they can earn a reward, the FAQ will cut down on your customer support team's load.
3. Capture customers' attention with a CTA
A concise call-to-action (CTA) is vital to your referral program's success. As the most prominent text on your referral page, pop-up, or email message, the CTA entices customers to see what your referral program is all about.
With just a single sentence, a CTA must draw customers in, prompt them to refer, and clearly state the benefits of referring. These benefits could include the incentives on offer, the intrinsic rewards that come from sharing, or both. Don't be afraid to use "feel-good" or friendship-oriented wording in your CTA.
"Feel-good" CTAs hint at how referring is an awesome way to be a good friend---how it will help your customers' peers, or how referring is a "gift" to friends.

Colourpop's CTA "pops" because it displays the offer front and center, and frames referring as a gift customers can give to their friends.
Here are some more examples of solid CTAs:
"Give 25% Off, Get 25% Off"
"Get $20 for Every Friend You Refer"
"Spread the word, get free socks"
"Share the love, get $5"
"Friends don't let friends toss and turn"
4. Choose the right incentives
Incentives motivate your customers to participate in your referral program. Choose your incentives carefully---they're usually the make-or-break factor that determines whether or not someone will refer their friends.
A. Types of incentives
Types of referral program incentives include discounts, gift cards, free products, services, or features, branded swag, store/account credits, and cash.
Whichever rewards you choose, make sure that your customers will see them as valuable. To figure out what type of referral incentives will resonate best with your customers, think about what they'd most benefit from. In the case of a cosmetics retailer, customers might like to receive a free product or sample for making a referral. Customers at a software company, however, might prefer a substantial account credit, or the ability to access a paid feature for free.
Company-oriented rewards are the most cost-effective, as they directly connect to your brand, keep money in your business, and encourage loyal customers to keep making repeat purchases. These rewards include store credits, discounts, or free products.
Making referrals and friend incentives better than your usual discounts and sales will add an air of exclusivity. Your customers will want to let their friends in on the savings because they care—and you'll reap the rewards, too!
B. Incentive structures
You'll also need to establish your reward structure. Who will you reward (referrer, friend, or both), and how often?
Dual-sided incentives are your best bet. These incentives offer rewards to the current customer to convince them to refer a friend, as well as the friend, to motivate them to make a purchase.
Also, consider cumulative incentives, which repeatedly reward referrers for each friend who makes a purchase, and thus provide motivation for customers to refer multiple friends.
Tiered incentives, where rewards change based on the number of friends, also motivate customers to keep referring. In a tiered system, once a customer successfully refers a certain number of friends, they advance to the next "tier" and become eligible for larger rewards. For instance, a participant may earn $10 each for their first three successful referrals, $15 for their fourth through sixth referrals, and then $20 for each referral after their sixth.
Remember: you don't have to give customers a tangible incentive after every single referral. Instead, consider setting up a points system (another awesome way to gamify your referral program).
Within this structure, customers will earn points or credits towards a reward for every successful referral they make. After a certain number of successful referrals, they'll earn free products or valuable gift cards. Some point systems give preset rewards after a certain number of successful referrals, and others let referrers redeem their points for gift cards, charitable donations, or other rewards within a "menu" of options.
5. Craft a compelling referral message
The referral message (the messaging sent through your company's referral program, from the referrer to their friend) is the meat of your referral program. It encourages the friend to make a purchase through the referrer's name and recommendation, and is the first contact the friend has with your business.
A solid referral message establishes what your business is all about, encourages the friend to purchase your products, and explains any friend reward available to them, like a store credit or discount for their first purchase. Ideally, it should also have a personal touch, including an explanation that their peer, mentioned by name, sent them the offer.
Pre-filled referral messaging (written by your company) tends to work better than completely personalized messaging (fully written by the referrer). After all, it eliminates a step of the referral process, so it makes sharing the referral easier.
With a pre-filled message, customers can accurately share your offer with just a few clicks. But make sure this message sounds conversational, not salesy, as real people will be sharing it.
Also, you should give customers the option to personalize the message if they wish. This will add all-important authenticity to the referral!
American Apparel's referral program uses a pre-filled referral message but gives customers the option to personalize the message
6. Promote your referral program
Before your customers can refer their friends, they'll need to be aware of your referral program. Thus, be sure to promote it properly, both on and off your website.
On your website's homepage, your referral program should be easy to find in the navigation bar, a hero image, or the main menu. Ideally, your "refer a friend" button should be "above the fold" on the homepage---visible before your customers need to scroll down.
Premier Estates Wine, a U.K.-based wine retailer, has a rotating carousel of hero images on its homepage, and one of the images promotes the referral program.
Alternatively, consider triggering a pop-up that promotes your referral program when existing customers visit your site.
But don't rely on your homepage alone. Send out referral program promotional emails, with links that take your customers right to your referral page. Consider automating these emails so they're sent out shortly after a customer makes a purchase.
Since many of your loyal customers probably follow you on social media, make sure to promote your referral program on your social media accounts as well. If you've built social media sharing into your referral program, then your customers will promote the program for you in their own feeds, in front of many friends at once. building up your social proof.
You could also build a "recommend a friend" prompt into your website's user account features, to target your existing customers. In addition, consider sending out an NPS survey, which asks how willing customers would be to recommend a specific product to a friend, and then personally invite those most likely to share to join your referral program.
7. Track your program's success
In order to see whether your referral program is successful, you'll need to set measurable goals and implement tracking systems to determine whether you've met these goals. For example, you might track the program's conversions (the number of referred friends who ultimately make a purchase). Using referral software makes tracking much easier because these solutions come with analytics, referral link distribution and referral tracking built-in.
Examples of stellar referral programs
MeUndies
MeUndies injects the perfect amount of on-brand creativity into their referral program.
Their "free undies" incentive really draws in customers---few words capture people's attention faster than the word "free." It's hard to say no to free product, especially if it's from a brand you already love! (Referring customers earn $20 in store credit, enough for a free pair of MeUndies' flagship product.)
But the brand also focuses on how referring is a great way to help friends (and how it lets friends on an insider secret), with a "Friends don't let friends wear boring undies" CTA and "be a hero" messaging, plus a 20% discount as a friend offer.
MeUndies offers multiple options for referring, including email, Facebook, Messenger, and a referral link that customers can copy and paste anywhere, designed for easy sharing and tracking. They even have a "remind" system that sends another referral message if the friend doesn't claim the referral offer in 3 days.
And their unique referral message is one of the most creative out there:
"Hey...you. This is totally your friend and definitely not a pre-written MeUndies message. I (your friend) really think you'd love MeUndies. They are 3x softer than cotton and feature super-fun prints and colors. Use my referral to get 20% off your first order (excluding packs). Enjoy!"
(Yes, they give customers an option to personalize this message if they wish.)
Bombas
Athletic sock brand Bomba's referral program expertly promotes through this knockout email. Their bold CTA ("Refer a friend") gets right to the point, and their valuable free socks offer is easy to spot and attention-grabbing. Plus, they include a list of steps, which makes the referral process easy to understand.
Bombas includes not one, but two enticing call-to-action buttons (one that says "get free socks" and the bold pink one) in their email to direct customers to their referral page. The "get free socks" CTA button is above the fold, so you don't have to scroll to find it.
And they inject brand creativity without clutter: "Just people helping people discover the most comfortable socks in the history of feet."
When customers reach the referral page, Bombas draws them in with a compelling CTA and dual-sided incentive ("Give 25% off and Get $20;" this $20 reward for the referrer is more than enough for the free pair of socks mentioned in the email above).
And Bombas makes referring easy. The brand concisely explains the meat of its referral program in an eye-catching hero image (right, "How It Works"), and offers multiple sharing options (all based around a referral link for easy tracking).
Harry's
Harry's used a referral program to drum up interest in their razors before they even launched their brand. The program expertly made use of a points system and free product incentives. After interested consumers entered their email, they received a referral link to share via email, Facebook, or Twitter. If you invited 5 friends who also shared their emails, the referrer earned a shaving cream. After 10 total referrals, they earned a handle and blade; after 25 successful referrals, they earned a shave set; and after 50 referrals, a referrer earned an entire year of free blades! The progress bar gamified their referral program and made it easy for customers to see how many referrals they needed for the next reward.
By including only the needed text to explain the program, and carefully choosing images, Harry's made sure their referral page was concise, and the program was easy to understand and use. But they also knew how to inject creativity, while showing how referring benefits friends by keeping them in the know ("Shaving is evolving...don't leave your friends behind").
The referral campaign ran for a week leading up to launch. In that week alone, Harry's secured 85,000 valid email addresses of interested potential customers—and today, the company is worth almost a billion dollars!
Key takeaways
Referral programs are an awesome way to acquire new customers through the power of word-of-mouth marketing. To set your referral program up for success:
Make it easy-to-use.
Craft a compelling call-to-action, and choose enticing customer incentives.
Write a referral message that tells referred friends what your company is about.
Set up tracking so you can monitor how well your program is doing, and consider using referral software to do so.
Promote your referral program so your valued customers know what you have to offer.
Most importantly, focus on satisfying your customers, so they have a reason to refer friends in the first place!


Not sure how to check how happy your customers are? Create a G2 profile for free and become more in-tune with your customers than ever before.