Most people are familiar with the role of real estate agent, but what about the person who appraises the property?
In real estate, an appraiser is someone who determines the value of a property. Although the title of "appraiser" might not be the first thing that comes to mind when you think of real estate careers, it's a job that can be very rewarding for the right person.
5 steps to become a real estate appraiser
Enroll in a real estate appraisal license school
Train under a licensed real estate appraiser
Complete all required appraisal coursework
Pass the licensing exam
Apply to get your license
A career as an appraiser can bring much-wanted flexibility as well as a steady income, but it does take some time and education to get there. In this article, we'll cover all the steps you need to take to become a licensed residential appraiser.
How to become a licensed residential appraiser
An appraiser's main responsibility is to estimate the value of a real estate property through an unbiased lens. People turn to appraisers to run the appraisal process while abiding by federal, state, and local regulations.
Because appraisals are highly regulated, the people performing them must meet certain requirements and obtain a license to work in the field. While these requirements do vary from one state to the next, the steps below are set by The Appraisal Qualifications Board (AQB) and generally apply to most individuals looking to pursue a real estate appraisal career path regardless of location.
Note: To meet minimum national standard requirements to be a licensed residential appraiser, you must hold at least an associate's degree, but a bachelor's degree is recommended if you plan on advancing to a higher position later on. Degree requirements may vary by state, so always be sure to double check the rules for the state you live in.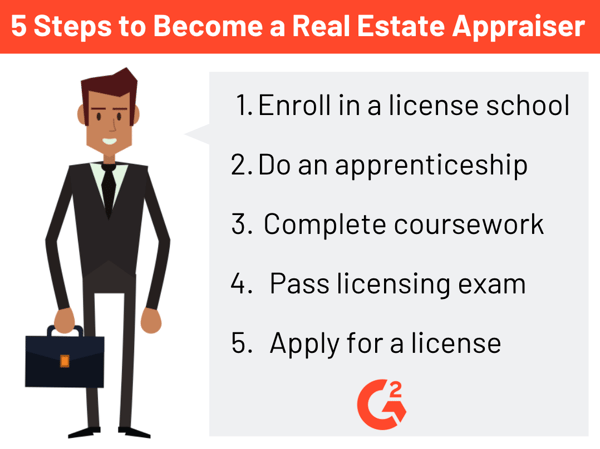 Step 1: Enroll in appraisal courses
Education is the name of the game. Appraisers have to pass a state-mandated licensing exam to earn their title. To adequately prepare for this exam, you have to build a strong foundation in education and training first.
The first step is to seek out job-specific education and become an appraiser trainee. To do this, you must complete at least 75 hours of required coursework covering introductory topics such as ethics and basic appraisal principles.
While the thought of hours of schoolwork might be daunting, there are plenty of available resources to help you succeed at your own pace. Most people complete their appraisal coursework online through real estate license school software. These online appraisal programs give you the flexibility to take classes in the comfort of their own home or wherever you prefer to study, and are tailored to cover the requirements of your state.
Step 2: Train under a licensed real estate appraiser
After you've completed all the required coursework, it's time to find a licensed real estate appraiser to work under during your apprenticeship. This person will act as a mentor and coach you through this next phase of your training. Under their watch, you are required to complete 1000 hours of work experience in no less than six months. As a new appraisal trainee, this is your opportunity to close your (digital) textbook and gain hands-on experience in the field.
Note: You cannot conduct appraisals on your own during the trainee period. You and your supervisor will keep a log of your work which will be reviewed when you apply for your license later on.
To find a supervisory appraiser with open trainee positions, contact local appraisal management companies and check online job sites like LinkedIn or CareerBuilder for openings.
Step 3: Continue education in appraisal-specific courses
As mentioned previously, education is a major stepping stone on your path to becoming a fully-licensed appraiser. After completing your apprenticeship, the AQB requires an additional 75 hours of coursework. These next courses will cover more in-depth topics such as residential market analysis, report writing, and site valuation. In total, you will have completed seven classes and 150 hours of education by the end of your training.
Step 4: Pass the licensing exam
After all the long hours and hard work you've put in, it's finally time to take the licensing exam. Remember that all of your training hours and coursework must be fully completed before taking the test. You'll have four hours to answer 125 questions and can expect to see questions specific to the state you live in.
Step 5: Turn in your license application to the state board
Congrats–you passed your test! Now what? All that's left for you to do is submit a license application to the appraisal board in your state. Once you receive your license, you're ready to start working as a real estate appraiser!
Other types of appraisal licenses
As a licensed residential appraiser, you've reached the first step on the appraisal career ladder. You're restricted to appraising non-complex one to four unit buildings with a sale value of less than $1,000,000, and complex one to four unit buildings with a value of under $250,000. In order to grow your business and broaden the range of properties that you're able to appraise, you can seek a higher level of certification.
There are two other types of appraisal licenses that require further education and training:
A certified residential appraiser is able to appraise any properties other than subdivision properties.
A certified general appraiser can appraise any type of real property. There are no restrictions.
TIP: The term "complex" refers to a property that is atypical. This could mean the building has a unique architectural style, unusual characteristics, or historical significance.
With a more advanced license, you're able to appraise a wider net of properties without being restricted by the number of units or complexity.
Let's get appraising
Now that you know the steps you need to take, it's up to you to decide whether or not the appraisal profession is one you want to pursue. If you choose this path, before you know it, you'll find yourself climbing the ranks in the real estate world, one home appraisal at a time.
If you're interested in a career in real estate, it's important brush up on your industry speak. Check out this glossary of 50 must-know terms.