Owning a home has been a longstanding pillar of the American Dream. That's why having someone make sure your new house is up to snuff is so important.
With the lingering turmoil of the disastrous 2008 recession only accelerating the shrinking of the American middle-class, owning a home has become increasingly difficult for larger and larger swathes of the population. Because of this, a home inspection is a crucial element of ensuring that new home owner's finances aren't further strained by unexpected issues with their newly acquired property. The oversight provided by these professionals can help keep a family's life-course on track for a happy and successful future.
Additionally, home inspection boasts good compensation and flexible hours, making it an appealing profession for anyone looking for the next step in their career. Let's dive into it:
How to become a home inspector
Luckily, the process of becoming a home inspector isn't terribly complicated. With a little hard work and persistence, you can be checking homes for habitability in no time.
How long does it take to become a home inspector?
Generally speaking, it can take anywhere from one to three months to go from a complete beginner to inspecting your first home. This includes education, training, and field experience in addition to any other state-specific requirements.
Becoming a home inspector involves a few hard requirements to get certified and several less-defined "soft skills" that will help you be successful in the role.
What does a home inspector do?
First, let's make sure we're all on the same page about what home inspectors actually do. You wouldn't want to put in a ton of work only to discover that the profession isn't what you wanted.
Interested in taking your home inspection skills to the next level? G2 has an entire page dedicated to home inspection software. Check out some of the best tools on the market, selected by verified, real user reviews:
A home inspector conducts a visual inspection of a house on the market prior to its purchase. They're responsible for making sure a variety of crucial structural elements are in a suitable condition for habitation. Below is a list of things a home inspector might check in a given property, according to the American Society of Home Inspectors: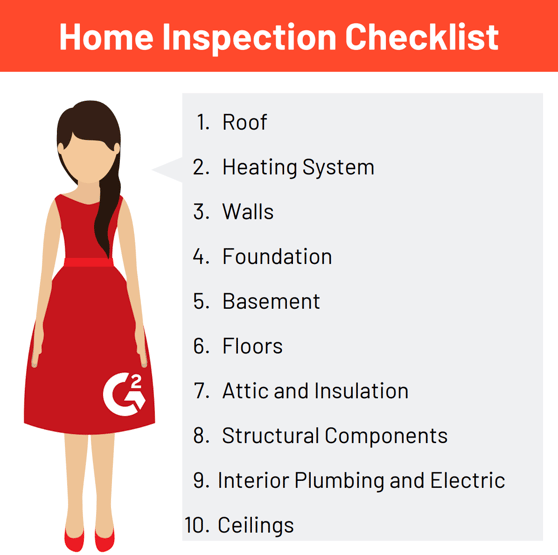 After all, no home is perfect, and having someone there to make sure nothing is going to compromise the sale of the house is crucial. While many of the items in the overall list are so minor they're hardly worth mentioning, other factors are key parts of a habitable home that need to be addressed before a home can be sold.
Home inspector licensing in your state
One of the first things you need to figure out is whether or not there are specific requirements for becoming a home inspector in your home state. Understanding these will significantly shape how you approach the beginning of your inspecting career.
For example, some states require a special state license and a set number of class hours, while others need neither. This extra step of regulation and oversight can add substantial preparation time, so be sure to be thorough.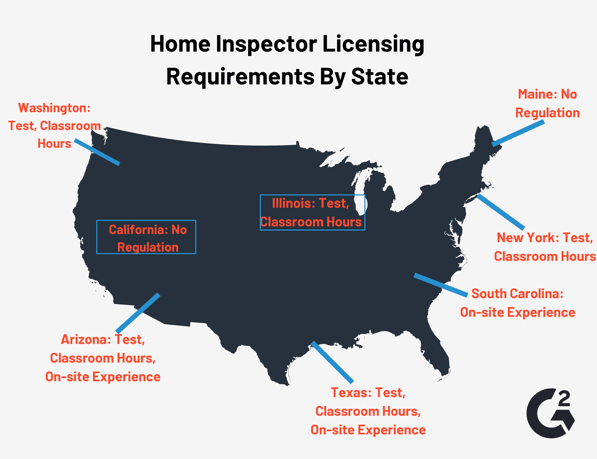 For a full list of state requirements, check out Spectora's licensing database
Education for a home inspector
Now that you know what is required for the state you intend to conduct business in, it's time to find the appropriate education plan for you.
While completing a four-year degree isn't required to become a home inspector, you'll probably need to undertake an education in the form of classroom hours, field learning, and a test. Don't be fooled by general state-level exam prep, be sure to familiarize yourself with exactly what you'll need to know and find a course that is dedicated to helping you pass the exam for your specific state before committing 10 plus hours of your life.
Further certification
While some states require no testing, experience hours or, classroom hours, it's still a good idea to join the American Society of Home Inspectors. Joining this organization can work wonders for your career; not only will your membership give you access to a dedicated community of like-minded professionals, but it can help add credibility to your inspections — particularly in states where there are no prerequisites for becoming a home inspector.
Additionally, taking the National Home Inspector Examination (NHIE) can further enhance your competitiveness on the home inspection marketplace, placing you at the top of the pack for the hiring cycles for established home inspection businesses, or giving you a solid, credible foundation to open your own boutique business. This exam is offered by an independent organization of the same name that aims to ensure a base level of competency of all home inspectors across the nation.
Inspecting the gadgets
Now that you've learned everything you need to know in order to become a home inspector, you can set off on the plan for education and certification that works best for you. Home inspection is a valuable career with many opportunities for growth and diversification that is sure to challenge you to grow in unexpected ways.
Interested in learning more about everything having to do with real estate? Check out our real estate statistics roundup for the latest trends in the business!