Have you ever wanted to combine your love of writing with your passion for philanthropy?
When most people think of nonprofit jobs, they imagine the fundraiser going door-to-door to raise money for a good cause or the person on the sidewalk with a clipboard asking for signatures. And while both of those jobs are vital to keeping a nonprofit going, there are plenty of behind the scenes positions that are equally important.
One of the biggest unsung heroes of the nonprofit world is the grant writer. A master of both writing and research, grant writers are the often overlooked backbone of the nonprofit fundraising world.
Interested in learning something specific about becoming a grant writer? Use the links below to jump ahead:
What is a grant writer?
Most nonprofits rely on third-party funding to fuel their mission and many turn to applying for grants. A grant writer is the person who researches, writes, and applies for grants on behalf of a nonprofit organization.
How much does a grant writer make?
According to Payscale, in 2019 the median salary for a grant writer located in the United States is $48,331
Depending on the size of the nonprofit, some employ a full-time grant writer while others hire them on a contractual basis. Whether you decide to become an in-house grant writer or a freelance grant writer, this guide will help you tailor your skills, resume, and experience to fit the job of your dreams!
What does a grant writer do?
While the title suggests a heavy emphasis on writing, there's actually a lot more that goes into the work a grant writer does. Grant writers are responsible for every part of the grant writing process, which includes: researching grants to apply for, maintaining project deadlines, collaborating with multiple teams, collecting data for the application process, and more!
Every grant writing job will look a little different, but here's a quick overview of what you can typically expect from a career in grant writing:
Research
As a grant writer, you'll be expected to compile lists of potential grants your organization can qualify for. This step also includes working with the Director of Finance to ensure that the grants you apply for can cover the expected annual costs of your nonprofit.
There will oftentimes be more grants to apply for than you have time to go after. This means that you'll also be tasked with pinpointing which grants your organization has the best shot at and making judgement calls on where to pursue funding.
Project management
The grant application process can take months to complete with several deadlines included along the way. You'll need to flex your project management skills and maintain strict deadlines, application requirements, and more to ensure your grant proposal is the best it can be.
Many grant proposals require data from other teams, such as volunteer information, program data, and financial information. That means there will be a lot of working cross-functionally with other teams. Grant writers are in charge of working with all the other department heads and ensuring that accurate data is delivered in a timely manner.
Composition and editing skills
If you're looking to break into grant writing, composition and editing skills are paramount to your success. A world-class grant writer knows how to take data and transform it into a story that compels funders to take action.
You'll also need the technical eye and editing skills to lay your grant proposal out in a way that is easy to understand. Without these key abilities, your success as a grant writer will be limited.
Data tracking
Surprise, surprise! Your work isn't done once you've secured grant funding. Many grant programs will require awardees to complete a grant report after they are awarded funding. A grant report is a post-program write-up that you use to show the impact funding has had on your program.
It's the job of the grant writer to collect and track this information after the grant has been awarded. This information is crucial for multi-year grant programs where your organization can secure funding for several years at a time, provided you prove you're putting the money to good use.
What skills do you need to become a grant writer?
A healthy mix of hard and soft skills is the ideal combination for a career in grant writing. You'll need the technical know-how to research and write grants, while also being able to communicate and collaborate with other teams. Here's a quick overview of the top six skills grant writers need: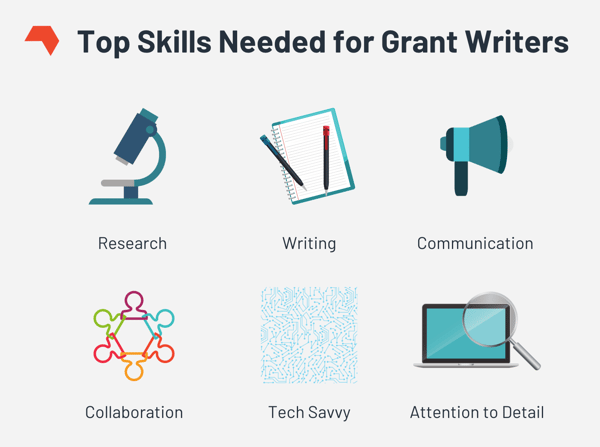 Many of the skills required for grant writing can be cultivated in other careers. Starting your career as a grant writer is the same as starting in any new industry. Your skills can get you in the door whether or not you have previous experience in the field.
These transferable skills can aid you in landing a job in the industry without previous experience. What you bring to the table is more important than what it says in your resume.

Do you need experience to become a grant writer?
No, you don't need direct experience to become a grant writer. In many cases, experience in other fields will translate into grant writing. Previous writing experience, nonprofit experience, or even marketing experience can give you a leg up in the application process.
That said, previous experience is never a bad thing to have. And there are ways to gain experience as a grant writer without formally holding a position in grant writing.
How to gain experience as a grant writer:
Write a sample proposal for your portfolio
Take a class or certificate program
Volunteer or do an internship
Join a professional association
Some universities offer specific certificate programs or coursework in grant writing. These classes cover the basics of grant writing and research, as well as other relevant experiences you can take into your job hunt.
There are also plenty of online courses through programs like LinkedIn Learning that you can pursue in your own time to sharpen your skills and help you stand out.
Do you need a degree to become a grant writer?
It really depends where you are in your career.
If you're just starting out then it would benefit you to obtain a degree in a writing-intensive major, such as English, journalism, communications, or marketing. A master's degree or certificate in nonprofit management can also give you an edge over other job applicants.
Whether or not you need a specific degree to land a job as a grant writer is ultimately decided by a hiring manager. With the right combination of skills and previous experience, an advanced degree might not be necessary.
In addition to a degree, knowledge of grant management software could help you edge out the competition.
Next steps for becoming a grant writer
Grant writing is a fast-paced and rewarding career. If you're the sort of person who loves problem-solving, writing, and helping the greater good, then you're in the right place. A career in grant writing can give you all of that and more!
Ready to start applying for grant writing jobs? Learn how to write a resume that communicates your skills.