What do you look for when installing a new app on your phone?
Do you read the summary of what it can do for you? Do you use recommendations from friends and family to pick which one you want to install?
Most importantly, even if it is passively, you likely look to see how many positive or negative reviews it has. You might look at how many stars it has received, which directly correlates with the number of good or bad reviews.
How to ask for app reviews
We know that it can be challenging to get new ratings if you have just introduced your app to the store. We will help you sort through all of the critical information by providing you with this guide for how to achieve the ultimate ratings by asking users their feedback.
Issues with new apps and ratings
First, we dive into the critical challenges and roadblocks faced when looking to gather app reviews. No matter which of the types of mobile apps you're evaluating, it's important to address the challenges that could keep you from getting the reviews you need.
Low reviews, low download rate
The first major issue with new apps is that many users do not want to download them if they don't have a lot of reviews. It can be difficult to get reviews if no one is willing to download an app and test it out.
This is the dreaded cycle of new apps in the app store. No one will download an app without reviews, but you can't get the necessary reviews for your app if no one downloads it.
Users are more likely to leave a negative review
The second major issue is that new users are more likely to review a product if they are unsatisfied with it. For example, if a user has a bad experience with a new app, from app design to function, they will likely want to voice their opinion on it. If a user has a great experience and everything is working as it should, then they will probably continue to use the app without rating it.
Difficulties with creating new features
It can be challenging to make improvements on the app if users are not providing feedback. Also, if unsatisfied users are the only group giving you ratings, then you will have a difficult time getting others to download it with a bad rating.
How to fix it?
The best way to combat these issues is to encourage users to leave feedback. Whether it is a community, social media, or a small survey inside an app, every piece of feedback matters. But the quickest way to get app reviews is using an in-app rating request. This is a great way to learn what users think of your app without making it difficult and time-consuming for them.
What are in-app rating requests?
In-app rating requests are the most simple way for users to share their feedback. An in-app rating is a notification that comes up within the app while the user is actively engaging with your content. It allows the user to provide a quick rating without leaving the screen.
An in-app rating merely prompts the user to input a star or emoji rating to quickly express their opinions. Some in-app rating requests will prompt a user to leave feedback as well as provide an overall score. Understanding how this works is essential to gathering reviews of your product.
iPhone iOS in-app rating requests
Apple has made it relatively simple to request ratings from users while they are using the app. They can easily give a star rating without ever having to leave the app and sign into the store.
This makes it easy to allow users to review your product by clicking just a couple of prompts. Since the release of iOS 10.3, users have been able to engage in rating right from within the app.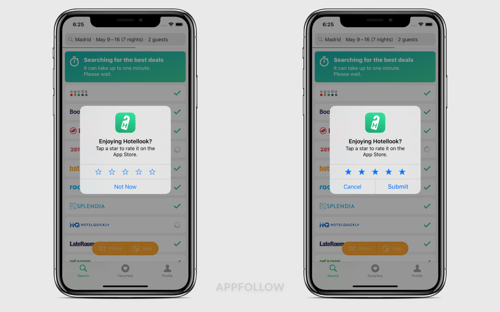 The Hotellook app in-app rating request
Users are much more likely to rate an app if they can do it in five seconds versus five minutes. Developers that incorporate these in-app rating requests receive significantly more feedback.
This tool increases both positive and negative reviews, as the request will come up on the app screen at an appropriate time and prompt the user for a 1 to a 5-star rating. The user clicks the number of stars they want to rate the app and clicks submit. This allows the score to go right to Apple's app store.
TIP: Read about all of the new features iOS 13 can offer you!
Android in-app rating requests
Android also has an in-app rating system, but it is different than the iOS system. Android does not have a native in-app request tool, but they do, however, have an option to create a customized request.
The customized requests are generated in the app and can be prompted whenever the development team decides. The request comes up as a notification and asks the user to provide a rating for the app using happy and sad emojis.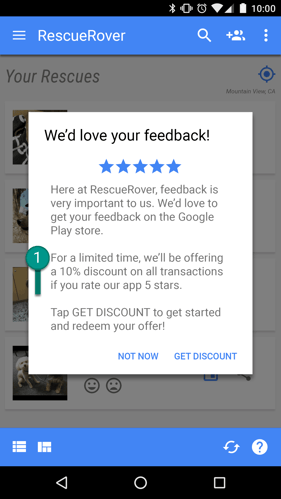 An example of customer rating request in Android
If a user gives an app a positive emoji rating, then they will be rating it using 4 to 5 stars. If a user provides a negative emoji response, then the prompt will suggest that the user provide feedback.
By requesting feedback from the user who had a negative experience, you are asking them to help you solve the problem, so they do not have to have a continuously negative experience with your app.
When to ask for reviews
Asking users for reviews can be a tricky process. You need to be sure that the user will not be frustrated by your attempt to do so. We have covered the different operating systems and their methods for using in-app ratings, but when should you ask a user for their opinion?
The most important thing to remember is that you should request feedback when a user is satisfied with your app. For example, after completing a level in a game, a phone call, or a purchase. Try to avoid asking them when they have had a bad experience — you want to increase the number of positive ratings as much as possible.
One critical factor is to ensure that you are not interrupting the user. To avoid interruptions to the user's experience, ensure you ask for an in-app rating whenever the user is not busy with something in the app. This could be a request on a loading screen or after the user has completed an action.
Tips for maximizing app reviews
These tips can ensure that you receive good sample of quality reviews from users.
Be proactive
The only way you can genuinely get feedback on your app, both positive and negative, is to ask for it. Don't be too discouraged by negative feedback. Your responses and willingness to help will encourage your users to change their reviews and ratings. All feedback will help you improve your product. The best way to achieve more ratings is to be smart about asking for them.
Ensure that you are proactive enough, but don't be annoying. Remember not to interrupt the flow of the user's experience and ensure they are at a point in the app where they will be satisfied.
Ask your most engaging audience
The users who are engaging with your app often are likely enjoying it. You can use analytics to find out which demographic uses your app the most. You can also find out when and how they are using it.
The use of these analytics in your development strategy is a highly effective way to make sure you are gathering reviews from the people who are using your product the most.
Keep negative experience out of the app store
Every development team will, at one point, receive bad reviews. This should not be taken as an irreversible situation but rather one that offers an opportunity to make that specific user happy before they submit a rating.
When you set up an in-app rating request, you are asking someone to give you a one to five-star rating. This is a relatively simple rating system, so it can be difficult to tell the exact reason a user gave you a score of one star, for example. If someone rates your app in the lower tier star rating, it may be helpful to ask them to give their opinion before submitting the star rating to the app store.
The more app reviews you get, the more your chances are to improve your product. Most app owners think they should avoid one or two-star reviews. But the truth is that users can give you even a five-star review followed by a complaint. And their attitude and loyalty to your product depends on your ability to support them.
Plus, the higher the rating, the greater chance you'll have to increase your downloads via app store optimization.
App store optimization software helps improve your app's ranking overall, with app store keyword tools, competitive data, and more.
Want to learn more? Check out our comprehensive list of 35 app statistics for 2019!