Before you begin working from home full time, as I did six months ago, it's important you have a space in your home completely designated for work.
I outlined this and other points in my article How to Work From Home: A Comprehensive Survival Guide.
How to create a home office
1. Start with a strategic location
2. Pick a desk
3. Set up your equipment
4. Stock up on office supplies
5. Make it yours
But this doesn't have to be a home office in the traditional sense. For me, it's a corner of the living room in my New York apartment.
If you're stumped as to how to create a work from home space in your house, apartment, bungalow, etc., here are some ideas that could help.
Home office ideas
Before we get started, let's review why it's important to create a home office space. Why not just work from your dining table, or couch, or back patio? All of these are viable options, in moderation. But your work from home strategy shouldn't consist solely of plopping down on existing furniture.
Our minds often associate locations with the activities we perform there. If you use your bed as your main workspace, you may eventually develop problems falling asleep while working, or come to view your bedroom as a stressful environment.
Creating a home office — whether it's an entire spare room or the corner of your kitchen — is a simple and assured way to keep your "work" vibes from blending over into your "home" vibes.
If you're stuck on how exactly to create this vibe, read on for my recommendations.
Tip: Try using 3D design software to help you create the perfect office prototype.
1. Start with a strategic location
The location of your home office is influenced by what kind of home you already have. Spare bedrooms are perfect locations for an office setup, so if you can, set up there.
Living in New York, that is not my truth. I have my desk cozily situated in a corner of my home where my living room meets my kitchen. And you know what? It works.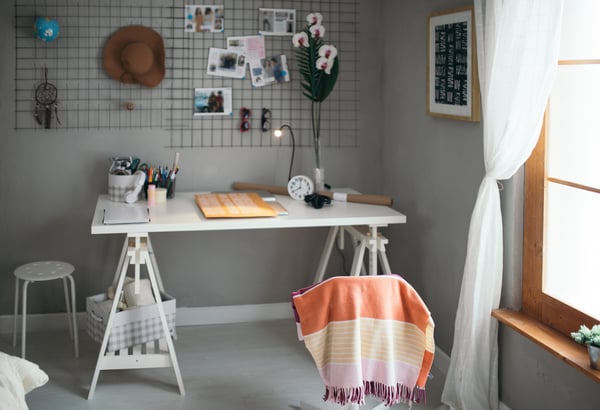 Image courtesy of iStock
It works because I have enough space for my desk and all that goes on top of/inside it. It's near the living room, which is where we get all of our natural sunlight. This means my desk is in a bright and cheery location. It's also out-of-the-way enough that other members of our household can still go about the apartment without either of us disturbing the other.
So, in short, some things to consider are: does your office location have privacy, natural light, and enough space for you to comfortably work?
2. Pick a desk
This sounds obvious, right? A desk is not a new idea when it comes to a home office. But I'm encouraging you to really spend time picking out the right desk. Pick out something that is big enough for you and the equipment you need. (Example: I needed something that could fit my second screen.)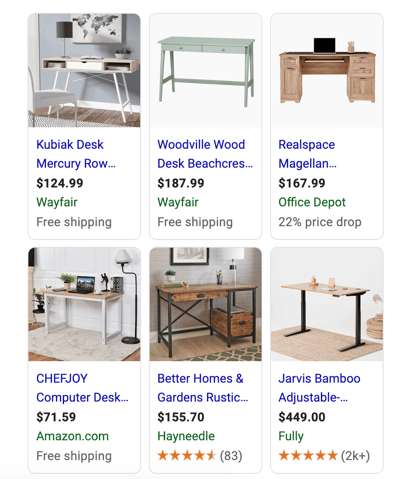 Image courtesy of Google
If you have a lot of notepads, calculators, or other items to be stored, make sure you get a desk with drawers. This will keep your area from getting cluttered and make your workspace more enjoyable to sit at regularly.
You don't have to go for the most expensive desk and chair combo, but make sure whatever you choose is nice to look at and sit at. The chair should be comfortable to sit in for long periods of time. And, if design matters to you, then choosing a visually appealing desk will bring you some sense of joy!
It sounds silly, but think about other pieces in your home and why you love them. Your workspace should also be a place you want to sit at, a destination you're excited to visit.
3. Set up your equipment
Your home office should feel just as official as an in-office office. Make sure you have all of your necessary equipment set up and ready to go. For me, this means having my second screen setup, along with all the accoutrements necessary to connect to my laptop.
Again, while this sounds obvious, I know how daunting it can feel to put your entire technology setup together yourself. It was tempting to let my boxes sit indefinitely, but I knew that would hinder me from getting work done.
Proactively getting all of your functional equipment set up will help you to do better work in the long run.
4. Stock up on office supplies
When you're in an office, you can typically walk to a cabinet in the corner and find pens, post-it notes, scissors, and anything else that would also exist in a first grade classroom. As a remote or freelance employee, you should try and have a stocked supply-cabinet as well.
Image courtesy of Upgraded Points
No, you don't have to keep your supplies in an actual cabinet. But don't wait until you need scotch tape to actually run out and get scotch tape. Having supplies ready to go in advance will ensure you don't waste time running out and purchasing things at the last minute.
Plus, it's kind of fun to take a trip to Staples. What? They have fun planners!
If you're worried about cost, I hear you. Buying your own supplies year-round can add up. But keep your receipts and, come tax season, you may be able to write off the expenses you incurred for the sake of your home office.
5. Make it yours
Personally, I work better when a space feels "mine." Even when I worked out of our Chicago office, I had pictures of family on my desk, and a little lamp that created a cozier ambiance.
Image courtesy of homemydesign.com
I encourage you to really take some creative liberties with your work from home space. Make it a room you want to go in, or a corner you like to look at. If you're a creative with a side hustle, this might even be a place you hang out at on the weekends to work on that screenplay or design your comic books.
No matter its main use, make it uniquely yours. I have some co-workers whose in-office desks are so bland, every day looks like their last day at our company. (You know who you are.) What a boring place to sit every day!
Whether with photographs, books, or a combination of your favorite colors, spruce up the home office and make going to work feel a little less like a lifelong chore.
Home sweet home
It's cool to work from home, isn't it? I certainly think everyone should try it at least once, just to experience life on the other side of commuting. But even something with so many perks can become monotonous, so be sure your home office is a positive, energy-giving environment.
If we're going to be somewhere every day, multiple days a week, we may as well like where we're at!
For more tips that could help out a fully remote employee, read up on time management.