A good home office is fine, but a truly great home office can change the way you approach working from home.
It can be hard to find ways to stay productive while working from home but perfecting your home office can give you that push to get the work done on time. With more and more companies adopting a work from home policy, your home office may need a refresh. In fact, one study found that working from home has grown 173% since 2005.
Now is the time to spruce up your space. If you're someone who lets their home office become stacked with miscellaneous papers, documents, and items, there's no time like the present to turn it into the perfect workspace for you.
Whether you use it to work, read, write, or craft, an office is an important part of any home. By showing it some well needed TLC, you create a corner of your home that can inspire both hard work and mental clarity.
10 home office ideas to spruce up your workspace:
Get creative with your space
Keep your workspace minimal
Add some greenery
Soak in the sun
Look for space-saving organization
Add a splash of color
Invest in a comfortable chair
Hide unsightly cords
Add personal touches
Find the rug
There are endless possibilities when it comes to customizing your home office. Some may like to keep it as simple as possible while others thrive with knick-knacks cluttering their desk. No matter what you prefer, we've collected ten home office ideas that'll get you excited to revamp your space.
10 inspiring home office ideas
Whether you work best surrounded by color or prefer to work with a simple setup, redecorating your office can give you newly found motivation to get work done.
Although there are endless ways you can really make your space work for you, there are ten core ideas you can tap into if you're getting ready to renovate.
1. Get creative with your space
Before we dive into decorating the space, figuring out where you'll be setting up a home office is a necessary first step. Your bedroom can quickly become cramped if you decide to set up your home office in it, so if you're not working with a lot of space, consider setting up shop in the living room.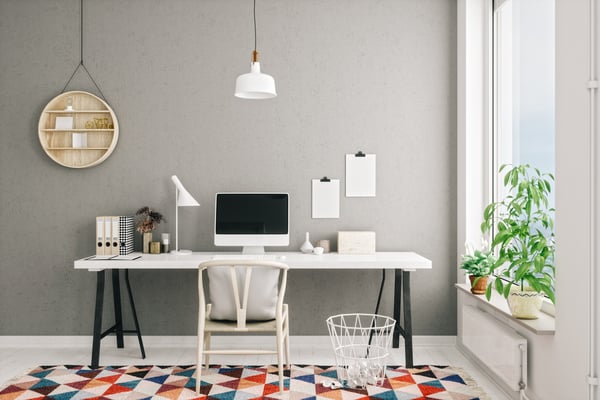 Making use of the space behind your sofa, the abandoned nook in your kitchen, or the empty space in a long hallway can be the perfect place to create your new home office.
Fitting your office space into your home will always be different depending on the size and dimensions you're working with. Finding a happy medium between a secluded corner and crowded living space is the goal.
Note: If others in your household frequent your home during the daytime, consider choosing a secluded nook over a spot behind the sofa. If the TV is turned on, you could find yourself more distracted than focused.
2. Keep your workspace minimal
A busy mind can deter you from getting work done. The same goes for a busy workspace.
If your desk is sprinkled with pens, gadgets, and mugs of old coffee, it may be time to tap into your Marie Kondo (famous organizing consultant) and reevaluate how things are organized. A minimalist space with basic furnishings and a neutral color scheme will give your mind the space to think and get creative.
To clear up your desk, consider installing open shelving, box shelves, or buying a storage bin you can store neatly on the side or under your space. Having these storage options can help you reduce clutter and create a system of organization. Important documents go in the first drawer, extra tech accessories go in one of the box shelves, and personal decorations like figurines, certificates, and plants can live on open shelves.
Other organizational tools can include glass jars for writing utensils, sticky notes, and paper clips. You can also invest in your office space by installing permanent built-in storage. This includes shelves, cabinets, and drawers built into the wall.
If it's not in the budget, you can use office storage from stores like Home Goods, Office Max, and Target. Filing cabinets and storage bins can be relatively affordable and the more your work lives online, the less storage you'll need to invest in.
Related: Looking for tips on how to juggle both your work and personal life? Discover how you can improve your work-life balance before your stress levels go through the roof.
3. Add some greenery
A workspace shouldn't only be functional, but fun to look at. Try adding a few plants to the space before you complete the project.
Having a few green friends beside you as you work can help you focus, feel calm, and breathe better. Plants clean the air around you, just one of the many perks you get if you decide to add some greenery to your workspace.
You don't need to place plants directly on your desk (although you can). If you need to preserve this space, buy a hanging planter or simply put the plant on a shelf near your desk. If you're a true green thumb, investing in a large standing plant can really make the space feel alive.
The more you customize your office area to your liking, the more time you'll enjoy spending there. This is all up to you!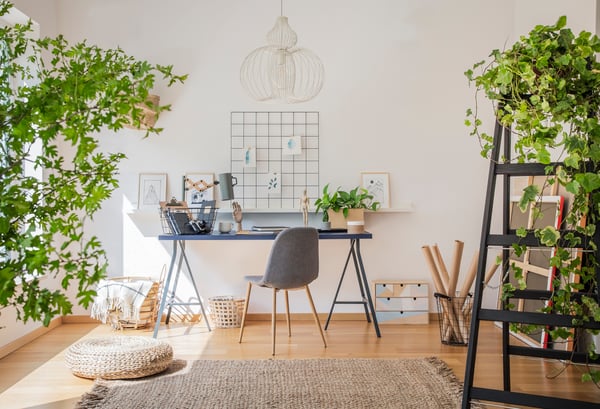 4. Soak in the sun
In addition to some green in your space, consider placing your home office setup near a window. Letting light in during the day can reconnect you with the great outdoors and remind you to take a break and go for a quick walk during that 2 pm slump.
Natural light will make even the smallest of spaces feel bigger. Plus, if you have a considerable amount of plants around you, they'll certainly appreciate the extra vitamin D. When the sun hits your skin, you feel more energized and ready to work.
According to WebMD, the sun's rays help your body make this nutrient, which is important for your bones, blood cells, and immune system. It also helps you get better sleep, improves your eye health, and boosts serotonin levels. All of these combined can give you more energy and help keep you calm, happy, and focused.
5. Look for space-saving organization
Really tight on space? To make more room, find a space-saving desk. These desks can be folded back into themselves to make room when you don't use them.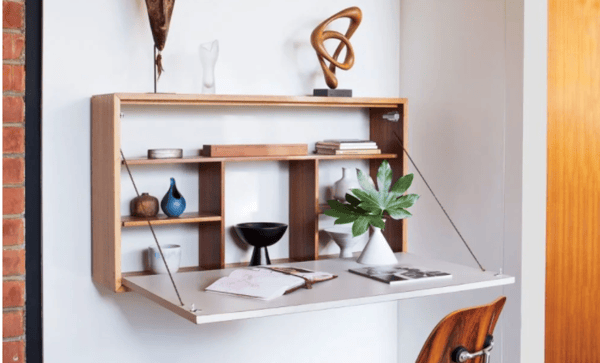 They can also be multi-purpose. Have your shelf space, desk surface, and work equipment all in one place.
If you need a monitor in addition to your laptop, this type of desk may not be for you but if you find a way to place the monitor on the main shelf, you can work around this. Just lift up the desk when you're done for the day and watch as your office space flattens like a pancake.
6. Add a splash of color
You should enjoy spending time at your desk so naturally, adding your favorite color can make long days a bit more bearable. If your bedroom or living space is packed with color, there's nothing stopping to add this color to your workspace.
Choose a color palette that speaks to you and add touches of it to your desk accessories. Say you love blue. Buy yourself a blue filing cabinet or a blue shelf. Even one splash of color can bring life to your office.
Note: If you need some palette inspiration, refresh your mind on color theory.
If you're going all in, paint an accent wall or put up some colorful wallpaper. Trendy beige and white don't have to be the norm. Incorporating a bright yellow or orange will get your brain humming with excitement. Maybe you like pastels. Choosing a seafoam green can calm your space down and give you the room to think.
Additionally, buying yourself a chair in your favorite color may be just the thing to get you to sit down and get your work done.
7. Invest in a comfortable chair
Speaking of chairs, if you're going to be spending the majority of your day sitting at your desk, it's a good idea to invest in a great chair. An ergonomically-correct chair will be worth every penny. You can add a posture pillow or added back support to your chair to maximize comfort and productivity.
While we're touching on the importance of a comfortable office chair, it gives us the opportunity to talk about posture while you're working.
To start, you should make sure your chair is adjusted to a height that allows your feet to be planted on the ground, your knees at a 90-degree angle. To ease neck discomfort, raise or lower your monitor to eye level. Your screen should be at least an arm's length away from your face.
Source: Mayo Clinic
Note: If you notice that your joints and limbs become particularly stiff throughout the day, take ten minutes to stretch everything out. Whether you watch a video on YouTube or take a walk around the house, making time to take care of your body is crucial.
8. Hide unsightly cords
No one finds joy from seeing a tangled mess of cords underneath or even on your desk. Cable management is an important factor when it comes to how and where you'll set up your home office. Placing your workspace in the middle of a room (say behind the sofa) makes it a bit trickier to run cables neatly toward an outlet.
The first thing you need to assess is where your outlet will be. Location is important here, folks. You can run an extension cord across the room but for long-term office use, this is probably not the best idea. Placing your desk near an outlet (or multiple if you can) will be the best way to hide any unsightly cords.
Some desks come with cable-hiding components with all cables feeding through one main hole in the middle. When you're on the lookout for your new desk, keep this in mind and look for desks that may already have a ledge underneath for the cords to rest. Other options can include products made specifically for this problem.
To avoid loose cords hanging under your desk practically asking to be accidentally tugged, consider a product that has grid storage for beneath your desk. While these are used as a simple organization tool, you can also attach it to the underside of your desk and have your laptop charger, monitor cord, and any other cables contained in one place.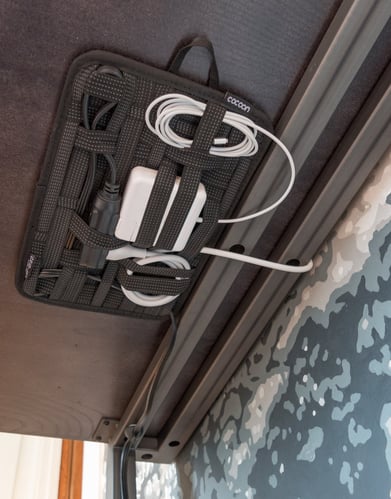 Additional cable management options include using sticky hooks on the legs of your desk that you can thread your cables through, a metal basket at the back of your desk, or grouping all your cords together with a zip tie(s).
9. Add personal touches
If you're over the contemporary look that seems to be sweeping the world, you can always choose to decorate your desk with things that make you happy. If your space feels sterile and boring, adding homey touches will quickly turn a drab office into one that feels comfortable.
Adding a favorite mug, a movie poster, some books, maybe even a figurine from your favorite video game will not only make you happier, but it can also give you something to look at when your brain needs a break. Plus, you can show off your stellar bottle cap collection.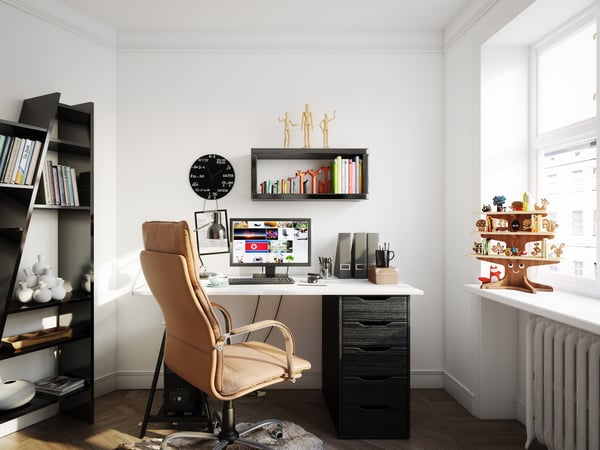 You can really get creative and hang art on the wall to inspire you throughout the day. Or better yet, tap into your inner art school teacher and make the art yourself. Hand-painted lamps and DIY pen cups will really make your new office space pop.
10. Find the rug
To top off your perfect workspace, you need to find the rug. Alright, you don't need a rug, but if you're all about the design of your home office, adding an area rug can tie everything together.
If you're a colorful person, you can certainly find a rug that matches the accent colors you have on your desk. To keep everything looking clean, keep your furnishings simple and modern so your rug can do all the talking.
An added bonus? Rugs provide great sound absorption. If your space is echo-y or filled with metal and wood furniture, a rug can improve your sound quality when you jump on a conference call.
Home is where the heart is
Your space is personal. To really create an area you love, lean into your interests. If you're a big dog person, display your pup in a frame on your desk. If you're a minimalist, take pride in your clean white workspace. Make it uniquely yours.
No matter how you express yourself, creating an organized area for you to work will make stressful days easier and increase productivity levels tenfold.
This article is part of the G2 Work from Home hub. For more articles on how to take remote work into your own hands, click through.