The holiday season is just around the corner!
For many, this means you'll soon be enjoying quality time with your families and taking a breather before 2020. For brand marketing and communication professionals, it can mean chaos.
After all, during the holiday season, everyone is suddenly bombarded with an exceptional amount of promotional campaigns, and as a result, your brand's message can get lost in the noise.
Fear not—this struggle is exactly why we wrote this article. Holiday campaigns can seem overwhelming and repetitive because they're done year after year, but just because you're creating the same type of content every year, doesn't mean you can't find new (and surprisingly simple) ways to draw inspiration.
Holiday marketing campaign tips
We've identified some best practices to follow that can help you make the best out of the holiday season, and make your marketing campaigns a hit.
Let's kick things off by looking at where you can get campaign great inspiration from.
Draw inspiration from your favorite brands
Holiday marketing isn't new; as long as holidays and brands have existed, marketers have been taking advantage of the festive year-end spirit in their campaigns. There are plenty of creative and thoughtful holiday marketing examples out there—here are a few you can incorporate into your brand's strategy.
Use seasonal imagery to match your audience's mood
Changing seasons affects our mood more than you may think. Brands need to take this common emotional change into account when addressing their audience in order to better connect.
Starbucks is a prime example of a brand that does this particularly well across social media, on their website, and via email. They have an incredible visual communication strategy.

One look at their Instagram business profile and you could see the seasons pass as you're scrolling down the page.
Their website's homepage is always consistent with the season, even back in December 2018: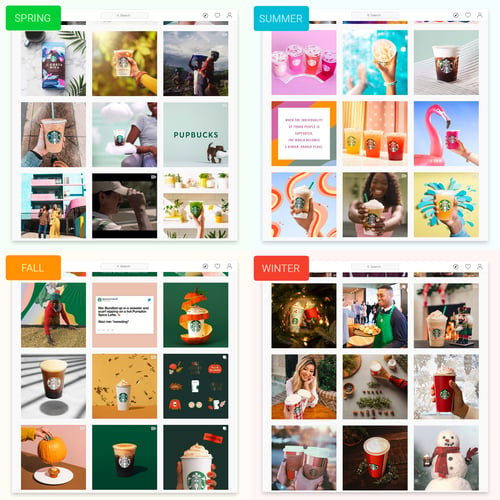 So is their email content: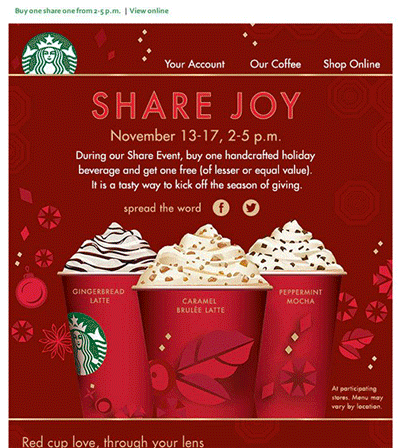 Why we like this example
Two words: timely and relevant.
If you want your audience to pay attention to what you have to say, you need to adapt your messaging to their current interests.
Using relevant Christmas imagery and tone is an effective way to not only instill positive feelings related to the season but get your audience excited about limited-time offers as well.
Another fun thing to do during different holiday seasons is to decorate your social media profiles in seasonal attire. This could mean layering some spider webs on top of your logo for Halloween or adding a filter to your Facebook cover photo.
Here are three tools you can use to create or edit seasonal imagery. They all get the job done, choose one based on your skills, needs, and budget:
Canva

is a very intuitive tool that doesn't require advanced design skills and has tons of free templates to choose from.

Venngage

is an easy-to-use tool used to create infographics, presentations, social media posts, and other visual designs from customizable templates.

Adobe Photoshop

is a comprehensive photo manipulation software (if not

the

most comprehensive) used by marketers to put together beautiful, on-brand visuals all year long.
Plan content ahead for recurring, annual holidays
Once you have an idea of how your content should look, you need to find key relevant topics to inspire your holiday messaging.
Holidays happen year after year, and you have to create new content for them every time. One way to ensure you don't miss opportunities to leverage recurring global events is to use a good old-fashioned editorial calendar.
It's all you need to make sure you're in the loop for all the different holidays and able to plan content for them well in advance. Put together a calendar that includes successful examples from previous years so you can get inspired to create something new for your brand.
TIP: Download this free
template
and add examples according to what seems to work in your market.
Example: Ugly Christmas Sweater Day
Between you and me, my all-time favorite seasonal event is Ugly Christmas Sweater Day.
Not only is it a great excuse to organize something fun at the office, but it's also great company culture material for your social media channels (and your internal HR).
"This kind of material fuels your employer branding, greatly improves the potential candidates' recruitment experience, and helps to develop a strong culture in-house.
-Milena Guyonnet, Talent Acquisition Manager @Mention
Here are a couple of notable ugly sweater days:
The Royal Family (from NLS Shop)
H&M Team
Black Friday – more than just an opportunity for retail brands
Religious holidays like Christmas are not the only events you should focus on in your holiday marketing. One event that some brands (quite literally) cannot afford to miss toward the end of the year is the Black Friday/Cyber Monday weekend.
Black Friday weekend is not only an ideal time to find deals from our favorite stores, but it's also a unique opportunity for brands to stand out, especially since it's now a worldwide, recognized event.
Here are two examples from 2018 that illustrate ways to leverage such an event. One extravagant—yet worth mentioning—example is from Cards Against Humanity. Another fun approach comes from the New York Public Library.
Cards Against Humanity's PR stunt
In 2018, the people behind Cards Against Humanity (a borderline inappropriate, yet extremely fun card party game) held a 99% off sale on the most random objects you can find.
They actually sold a Ford Fiesta for $97.50.
While this was a costly operation, it did put the brand under the media spotlight for a couple of days during the Black Friday weekend—prime gift-buying time. And guess what makes a great gift? Party games like Cards Against Humanity.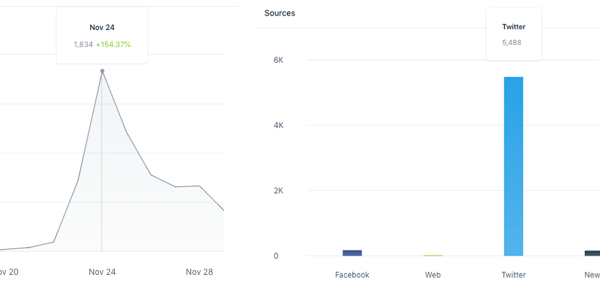 New York Public Library's clever campaign
Another particularly interesting example (because it didn't require many resources) was the New York Public Library's Black Friday's campaign.
Black Friday is all about making deals that are almost too good to be true. Well, the NYPL advertised a cheeky 100% off discount on all books (yes, they are free all the time anyway).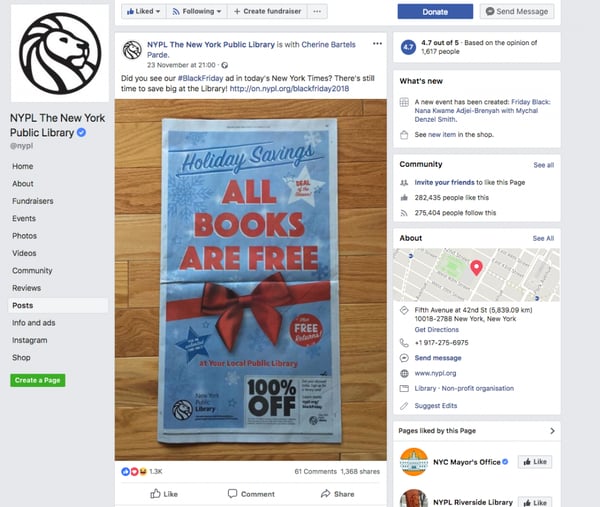 While public libraries don't need customers, they do need people to remember they exist and to use them—otherwise they wouldn't stay open. This stunt definitely did the job.
Make your communication emotionally-charged
The holiday season may be perceived as a busy promotional time. But at the heart of it, it's also a time to connect with people. For brands, this means adding more of a human touch to your communications and content.
Emotionally-relevant marketing inspires action and loyalty. This means your holiday content will be more effective if it can tug on your customers' heartstrings. Today, one of the most effective media to do so with is video.
The following two Christmas ad campaigns do this effectively.
Apple's Share Your Gift campaign
In 2018, Apple sent a message to those who create amazing things for a living but are too shy to share them with the world. The resulting video (enhanced by a great song, "come out and play" by Billie Eilish) was moving.
Why it worked: First of all, this is the most seen 2018 Christmas ad on YouTube. At the time of writing, 24 million people have seen the ad. That's only 5 million views behind Apple's iPhone XS and XR introduction video. It's fair to assume it will gather more views in the coming months, as the holiday season approaches.
This was a smooth move from Apple. They promoted their products, gave a shout out to Supreme, and put their Apple Music service forward via a link directing to Billie Eilish's song in the description, all in one fell swoop.
All in all, it was a classic feel-good campaign done right. Bravo, Apple.
Erste Group's What Would Christmas be Without Love?
Out of all the Christmas campaigns last year, this was the most moving, by far.
Unexpectedly, it comes from Erste Group, one of the largest financial services providers in Central and Eastern Europe. You wouldn't put your money on a financial company delivering one of the most beautiful Christmas ads of 2018, but the video they created ought to have changed some people's opinions about them.
Erste Group shared the story of a little hedgehog having a hard time making friends—a story that will warm even the coldest hearts out there. Note the hashtags they included on the YouTube video: #believeinlove #believeinchristmas #believeinyourself.

Why it worked: People loved this campaign. Really, this has to be one of the most positively received holiday campaigns ever. Besides, YouTube's thumbs up/thumbs down system makes it's pretty easy to see if users liked or disliked content. To give you an idea, this specific ad only accumulated 1.65% negative comments.
Let UGC be your BFF
While animated videos are cute and all, you don't need to create all the content you share yourself. You can have your community do it for you with user-generated content (UGC).
A good UGC strategy consists of filtering and sharing content created by your audience, like pictures or user reviews, about your brand. A brand that does this well is GoPro.
They put together a program to reward users who send them high-quality content. Thanks to this program, they have an unlimited source of great content to share every single day with their audience. This helps them cherry-pick the most relevant pictures and videos as the seasons go by.


If your community isn't as self-motivated to create content for you like GoPro's, you can try to run a contest and offer your product or service to the winners.
Keep the contest rules simple, such as:
Share a video or photo of yourself using the brand's product or service
Share your brand's social media posts promoting the contest
Follow the brand on social media
Tag two or three contacts in the post
By doing so, you should be able to trigger a lot of engagement with your brand in a very short amount of time, generate excitement within your community, and gather a lot of interesting and potentially seasonal content to share in the future.
Highlight your part in corporate social responsibilities
Now that you understand how emotional connection to your brand is key to increasing customer loyalty, let's discuss another way to do so: taking part in giving back to the community.
In 2019, people love to shop brands that support social causes they believe in—especially millennials and younger generations. If you think it makes sense for your brand to contribute to a specific charity, get your colleagues to join in on the action, then share it with your audience.
The holiday season is a perfect time to contribute to causes you (and your audience) care about. Charities such as Movember or Make a Wish Foundation can generate great content and PR for your brand.
To go a step further, you could even encourage your company to donate a specific percentage of your seasonal sales to a charity of your choice. The bottom line is: whatever cause your company decides to support, make sure that it is one that aligns with your values and audience, and thus your brand strategy.
Share your campaign when and where it matters
Now, there's just one last step to ensure that your holiday marketing strategy is successful: you need to share your content at the right place and time.
This is a no-brainer. In order for your brand to have a dialogue with your audience, you simply need to be where they are. If there's no one there to hear what you're saying, your campaign will be both a waste of your time and money. Don't bother with a Facebook business page when your audience is exclusively on Twitter. Follow these easy rules to make sure you're posting on the right social media.
Identify key social channels/networks
There are two ways to do this:
Manually look at your current engagement rates and audience size on each social platform you're already using (a more tedious method).

Use a

social media listening tool

to identify who is talking about your brand, market, competition or any topic that is relevant for your business.
As an example of how these tools work, here's a screenshot from a screenshot from a dashboard used for listening to all key conversations during the FIFA Women's World Cup France 2019.

Post at the right time to get more eyes on your content
Once you know where to post, you need to post when your audience is listening to what you have to say. If not, they could miss your memo.
Here's a quick reference guide for Twitter, Facebook, LinkedIn, and Instagram marketing posting times: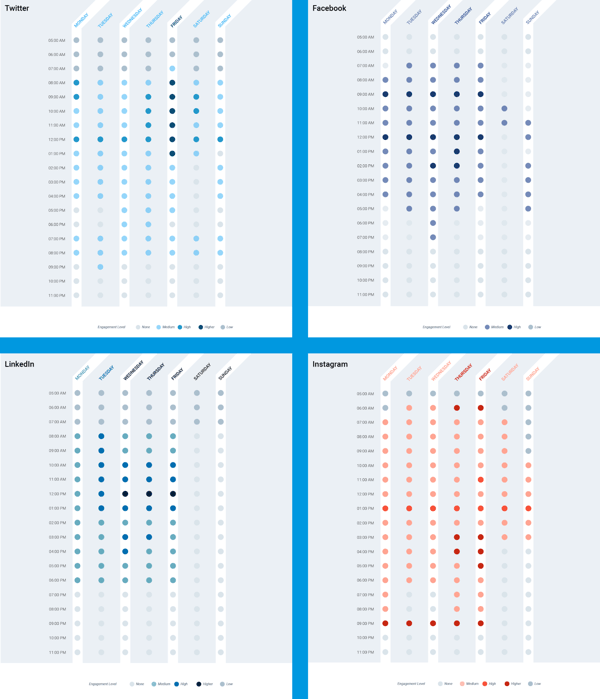 Over to you
You're ready to face this year's holiday season!
Still looking for one last piece of advice? Take time to look at the campaigns run by your competition in the last couple of years to find inspiration. Something that worked for them may work for you when spun in a new angle.
For more inspiration on creating the perfect holiday marketing campaign, check out these innovative content marketing examples to help you develop the best strategy for your brand's needs.