The health and fitness industry is extremely competitive.
This, in turn, makes it even more challenging for companies to maintain customer loyalty and even rake in those crucial numbers.
You see, such a competitive environment, coupled with ever-evolving consumer preferences and emerging trends, requires fitness companies to move out of their comfort zones and adopt high-impact marketing tactics to stay in business.
Why health and fitness companies need digital marketing to grow
In order to remain competitive and relevant in today's business environment, you need to embrace and adopt a digital marketing strategy for your health and fitness company.
Many factors play in to keeping or leaving a subscription-based business. For instance, it's quite normal for customers to often drop their training sessions after a few classes for a myriad of reasons or hop from gym to gym in search of better deals.
Additionally, it's not easy to convince people to ditch their couch and not only eat healthy, but work out too. People recognize the need to be health conscious, but only some are willing and committed to doing something about it.
Preaching to the reluctant becomes a problem. Getting new clients keeps the business alive, and only the companies implementing effective strategies can attract, retain, and gain client loyalty.
According to a white paper on digital marketing for the fitness and health industry, the industry is also competing with the do-it-at-home fitness videos and numerous healthcare and fitness supplies. The home revolution is driving the industry scared, seeing that most are more comfortable working out from home instead of the gym.
People now have access to home fitness equipment and can ride a bicycle, lift weights, work out on the treadmill, use dumbbells, or row right from the comfort of their homes!
It's no longer enough to rely on word-of-mouth from existing customers. Those in the fitness industry must move with speed toward the digital marketplace. It will allow for the expansion of reach and connect businesses directly and personally with their potential and current clients.
However, the digital marketplace is not a walk in the park, as most would think. It requires a comprehensive plan that is primarily driven by a digital marketing strategy.
What is a digital marketing strategy?
A digital marketing strategy helps a company achieve its goals via online marketing channels, including paid, earned, and owned media.
Why do health and fitness companies need digital marketing to grow membership?
When starting a new business, you always start with a plan. You know what audience you want to target, what products or services to offer, and how to go about running it.
The same rules apply to digital marketing.
Most companies believe digital marketing is just having someone working on their Facebook, Twitter, blog, and any other social media accounts. This person sends replies to customer comments and updates new deals and services on the social media pages regularly.
According to research by Smart Insights, most organizations have hopped onto the digital marketing bandwagon; however, 49 percent of organizations do not have a digital marketing strategy in place. They do not have an overall plan, but are investing a lot in owned and paid digital media.
They are simply winging it.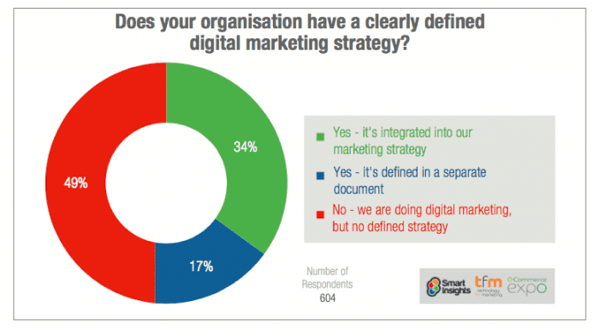 Source: Smart Insights)
Looking for the right social media marketing software to help create the best digital marketing strategy for you? Check out your options!
7 benefits of a digital marketing strategy
A digital marketing strategy offers many benefits for health and fitness organizations. Seven key benefits are outlined below.
1. Give you goals to work toward and offer direction
When carrying out research, as you begin your digital marketing strategy, you will redefine your goals. For instance, say your health and fitness company wants to grow membership.
It's your goal. This goal gives you a sense of what your company wants to achieve and how you want to handle the marketing strategy. With specific goals, you know what you want to campaign for online.
You then direct every marketing decision toward increasing membership. Your marketing and sales people analyze the goal and define ways they can use digital marketing to achieve it.
With this information, your company can then come up with various tactics and content that help accomplish this specific goal. Your team will formulate its digital marketing initiatives toward achieving this goal.
2. Help you find a target audience
Think of it this way: You cannot sell to everyone and do it efficiently. You need to have a niche so that you can talk directly to them.
The audience can range, but they must have a common problem that you can solve. Your target audience will, therefore, be a specific group of people with common characteristics that will draw them to your service.
Note: This service must be one that sets you apart from the competition.
Segment, target, and position your audience in a way that they fully understand their needs better. What are their interests, habits, and hobbies? What brands do they follow online? What channels are they mostly on, and how can you define their buying behavior? Do emotions influence them, or do they buy for a specific reason?
With this kind of information, you can create content that is relevant to them. To get new members, you will be targeting people who have never been to the gym, but are now ready to start living healthy.
You may also target people who have been to the gym, but for one reason or another, they discontinued their membership.
The content your marketing team comes up with should speak to this target audience directly. It should resonate with their day-to-day needs, as well as add value to their lives.
3. Give you an ROI-oriented online presence
The number of people using the internet is increasing each year.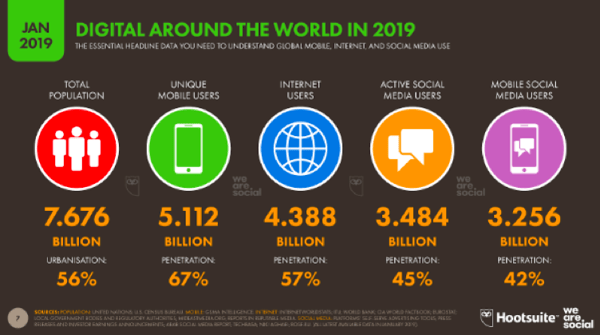 Source: WeAreSocial
On average, an internet user will spend more than six hours online daily.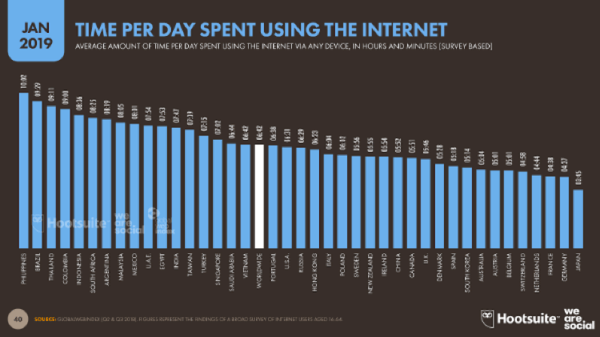 Source: WeAreSocial
What this means for the health and fitness industry is that they must have a deliberate online presence in order to attract many customers.
With an online presence, a customer can rate your services and experience level. If one of your members writes a positive review on one of your social media platforms, then you have a better chance of converting at least one of their followers. According to research, 91 percent of consumers trust online reviews, just like they trust personal recommendations.
An online presence ensures that once a potential customer searches for a product you offer, they can find your website online. The content you give plus the health of your website determine whether they enroll for one of your classes or not.
4. Help you target audiences at the right time
Knowing when to send a message to your client is essential in marketing. You want to provide a solution right when the client is facing a problem you can solve.
Email marketing, for example, allows you to send the right messages at the right time. However, this will only be possible if you have conducted extensive research on your target market. With the right content, you can guide your potential members through the buying journey.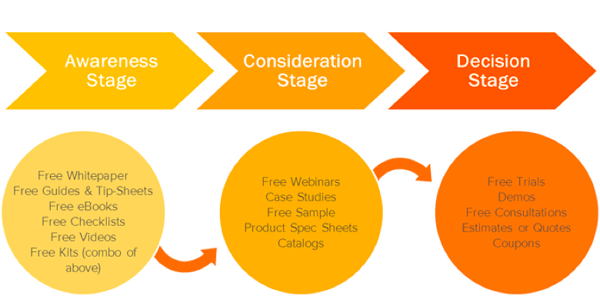 Source: HubSpot
When lead nurturing through email, you should understand what stage your audience is in so that you can provide helpful content.
Interested in finding the best email marketing software for your company? Learn about some of the top competitors.
5. Help you develop a social media strategy
Having your business online is not enough. You need business accounts on all social platforms that your customers frequent. These accounts help you promote your business and drive leads to your company.
They also allow you to nurture the relationships you build with prospective customers. A good relationship with a client leads to conversion.
It's likely that most of your competitors will be carrying out social media marketing. In fact, 73 percent of small businesses prefer social media marketing when promoting their products and services. With social media, you can track your campaigns, analyze, and observe how people are reacting and engaging with your brand.
The data you get from social media platforms can tell who is interested in your brand. You also know how to relate to them either by posting interactive content or sending them direct articles and messages. The insights show whether your campaigns are successful. They are also great for tracking ROI.
Social media helps strengthen your brand, direct traffic to your website, and makes it easier for you to communicate with customers.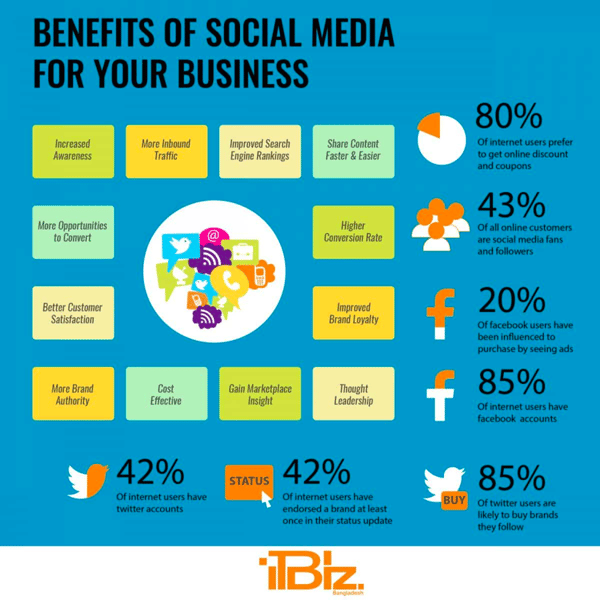 Source: itbizbd
6. Makes your brand interactive
With digital marketing, you offer customers a personalized experience. Running social media campaigns, blogging, messaging, online adverts, and email marketing are some of the ways you can directly speak to your customers' needs.
Videos, infographics, stories, and images will inform, entertain, and engage your audience. Digital marketing allows you to interact with customers on a personal level. You stay on their mind, which encourages them to purchase in the future.
7. Allow you to measure results
It's easy to determine what metrics to measure if you know your target market, your goals, and how you are using digital marketing to achieve them.
You can track the number of new members your gym has gotten depending on conversions on your website. You can also track website visits, online sales, time spent on the website, and traffic. Data accrued will help you determine what content had the most engagement, traffic sources, and return on investment.
Once you have your data, adjust your campaigns accordingly in order to ensure the efficiency of your campaigns. Having proper analytics and measurements can help you track campaign performance.
This data also helps you to eliminate guesswork. It also allows you to streamline all your campaigns for success; you know what needs improvement and how to plan for future campaigns.
Takeaways
Digital marketing is not an option for those in the health and fitness industry. It's the only way to survive and stay ahead of the competition. It makes it easier to engage and personalize communication with potential and current members.
With a digital marketing strategy, you gain useful insights and direction; you know where you want your company to go and how to get it there. You can work on well-defined goals, focus on them, and know exactly how to achieve them. To increase membership, you know where you to prioritize your marketing efforts and how to use available resources to achieve your goal.
Interested in finding the best digital marketing software to help your digital marketing strategy? Check out which software is best for you.