Your employees are craving growth opportunities – how are you answering the call?
Social media has lead to the rise of creating a personal brand and as a result, employees are keener than ever to invest in their career growth and development. This may cause some employers to worry that their employees are looking to quit their job and move onto something better – but that's not the case.
Contrary to popular belief, offering your employees growth opportunities is more likely to retain top talent than drive them away. Employee loyalty increases the more you invest in the people who work for you. If you're not already prioritizing growth opportunities in your talent management strategy, you should be.
What are some key factors for growth opportunities?
Career mobility
Mentorship and coaching opportunities
Access to the latest technology
Continued learning and training opportunities
A culture of encouragement and recognition
There are several elements that play into offering meaningful growth opportunities to your employees. And while your company may offer some of the things mentioned above, there's always room to improve.
Maybe you already offer a snapshot for career growth or utilize a career development plan, but have you ever wondered if there was more you could offer?
How are companies offering growth opportunities ?
As the job market continues to become more competitive, companies are finding unique ways to attract new talent. Offering continued growth opportunities opportunities is becoming one of the hottest trends in HR and employees are loving it.
We asked employees to share a time they had a manager who invested in their growth and explain why it was important to their professional development. Check out some of their answers!
My employer uses technology to help us advance
"It's incredibly important to me that the company I work for focuses on employee development.
"They have put a huge focus on helping us develop our strengths and shore up our weaknesses. This happens on a personal level by walking through the Strengths Finder process in the book, Strengths Finder 2.0 by Tom Rath and Gallup.
"It's important to me that I'm working for a company that doesn't just see me as a means to an end. I want to be my best self, and I love that I work for a company that helps me identify my strengths and leverage current training to help me stay at the forefront of my field and job.
"My company helps us identify our signature strengths and teaches us how to leverage them to grow as professionals. We also have great access to continual video-based and online training resources that help us stay sharp in our individual roles and aware of industry best practices."
– David Gafford, Director of Marketing at Shift Processing
Interested in using technology to help your employees advance in their careers? Learn more about the best career management software on the market.
My employer helped me get my MBA
"When I was told that my new employer would pay for my last semester of my MBA, I was shocked. I had started my MBA program before accepting a position at my current job and had planned to continue completing it on my own.
"It gave me a sense of comfort to know that they supported me on my journey of obtaining my MBA and it gave me relief that they believed in me so much that they were willing to get me across the finish line to graduate.
"Since graduating, my company has invested in other continued learning opportunities that give me the chance to keep growing individually but also take the knowledge and utilize it in my role to help the company continue to grow as well. If you invest in your employees you are ultimately investing in your company.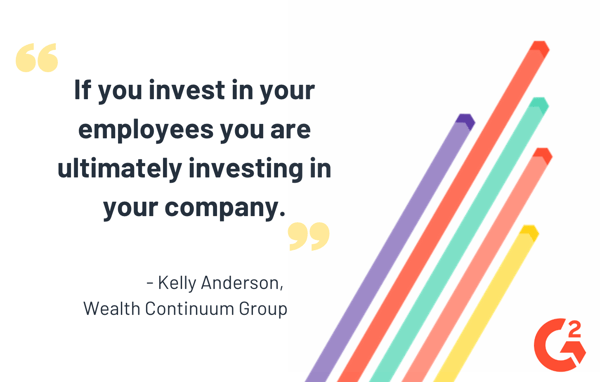 "Working for a company that has invested in my growth gives me a feeling of appreciation. They saw something in me worth investing in and believed that I was worth that investment. It has given me a type of confidence that I do not believe I would have ever had if I did not feel supported by my company."
– Kelly Anderson, Director of Marketing at Wealth Continuum Group
My employer understands the importance of soft skills
"My first job out of college just happened to be with the largest IT company in the world and I was enamored with it all: the modern building, the mid-century furniture, foosball tables, the laptop I was handed, the travel I was booking - it was so exciting!
"I was driven, and it continued to show as I excelled in implementing large-scale initiatives and progressed through different roles. What I didn't know at the time was that I could be excelling in other skills — such as effectively communicating, providing valuable feedback, leading through change, or teaching and trusting others to do their jobs. As my friends at other companies were discussing what they were learning, I began realizing that this was a gap in my development. I began training — only to meet resistance and be told soft skills training wasn't in the budget.
"I began wondering, 'What happens when a company doesn't professionally develop its employees and only focuses on results?' That single thought became a catalyst to my unhappiness. Suddenly the drive that had led to my success was also the drive exposing that where I was could no longer meet my needs.
"I spent a good deal of time considering what my values were and what I would need in an employer to feel motivated. I finally determined that learning and development need to be a part of the culture that I joined and began looking at other companies.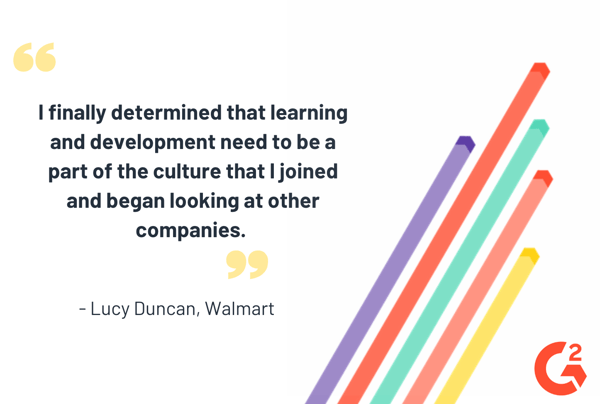 "Today I'm more professionally fulfilled than I ever imagined possible. I transitioned from a Fortune 500 to a Fortune 100 and work in Leadership Development, where I facilitate the flagship leadership program and coach senior leaders to support organizational growth and development. I feel like I finally have the chance to grow AND give others that same opportunity."
– Lucy Duncan, Facilitation Manager at Walmart
My employer is paying for certifications and coursework
"I am extremely fortunate to have landed a job where my employers are more than happy to fund or subsidize my course and certification fees. To me, work is not just about earning money to get through the day; it's about self-development in terms of both hard and soft skills. That's why it's extremely important for me to know that my employers seek the best for my growth in the company.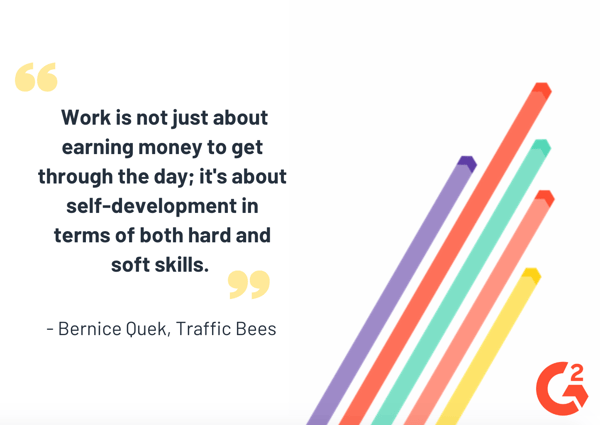 "I've already completed the Ahrefs Blogging for Business course and I'm currently attending Backlinko's SEO That Works and HubSpot's Content Marketing Certification Course. These are courses that are extremely important to my work as a Content and SEO Specialist and will continue to serve me long into my career.
"Having a conducive platform to upgrade yourself is beneficial for both you and your company. Moreover, a working environment that actively encourages your growth will most likely be the kind of culture that you would enjoy working in."
– Bernice Quek, Content Marketing Specialist at Traffic Bees
My employer encourages my ambition and drive
"After graduate school, I searched tirelessly for a career that ignited my passion to be creative. I became very selective with not only my career choice but my choice of company. Before my current position and current company, I worked for a travel agency.
"While the opportunities opened up, none were quite what I was looking for. I tried taking matters into my own hands by out my own path. I requested a career mentor but instead was scheduled to job shadow a colleague who worked in marketing. While I was grateful, the job shadow did not do much for my growth opportunities . I spoke with my former supervisors and HR reps who reassured me that they did the best the could have.
"I felt lost and completely stagnant in my professional life. In that moment, I slowly but surely strategized my departure. I realized then that you can only develop in your career so long as your company is fully on board. While I had an amazing experience there, I departed the agency due to their lack of investment in my growth opportunities .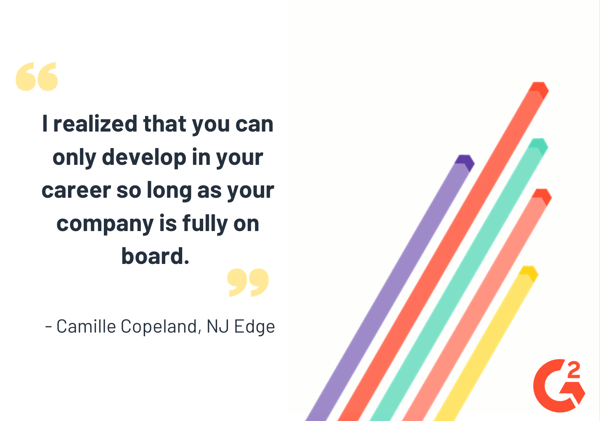 "I'm fortunate now to work for a wonderful non-profit that prioritizes my growth opportunities . I have learned so much professionally and personally in such a short amount of time under the tutelage of an amazing and experienced Vice President of Marketing and Communications.
"As professionals, we can't find ourselves falling into the trap of remaining stagnant or complacent with just a 'job' as opposed to a career. Investing in growth opportunities will not only challenge your employees but benefit them and the organization. When employees feel cared for and trusted, it motivates them to do more and ignites the desire to thrive within the company."
– Camille Copeland, Marketing Coordinator at NJ Edge
Get an immediate return on investment
The money you put into investing in your employees will benefit your company in more ways than you can count. When your employees grow, everyone wins. You won't be able to hold onto all of your employees forever, so it's important to empower them to be their best while they work for your company.
HR Managers, interested in reading more? We've got you covered.