There have been many articles written about utilizing GIFs in marketing.
Almost all articles written about GIFs in marketing talk about using a GIF to "spice things up," rather than using a regular image or text in a blog post, email, or website.
GIFs can certainly make otherwise dry marketing far more entertaining. However, there is a new untapped goldmine to the tune of billions of consumer engagement opportunities using GIFs.
This treasure lies within GIF search engines like GIPHY, Tenor, and Gfycat.
What is a GIF search engine?
A GIF search engine offers opportunities for brands to create and optimize GIF content. Much like traditional search engines, whoever can create the best content that gives the end user the result (GIF) they were searching for wins the attention of consumers.
These search engines serve over 7 billion GIFs each day to consumers across popular messaging apps like iMessage, Facebook Messenger, WhatsApp, Tinder, Slack, and more.
GIFs create a great opportunity for consumer brands to earn more engaging, high-quality impressions with consumers than they could with billboards, TV commercials, or interruptive digital ads.
Maybe the best part of GIFs as a marketing channel is that consumers distribute the content. People send GIFs to each other voluntarily to enhance conversations; they aren't interruptive like many other marketing channels.
To put it simply: people hate ads, but people love GIFs.
How to get started with GIFs as a marketing channel
If you're a consumer brand, you should be getting serious about GIFs for 2020. Many brands have already started taking this type of GIF marketing seriously.
This article will walk you through the steps you need to start creating positive brand experiences with your target customers while grabbing a chunk of the available 7 billion daily impressions.
The different GIF channels
When getting started with GIF marketing, the first thing you need to understand are the different channels and how they work.
The major channels are GIPHY, Tenor, and Gfycat.
GIFs are distributed through major GIF search engines and their third-party integration partners.
GIPHY and Tenor boast integrations in the most popular social media and messaging apps, such as Facebook, Instagram, Twitter, Snapchat, iMessage, WhatsApp, Tinder, Slack, and others.
The Tenor mobile keyboard app has more than 10 million downloads and 12 billion GIF searches every month. GIPHY boasts 500 million daily active users on its platform (making it more popular than Twitter and Pinterest) that serve more than 7 billion GIFs every day. Gfycat has 180 million monthly active users and a creator community of more than 2.5 million people.
Creating a GIF brand channel
The first step to getting started with GIFs as a marketing channel is to create a branded GIF channel on a popular GIF search engine.

The first step is to create an account on GIPHY and start uploading GIFs. Anyone can create an account and upload GIFs.
However, any GIFs uploaded can only be shared using a direct link to the GIF. This means they won't be shown in search results across third party messaging and social media apps, and you won't be passively earning impressions.
Before your GIFs can be publicly available in search, you'll need to have a verified brand channel, such as this verified GIPHY brand channel.
The application process is easy; you just need to prove you are a legitimate company, have a professional website, a modest social media following, and five-to-10 original (quality) GIFs uploaded to your account. It typically takes a brand channel two-to-14 days to get verified.
Once your channel is approved, your GIFs will be available across all messaging and social media apps that have a search engine integration.

Tenor and Gfycat have very similar onboarding processes for brands.
You can use the links below to get started creating a brand account on each platform:
How to plan your GIF marketing strategy
It's important to be sure that you have relevant keywords attributed to your GIFs for a few reasons. If you want people to find GIFs related to your brand, you'll want to make sure you tag all of your GIFs with your brand name or any popular brand slogans.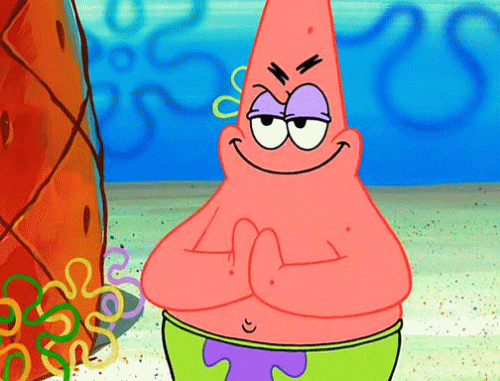 This way, people can find your branded content when they are looking for it.
Naturally, the search volume on your brand name is probably low in GIF search engines. This isn't because your brand isn't that exciting. It's because most people that are using GIFs in conversations, unfortunately, aren't talking about your brand (yet).
You can solve this by creating branded GIF content and tagging it appropriately with the keywords your customers are talking about. This is where keyword research comes in.
If you are familiar with search engine marketing or Google Ads, you understand how important it is to do keyword research.
Keyword research is comprised of researching different search terms, ideas, or topics that are relevant to your brand or content to understand the difficulty and resources needed to rank highly in search results for those terms. The goal is keyword research is to create an ad that will perform well.

GIFs are very similar.
The first step in creating a GIF that will perform well is to understand what keywords you want to rank for that are relevant to your brand to give yourself the best chance to rank highly in organic search results.

For example, if you are a coffee brand, you may not be able to get a high ranking GIF for a keyword like "coffee," as it is a competitive keyword.
However, you may have a better chance of ranking for "I love coffee" or "coffee beans."
Once you understand which keywords you want to rank for, guide your content creation around those keywords.
You can't "game" the algorithm, much like traditional search engines.
The main goal of a GIF search engine is to show the end user content that is relevant to the keywords that they search. So, if a user searches "coffee beans," the search engine will look for a relevant GIF to show the end user.
If you let this principle guide your GIF creation process, you'll have a better chance of increasing visibility and usage of your GIF, leading to more impressions and positive brand experiences.
If you create a (lightly) branded GIF specifically related to coffee beans, you'll have a better chance to show up for that search term than the thousands of other GIFs that just show regular coffee.
To start, you'll want to find high volume, low competition keywords and create content with intent to rank.
You can use this free GIF keyword research template that we use for keyword research that has helped many smaller brands to rank highly in search results for relevant keywords and earn millions of high-value brand impressions.
The Tenor Insights tool is also a great free tool for doing keyword research to understand normalized search volumes and find correlations between keywords.
GIF creation and implementation
Once you have an idea of the keywords you want to rank for, start thinking about how to make the best content around these terms.
In general, there are three types of different GIF styles:

Video-based GIFs
Animation-based GIFs
GIF Stickers.

Video-based GIFs are your most traditional GIF. They feature short clips of video content.
TIP: Animation-based GIFs are similar to video-based GIFs; the difference is that the content of a GIF is usually an illustration or image that has been animated or edited using an animation tools like Adobe After Effects, or another highly-rated video effects software to start creating animation-based GIFs for your brand.
GIF Stickers are a bit different. They are usually animated illustrations, images, or text blocks that have a transparent background. They are typically used as an overlay on top of a picture or video – hence, why they are called "stickers."
It's worth noting a key difference of distribution method. GIF stickers are placed on top of images or video, so they are mainly used on social media apps – specifically, social media apps that have a "Stories" feature like Snapchat and Instagram.
On the other hand, video and animation based GIFs are primarily distributed through messaging apps like iMessage, Discord, and WhatsApp.
Many brands find success with a strategy that includes a mix of all three GIF types. However, if you are just starting out, it's best to get started with whatever content is easiest for you to make.
Using the coffee bean example, you could film coffee beans falling from the sky in slow motion to create a video-based GIF or create a fun animated illustration of coffee beans.
Both could perform equally well.
If your focus is reaching consumers on popular social media channels, you should start with GIF Stickers. Choose whichever content medium best fits your available resources – whether it's an illustrator from the design team or your in-house video professional.

Some of the best tools to use are Adobe After Effects, Illustrator, and Photoshop.
There are also free GIF creation tools for video-based GIFs, like GIPHY Capture, which make it easy to create GIFs from already existing video content.
Once you get your creative ready to go, all you need to do is login to your verified brand channel, upload your GIFs, and tag each GIF with your target keywords.
Measurement and reporting of your GIFs
After about a week, you'll want to start measuring the results. You'll want to continue to monitor performance over time, as GIFs are evergreen content.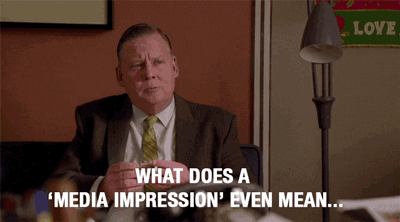 GIPHY offers view counts for verified branded channels, so you'll be able to see updated view counts for your GIFs as people continue to use them over time.
GIPHY defines what goes into a view count on its website as:
"A single view is counted when a GIF is served, regardless of how many times it loops. A GIF view on GIPHY is a sign of relevance, share-ability, and popularity."
From this metric, you can get an understanding of what types of GIF content performs best and create your next campaign with similar content.
Tenor and Gfycat also offer view counts on GIFs. However, their data visualization and reporting tools aren't as robust.

As GIFs are continually shared voluntarily by consumers, the views of your GIFs will continue to increase, driving your CPM (cost-per-thousand impressions) down overtime.
When you need to report to key stakeholders, you can easily calculate the organic CPM of individual GIFs or an entire campaign by comparing the cost of the creative to the impressions. For example, if you spend $10,000 on GIF creation and generate 10 million organic impressions, your CPM would be $1.
This is much lower than other popular digital and non-digital marketing channels, which is why GIFs have the best CPM value of any marketing channel.
Conclusion
No matter how you approach your GIF marketing to generate brand awareness and engage consumers, the most important step is to get started.
There's a massive opportunity to get your brand in front of millions of people everyday with a low barrier to entry and minimal resource commitment. The basic marketing principles of research, planning, implementing, measuring, and learning hold true with your GIF marketing campaigns.
If you follow these steps, you'll be on your way to millions of high-value brand impressions and positive consumer experiences.
Want to try to make your own GIFs from scratch? Start off with photo editing software to begin creating your very own GIFs today.