If you're getting started with GIF marketing, you should be aware of what you should do in order to succeed and what common pitfalls to look out for.
There are over 10 billion GIFs shared daily, so it's time to get your GIF content strategy in order and start creating meaningful interactions with consumers. Brands like Pepsi, Gucci, McDonald's, Wells Fargo and thousands of others are already using GIFs to give consumers a way to express themselves in messaging apps and social media stories, two of the hottest digital communication channels.
GIF marketing strategy dos and don'ts
In this article, we'll be outlining seven things you should do to ensure your GIFs are relatable, entertaining, and shareable, and three ways to avoid wasting your time creating GIFs that people don't want to use.
What to do to enhance your GIF marketing strategy
The seven things below are what you need to do to perfect your GIF marketing strategy by being real, relatable, and true to your brand.
1. Subtly incorporate your brand
You want to make sure your brand is incorporated in your GIFs, whether it's a watermark, product placement, or some reference to your branding (color, font, etc.). The key is to keep the branding light. GIFs are great marketing channel because they allow brands to give consumers a tool to express themselves without asking for anything in return. GIFs improve conversations. When creating branded GIFs, you want to focus on entertainment first, and brand placement second.
If you absolutely have to, put your logo as a small watermark in the bottom right corner. The best practice is to make your logo grey and opaque so it doesn't immediately draw the viewer's eye away from the GIF. Don't worry, if you nail the content, your GIF will be watched multiple times in a row and the user will eventually notice your watermark in the corner.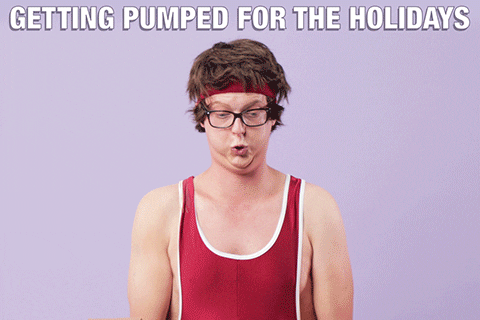 Source
Amazon does a great job of subtly incorporating their brand. Their brand is blended into the GIF in a fun and playful way, but it doesn't jump out at you immediately. You may not notice it the first time the GIF loops, but after looking at in-depth you notice the branding. After a few loops, you've spent more than 15 seconds with the brand, and walk away with a good feeling about Amazon, or at least that they are clever and funny. Mission accomplished: you've entertained the consumer.
2. Make it a meme
Memes and GIFs are similar in that they are fun, informal and often comment on culture and emotions. Some of the best GIFs include descriptive "meme" text, like the Amazon GIF above. This is a great way to enhance your video content and make it a "reaction GIF". Including a caption on a GIF can increase the chance of ranking organically in search results for the keywords that are in the text.
When deciding what your GIF is about, GIF engines will look to see if there is text within your GIF. This helps them understand what your GIF is about. So if you put your target keywords as text within your GIF, you are telling the GIF search engine what search terms your GIF should show up for. This adorable reaction GIF from the ASPCA has pulled in over 50 million views.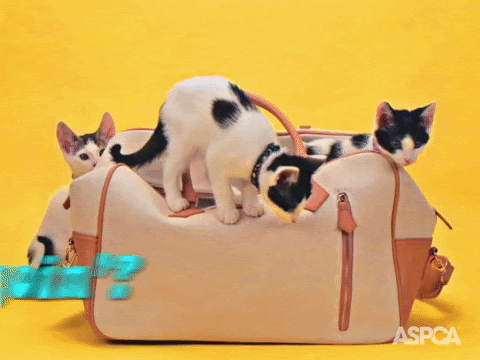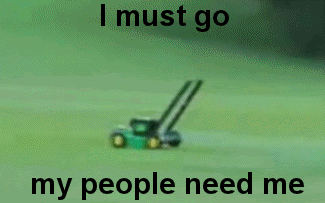 Okay, this isn't a branded GIF, but the meme text on this GIF makes it 999% funnier.
3. Use GIFs and GIF stickers
GIFs are great for getting your brand into intimate conversations in messaging apps. GIF Stickers are best for reaching consumers on Instagram and Snapchat Stories. Both GIFs and Stickers are shared by consumers. So once you upload them to your favorite GIF search engine they will be shared by consumers. Ideally, you want to use both to maximize brand awareness, but if you don't have enough budget to make good creative for both, start by thinking about where you want to reach your ideal audience. I
If you want to reach consumers in conversations, start with traditional GIFs. If you want to increase your awareness on social, you should start with GIF stickers. Either way, you're winning because you're turning consumers into brand ambassadors. Eventually, you'll want to expand your GIF presence to incorporate both to maximize visibility.
4. Tie in with human emotion
GIFs are primarily used to express emotions. This is why many popular GIFs are reaction GIFs, GIFs that can be used as a response that expresses an emotion. Sending someone a funny "excited" reaction GIF is much more expressive and fun than just writing: so excited!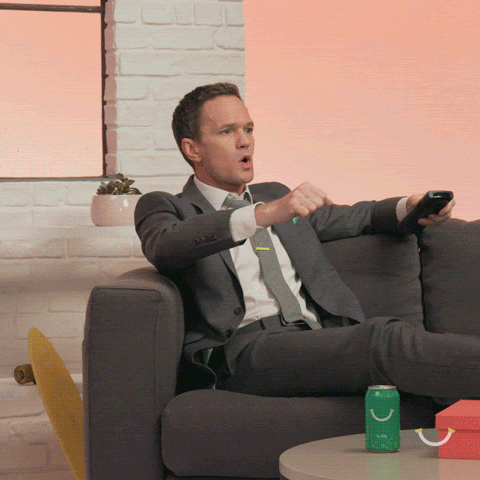 Neil Patrick Harris is excited, but not as excited as the Bubly marketing team for successfully sneaking their brand into this reaction GIF that has over 18 million views.
If your product or service is directly tied to human emotion, like "thirsty" for a beverage company, start with those emotions that your product directly solves. If your brand isn't directly tied to a human feeling or emotion, you should create content for the popular reactions and emotions that people express using GIFs. You can use the Tenor Emotional Graph to research popular emotions that you will want to help people express with your branded GIFs.
5. Do keyword research
Keyword research is essential to making sure your GIFs get seen. Don't treat keywords as an afterthought. You can spend all your time making great creative, but if you don't tag your GIFs with relevant keywords, they won't be seen by your target audience. Naturally, you'll want to tag your GIFs with your own branded keywords. We recommend doing keyword research before even jumping into GIF creation.
Think about the purpose of your campaign and the goals for your GIFs. What keywords do you want your GIF to be associated with? You can use the Tenor Insights tool to research popular search terms and get ideas for keywords to build your content around. If you can make your content for specific keywords, you'll have a better chance to rank. For example, if you are a beer brand, you'll naturally want to show up for the keyword "beer".
As you can imagine, this is a highly competitive keyword. You can do keyword research to find other keywords related to beer that you may have a better chance to rank for. You may have a better chance of ranking for less competitive keywords like "beer can" or "tipsy". Once you know this, you can create content that is specific to those keywords to improve your chance to organically show up in search results and increase the visibility of your GIFs.
6. Get the timing right
It can be hard to get your message across or tell a story in such a short amount of time. The best practice is to keep your GIFs between 2-6 seconds in length. Anything shorter than 2 seconds and you risk inducing effects similar to a strobe light. If your GIF is longer than 6 seconds you'll start to lose the ever-shrinking human attention span of your viewers.
It's also important to make sure your GIFs loop cleanly. In order to achieve a clean loop make sure there is a clear start and finish to your GIFs. Pay careful attention to how the last frame of your GIF transitions back into the first frame. You want the transition to be seamless without any abrupt changes of color or motion in between.
7. Create GIFs for all occasions
Just because GIFs are evergreen content, doesn't mean that you should just create a handful of GIFs focused on brand equity to check a box and be done. If you do this, you're missing out on a serious opportunity. You should be creating GIFs for all occasions. You should have GIFs for different seasons and holidays, moods, pop culture movements, and to support your major marketing initiatives and campaigns.
GIFs are great for incorporating your brand into pop culture. Smart brands know when a phrase is or cultural phenomenon is hitting critical mass and insert themselves into the conversation. Your brand is probably already tweeting and making clever references to cultural events on Instagram. You should also be making GIFs and GIF stickers to associate your brand with pop culture moments during the height virality of user searchers.
Pop-Tarts made a GIF of a cute penguin literally "sliding" into the DM (direct messages). The GIF is masterfully branded without using the logo. It shows the product and the brand typeface - well done. To date, this GIF has earned over 4 million views.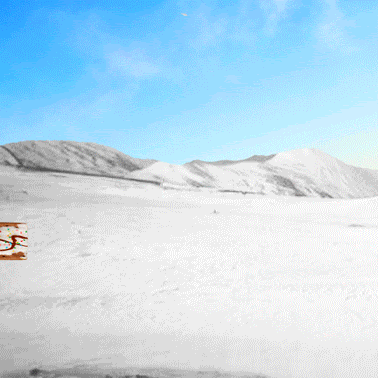 Gushers appropriately took the popular phrase "Looking like a snack" and subtly branded it with images of flying Gushers to earn 2 million views.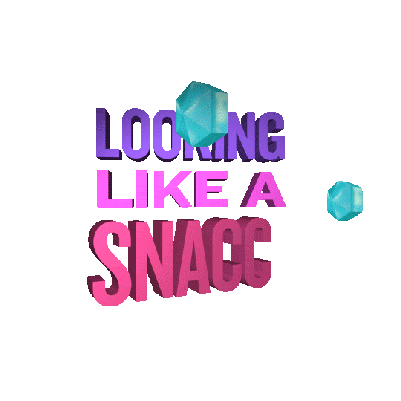 What NOT to do for your GIF marketing strategy
The three things below are what you should never do regarding your GIF marketing strategy. Whereas the suggestions above will amplify your reach, these will do the opposite.
1. Don't overly brand your GIFs
When you create a GIF that is overtly branded, consumers won't use it. People want to send their friends and family a GIF, not an ad. The point of branded GIFs is to entertain consumers and improve their conversations in the digital world. If you blatantly try to stick your brand in the middle of it, people will notice. As consumers, we've been trained to ignore ads, so if you put too much branding on your GIF, it won't get shared.
To make a shareable GIF, you need to focus on entertainment first. You need to give people something that makes them laugh or smile and is mesmerizing enough to watch multiple times. If you subtly incorporate your brand, it will be seen on the 2nd or 3rd loop of the GIF, and people will think positively about your brand (consciously or subconsciously) for providing them with a GIF that helps them express themselves in the moment.
2. Don't just re-use old commercials
This happens more than you'd think. A brand wants to get started on with GIFs, so the first thing they do is lazily take their old commercials and chop them up into a handful of GIFs. While this may feel like the easiest and most natural way to get started, it's not the best.
Like other marketing channels, in order to create great content (and ads), the content needs to be created specifically for the channel. You wouldn't take your 30 or 60-second TV commercial and post it on Instagram. You need channel-specific creative if you want to make wildly successful content.
Unless you're a media company, TV show/movie, or a sports team, avoid repurposing your old video content. If you absolutely have to re-use old commercials or video content, find some clips that are funny or could be used as reactions and make it a meme with a funny caption.
3. Don't put your product at the forefront
This goes against everything you've been trained on as a marketer. But for GIFs, you want your product placement to be subtle. If your product is something tangible, it's okay to include it in your GIF. This is one of the best ways to get visibility for your brand.
Just make sure there is something happening in your GIF that is fun or useful enough to make a user share it, like the Pop-Tart example above. That close-up clip of your product that you used for a TV commercial may be a high-quality video, but people don't want to share a GIF of your product close-ups.
Conclusion
If you follow these guidelines, you'll be on your way to creating GIFs that consumers and advocates of your brand will love. You'll be giving people a way to express themselves with your brand. In modern marketing, you don't want all of your touchpoints with consumers to be transactional, you want to build trust. In order to build trust, you need to give without immediately asking for anything in return, and GIFs are the gift that keeps on GIFing.
Ready to get started implementing GIFs into your marketing strategy this year? Start off by exploring the best graphic design software to get you started on your GIF journey!