In 2019, on average, 99 percent of consumers check their personal emails at least once every day.
Not only that, but email sending rates are higher than ever. In fact, there are 293.6 billion emails sent daily.
Everyday, we see the same email designs from the same people.
However, every now and then, we open a GIF email that really takes the cake, and our money – because it got us shopping on that website.
What is a GIF?
GIF stands for Graphics Interchange Format. A GIF is a stack of images used together in a small file format that repeats the same images quickly in a loop to create an animation on repeat.
There are many statistics that can tell you how amazing emails are for your business. What the numbers don't show is the work goes into your email's design and layout.
Best GIF email designs
GIFs can be one of the most effective email designs. Did you know that adding GIFs to your emails can help increase click-through rates by up to 42 percent? A six-second animation can make all the difference.
So, we found five of the best GIF emails, why they increase clicks, and how you can make your own.
1. Master color psychology
Color is a key factor to consider when creating an email; it can quickly draw the reader's attention and keep them hooked. People get endless emails with plain text and boring images and subject lines.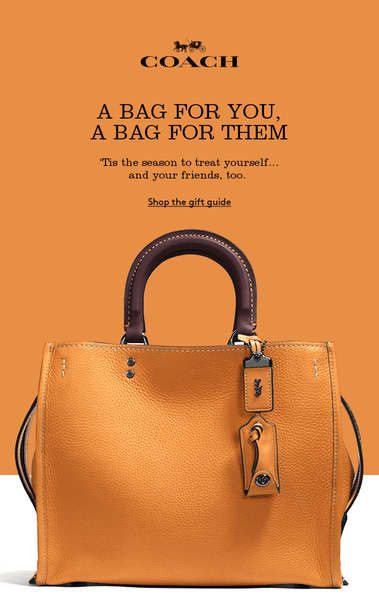 (Source: Coach)
Coach is known for its colorful handbag designs, and what better way to show off tits colors than with a lively GIF email. The switch between colors is fast enough to grab your interest, but slow enough to give the reader time to consider each handbag being displayed.
A study found that a viewer's response to color can account for up to 60 percent of the acceptance or rejection of a product or service. That means the way we use colors in emails has a psychological effect on us.
How it's used with food, clothes, or lifestyle images can also attract or repeal us from clicking on a CTA.
In that same survey, 93 percent of buyers said they focus on visual appearance, and close to 85 percent claim color is a primary motivator when they make a purchase.That's how powerful color can be – affecting your click-through rate and purchases.
However, you can't just throw a bunch of colors together and expect to get good results. Color psychology is key. It can be as simple as changing the color on your CTA or as complex as color of your email background to make your products more desirable.
Here are three helpful guides to help guide you through the use of colors in your (GIF) emails: Hubspot's Color Psychology in Marketing; G2's Color Theory: All for One and One for All; and The Psychology of Color in Email Marketing.
Related: Learn what the top 6 color schemes are so you know the right one(s) to pick for your GIF marketing strategy.
2. Use GIFs for tutorials and DIYs
When Sprout Social decided to launch its new mobile app, it sent a nifty email with a GIF showing readers how to use its new functions and redesigns made for mobile. The example below is a quick and simple step-by-step tutorial.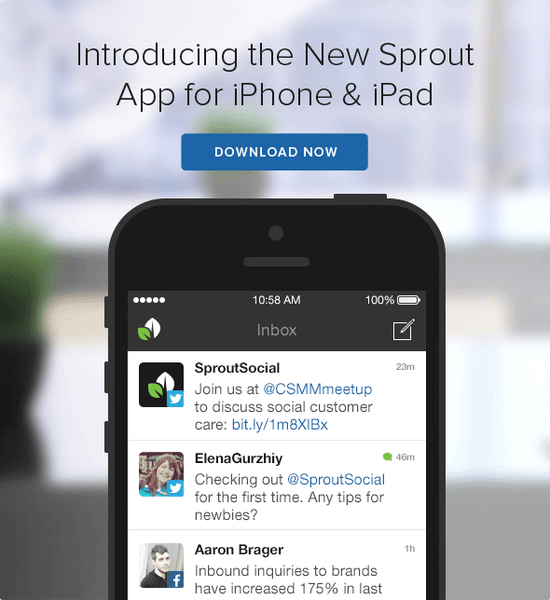 (Source: Sprout Social)
It helped users to know what the look and feel of the software was before they downloaded it; it's almost like a preview or sample of what Sprout Social can do for you.
Mailchimp is known for using GIF tutorials in its emails and websites, as well as being one of the few email marketing platforms that support GIFs.
If you have a new app or feature, you might want to update your customers by using a GIF in your email that they can watch on repeat and try the actions themselves.
It can be easy to go overboard with GIFs, but remember that a good GIF only last for five to six seconds. That means you only have up to 15 seconds to bring your point across. Any longer, and it can feel like your trying to cram all your content in one tiny GIF email.
So keep it short. Balance your content and time. Long emails – text or animated – are one of seven common email mistakes you should avoid.
3. GIF outside the box
The whole point of using a GIF email is to show off your brand creativity. If you want to be boring, you should send a basic HTML email. But really – don't be afraid to spice things up.
To show off its creative genius, Bath & Body Works could have taken a simple, flat lay of its new fizzy bath balls. Instead, it decided to drive home how colorful and fun the bath fizzies were in a stunning GIF, chock full of bright colors and engaging visuals.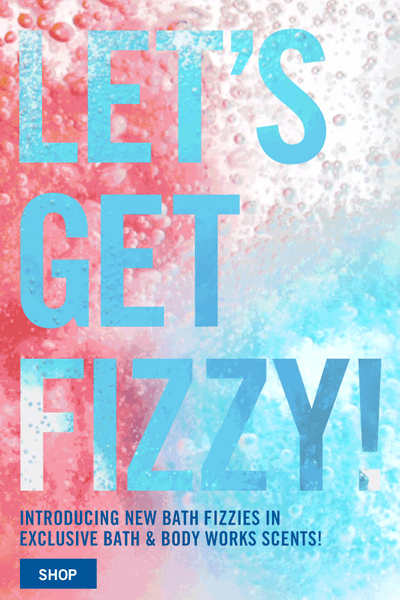 Source: Bath & Body Works
GIF emails designs are nothing new in marketing, and, like any email, the concept of sending it and waiting for audiences to come just doesn't cut it anymore.
How you market your products and design your emails are the differentiating factors between your email and your competitors' emails. Think like a content marketer when your creating GIF.
Ask yourself these four questions to start:

What have we or our competitors already done, in terms of GIF designs?
How can I say as much as possible with as few words in my GIF?
What will make us stand out from the rest of the emails they've seen today?
Do I plan on A/B testing to see which GIF works best with my subscribers?
Have no idea what type of content you will stand out for your GIF email? Check out these 18 inspiring email newsletter examples from brands we love to get inspired!
4. GIF creativity show off your products
FabFitFun is a brand you should subscribe to if you're looking for modern-day email designs that get the job done.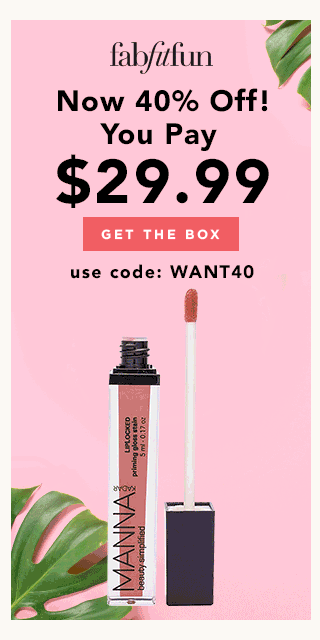 Source: FabFitFun
This GIF email is one of the many examples of how FabFitFun effortlessly promotes its products without using a hard sell – showing a category of products in hopes that one of them might click on the CTA.
Aside from all the fun your reader will have with your GIF email, you still have products and services to sell. With GIFS, you can easily show off product features, variations, and accessories.
At the same time, remember that when you showcase your products, it's more about the customer and what the product can do for them that helps to push more sales.
5. Use GIFs for special offers
Nike is known to throw a discount here and there to tempt you to shop. For Father's Day, the brand decided to give a sweet discount and offer to make the most of the holiday.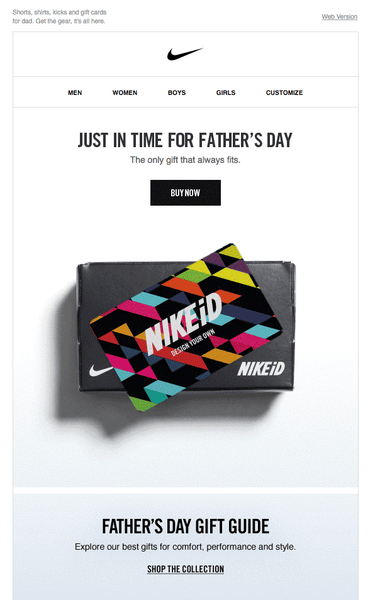 (Source: Nike)
The relationship between brand and buyer can get old fast. So every now and then, you need to spice things up and send your subscribers something that warms the heart – and gently nudge them to their shopping carts.
Today, people don't want to be treated like numbers. Yes, they want to be a part of a brand's community, but they still want special treatment. Emails should make readers feel like they're important, not like just another name on your email list. This can be as simple as sending a welcome email, promotional email, or personalized email.
Segmentation can be as simple as separating your current and new subscribers or sending a birthday or shopping cart abandonment emails.
Sending a welcome email to someone whose been shopping with you for years can leave a bad impression. Stay on top of your email marketing automation, lists, and campaigns.
Once you've set up your email marketing campaigns, don't just click start and forget it. Monitor it and ensure that the right lists get the right emails.
Making time to master your email marketing fundamentals is always important.
Conclusion
GIFs are a perfect way to liven up your customers inbox. Once your customers have made it past your subject lines, your GIF email will do the rest.
Just like images, you'll have to make sure your GIF is optimized for email. Your GIFs can't be too heavy or they'll slow down your email's loading speed. Make sure to check the size of your GIFs before pressing send.
Find the right email marketing software on the market to help you implement GIFs into your email designs today!