Gamification is a great way to engage both employees and customers.
Gamification is the process of adding games or gamelike elements to something, such as a task or a website, to encourage engagement.
There's a reason Fitbits are so popular. On a basic level, Fitbits gamify exercise by encouraging people to complete a set number of steps each day. Users don't like the virtual ding of skipping a day, so they are motivated to hit their goal on an ongoing basis.
Social media is also inherently gamified, with the implication that those with the most followers, likes and comments, etc., are "winning," and users must work harder to gain more of those "awards."
But how do you apply these principles to your own business or company? Gamification software is designed to engage employees and/or customers. Similarly, sales gamification software is designed specifically to motivate sales teams.
When 70 percent of business transformation efforts fail due to lack of engagement, gamification can help jumpstart the seemingly impossible. Some people thrive on competition, so the creation of contests and games with tempting prizes can motivate even the least motivated employee or customer. Employee engagement is one of the biggest 2019 HR trends, so employing it now will only reap benefits in the future.
Gamification examples
Let's look at some examples of gamification software and how they can help improve your business. These products were chosen based on their high G2 scores in the gamification and sales gamification categories. Reviews have been lightly edited for grammar and clarity.
7 top examples of gamification software
LevelUp
Bunchball
Gleam
Corsica
Ambition
Hoopla
LevelEleven
Top examples of gamification in loyalty management
Gamification plays a large role in loyalty management by motivating customers to return to a particular establishment by providing satisfying rewards for doing so. These strategies are typically used by retailers and restaurants to ensure repeat business. Loyalty programs can take a variety of forms, from point systems to referral programs. Depending on a business' goals, these programs can use a combination of strategies to encourage repeat business or entice lapsed customers back to the store.
Punch cards are a classic example of loyalty management that is easy to deploy and track. Each time a customer makes a purchase, they receive a punch on their card (if they remember to use it). After a certain number of punches (usually 10), they receive a free or discounted service. Today, this can be done digitally either through a mobile app or by simply tracking a customer's name, phone number or credit card information.
Using gamification software, businesses can also set up contests for giveaways. These usually require that a customer perform a set of actions, such as following the business' social media account or commenting on a specific social media post. Using the software, companies can easily verify which users have performed the required action and then randomly select a winner to ensure fairness.
LevelUp
LevelUp was recently acquired by GrubHub and caters specifically to restaurants. By using LevelUp's omnichannel features, businesses can interact with their customers wherever their customers happen to be: social media, online or in store. Users can set up a loyalty reward program or custom mobile app to engage customers on an ongoing basis.
Image courtesy of GetApp
Features
Mobile payment
Loyalty and gifting
Beacon messaging
POS
Online ordering
CRM
Analytics
Accounting
Custom messaging
Pricing
What users say:
"Our customer loyalty program and payments are not left up to chance. An employee cannot just choose to give someone extra 'punches' on a card or not charge them for a product. It also saves customers the hassle of carrying cash. It saves both us and the customer credit card transaction fees."
– LevelUp review by a user
"LevelUp has the most modern and intuitive UI in the market for mobile payment and rewards available. Their ease of use is like nothing else in the market."
– LevelUp review by Ken S.
"POS integration. Most startups in the location-based loyalty space don't have POS integration due to the prohibitive cost and complicated logistics of a rollout. However, LevelUp has a superb interface and system. I look forward to seeing where they go next."
– LevelUp review by Stuart F.
Gleam
Gleam helps businesses build customer loyalty through mobile apps. Users can run competitions and create redeemable rewards, social galleries and custom automated emails. With a variety of integrations, these tools can also be embedded into websites, emails and social media.
Image courtesy of Gleam
Features
Email templates
Transactional email
Email A/B testing
Verified actions for competitions
Built-in social media sharing
Social media curation
Embeddable social media galleries
Carousel galleries
Coupons
Popup rewards
Pricing
Access to all four apps: $97/month per site, $397/month per site for businesses, $997/month per site for premium access
Competitions app: $10/month for the Hobby plan, $49/month per site for the Pro plan, $149/month per site for the Business plan, $399/month per site for the Premium plan
Rewards app: $39/month per site for the Pro plan, $109/month per site for the Business plan, $399/month per site for the Premium plan
Galleries app: $39/month per site for the Pro plan, $149/month per site for the Business plan, $399/month per site for the Premium plan
Captures app: $39/month per site for the Pro plan, $109/month per site for the Business plan, $399/month per site for the Premium plan
What users say
"As someone who has both hosted and has entered giveaways with Gleam, I can tell you that it is extremely easy all around! From inputting links and having requirements checked to clicking and managing my personal entries into giveaways, Gleam takes all of the work and triple checking entries out of the equation! I feel that this program is responsible in a spike of social media contests (because it makes it so much easier for everyone involved!)."
– Gleam review by Ashleigh D.
"The fact that everyone can log in to all of their social media accounts in one place makes things very easy to use from a consumer perspective. From a business perspective, this is a great easy way to host different competitions and giveaways."
– Gleam review by Frank W.
"After only 15 minutes of setup time, I was able to run a contest that generated dozens of new customers and hundreds of social media actions."
– Gleam review by Jim S.
---
Top example of gamification in employee engagement
Employee engagement can be tricky, but gamifying the process can motivate employees to become more involved. Embedding badges and milestones into commonly used tools can encourage employees to perform specific tasks or interact with a tool in a certain way. A company may further incentivize employees by providing rewards for collecting the most badges or topping a leaderboard for performing certain tasks.
Bunchball
Bunchball is an enterprise gamification software that allows businesses to build tools and APIs that will engage their employees in ways that resonate with them. Bunchball can integrate with a variety of different programs that companies are already using in order to create a seamless experience. Consultants use psychological principles to help build tools using Bunchball that will work for each specific business.
Image courtesy of Bunchball
Features
Sales team motivation tools

Employee collaboration

Integrations with LMS tools
Customer loyalty
Online community engagement
Pricing
What users say
"The activity tracking, brand advocacy and targeting features are great along with customer loyalty cards. Email marketing is the need of the hour and is correctly addressed."
– Bunchball review by Nidhi S.
"The folks at Bunchball are terrific. They're extremely knowledgeable and helpful. The control panel is very easy to use and allowed us to quickly and efficiently post challenges to our site and change existing ones. The APIs were very easy to use. We were able to customize as we needed."
– Bunchball review by a user
"The user interface is easy to learn and understand. The capabilities of the software make it easy to integrate into other software products we use. The company does a great job of supporting you in your efforts, and the education they provide to get the most out of the software is very good."
– Bunchball review by a user
---
Top examples of gamification in sales
Sales is an inherently competitive profession, and sales gamification tools capitalize on the competitive nature of sales reps. By creating leaderboards, personalized public notifications or badges for specific actions, employers can motivate their sales teams to work toward their goals. By attaching incentives to high scores or for topping the leaderboard, sales team members will become more motivated and hopefully hold each other accountable for reaching their goals. Managers can also use this data to effectively coach individuals on their strengths and weaknesses.
Corsica
Corsica provides a gamification app for Salesforce that encourages employees to follow established business processes. Users can encourage engagement both internally and externally using Salesforce Communities. Users can create leaderboards and objectives to encourage employees to go above and beyond.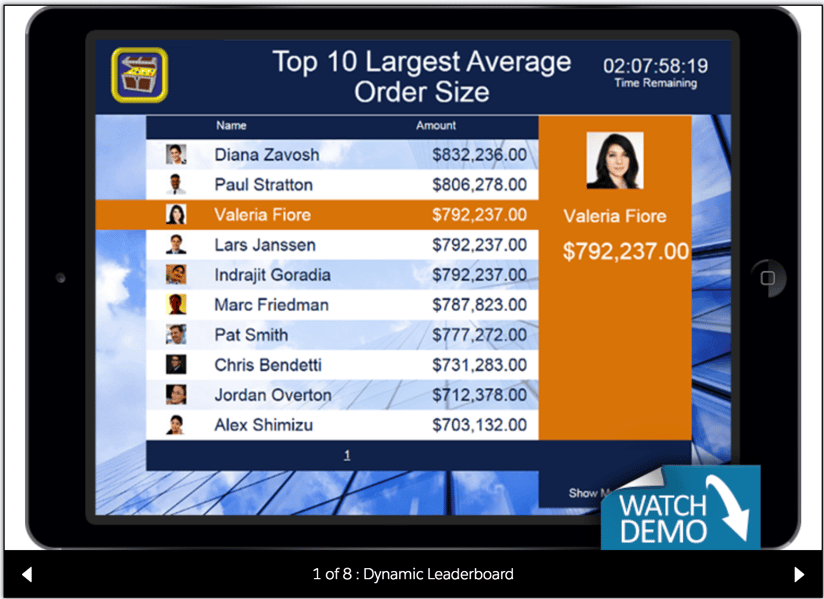 Image courtesy of Corsica
Features
Dynamic leaderboard

Sample objectives
Customizable badges
Individual profiles with badge progress
One-time and recurring objectives
Wizard to create objectives that target specific roles or individuals
Social integrations
Pricing
What users say
"I really like the gamification. It allows me and my team to compete with each other and have everyone know where everyone is at for the month."
– Corsica review by Aaron Q.
"EASY to use and work with! We all like using it!"
– Corsica review by a user
"I really like the user interface and how user friendly it is."
– Corsica review by a user
Ambition
Ambition is a tool built to motivate sales teams by creating scorecards and live televisions showing progress. Sales managers can also organize their teams, coach individual reps and monitor progress over time.
Image courtesy of Ambition
Features
Dashboards

Scorecards

Gamification

Coaching

Goals

TVs
Pricing
What users say
"Increase in competition across the team. Ambition sold us on the platform being a culture platform, not gamification or sales tracking. I have found that to be the case for my team as competition among the group has increased in a fun and exciting way. People are more inclined to hit the phones as soon as they get into the office so they can start getting their numbers on the board."
– Ambition review by Wes B.
"Over a three-month period, we saw a 45% increase in bottom line margin, using Ambition's platform to stem engagement and growth. The simple layout, ease of administration and competition creation lends itself to focusing on what metrics really drive your business and creating incentives off of those metrics."
– Ambition review by Andrew L.
"I love the ability to have real time stats on what my guys are doing. All I've got to do is take a quick look at my TV screen and have instant knowledge of who is hustling today. Our business is all about right now and hammering the phones. Ambition is critical to our success."
– Ambition review by Ashley H.
Hoopla
Hoopla is an employee engagement tool built around sales teams. With the ability to stream employee achievements to TVs around the office and a mobile app to stay connected with other employees, Hoopla provides a variety of customizable tools for any sales team.
Image courtesy of Hoopla
Features
TV streaming

Mobile apps

Integration with a variety of tools

Customization

Achievement highlight reels

Social media integration
Pricing
What users say
"Hoopla allows you to celebrate victories publicly among the team. Naturally, it also creates a competitive atmosphere. Sales reps always know where they stand on the leaderboards and how far they are from increasing their company/team ranking. These are all valuable tools a leader and team can use to pump up a sales floor and create natural flow and energy."
– Hoopla review by Zach P.
"I love how you can have a song attached to a closed deal, or opportunity created, and it's super easy to update so you can let your colleagues know who's closing or building business."
– Hoopla review by Mike E.
"We have offices across three states, the ability to see stats at any given time is great. It really gets our sales force going, especially when a lot of people are closing deals!"
– Hoopla review by Janie F.
LevelEleven
LevelEleven is a sales management system that used gamification to motivate and engage teams through personalized scorecards, goal management and coaching. Users can create leaderboards that are updated in real time and reflect the achievements of individual contributors and entire teams.
Image courtesy of LevelEleven
Features
Real-time leaderboards
Employee recognition triggers
Customization
Manager and employee scorecards
Data and analytics
Sales coaching
Templates
Sales reports
Pricing
What users say
"The ease of creating contests is one of the best selling points for this contest. When we did our first demo I was actually controlling the mouse and my boss was remotely viewing. We talked a few days later in person and she told me that she didn't realize I was driving because of how fluid the demo was. Gives you an idea of how easy the interface is to understand."
– LevelEleven review by Matthew M.
"We added the LevelEleven product to our Salesforce CRM with the goal of incentivizing our reps and account managers to complete various actions. The tool was extremely helpful when we rolled out updates in Salesforce or other technology platforms. We were able to easily build monthly contests and tailor them to specific groups within our sales team."
– LevelEleven review by Stan P.
"The overall look and feel of LevelEleven is fantastic. It's an awesome tool to keep the Sales team motivated and spur friendly competition among different teams within the office. Further, the ease of accessibility is great. Changing around team goals, individual goals and other things like adding songs and GIFs is incredibly easy."
– LevelEleven review by James D.
---
Next steps with gamification software in 2019
Gamification is a great way to motivate and engage both employees and customers. By providing incentives and a sense of accomplishment, users can be encouraged to do almost anything. Humans are social creatures, and competition can drive them to great heights.
To learn more about sales funnels, check out What Is a Sales Funnel? (+3 Common Sales Funnel Challenges).