Freelancing is a growing trend: for writers, accountants, and social media managers alike.
Another industry that's filling up with freelancers? Proofreading. And why shouldn't it? Anyone with grammar and style skills, plus writing or editing experience can be a successful proofreader.
Let's talk more about freelance proofreading, including what it really is, how you can market yourself, and ways to find steady work.
What is freelance proofreading?
Freelance proofreading is an independent profession like any other freelance role. Freelance proofreaders go through written copy and make edits or suggestions that are compatible with the publication type.
How much does a freelance proofreader earn?
According to job website Indeed, the average proofreader earns $18.74/hr in the United States, though some salaries have been reported as high as $51.85.hr.
For example, someone freelance proofreading for a newspaper would make sure the articles are written according to AP style, or other journalistic standards. While someone proofreading a college admissions essay would make sure the essay was formatted correctly and had proper essay structure.
The industry you're proofreading for has a big impact on what your day-to-day will look like.
Market yourself as a freelance proofreader
The first step in becoming a freelance proofreader is ensuring you have your resume in order. Whether you've helped edit high school essays through a volunteer program, or you're an English major who has recently graduated, you'll need a resume that shows you're adept with the written word.
Tip: If you want to be sure you proofread faster and without error, consider investing in an AI Writing Assistant software.
One of the best ways to do this is to have samples of your own to show prospective clients. Consider creating an online portfolio (just like a photographer or videographer) that offers up examples of your writing. Clean and crisp writing with few to no grammar errors is a great way to show people you know what you're doing.
Need help getting started from the ground up? That's okay! Learn how to write a resume, and how to write a cover letter. Yes, even freelance roles will sometimes ask you to write a cover letter.
Find freelance proofreading jobs
The easiest way to find freelance proofreading jobs is to look on a job board. You can look for the job title of "proofreader" and then denote that you want freelancer status. If you don't find much, you may want to reach out to companies that don't list the job as freelance and see if they'd be willing to work something out.
Freelance employees typically don't receive benefits, which actually makes it cheaper for companies to hire you than to hire full-time employees.
Tip: Check out the difference between an independent contractor and employees to learn what other distinctions make freelancers stand apart from full-time workers.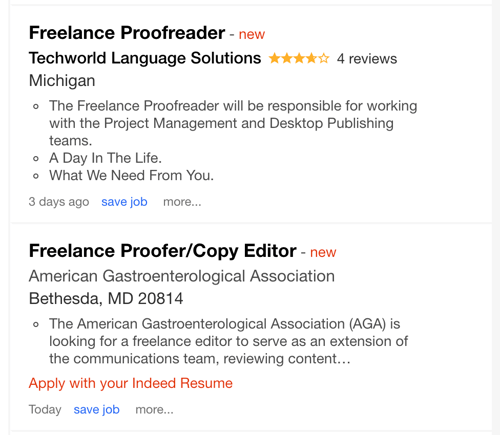 Listings for freelance proofreaders on Indeed
Something that's very important to all freelance professionals is repeating customers. You want to make sure that people come back to you over and over again. This is true of proofreaders as well. If a company is hiring a proofreader once, it's very likely they have content that needs to be looked over year round.
In order to be sure you continue to get hired by repeating clients, consider the following freelancer best practices:
Always complete work by predetermined, agreed-upon deadlines
Be in communication with your clients if circumstances affect your quality work or your ability to complete that work on time (i.e. a family emergency or equipment failure)
Look over any freelance contracts before signing to ensure there are no surprises or misunderstandings
Invoice clients for agreed-upon rates and let them know in advance should circumstances dictate a change (for example, if a client is paying you one flat rate for the project, but the project turned out to be much more demanding than you anticipated, reach out to your client to communicate that)
Remain professional in communications and refrain from contacting clients on personal numbers or emails during the evenings or weekends (for example, sending an email to their work address would be okay, but sending a text to their mobile number would not)
The proof is in the pudding
Freelance proofreaders are a necessity in so many industries. There are many companies out there who can't fit it into their budget to hire a full-time editor but definitely need that additional pair of trained eyes looking over brochures, pamphlets, essays, presentations, and more.
The work is definitely out there, and because you've read this article, you know how to find it and make the most of it.
Learn how to organize your freelance work with creative portfolio management.