Freelancers are like the hunter gatherers of graphic design.
Yes, they've mastered the principles of design, and they know how to use the right programs. But unlike working in house or at an agency, freelance graphic designers are not permanently employed by one person and surrounded by others. Instead, they have to hunt down and then maintain a client base all on their own.
Venturing into a job as a freelance graphic designer
Working as a freelance graphic designer sure sounds dreamy: picking your work hours, choosing your clients, and working from home. Why aren't we all freelancers?
What is a freelance graphic designer?
A freelance graphic designer is an independent graphic designer that does not work for one particular company. Instead, they can work on multiple projects for multiple clients simultaneously. Freelance graphic designers are responsible for writing their own contracts, establishing their rates, setting their work hours, and finding their clients.
Being a freelance graphic designer isn't just about being a graphic designer. As you start off on your own, you're going to have to be a salesperson, a marketer, a bookkeeper, and so much more. It takes hard work, time management, and some serious networking.
Here are some things to do as you're beginning this new journey.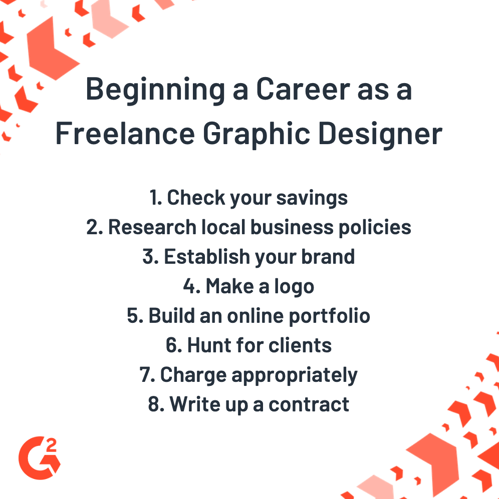 Let's get into a little more detail.
Check your savings
Your safest bet isn't going to be diving head first into this. Don't quit the job you have now unless you have a very hefty savings account. Keep in mind that, as a freelancer, you'll be on your own when it comes to finding work. And there will be times where you won't find work.
While pursuing a new career is exciting, it's important to consider realities like financial stability. This gig may be something to start part-time until you feel like you're really on your feet.
Make it official
If you're really serious about doing this, we need to talk business. I mean it.
Do some research and learn about whether or not you need to register your business. It may be as easy as registering your business name with local governments and the state.
In a full-time office job, employees are provided with computers, printers, and other necessary materials. Freelancers have to use their own equipment to get the job done. This is one of the many reasons that you should think about meeting with a tax accountant or studying up on tax laws for freelancers. There's an abundance of things to consider when it comes to filing your taxes, and you'll want to make sure you're not missing anything.
Small businesses should be able to keep track of their finances, even if a small business is just you. If you're bouncing around between clients and projects, it's important to be able to keep track of all of that, financially. Use folders, use tabs, use colors, or just keep really neat with some super-helpful small business accounting software.
Have an existential crisis (and develop your brand)
"Who am I?"
Having an existential crisis, known in the professional world as developing your brand, is something you'll have to begin doing as you publicize your services.
What do you have to offer? What are your values? What is the meaning of life? If asking these questions causes you to have a mental breakdown, that's okay. It's normal.
Make a logo
This isn't essential, but it's going to come in handy, trust me. Logos go everywhere: business cards, stationary, social media, invoices, flyers, promotional items. Creating a unique logo is a great place to kick off your freelance career because it allows you to become recognizable in a way besides just your name. Your logo can be your name, your initials, or an icon.
If you're having trouble organizing all of your brilliant thoughts and ideas regarding your logo, remember to slow down and take a look at the logo design process.
Creating a logo isn't just great for branding, it's another way to show clients what you can do with your graphic design skills.
Build an online portfolio
Having an online presence is priceless. Sharing your online portfolio on social media opens doors that are likely impossible to open without access to the internet. While a printed portfolio is great to bring to an interview, building a graphic design portfolio online allows for more people to connect with you and view your work.
Your portfolio isn't something that should be slapped together overnight. It's going to take time and careful decision-making to optimize it for your viewers. A portfolio really is its own creative project, and should be treated as such. Add in a little personal statement and your social media so that your readers can connect with you on multiple platforms.
Founder and CEO of Klientboost Jonathan Dane agrees that an online resume is essential for a freelance graphic designer:
"The best tip for a freelance graphic designer looking for more work, a higher level of clientele, or even someone looking to transition to agency work, is to keep an updated and accurate portfolio of their work. There's two parts to this. First: stay up to date with current design trends and make sure your portfolio is stocked with the appropriate examples to impress whomever you're showing it to. Second: Make sure you keep yourself challenged — if you aren't currently working on any project to stock your portfolio, make some up to impress potential clients and show off your creativity and ingenuity."
- @johnathandane, KlientBoost
Hunt for clients
You can't really call yourself a freelance graphic designer if you don't have any clients to design for. So, where are they supposed to come from?
Online
The Internet is a magical place where you can make connections around the world in a split second. Here are a few thoughts on how to make those connections
Social media
Hiring managers use LinkedIn to search for candidates. Startup companies may be looking for someone to make them a new logo, or a local business may want their website redesigned. Keep your LinkedIn up-to-date, link your portfolio, and list relevant skills. If someone lands on your page, you're going to want to make a good impression.
But don't just use LinkedIn - use them all. There's no such thing as putting yourself out there too much!
Make a work-related Facebook, Twitter, and Instagram. These platforms make it easy to learn who the influencers in the graphic design industry are and can help you keep up with the latest trends.
There are actually some social platforms made specifically for designers, like Behance or Dribbble. Hop on those and follow some design influencers, learn new techniques, ask for advice, display your work, and maybe run into an employer.
Freelance sites
Finding clients as a freelancer isn't the easiest thing to do in person. Thankfully, some people were smart enough to put together a few freelance platforms made just for freelancers and clients to communicate and work with one another.
Real life
We'd all love to stay hidden in the corners of our room on our laptops retweeting and DMing, but face to face contact is actually pretty effective, too. Surprising!
Remember how we talked about putting your logo on a business card?
Carry that business card everywhere and give it to people you think may need your help. Go to conferences and conventions for graphic designers and freelancers, art galleries, and meetings. Think outside of the box, too. Who's your client? See if there are meetings for people like local business owners who may need a logo or up-and-coming musicians who need some album art designed.
It's much more memorable when you can hand a person something physical as opposed to sending an email that could easily be deleted or creating a social media post that can be ignored. It would be kind of weird if someone said "no thank you" to a business card.
Related: Take a peek at the 8 graphic design trends to look for in 2020.
Charge appropriately
You don't ever want to undersell your work, and you don't ever want to work for free. You've worked hard to get to where you are and the designs you create are likely going to be used for a while. Establish a minimum amount for each type of project you think you'll end up doing (logo design, brochure design, etc).
Content marketer Adeel Shabir offers an additional tip:
"Charge them a little lower than your competitors. Once the orders start coming, you can increase your services."
- @adeelshabi, Gigworker
TIP: Don't price your work by the time you've spent on it. You'll be picking up the pace as you go, and some projects may be worth a lot more than just the time you spend on them.
Write up a contract
When you break it down, freelance graphic design should be an exchange of goods and services for money. You're going to want to make sure that's established right away. Writing a graphic design contract is important when it comes to protecting yourself and your work. Make sure you also outline the expectations for each side involved.
TIP: Make sure to include the amount of revisions you'll permit for your design. You don't want to be going in circles with your client for an eternity.
Time for takeoff
Knowing how to design is a great skill to have, but it's not going to cut it here. Relationship building, time management, and communication are not suggested, but required skills in order to become a successful freelance graphic designer. You might make a few mistakes, but freelancing is a lot of learning as you go. You've got this!
Still not sure if you're ready to take the leap? Learn more about graphic design skills to make sure you have the basics down.