Marketing automation software is improving the way marketers strategize and implement their marketing campaigns.
With 80 percent of marketing automation users seeing an increase in the number of leads, and 77 percent seeing an increase in conversions, the benefits are undeniable. (Invesp)
What is marketing automation?

Marketing automation software reduces the time spent on marketing tasks by automating processes such as email marketing, lead generation and sales engagement. Marketing automation improves close rates with timely and relevant engagement, and measures campaigns to optimize, justify and prioritize initiatives. Marketing automation software also acts as a central database for all marketers to collaborate, facilitating seamless CRM software integration.
The products listed above span two categories on G2. Categories sampled include marketing automation software and email marketing software. These products alone have more than 14,800 validated user reviews on G2 as of March 6, 2019. They only represent a small portion of the more than 240 marketing automation offerings listed on our platform. Whenever possible, the products are ranked by user satisfaction score from an in-depth analysis of the best marketing automation software.

The list we've outlined below includes our top email marketing and marketing automation software with free offerings. They may only support one user or one project, but they're truly free offerings. Scaling, however, will often require full investment.

For each product we provide:
An overview
Highlighted features
Free and paid options details
For products with G2 verified user reviews, we have included:
G2 star rating

Reviews highlighting what users like and dislike

User recommendations for these considering the product
---
Best free marketing automation software
Product reviews and G2 star ratings were updated as of March 14, 2019
1.
Hubspot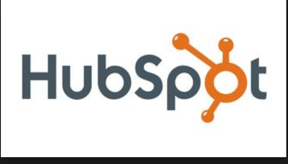 Product Name: HubSpot
G2 Star Rating: 4.4 out of 5.0 stars
Total Number of Reviews: 3,620
Overview

HubSpot offers a variety of tools that are completely free for businesses. These tools include CRM and marketing, sales and service hubs. These all include basic versions that are completely free.

HubSpot helps track and measure marketing and sales analytics that can help your marketing and sales teams with cold calls, email blasting, traditional advertising, and outbound and inbound marketing.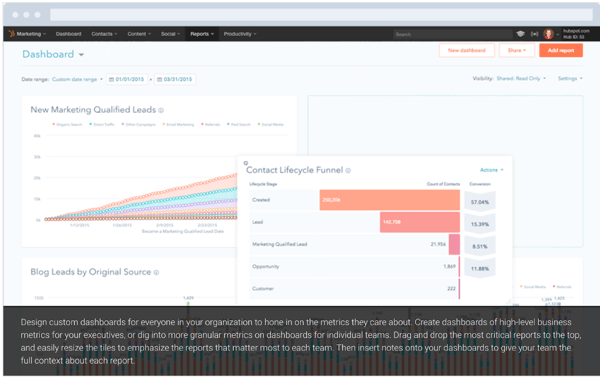 Image courtesy of HubSpot
Free option
HubSpot's free version of its marketing hub includes contact management, ad management, contact activity, contact and company insights, and much more.
Paid option
Starter: $50/month – Includes all features in the free version plus email marketing, marketing lists and mobile optimization.

Professional: $800/month – Includes blog and content creation tools, SEO and content strategy, custom reporting, A/B testing and more.

Enterprise: $3,200/month – Includes custom event reporting, YouTube integration, single sign-on, content management system (CMS) membership and more.
Features


Lead workflows
Collected forms
Contact activity for up to seven days
Contact management features
Insights into company and contacts

Dashboard for lead analytics
---
2. Drip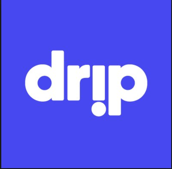 Product Name: Drip
G2 Crowd Star Rating: 4.4 out of 5.0 stars
Total Number of Reviews:221
Overview

Drip offers a full set of email and multichannel automated marketing tools. Its free marketing automation tool includes email builders, automation workflows and mass email marketing campaigns.

In addition to tools for marketing automation, Drip also offers personalization and tracking tools that help marketers bring more relevant content to their audiences.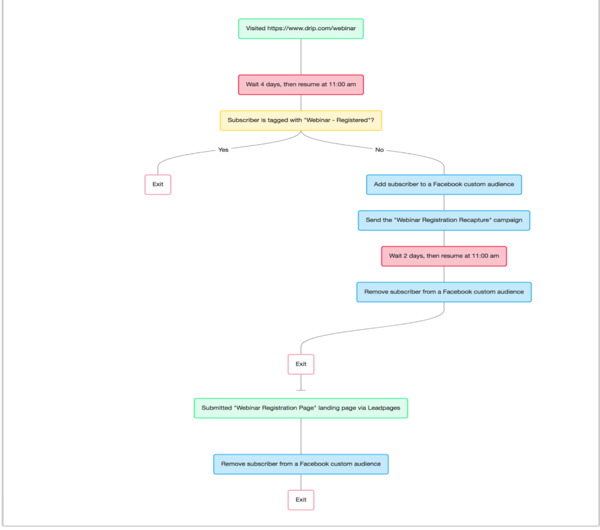 Image courtesy of Drip
Free option
Unlimited emails
Up to 100 subscribers
Paid option
Basic: $49/month – Includes up 2,500 subscribers, unlimited emails and 24/7 chat and email support
Pro: $122/month – Includes up 5,000 subscribers, unlimited emails and 24/7 chat and email support
Enterprise: Price varies – Includes 5,000-plus subscribers, unlimited emails and 24/7 chat and email support
Features
Email builders
Automation workflows
Multi-channel marketing
Email campaigns
Content customization
Segmentation
---
3. Mailchimp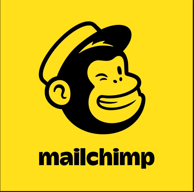 Product Name: Mailchimp
G2 Star Rating: 4.3 out of 5.0 stars
Total Number of Reviews: 10,317
Overview
Mailchimp is an email marketing automation tool that offers users a free version of its platform. The free version allows users to test the waters with email campaigns and a full set of marketing automation tools.

Mailchimp's marketing automation tools help users reach their customers with product recommendations, welcome emails, order notifications and product follow-up. This boosts both sales and customer engagement.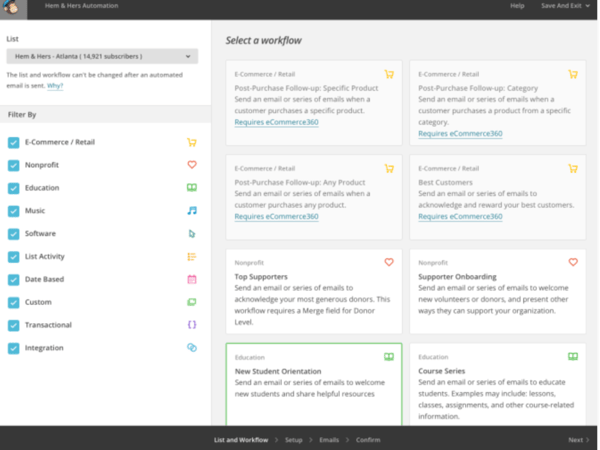 Image courtesy of Mailchimp
Free option
Up to 2,000 subscribers
12,000 emails per month
Automatic email and ad triggers
Built-in sign-up forms
Newsletter templates
Performance reporting and analytics
No expiring trial, contract or payment information required
Paid option
Grow: $10/month – For marketing teams building out more complex email campaigns. This allows for unlimited subscribers and emails per month. With features like look-alive and audience finder, this allows for more targeted email distribution.
Pro, $199/month – For enterprise-level marketing teams with massive email campaigns. All the features of Grow, plus premium customer support, advanced customer segmentation, comparative reports and multivariate testing.
Features
Automated email responses
A/B testing
Automated drip marketing campaigns
Automated lead scoring
Automated workflow capability
Custom reporting
---
4.
Zoho Campaigns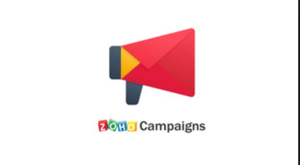 Product Name: Zoho Campaigns
G2 Star Rating: 4.2 out of 5.0 stars
Total Number of Reviews: 232
Overview
Zoho Campaigns is another marketing automation software that helps users with their email marketing campaigns. Its forever free plan allows users to send up to 12,000 emails a month up to 2,000 subscribers. This is a great offering for users who want to see the benefits of marketing automation before diving in and committing to a paid pricing plan.
One of the great tools that it offers is a workflow tool that helps with enhanced audience targeting and personalization. With this tool you can segment mailing lists based on the information you have about your contacts, and engaging them with relevant content.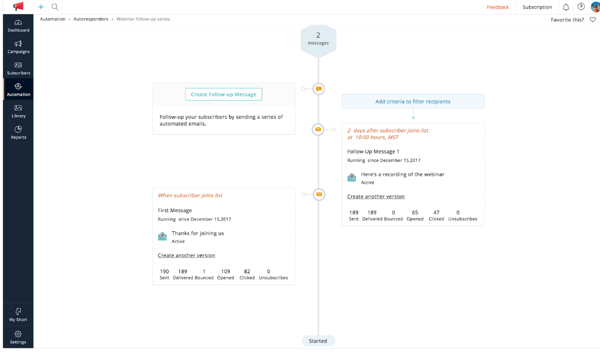 Image courtesy of Zoho Campaigns
Free option
12,000 emails per month

Email newsletters

Mailing list management

Email marketing

One social network user account
Paid option
Email-based: The business selects a range of 1–500 for $3/month to 95,000–100,000 for $200/month based on their send rate and preferences. The user has most campaign management and tracking features.
Subscriber-based – The business selects a range of 1–500 for $5/month to $95,000–100,000 for $350/month based on their subscriber amount. This is the most robust option.
Pay-as-you-go – The business selects email credits of 250 for $6/month up to 100,000 for $750/month. Most features are unlocked. However, there are no marketing automation tools available with this plan.
Features
Email newsletters
Mailing list management
Email marketing
Marketing automation
Social media marketing
Campaign tracking
---
5.
SendinBlue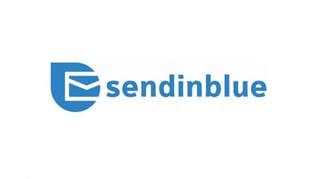 Product Name: SendinBlue
G2 Star Rating: 4.3 out of 5.0 stars
Total Number of Reviews: 341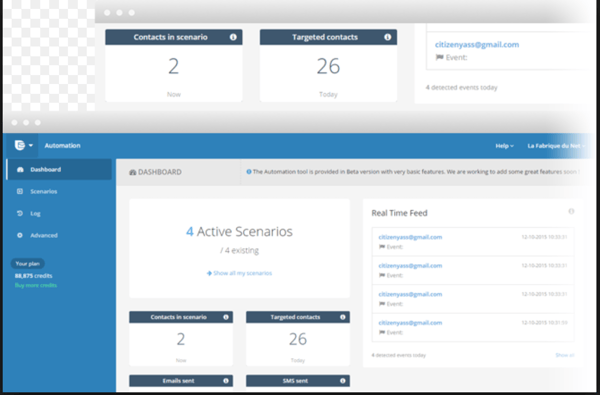 Image courtesy of SendinBlue
Overview
SendinBlue is a great marketing automation software for users that are just getting started in marketing automation. Its free plan allows up to 300 emails per day and phone and email support to help you get started.
Similar to Zoho Campaigns, SendinBlue allows users to build automation workflows that are customizable based on the use case. Users can automated lead generation, email marketing,and much more.
Free option
Unlimited contacts
300 emails/day
Phone & email support
Responsive/mobile-friendly & HTML design tools
Real-time reporting
Transactional emails included
Advanced contact manager & sign-up forms
API access
Paid option
Micro: $25/month – Send up to 40,000 emails monthly (plus all features from free option)
Bronze: $39/month – Send up to 60,000 emails monthly (plus all features from free option)
Silver: $66/month – Send up to 120,000 emails monthly (plus all features from free option)
Gold: $173/month – Send up to 350,000 emails monthly (plus all features from free option)
Features
Personalized email creation
Audience targeting
Marketing automation
Performance monitoring
CRM integration
---
6.
Sendpulse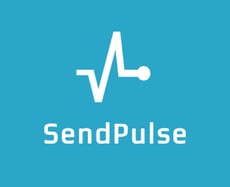 Product Name: SendPulse
G2 Star Rating: 4.7 out of 5.0 stars
Total Number of Reviews: 68
Overview
SendPulse is a great marketing automation software for email marketers. Its free version gives users up to 2,500 subscribers and allows for A/B testing on your email marketing campaigns. Users can upgrade to have multiple automation channels, such as automated SMS and web push notifications.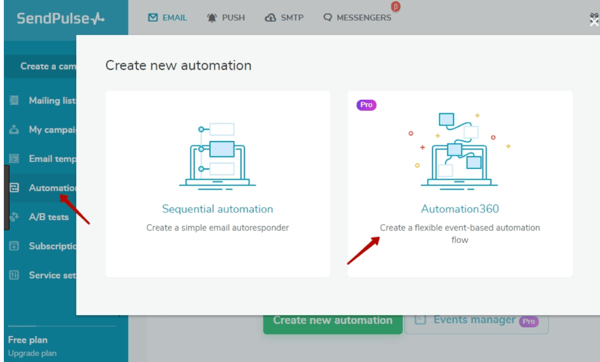 Image courtesy of SendPulse
Free option
Email automation
Email templates
A/B testing
Paid option
Pro 3,000: $29/month – Send unlimited emails to up to 3,000 subscribers
Pro 50,000: $191/month – Send unlimited emails to up to 50,000 subscribers
Pro 20,000: $524/month – Send unlimited emails to up to 200,000 subscribers
Features
Email automation

Conversion count

API and webhooks

Visual statistics

Flowchart automation
---
7.
VBout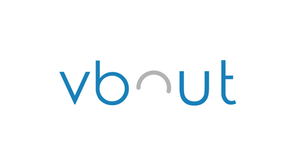 Product Name: Vbout
G2 Star Rating: 4.8 out of 5.0 stars
Total Number of Reviews: 65
Overview
VBout is a great marketing automation software for users that want more than just email automation. Aside from automation tools, VBout also offers A/B testing, advanced email analytics, social media management and customer journey analytics. All of these features are included in the free 14-day trial option.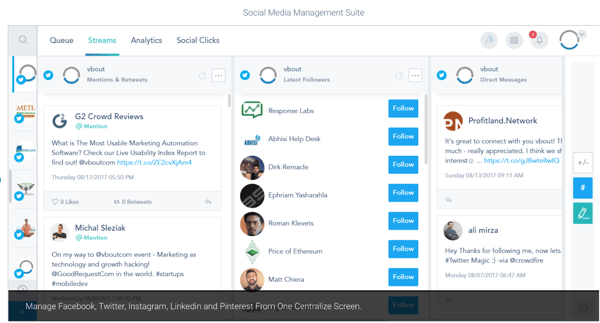 Image courtesy of Vbout
Free 14 day trial option
Unlimited contacts

Up to three social media management profiles

Up to three landing page options

Up to three customer journeys

Powerful marketing automation and analytics

Up to 1,000 emails per month
Paid option
Basic: $49.95/month – All of the features of a free trial
Lite: $99.95/month – 10,000 emails, 10 customer journeys, 10 social media profiles and 10 landing pages
Pro: $299.95/month – 100,000 emails, unlimited customer journeys, 30 social media profiles and unlimited landing pages
Ultimate, $299.95/month – 200,000 emails, unlimited everything
Features
Email marketing
Template management
Contact lists management
List Integration
Dynamic segments
Email automation
A/B testing
---
8.
Mautic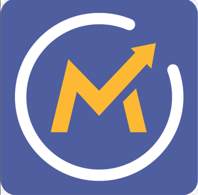 Product Name: Mautic
G2 Star Rating: 3.9 out of 5.0 stars
Total number of reviews: 25
Overview
Mautic is an open-source marketing automation software. It has a self-hosted software on its website which is completely free to use and comes with features such as 5,000 contacts and 1,000 emails per day.

Mautic's open-source marketing automation gives users the capability to customize workflows based on their needs. Their goal is simple: "You can finally use a marketing automation platform the way your business runs instead of changing your business to fit a piece of software."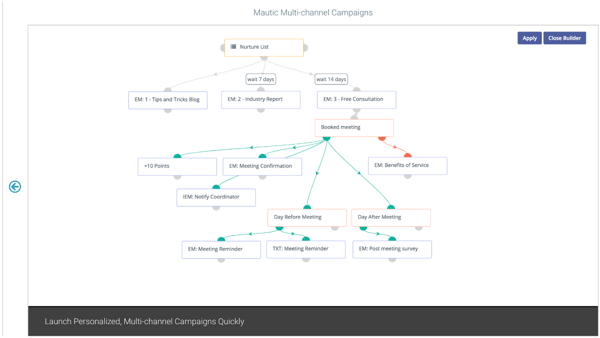 Image courtesy of Mautic
Free option
1 user
5,000 contacts
1,000 emails per day
Partial API access
Limited website tracking
Paid option
Request pricing quotes on Mautic
Features
Email marketing
Website tracking
Landing pages and forms
Automated campaigns
Lead scoring
Third-party integrations
Contact management
---
How to choose the right marketing automation software


Whether you're mapping out your next email campaign or producing captivating web content, marketing automation software can help you along the way.
Before committing to a specific marketing automation software, make sure to evaluate your business needs and take advantage of some free automation tools in order to see what works best.
Ready to learn more? Check out our article on email marketing best practices to elevate your next campaign.
* Please note: Reviews may have been edited for spelling and grammar.
**Editor's note: This post was updated on May 14, 2019.