Who hasn't watched an episode of a house flipping or home renovation TV show and immediately wanted to find a contractor to help reimagine their indoor and outdoor living spaces?
For any landscape project, plans are a must. Pen and pencil can only get you so far — landscape design software is specifically developed to help homeowners take their ideas and turn them into reality.
Landscape design software is helpful for two reasons: It streamlines the process of drafting and collaborating on designs and facilitates the accurate representation of outdoor spaces.
Regardless of whether you are a DIY homeowner who wants to renovate their backyard, or a professional landscape architect, designer or contractor, landscape design solutions help you predict costs, digitize plans and integrate with other free CAD software and BIM software.
The majority of the well-known landscape design systems out there — for example, VizTerra, or Idea Spectrum's entire spectrum (heh) of solutions — come with hefty price tags. For those who don't work in a landscape agency or who are casually dabbling in landscape projects, those high prices outweigh any benefits that individual software can provide. Thankfully, some free programs do exist. And best of all, many of those free programs come either in mobile application form or are browser-based, which is convenient when it comes to printing out or electronically sharing landscape design plans.
Additionally, free landscape design tools offer similar — though much more limited — functionality as professional landscape design software. An outstanding feature that crops up in both free and paid versions is access to a library or database of materials, hardscapes and plants. In addition, a few of the free landscape design solutions featured in the list below even provide access to materials producers and/or networks of landscapers and contractors.
TIP: Looking for more gardening and landscape guides? Learn how to make a DIY greenhouse with the best free greenhouse plans in 2019.
Most of the free landscape design tools outlined below are geared toward the homeowner or for those who will use the software in a non-commercial capacity.
These products alone have well over 270 validated user reviews on G2 Crowd as of July 25, 2018, and only represent a small portion of the 40-plus landscape design software offerings listed on our platform. Whenever possible, the products are ranked by user satisfaction score.
For each product we provide:
An overview
Highlighted features
Free and paid options details
For products with G2 Crowd verified user reviews, we have included:
G2 Crowd star rating

Reviews highlighting what users like and dislike

User recommendations for these considering the product
The list we've outlined here includes any landscape design solution with an available free offering. It should be noted that this does not include products that are only free on a temporary basis, such as limited trial versions for new users. They may only support one user or one project, but they're truly free offerings. Scaling, however, will often require full investments.
---
Best free landscape design software
Product reviews and G2 Crowd star ratings were updated as of July 25, 2018
1. SketchUp Free
Product Name: SketchUp
G2 Crowd Star Rating: 4.4 out of 5 stars
Total Number of Reviews: 267
Overview
SketchUp provides architects, designers, builders and engineers the tools to draft, model and render their ideas into reality. SketchUp Free is the free, web-based version of SketchUp Pro. With SketchUp Free, users can draw in 3D on any web browser. Additionally, the solution enables the sharing and collaboration of SketchUp free files with CAD project management tool Trimble Connect, a project management and collaboration solution tailored for the construction industry. Landscape designers can leverage SketchUp Free to turn their initial models into a dimension- and context-full design files.
Free option
SketchUp free is a web-browser based version of the modeling tool.

SketchUp for Schools is also free, but can only be downloaded via the G Suite for Education platform and its files can only be stored on Google Drive.
Paid option
SketchUp Pro is the desktop version of the tool; it's more powerful, customizable and shareable. The non-expiring license costs $695, but there is a free version you can trial.
Features
3D modeling
Rendering
Editing
Support for Trimble Connect
Support for most web browsers and operating systems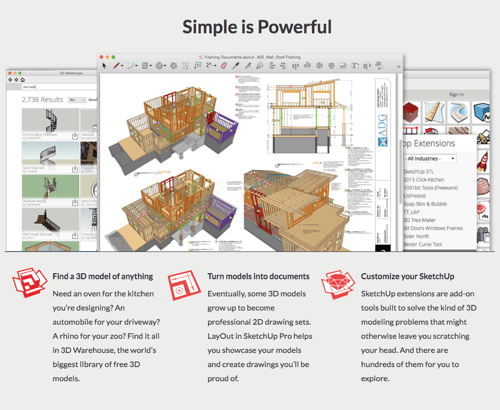 Image courtesy of SketchUp
---
Product Name: PRO Landscape
G2 Crowd Star Rating: 3.3 out of 5 stars
Total Number of Reviews: 4
Overview
PRO Landscape design software provides architects with the photo imaging, CAD, 3D rendering, and customer proposal drafting tools that fulfill the requirements for landscape design projects. PRO Landscape Home is the "lite," non-commercial version of PRO Landscape, designed for homeowners. PRO Landscape Home is a mobile application that can be used on all Apple, Android and Amazon devices. While PRO Landscape Companion App is a free app, it's only free for those who already purchased the professional landscape design software. PRO Landscape Home, on the other hand, offers almost the same features as the professional version, except the ability to edit hardscapes, create customer proposals and create 3D files.
Free option
PRO Landscape Home is the free, "lite" version of PRO Landscape.

The Companion App is free to download for both iOS and Android. However, it's only free for those who have already downloaded PRO Landscape.
Paid option
PRO Landscape: $1,496

Educational pricing is available for PRO Landscape, on a custom-quote basis
Features
Creation of photo imaging and CAD designs

Object image library

Plant database

"Find a Professional" lookup feature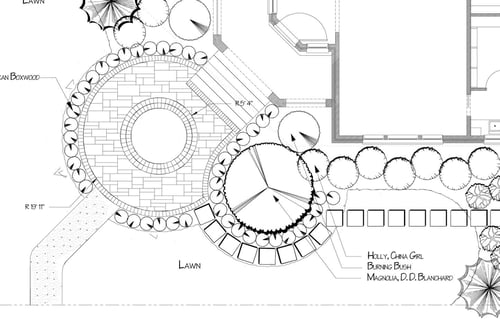 Image courtesy of PRO Landscape

---
3. Kerkythea
Product Name: Solid Iris Kerkythea
G2 Crowd Star Rating: 4.2 out of 5 stars
Total Number of Reviews: 3
Overview
Kerkythea is a free, open-source rendering software that provides a full staging application for users to render architectural models and illustrations. It was developed as a powerful plug-in for SketchUp. Kerkythea can be used by both architectural professionals and educational institutes, as users do not need to spend any money on software licensing.
Free option
Paid option
Features
Provides a singular interface for rendering

Global illumination rendering engine

Provides a repository of materials, plants, environment images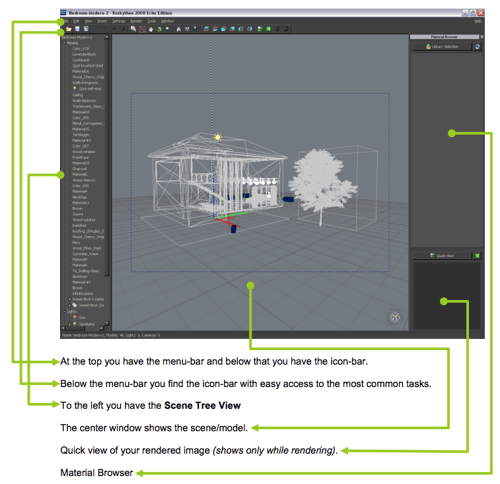 Image courtesy of Kerkythea
---
4. Showoff.com the Visualizer
Product Name: The Visualizer
G2 Crowd Star Rating: 4.0 out of 5 stars
Total Number of Reviews: 1
Overview
Showoff.com is a combination of a real estate MLS marketplace and blog that's equipped with design tips and layouts. The site offers an online service called the Visualizer that helps you design your dream house and garden, and then offer that design up to the Showoff.com community for tips and consultation. The Visualizer is a free software application that can be installed on Windows operating systems.
Free option
Paid option
Features
Database of elements, photos, setups and materials

Community forum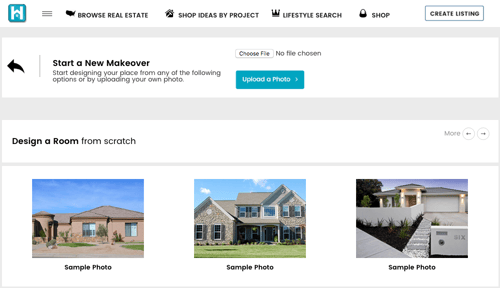 Image courtesy of Showoff.com
---
5. Lands Design
Product Name: Lands Design
G2 Crowd Star Rating: N/A
Overview
Lands Design is a free software that releases a new beta version every 90 days, taking in feedback and updating features and fixing errors. Lands Design is a landscaping design plugin for 3D modelling tool Rhino. With Lands Design, landscape designers can create realistic 3D images, virtual tours to better represent the final landscape to their clients, and draw on large libraries of plants, trees, and urban furniture.
Free option
Paid option
No paid option is available
Features
Plant species database

Freeform landscape modelling

Virtual tour creator

Editing tool

AutoCAD file support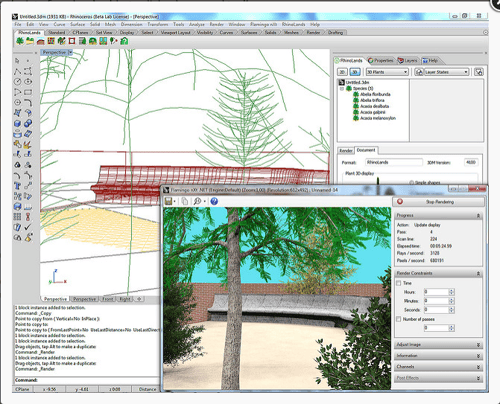 Image courtesy of Lands End
---
6. Arborgold
Product Name: Arborgold
G2 Crowd Star Rating: N/A
Overview
Arborgold is a comprehensive customer management, job scheduling and business management solution for service-based companies. Arborgold recently rolled out a free online landscape design tool that enables the creation of 2D landscape designs to present to clients. Arborgold's free tool can be used by both professionals and homeowners to create and save designs. For professionals, those designs can be attached to itemized landscape proposals.
Free option
Paid option
Arborgold's paid options go beyond simple landscape design solutions; they are comprehensive service/business management solutions

Sprout: $59/month

Entrepreneur: $99/month

Premium: $149/month

Ultimate: $179/month
Features
Job site illustrations

Library of plants, lighting, and hardscape

Import of photos and geo-satellite images

Freehand drawing
---
7. Plan-a-Garden
Product Name: Plan-a-Garden
G2 Crowd Star Rating: N/A
Overview
Plan-a-Garden is Better Homes & Garden's online design-planning tool, tailored for homeowners and DIY home designers. Plan-a-Garden helps you visualize your remodeling plans before handing off those designs to a professional contractor.
Free option
Paid option
Features
Database of plants and hardscapes
---
8. Garden Planner
Product Name: Garden Planner
G2 Crowd Star Rating: 4.8 out of 5 stars
Overview
Garden Planner is an easy-to-use garden and landscape design tool. It provides users with a drag-and-drop interface that helps you arrange the visual elements of your design. Garden Planner's designing tool is flexible and supports a 3D virtual tour walkaround.
Free option
Free license exists for charities, nonprofits and schools.
Paid option
Features
Library of plants and object symbols

Drag-and-drop interface

Allows for garden notes

Free future updates
---
9. iScape App
Product Name: iScape
G2 Crowd Star Rating: N/A
Overview
iScape is a landscape design application that helps homeowners, professionals and product retailers design and collaborate on outdoor living space design. With iScape, you can accurately visualize the end product before embarking on any landscape design projects. iScape is currently only available via iOS app.
Free option
Free iOS app, may require in-app purchases.
Paid option
Features
Easy-to-use design tools

Sharing capabilities

Image, plant and materials database

Provides availability of inventory through iScape partners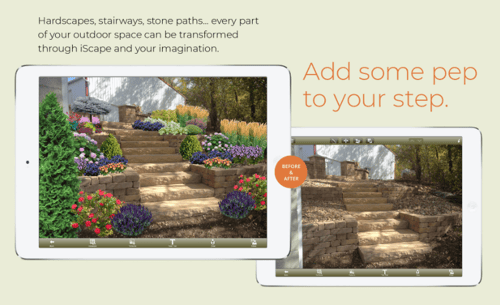 Image courtesy of iScape App
---
10. DreamPlan Home Design
Product Name: DreamPlan Home Design
G2 Crowd Star Rating: N/A
Overview
DreamPlan Home Design is a home and landscape design software that helps homeowners and professionals visualize completed designs prior to redesign. DreamPlan supports designs for home and floor plans, landscape and garden plans and interior room design plans. DreamPlan provides users with an easy-to-use interface that makes it simple for anyone at any skill level to draft designs.
Free option
Free for non-commercial use
Paid option
DreamPlan Home Design Software Plus is available for $40
Features
3D and 2D rendering

Blueprint view mode

Supports both Windows and Mac operating systems
---
11. Marshalls Garden Visualizer
Product Name: Marshalls Garden Visualizer
G2 Crowd Star Rating: N/A
Overview
Marshalls supplies landscape products to the U.K., specifically paving products and accessories. The site offers an online landscape design tool: Marshalls Garden Visualizer. Garden Visualizer provides users with a free garden planner. That limits the scope of landscape design you may use it for, but it helps you create a 3D rendering that helps you customize any aspect of your garden.
Free option
Free to download at

this link

, but only on Firefox or Safari browsers.
Free option
Features
Simple, 3D visualizations

Library of paving products and materials

Network of approved installers

Access to Marshalls products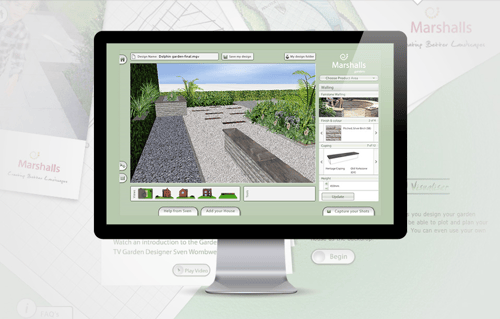 Image courtesy of Marshalls
---
12. Terragen
Product Name: Terragen
G2 Crowd Star Rating: N/A
Overview
Terragen facilitates the building, rendering and animating of realistic, natural environments. Most applications of Terragen are TV and film production, as well as visual effects purposes. And while Terragen is a bit more comprehensive — as it's a realistic, natural environment rendering solution — than other landscape design softwares, users are empowered to place photorealistic environments into whatever design you're creating.
Free option
Paid option
Terragen 4 Creative: $349
Terragen 4 Professional: $699
Features
Realistic atmosphere model

Realistic illumination features

Terrain editor

Object rendering
---
13. Designor Buddy
Product Name
:

Designor Buddy
G2 Crowd Star Rating: N/A
Overview
Designor Buddy is free, open-source landscape designing software. It is built on top of the OpenOffice Draw program and provides the ability to integrate landscape images into 2D drawings. OpenOffice Draw is one of Apache's OpenOffice modules, which enables the production of simple diagrams and dynamic 3D illustrations.
Free option
Paid option
Features
The ability to scale

Layers (similar to PhotoShop)

Library of plants, hardscapes and materials
---
Next steps for selecting a best free landscape design software
For both professional landscape designers and homeowners who have a landscape design itch, completely free solutions — not just software that offers free trials or demos — are scarce. However, if you're willing to go barebones, the aforementioned free landscape design tools are helpful for the beginning stages of your landscape design journey.
Be prepared with what exactly your requirements are, whether you want sharing capabilities and which integrations or third-party software those free tools support. Once you identify those "must-have," "good-to-have," and "do-not-need" elements, you'll be in a very good position to narrow down the available offerings and select the best free landscape design software for your needs.
Are you ready to take your landscaping design business to the next level? Learn how a Pinterest for business account can help you generate more business.
* Please note: Reviews may have been edited for spelling and grammar.