People who live in glass houses can't throw stones, but they can use stones and glass to help their plants thrive.
There's no need to go out and buy a prefabricated greenhouse when you can get DIY greenhouse plans online, and it only takes a few tools and supplies to build your own.
How to pick the right prefabricated DIY greenhouse plan
Here are a few things to consider before you decide on a DIY plan.
1. Customization
Taking the time to find a prefabricated greenhouse that suits your needs can be a long and tedious process. Every manufacturer is different, and many greenhouses may not fit your space exactly how you would prefer. Researching and finding a greenhouse that will make sense for your style of gardening, as well as your backyard, is essential and can take more time than expected. Building your own DIY greenhouse will allow you to customize the building and add in extra items or take away design specifics that don't fit your needs.
We should also point out that it is easy to replace or change the look of your greenhouse if you build it yourself. Trying to find replacement pieces of glass or plastic from a manufacturer can be a nightmare. If you make your greenhouse instead, you'll be able to replace easily and tend to those small maintenance issues that are hard to do with a purchased product.
2. Pricing
In general, usually DIY projects are cheaper than what you would spend on a prefabricated greenhouse. Building a greenhouse yourself allows you to use supplies that you have on hand without having to purchase much from the store. Many DIY greenhouse plans use recycled material as well as natural elements of your home and backyard that help to enhance the building overall. Purchased greenhouses can cost a few hundred dollars minimum making a DIY greenhouse a smart budget choice.
3. Time
Ordering a purchased greenhouse may seem like the time-saving choice but consider all of the factors that you need to think about before buying. You'll spend time researching the best prefabricated greenhouse for your backyard as well as shop around to find the best price. Also, consider the fact that many greenhouses still need to be assembled once they arrive at your home as many do not come fully assembled and ready to use immediately. Instead, you could have used that time to gather supplies and to build your own DIY greenhouse that is custom to your specific wants and needs.
4. Eco-Friendly
Part of the reason why many homeowners choose to build their own greenhouse is to help support nature by using recycled and renewable materials. It makes sense to use eco-friendly materials to create a greenhouse that is meant to nurture and encourage plant life. Doing so allows you to build upon the idea of supporting the environment by limited waste and manufactured materials and giving new life and purpose to such items like old windows, lumber, metal, and plastic.
20 free DIY greenhouse plans
Check out these 20 free DIY greenhouse plans you can download right now to get started on creating your very own botanic garden.
1. Cheap, cheap, cheap
The Door Garden offers plans to build a greenhouse with just $50 worth of supplies. You'll find detailed pictures, as well as descriptions, here that show how you can make a hoop house that's perfect for the novice gardener.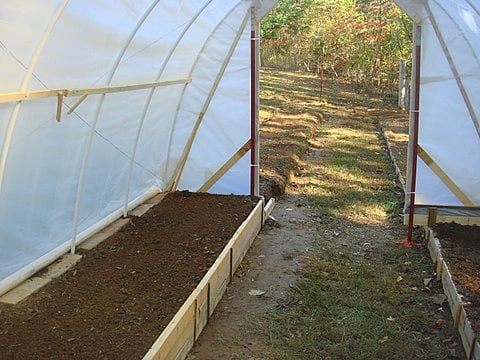 2. PVC Greenhouse
For those wanting to use PVC pipes in the structure, PVC Plans offers an excellent description of how to use them together to form an arched greenhouse.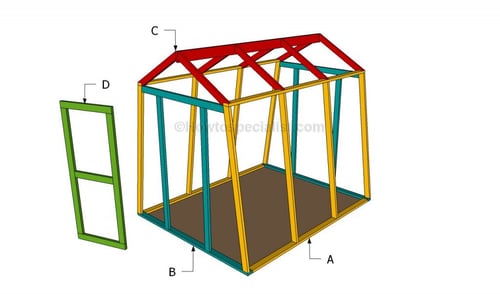 3. Small greenhouse
How To Specialist offers plans for a small greenhouse with digital drawings that are easy to see and understand. We like the color coding in the illustrations that help visualize the finished product.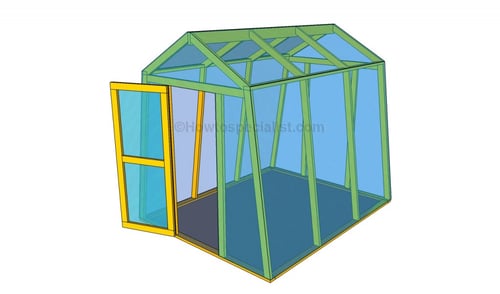 4. Folding greenhouse
If you're short on space or time, consider choosing this folding greenhouse that uses the side of a building as the primary support. It may not be the prettiest thing, but it will get the job done and protect your plants from harsh conditions.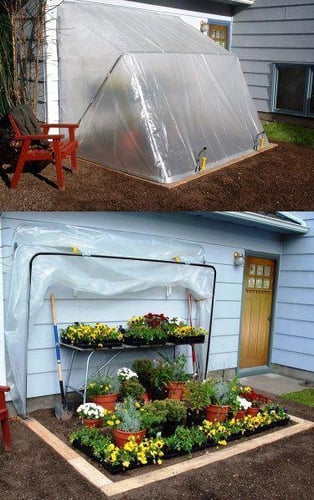 5. Barn-style greenhouse
Even if you don't have your own barn, you can still create a barn-style look for a greenhouse that will be a welcome addition to any backyard. Check out Ana White's barn-style greenhouse that she built alongside her husband.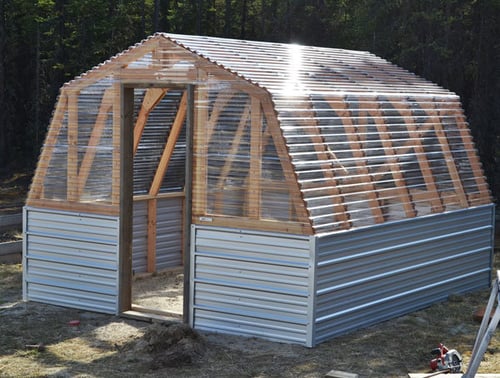 6. Mismatched greenhouse
If you prefer to build a greenhouse with materials you have on hand, consider making this mismatched greenhouse from Montana Wildlife Blogger. You'll find a charming building that shows its quirks, but does well in keeping plants warm.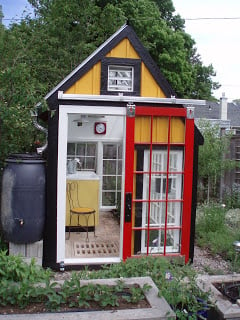 7. Cedar greenhouse
This beauty would be a featured item in the yard just for the cedar wood that is used to create it. We love the partial cedar roof, as well as the door that allows you to access the plants without having to bend over.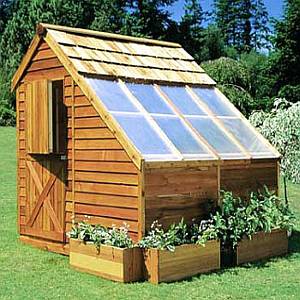 8. Plastic bottle greenhouse
For an eco-friendly addition to your yard, you can easily upcycle those plastic bottles to create a warm and inviting spot for plants to grow. Check out this unique greenhouse that features the use of recycled bottles.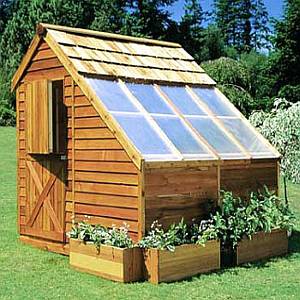 9. Large hoop house
The Florida Gardener offers plans for a large hoop house that can be scaled to size if you don't need (or have) much space. We like the precise list of materials needed to reduce the trips to the hardware store.
10. Recycled window greenhouse
Using old single pane wood windows from other projects is a great way to create a greenhouse that will let the light shine through. We love the look of using old windows as a way to repurpose them into something useful.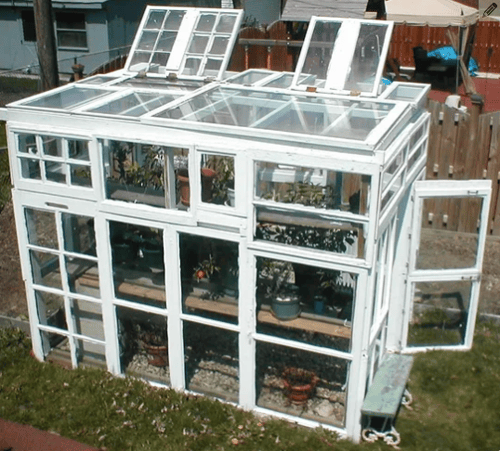 11. Trampoline greenhouse
Another great way to create a hoop house is to reuse items that are destined for the dump. Consider this trampoline greenhouse, which uses the frame of an old trampoline that is perfect for a small hoop house.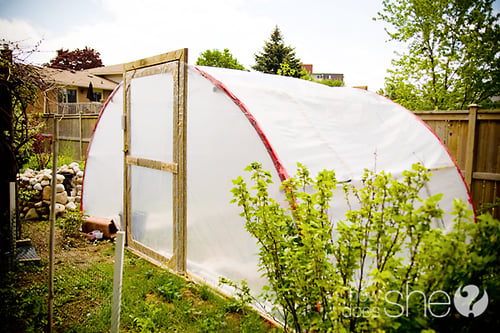 12. Tiny greenhouse
If your house and yard are too small, this tiny greenhouse offers a simple design with enough room to start those seedlings.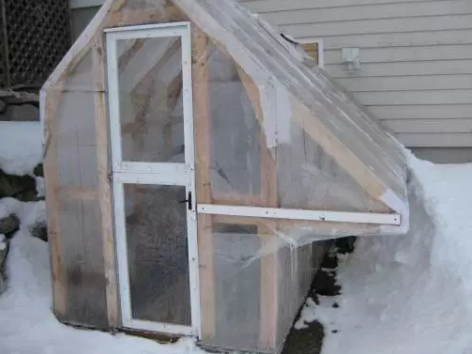 13. Guest house greenhouse
You can double up the accommodations for both your plants and guests, by choosing this greenhouse featured in Mother Earth News. Both your guests and your plants will have a cozy and warm spot to enjoy.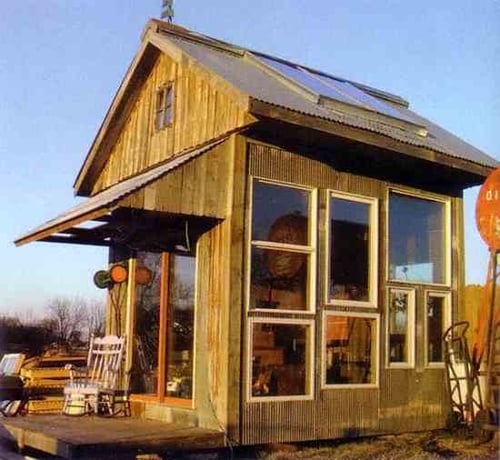 14. Tabletop greenhouse
If you only have a few plants that you need to house inside a greenhouse, consider making this ultra small tabletop greenhouse that can easily sit on your outdoor dining furniture.
15. Complex geo-dome
This greenhouse isn't for everyone, but it would be a good project for those master carpenters who want to build something different. We love the overall look of the geo-dome and offer luck to anyone who tries this!
16. Wire-supported greenhouse
This option from How To Specialist includes an open concept that incorporates wire or plastic threading to support the plastic walls. We like the detailed drawings of the wood joints, as they simplify the project.
17. Raised-bed greenhouse
We love this unique raised-bed greenhouse from Mother Earth News that features two hinged sides that allow for easy access to the plants. Perfect for a small garden or for those who prefer a smaller structure.
18. Beginner greenhouse
Don't have much building experience? This greenhouse from Construct 101 offers detailed plans and pictures that are easy to follow. We also like the multiple windows that allow for custom adjustments for air flow.
19. CD case greenhouse
For something a bit more off-kilter, this CD case greenhouse shows you how to upcycle any transparent item into a greenhouse. This version is both lightweight and offers transparent access to a few plants inside.
20. Plywood greenhouse
This easy-to-construct greenhouse features plywood siding and floors, as well as easy-to-get supplies from your local lumber yard. We like the simplicity of the design that most gardeners could easily build.
Now it's time to build your very own greenhouse!
Choosing to build your own greenhouse will not only support the environment but will also save you time and money. Add to that the fact that you can fully customize your greenhouse to your needs and it should be an easy choice to pick any of these DIY greenhouses.
If you're still stumped after reading any of these plans, consider joining any of the outdoor gardening groups in your community where you'll find plenty of advice and maybe even some help!