Food distribution has been a serious concern for society since ancient times. How do you get food from its source to the people who need it without losing food to spoilage or carelessness?
Today, with billions of people inhabiting the planet, the problem has become even more complicated. How do you get avocados from California to Canada? How do you get lobster from Maine to Minnesota? The short answer is: the food distribution system, supported by food distribution software.
What is food distribution?
In general, food distribution is composed of a variety of companies, organizations and programs that collect food from producers, store it in warehouses, and then distribute the food to manufacturers, grocery stores, restaurants, cafeterias, government aid programs and more.
A subset of the more general food distribution network is food service distribution. The food service distribution process facilitates the delivery of food from producers, processors and manufacturers to food service operators such as grocery stores, chefs, food and beverage managers, hospitals, cafeterias, restaurants, nursing homes and more. In many cases, food distributors purchase directly from the manufacturer and also sell directly to the food service operator.
Food distribution may also include products that help with food consumption such as plates, cups, utensils and napkins.
---
How does food distribution work?
In general, food distributors handle transporting and storing food as it travels from producers to food service operators. Some distributors specialize in certain food products such as seafood or fruits and vegetables. Some may work for a specific food manufacturer. Most food distributors are independent, which makes it easy for manufacturers and producers to create a supply chain by simply hiring a distributor that caters to their specific needs.
Some food distributors use warehouses to store food for short periods of time, and others may only use refrigerated trucks to transport goods directly to food service operators. The timeframe and method of transport depends entirely on the kind of food being distributed.
Some food distributors will also market and sell the products they are distributing. Food service operators often purchase directly from distributors rather than from producers, since the distributors are the ones actually providing the food to the restaurants, cafeterias, and other food service operators.
Some food distribution businesses purchase directly from producers, in which case the food distributor is simply fulfilling orders. But in many cases, food distributors sell directly to food service operators, which allows producers and manufacturers to focus on their strengths rather than on maintaining and acquiring customers.
---
What are the different types of food distributors?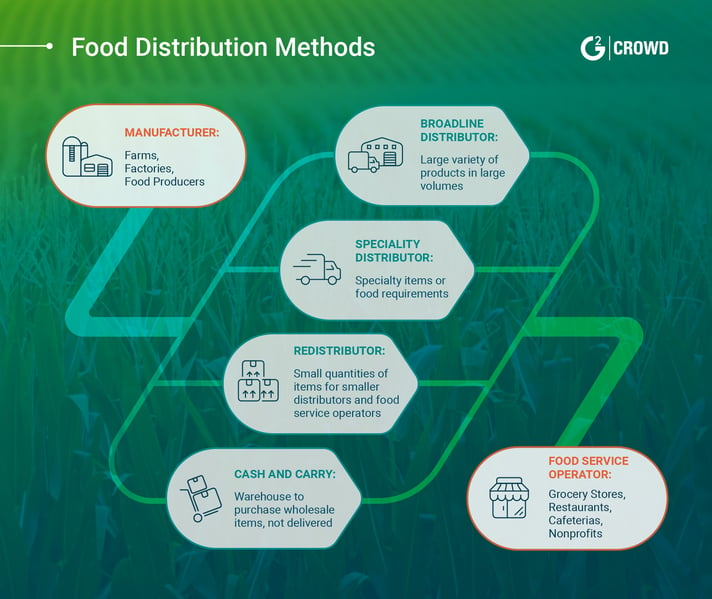 Cash and Carry distributors
Cash and Carry distributors do not transport goods. Instead, they operate warehouses where food service operators can visit, choose products to purchase, and walk out with their purchases. These distributors are typically used by restaurants, caterers, and nonprofits.
Redistributors
Redistributors do not sell directly to food service operators. Instead, they purchase directly from manufacturers and then distribute small amounts of the purchased goods to smaller distributors who are not equipped to deal with bulk quantities. Typically, these are less than truckload (LTL) amounts of product distributed to smaller restaurants or other food service operators.
Specialty distributors
Specialty distributors specialize in a specific product category. They utilize any special equipment that their specialized product category requires. Specialty distributors may also work only with niche food service operators such as halal or kosher restaurants and caterers to ensure that they never need to worry about cross-contamination. While these niches might be small, there are businesses that need this kind of niche distributor.
Broadline distributors
Broadline distributors are the most general food distributor category. They typically handle thousands of products in large volumes, so they are often used by grocery store chains and other large retail food businesses. The quantities of products they distribute often mean discounts and other advantages for large volume buyers. Since small food service operators are not large enough to qualify for these advantages on their own, they will form or join group purchasing organizations that are large enough to leverage discounts available to large volume buyers.
---
How can software help food distribution?
Food distribution can be complicated because there are so many moving parts and processes. Software can streamline many of these processes and ensure that orders and other information is captured all along the entire distribution chain.
Here are some food distribution software solutions to get you started:
Food service distribution software
Food service distribution software allows distributors to process, schedule, and track food distribution orders. Users can manage inventory, process payments, create invoices, and build reports all within a single platform. These solutions are designed to manage food distribution from end to end, making it easy to stay organized.
Food traceability software
Food traceability software allows food distributors to track the origin and ingredients of food products. This is especially useful for specialty distributors dealing with food restrictions or food allergens. For example, users can track origin, ingredients, and inventory to ensure that there is no cross-contamination between pork products and kosher food service establishments.
Technology has redefined food distribution
Without food distribution systems, we would likely all be relegated to eating whatever we could grow or catch in our own yards or rooftops. Food distribution systems ensure that we can eat strawberries in winter and pumpkin in spring. It's a complicated, logistically-focused industry, and software can make a huge difference in streamlining some of the associated processes.
To read more about the food industry, check out our 2019 restaurant trends.