No matter how good you are with money, sometimes it's nice to get a professional opinion.
There isn't a stage in life where money won't be on your mind. Financial planning is at the core of a lot of our everyday worries. Will I have enough in my 401k to retire? How much money do I need for a down payment? How am I going to pay for college?
And the problems don't stop when you have money. Understanding the right way to invest, save, and spend your money can also have long-term implications. It's unreasonable to expect the average person to become an investment expert overnight. That's why finance professionals exist.
What is a financial advisor?
A financial advisor is a professional who administers financial guidance and advice to clients based on their financial situation. Many people consult financial advisors before making a large purchase such as a home and in many countries they are required by law to complete specific training and licensing programs.
What's the difference between a financial planner vs. financial advisor?
A financial planner helps companies and private citizens create a financial strategy in order to help meet long-term goals. A financial advisor is any financial professional who helps manage your assets for more specific, short-term investments.
If you were looking to map your financial future over the next twenty years in order to save enough money to send your kids to college, you would use a financial planner. Whereas if you were looking for financial guidance with the purchase of a home, a financial advisor would be the right choice.
The term financial advisor is more common because it is an umbrella term for several different types of finance professionals. Stockbrokers, wealth managers, and CFPs are all considered financial advisors.
How to find the right financial advisor
Finding the right financial advisor can be tricky at first. After all, your unique financial situation will heavily influence who you ask to manage your money. The decision is ultimately up to you but there are a few things to consider before hiring a financial advisor.
1. Determine your needs
The first step for finding the right financial advisor is understanding your financial goals. Someone who is looking to purchase their first private jet isn't going to have the same needs as a person looking to plan for their retirement. Understanding the financial planning process is another key component of choosing the right advisor.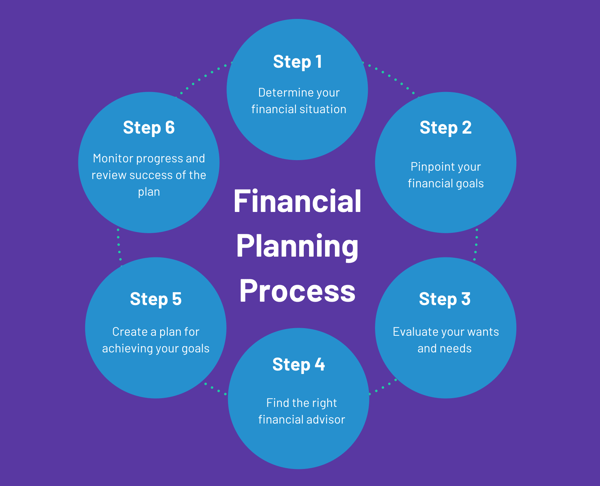 As you can see, this is more than a one-and-done meeting. It's a process that will take time. That means your relationship with your financial advisor is an important one. Determining what you want the outcome of your meeting with a financial advisor to be is key.
2. Find the best fit
We mentioned earlier that the term financial advisor is an umbrella term. Your financial goals will determine what type of financial advisor you'll want to employ. The perfect financial advisor for planning your retirement might be terrible at helping you invest in stocks. Play to their strengths and align those strengths with your goals.
There are many types of financial advisors, including:
Certified Financial Planner (CFP)
Stockbroker
Wealth manager
Trust advisor
Accountant
Along with your own independent research, looking at online reviews or asking friends and family for recommendations can help narrow the field. Using your peers is a popular and effective method for determining the right fit.
3. Consider the cost
As you might assume, hiring a financial advisor isn't cheap. According to Nerdwallet, most fee-only financial planners will charge between $1,000 and $2,000 for a comprehensive financial plan. If you plan on keeping your advisor on retainer that could run you a couple hundred thousand dollars a year.
Ask yourself if you're in a position in your life to pay for a financial advisor. Do you think it's worth the money you'd spend? If a financial advisor costs $1,500 a session and can only save you a couple hundred dollars then it might not be worth it. Remember, the internet is full of free finance tools that might be able to guide you along the way.
4. Check their qualifications
Once you've determined your need for a financial advisor and you know what type you want, you'll need to narrow the field. Experience, pricing, and overall vibe are a few things to check. Whether or not your financial advisor has a certification can also help you choose your favorite.
Here are ten financial certifications to keep an eye out for:
Certified Public Accountant (CPA)
Certified Financial Planner (CFP)
Chartered Financial Consultant (ChFC)
Chartered Financial Analyst (CFA)
Chartered Investment Counselor (CIC)
Financial Risk Manager (FRM)
Chartered Life Underwriter (CLU)
Chartered Alternative Investment Analyst (CAIA)
Chartered Mutual Fund Counselor (CMFC)
Certified Management Accountant (CMA)
Each of these certifications designates a different specialty or area of expertise. Before you choose a financial advisor it would be wise to read up on each of these and decide which fits your needs best. You can check out this piece from SmartAsset to do just that!
The more money we come across, the more problems we see...
Okay. Maybe not problems so much as choices. You worked hard for the money and that means you should be careful about who you trust with it. Choosing the right financial advisor is no joke but hopefully this guide will put you well on your way to making the right call.
Are you a business looking for a large scale financial advising solution? Check out these picks for the best financial analysis software on the market.